"Rainbow Is the New Black": Netflix's Queer Marketing Moment
Joseph Harrison / University of Warwick

Netflix's posters for the "Rainbow Is the New Black" campaign adorn the Porta Venezia metro station walls.
A new front has emerged in the battle for our attention; the streaming wars have moved underground.
In anticipation of the city's pride celebrations on the 30th of June 2018, citizens awoke to find the walls of the Porta Venezia metro station in Milan decorated with the colors of the rainbow.[1] This was not, as might have been perceived, an underground act of guerrilla graffiti, nor was it a civic endorsement of the festivities that were about to take place above; rather it was a marketing campaign, created by the US-based international media service provider Netflix, directly engaging with Italy's contemporary political climate, Milan's public sphere, and a local LGBT community's imminent pride celebration in an advertising campaign distinct from those of Netflix's increasing number of competitors.
In the sections reserved for advertising on the platforms' walls, posters proclaimed, in large black letters on a white background, that "Rainbow is the new black." With the Netflix logo visible in the bottom, right-hand corner of each of the posters, this statement was a playful reworking of Orange Is the New Black (2013-2019), the title of the streaming service's second self-commissioned original content series. Two years earlier, Madrid's Chueca metro station was similarly adorned with rainbow decals and posters sporting the slogan "Rainbow is the new black" during that city's pride celebrations.[2] It is worth noting both campaigns were displayed in stations situated in their respective city's gay village; however, unlike Madrid, Milan's campaign explicitly engaged with the contemporary politics of its host nation.
Other posters in Milan's Porta Venezia metro station featured same-sex couples who had appeared in a variety of Netflix original series, such as Yorkie (Mackenzie Davis) and Kelly (Gugu Mbatha-Raw) from the episode "San Junipero" in Black Mirror (Channel 4, 2011-2014 and Netflix, 2016 onwards) and Lito (Miguel Ángel Silvestre) and Hernando (Alfonso Herrera) from Sense8 (Netflix, 2015-2018). These posters included the names of the characters followed by the words "non esistono." For example, OITNB characters, Piper Chapman (Taylor Schilling) and Alex Vause (Laura Prepon), were shown accompanied with large black letters on a white background declaring, "Piper e Alex non esistono": Piper and Alex do not exist. To a visitor unacquainted with Italian politics, this statement declaring that various queer characters on Netflix no longer exist may have been considered abstruse or even sinister. However, to the informed, this message could be understood as an ironic, if ambiguous, rejoinder to Italy's families minister, Lorenzo Fontana, who, earlier that month, had responded to a question regarding the rights of families with same-sex parents by saying, "per la legge non esistono": under the law, they do not exist.[3]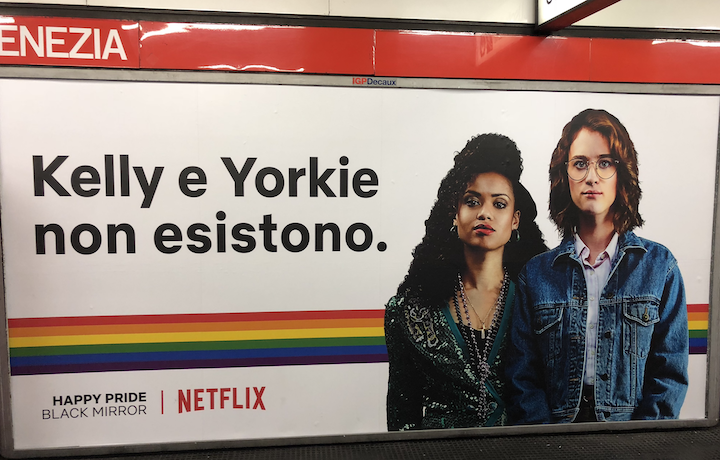 Yorkie (Mackenzie Davis) and Kelly (Gugu Mbatha-Raw) "do not exist."
Netflix's niche marketing strategy in Milan offers a perfect microcosm illustrating the company's complex and incongruous strategies to define its brand identity in an increasingly saturated and highly competitive market now dominated by huge conglomerates, such as Amazon, Apple and Disney, for which streaming only occupies a part of their multi-tiered business models. Netflix causes tension by aligning itself with the popular celebrations of pride and subverting the statements of a populist conservative politician. The marketing campaign appropriates Fontana's statement by placing it alongside images depicting the most prominent queer characters in the platform's original content. Netflix's posters declare that queers,[4] even fictional ones, do in fact exist, and grants them visibility by allowing them to infiltrate and occupy a real public space.
The potential for this marketing campaign to challenge the dominant perspective of Milanese commuters is undermined by the posters' location in a neighborhood most likely to have queer individuals passing through it, especially during the city's annual pride. With this in mind, one can presume that many of that station's commuters were already predisposed to the adverts' political message, while those who were not would simply ignore it in the same way they would ignore the pride march itself. The fact that the marketing campaign was restricted to that specific station in that specific city, one of the few in Italy that hosts a pride march, is a further indication that Netflix's controlled attempt to appeal to a niche audience through a potentially provocative campaign was unlikely to offend the sensibilities of a larger Italian public whose political views may be more aligned with those of Fontana.
Similarly, the abstruse message accompanying the images further serves to protect the company from the ire of potential subscribers that may support Fontana, as the suggestion that queer characters do not exist could conversely be interpreted as offering tacit support for Fontana's claim. To engage with the political message of the posters, a commuter would have to be aware of the quote and the political position assumed through the iconography of the rainbow flag and also have narrative knowledge of the shows featuring the queer characters referenced. Oddly, the posters do not feature images of the characters, but, rather, a composite of two individual photos that have then been pasted together. The fact that these characters are a couple in their respective shows is only implied rather than made explicit, as the images of the characters are not presented as a couple formally. Queer visibility is suggested by the stills of the characters proximity to the rainbow colors on the walls of the metro and not through the explicit depiction of queer action, such as same-sex couples kissing, holding hands, or embracing.

Another view of the Milanese Netflix underground campaign.
The posters provide another example of Netflix's incongruous engagement with Fontana's homophobic declaration. The use of images of specific characters to respond to a comment about the legality of families with same-sex parents makes the posters' political point more ambiguous as none of the characters featured in the posters are, in fact, parents. Is Netflix commenting on how Fontana's perceived policy on same-sex parenting would seek to limit the potentiality of these characters to become parents? Would audiences even think it wise for characters like Piper and Alex to become parents in the first place, especially when one considers their criminal enterprises? Both of these suggestions are unlikely. Rather, these characters in the posters are reduced to their representations as queer women; essentially stripped of their narrative specificity, as well as their moral ambiguity, they offer an approximate affirmation of queerness to those receptive to that stance, while the overall message is still too diffuse to trouble the sentiments of everyone else.
Netflix is seeking to attract audiences, queer or otherwise, that are amenable to the progressive political associations invoked by its utilization of the rainbow flag and queer characters in a response to offensively homophobic comments. This type of address may initially appear to attract only queer individuals, but by supporting these large civic celebrations with bright symbols recognized for their association with LGBT equality specifically, and socially liberal attitudes generally, Netflix is able to attract a broader range of users aligned to an increasingly mainstream message. The campaign casts its net wide to attract conscientious mainstream homosexual and heterosexual audiences who would not necessarily desire queer disruption of the hegemony but would certainly support the assimilation of queer individuals into the social fabric of a constructed multicultural and inclusive Italy, and, undoubtedly, would find Fontana's anti-LGBT and anti-gay rights comments offensive. Inevitably, any queer subversive edge to this message is dulled by the semi-coded, abstruse nature of the campaign, which protects Netflix from potentially unfavorable and disapproving reactions a more explicitly critical campaign would bring. But, equally, this campaign's eager utilization of the mainstream symbols of the gay-rights movement distances itself from a more obviously subversively queer interpretation.
While decorating entire metro stations in the colors of the rainbow is an ostentatiously grand gesture, it is also, as discussed above, targeted to reach specific audiences at a specific time of the year.[5] However, from its subterranean frontline, Netflix has an advantage over its competitors and their advertising, which typically side-lines queers in unfocused attempts to garner mass appeal. Intervening into Italy's political discourse through its advertising in Milan, Netflix moves beyond the established marketing ploy of associating its brand with the rainbow flag by, instead, interacting with queers, queer politics, and queerness and situating the brand, its content and national politics into extratextual dialogue with one another, delivering a more sophisticated and distinct mode of address to its audiences.
---
Image Credits:
Netflix's posters for the "Rainbow Is the New Black" campaign adorn the Porta Venezia metro station walls. (Author's photograph)
Yorkie (Mackenzie Davis) and Kelly (Gugu Mbatha-Raw) "do not exist." (Author's photograph)
Another view of the Milanese Netflix underground campaign. (Author's photograph)
References: