Synchronizing Creatives in Music Video Production
Laurel Westrup / University of California, Los Angeles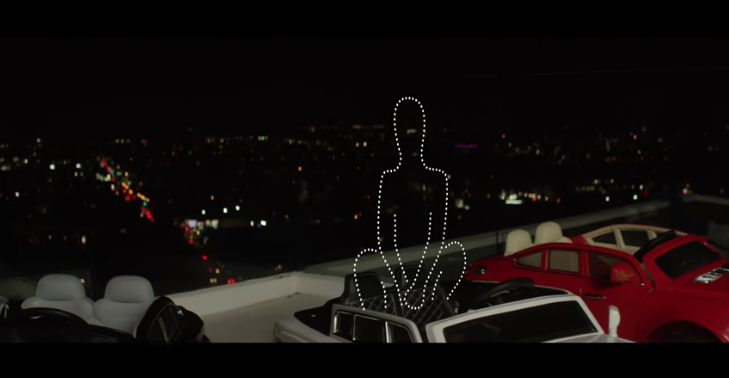 Ryan Staake cleverly outlines the absent artist (Young Thug) in "Wyclef Jean" (2017).
Imagine you've created a successful music video treatment, gotten the go ahead from the label, planned a shoot… and the artist doesn't show. This is a fairly common scenario, often resulting in cumbersome costs and delays.[1] But Ryan Staake and Young Thug's 2017 "Wyclef Jean" video makes light of just such a disastrous shoot. Using title cards, subtitles, and minimal footage of Young Thug, Staake wittily narrates a music video that should by all rights have been an utter disaster. On the one hand, "Wyclef Jean" is a case where a music video's director and its featured artist are wildly out of synch: as Staake narrates, "we never met each other." And yet the video's unique charm relies on the creative vision of both director and artist. Young Thug's preposterous ideas and footage (video vixens in children's hot wheels cars, the artist eating Cheetos) provide the perfect foil for Staake's wry sense of humor. And in the end, both Staake and "Thugger" (as Staake refers to him in the video) benefitted from this unusual collaboration: Staake won an MTV Video Music Award for best editing (albeit without his "co-director's" knowledge), and Young Thug gained additional notoriety (the video currently has over 36 million views).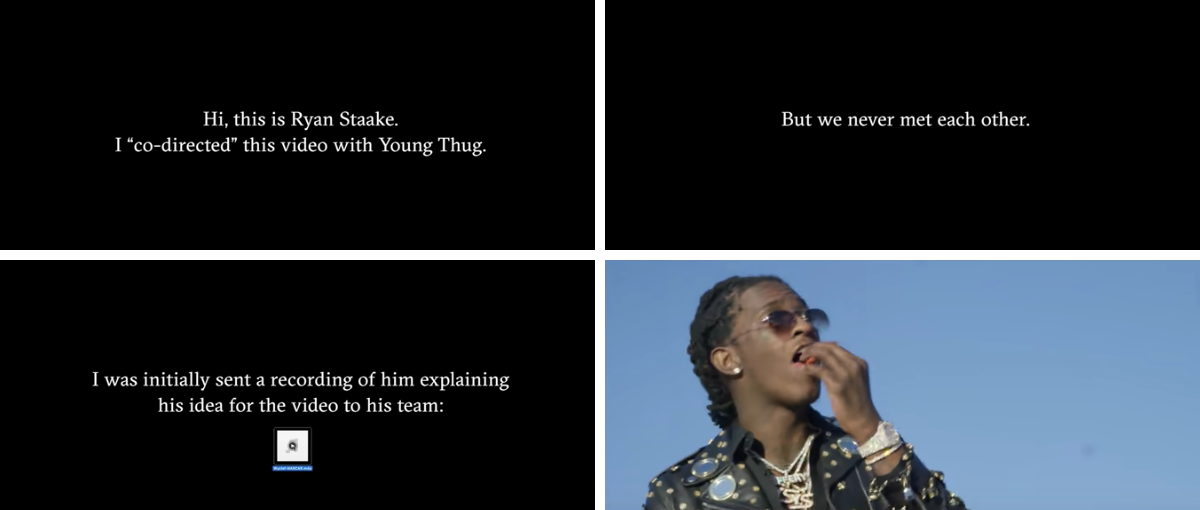 Staake tells the story of his failed shoot with title cards (and some footage from Young Thug).
Despite its silliness, "Wyclef Jean" raises some serious questions regarding the work of music videomaking. In my previous column, I discussed audio-visual synchronization as a key aesthetic feature of music videos. But we can think about synchronization in a more industrial sense too. How do music video productions reconcile music and image, and the work of creative personnel from varying backgrounds, in the creative process?

Some musicians reject music videos as a waste of their time, while others have taken a more active role in their creation. Noel Gallagher of Oasis reportedly hated the time and energy he had to expend on music videos in his band's heyday. In one of his characteristic rants, he denigrated the work of music video directors, painting them as pompous and overly serious about their work: "I fucking hate videos," he railed, not least because, "I don't like the fact that the people who're making them think they're making Apocalypse Now."
Other artists, however, have found that taking an active role in the creation of music videos gives them another means of creative expression and control over their image. Cyndi Lauper, for instance, famously oversaw and participated in every aspect of her "Girls Just Want to Have Fun" music video. Drawing on Michael Shore's "making of" account for Rolling Stone, Lisa A. Lewis wrote, "Lauper's name appears over and over as a contributor at virtually every stage of production. It is 'Cyndi' who picks the video's producer Ken Walz, and director Ed Griles…[She] suggests the video's concept, picks location sites in New York City, brings in choreographer Mary Ellen Strom and finds extras to appear in the video."[2]
Lauper even did some of the set design and oversaw the editing and effects. As Lewis pointed out, this level of control was rare for a female artist at the time, and consequently Lauper's contributions were all the more important. As she put it herself, "I know what I want and don't want—I don't want to be portrayed as just another sex symbol."[3]
Cyndi Lauper made many of the creative decisions for her music video "Girls Just Want to Have Fun" (1984).
In other cases, music videos are the result of true collaboration between musicians and mediamakers. Take, for instance, the high profile partnership between Childish Gambino (Donald Glover) and Hiro Murai. The pair have not only made five music videos together, including the much discussed "This is America," but also several other projects, including the acclaimed TV show Atlanta (FX, 2016-). Murai told Deadline, "Regularly in music videos, I'll write the pitch and convince the artists that this is a good idea, and then I'm having to make concessions to meet in the middle. With Donald, I always feel like we're facing in the same direction. Of course, he's a writer and he writes a lot of the concepts for the music videos, as well. So, I don't know. There was something about it that felt very easy for me." The extent of Glover and Murai's partnership is unusual: as Murai notes, after all, Glover is not "just" a musician but also a writer and actor. Nonetheless, their collaboration points toward the fluidity between artists' ideas and directors' ideas in music video production.
"This is America" (2018) showcases the productive (and frequent) collaboration between Childish Gambino (Donald Glover), director Hiro Murai, and DP Larkin Seiple.
But to talk only about collaboration between directors and musicians is also reductive. Much has been made of Glover and Murai's partnership, but the popular press has not focused on Larkin Seiple, the DP who not only shot "This is America," but several of the duo's other music videos. Key to "This is America's" success has been the open-endedness of its imagery, which invites viewer-listeners to speculate and interpret. This openness is partly attributable to Seiple's cinematography. As he discusses in an interview with American Cinematographer, he and Murai worked to develop an "accidental tableau" approach. He says, "we realized the camera should really be moving … so the audience can focus on the spectacle and the dance, letting the surreal elements drift in and out of frame. It's more about the audience finding each piece."
Collaboration is important to making music videos work financially as well as creatively. Director Isaac Ravishankara's work with the group LANY demonstrates this. Ravishankara shot two videos for the group, "Thick and Thin" and "Malibu Nights," on the same day in 2018. He recently told me that the concept for "Thick and Thin," which consists of a long tracking shot where Paul Klein sings while sitting on the trunk of a car in motion, was based on an idea he had wanted to make for a long time. While Klein liked the idea, and was up for it, the label was skeptical, in part because of the costs: the video involved closing down a stretch of Southern California's Pacific Coast Highway, in addition to renting a special rig to keep Klein on the car. Ravishankara consequently had the idea of shooting another video in the same location so that the label would get two videos for essentially the same cost.

LANY's Paul Klein in two 2018 videos by Isaac Ravishankara. "Thick and Thin" (left) is based on Ravishankara's concept and "Malibu Nights" (right) on Klein's.
The second video, "Malibu Nights" was based on an idea from Klein, who had acquired a transparent lucite piano and wanted to play it on the beach as waves crashed around him. Both videos are striking, and both play with stasis and motion, albeit in different ways. They speak to the creativity of both Ravishankara and Klein, not only in terms of aesthetics but also in terms of navigating the practicalities of music video production: label concerns, budgets, shooting schedules, etc.
I don't mean to suggest that collaboration is somehow unique to music video production. Media Studies boasts an increasingly robust scholarship on the many forms of labor required to produce a project, from the work of executive producers to below-the-line personnel. However, I do think that music video's characteristic integration of music and moving images requires a different kind of collaboration and creative balancing act. Music video directors, DPs, and editors are required to think musically much more than they would in other projects, and musicians are required to think visually. This kind of creative synchronization doesn't always happen, but when it does, as in the examples featured here, the results are memorable.
---
Image Credits:
Ryan Staake cleverly outlines the absent artist (Young Thug) in "Wyclef Jean" (2017). (author's screen grab)
Staake tells the story of his failed shoot with title cards (and some footage from Young Thug). (author's screen grab)
Cyndi Lauper made many of the creative decisions for her music video "Girls Just Want to Have Fun" (1984).
"This is America" (2018) showcases the productive (and frequent) collaboration between Childish Gambino (Donald Glover), director Hiro Murai, and DP Larkin Seiple.
LANY's Paul Klein in two 2018 videos by Isaac Ravishankara. "Thick and Thin" (left) is based on Ravishankara's concept and "Malibu Nights" (right) on Klein's. (author's screen grab)
See Staake's interview with Rolling Stone: Eric Ducker, "Young Thug 'Wyclef Jean' Director on How He Saved His Nightmare Shoot," Rolling Stone, January 17, 2017, https://www.rollingstone.com/music/music-features/young-thug-wyclef-jean-director-on-how-he-saved-his-nightmare-shoot-109093/. As Staake discusses, this project was somewhat anomalous from the scenario I paint above from the beginning. Staake was actually the second director on the project, and it wasn't really his treatment driving the project (until after the shoot went south and he came up with the alternative idea that we ultimately see in the video). [↩]
Lisa A. Lewis, "Being Discovered: The Emergence of Female Address on MTV," in Sound and Vision: The Music Video Reader, ed. Simon Frith, Andrew Goodwin, and Lawrence Grossberg (London ; New York: Routledge, 1993), 133. Thanks to Paul N. Reinsch for reminding me of this important example, and as always for his feedback on my work. [↩]
Qtd. in Ibid. [↩]