The Birth of Neoliberalism: American Realities Individualized and Refracted on Mad Men
Whitten Overby / Cornell University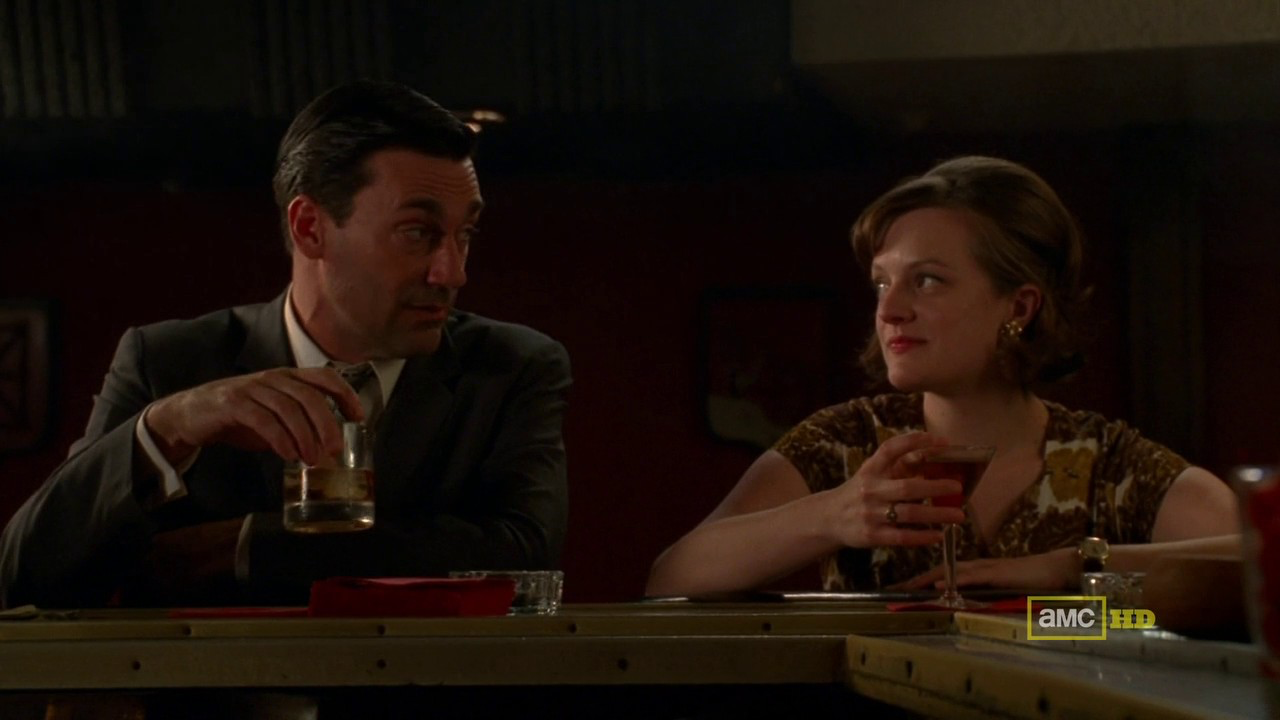 Peggy and Don at a Bar (Mad Men, "The Suitcase")
In Mad Men's third season finale, Don Draper tries to persuade Peggy Olson to leave their current ad agency and start, with several other partners, something new to avoid being subsumed into a giant corporation. Peggy tells Don it's "because you can't work for anyone else," an explanation he builds upon rather than rejects when he explains Peggy's value within their profession: "Because there are people out there who buy things, people like you and me, then something happened, something terrible, and the way that they saw themselves is gone. And nobody understands it. But you do. And that's very valuable." This moment reveals that both characters self-consciously understand their advertising creatives are, as Don elliptically points out in many pitches throughout the show, essentially historians who tap into and repackage what individuals have lost in order to brand and sell new things. As economic historians, Don and Peggy actually act as generators of the new by reconfiguring older tropes, forms, and forces into new conceptual logics.
Peggy's stoned triumphalism (Mad Men, "My Old Kentucky Home")
In focusing on these two characters and their colleagues, Mad Men depicts the early years of American neoliberal economics, a paradigm under which all aspects of society and human behavior, but especially any exercise of political power, came to be analyzed in the terms of the market economy [1]. As a result, Mad Men's core characters are all defined, narratively and visually, through their professional identities, inverting television's more frequent privileging of personal, social relationships as their emotional cores. This essay allusively and schematically argues Mad Men offers a televisual genealogy of our dominant economic paradigm, using interpretation to build upon historian-philosopher Michel Foucault's lectures concerning modern Western economics given between 1977 and 1979 at Collège de France.
Foucault's lectures are applicable to Mad Men, in part, because of the historical (temporal) intersections and overlaps of the series' timeline with his and, on the other hand, because of their techniques of presentation. The longer story of Don Draper matures amidst the interventionist policies of the US welfare state, between the New Deal, the Beveridge plan, and Presidents Truman through Johnson's policies against which Don and American neoliberalism define themselves. Mad Men, however, only tracks its ensemble's embodied resistance to liberal economics between 1960 and 1970, years during which American economists Theodore Schultz and Gary Becker developed new theories of human capital and scarce means. With the former, American neoliberals rejected classical economics' abstraction of labor because it didn't consider, let alone try putting itself in the position of, workers; with the latter, they further changed economic analysis' object of study from production's mechanisms to scarce means. These two discursive shifts altered the modes and concepts undergirding economic analysis by basing neoliberalism in workers' perspectives in order to better understand how enterprises function.
As a serialized historical representation, Mad Men offers new theoretical insights into how and why neoliberalism continues to thrive and literally reinforces the neoliberal market's call for historical examinations of its workers. Foucault's lectures self-consciously engage their serialization: the historian cracks, at the end of one 1979 lecture, "like a good serial, this is what I will try to explain next week," serials that, like Mad Men, are usually in twelve or thirteen parts with the previous week introduced at the beginning and concepts carried throughout [2]. In fact, the word "series" recurs throughout Foucault's texts, conceptually arguing that histories must always concern multiple networks of specific things and concepts in which they may be comparatively understood and contextualized.
Mad Men especially embodies such a serialized sense of history by interweaving seismic historical events with the mundane details of everyday life and interpenetrating the relationships of advertising work and its professional world with broader American society. When Martin Luther King, Jr. is assassinated in season six, for example, the ensemble is at an industry awards show that only haltingly, temporarily acknowledges this event before moving on with its hermetically-sealed concerns. This plot point suggests the degree to which historical populist social narratives were, at the time they were occurring, peripheral and irrelevant to how the neoliberal economy's emergence. The television series format allows for many such successive, topically and thematically related events to accumulate and make a general historical argument, using its serialization to continuously test the historical applicability of neoliberalism.
Mad Men – The Suitcase from Josip Kostic on Vimeo.
Peggy and Don wake up to one another (Mad Men, "The Suitcase")
Peggy's claim that Don cannot work for anyone else strikes at the core of how neoliberalism redefined the self. The basic unit of American neoliberal analysis is the enterprise, not the individual. However, neoliberal individuals are actually their own enterprises. There's thus a radical re-definition of class economics' homo economicus (the ideal type of economic man, or Don Draper) who's no longer exchanging some thing with another man but who's now an entrepreneur, becoming his own capital, producer, and earnings source. But neoliberalism looks beyond individual enterprises, or an individual's life, and insists these singularities must be understood, examined, and replicated within an intricate network of enough other interconnecting, interpenetrating, and overlapping enterprises, or individuals' lives, to yield a useful understanding of each enterprise independently as well as together, jointly, rather than tracking just Don or Peggy. Mad Men functions so effectively as a piece of neoliberal history because the show is a landscape consisting of such mutually imbricated enterprises. "The Suitcase," perhaps the most widely lauded episode, tracks Don and Peggy's relationship as it unfurls during an all-nighter to prepare for a pitch. At the center of the series' production history, the episode is the show's neoliberal heart because, after Don discovers "the only person in the world who really knew me" has died, Peggy, who's come to know Don entirely through work, tells him, "That's not true," because, after all, she knows him.
Mad Men: The Carousel from raychancc on Vimeo.
Don Draper's pitch to Kodak (Mad Men, "The Wheel")
In Mad Men's season one finale "The Wheel," Don Draper displays his virtuosic entrepreneurial skill as a plainspoken poet-philosopher of American capitalism while pitching a campaign for a new circular slide projector to Kodak executives. Don's pitches double as meditations upon the intersections of economics and history, both public and private, and in his Kodak pitch, Don claims nostalgia represents the consumer's deep bond with a product, citing the Greek root as "the pain from an old wound." He goes on to claim Kodak's projector is a time machine that "goes backwards, forwards, takes us to a place we ache to go again," that is, it takes us home "to a place where we know we are loved." While Don implies his conception of home is a happy one through using personal photographs of he and his then wife Betty, home, since his childhood, has pushed Don towards cheating and lying to escape an overwhelming sense of abjection and displacement that only advertising helps him escape.
The Kodak pitch, like each one on the show, is intended to promote consumption; however, consumption, following the neoliberal homo economicus, is not process whereby some person makes a monetary exchange for a product but rather a process of production. The homo economicus simultaneously consumes things but also, and more importantly, produces his own satisfaction and, moreover, because this process of production is individualized, he always ultimately satisfies him. With the Kodak Carousel, Don turns his personal history into a tool to advance economic history while explaining both the show and the character's neoliberal historical vision. Mad Men's overarching narrative concerns how Don manages to successfully pursue always changing visions of neoliberal self-pleasure to significant fiscal payoffs. The show's theory of history suggests that neoliberal Americans like Don have succeeded for so many decades because they intentionally constitute themselves by and through economic rather than social historical trends or personal histories. This dissociation enables Don and others to refract and translate their personal mythologies into a generalizable idiom, ironically rendering the personal that they've neglected a commodity whose nostalgia eschews context inasmuch as it promises an always happy ending.
OMMMM (Mad Men, "Person to Person")
Mad Men is often discussed as a show about America's postwar consumer society when in fact it represents how neoliberal economics redefine mass consumer society. It lampoons and reifies this thematic leitmotif with its series' final scene. There, we are shown Don at a Northern California New Age retreat center where meditation and chanting "OM" led him to devise the delightfully cynical, ironic, and iconic 1970 Coke commercial, "I'd Like to Buy the World A Coke," an entrepreneurial neoliberal appropriation of 1960s progressive diversity politics to sell a product to consumers who want to imagine themselves as unique individuals. This moment, of course, represents a happy ending for Don because he has once again reinvented himself, but, more importantly, it represents the ability of the neoliberal economic-historical machine to lead beyond personal blight and towards a gospel of the market in which, as in the commercial, individual enterprises come together to form an intersectional whole whose visible and conceptual togetherness belies neoliberalism's destructive underbelly.
Joan appropriates the feminist agenda (Mad Men, "Lost Horizon")
Whither politics admits all this talk of neoliberalism? In conclusion and as exhibited by the Coke commercial and MLK Jr. scene, I propose that Mad Men functions as a political text by advancing an anti-politics wherein its ensemble is so obsessed with work that its enterprises largely remain oblivious or resistant to the final gasp of the welfare state and the hippie, civil rights, feminist revolutions. In season three's "My Old Kentucky Home," Peggy gets stoned with her colleagues, but, moments later, when her secretary expresses concern over this risk, Peggy launches into a stoned rant about how she's going to use her individual professional skills in order to achieve all the successes, ignoring the feminist agenda to privilege herself as an enterprise. Even more telling is Joan Holloway's moment in "Lost Horizon." After being sexually harassed by a male coworker, she threatens her new boss with the ALCU and Betty Friedan if he does not give her her financial stake as a partner back. Semi Chellas, who co-wrote this episode, frankly told me that this is not a grand feminist moment, that it's just about Joan trying to get her money, which could gloss the way the entire series rejects progressive master narratives of the 1960s in favor of depicting the rise of today's still dominant conservative ideology.
Image Credits
1. Peggy and Don at a Bar (Mad Men, "The Suitcase")
Please feel free to comment
See Michel Foucault, The Birth of Biopolitics: Lectures at the Collège de France, 1978-1979, edited by Michel Senellart, translated by Graham Burchell (New York: Palgrave Macmillan, 2008), 131, for a discussion of this in relation to German and American neoliberalism. [↩]
Ibid, 121. [↩]