Over*Flow: "I'm the Industry Baby": The Political Economy of Lil Nas X
Wendy Peters / Nipissing University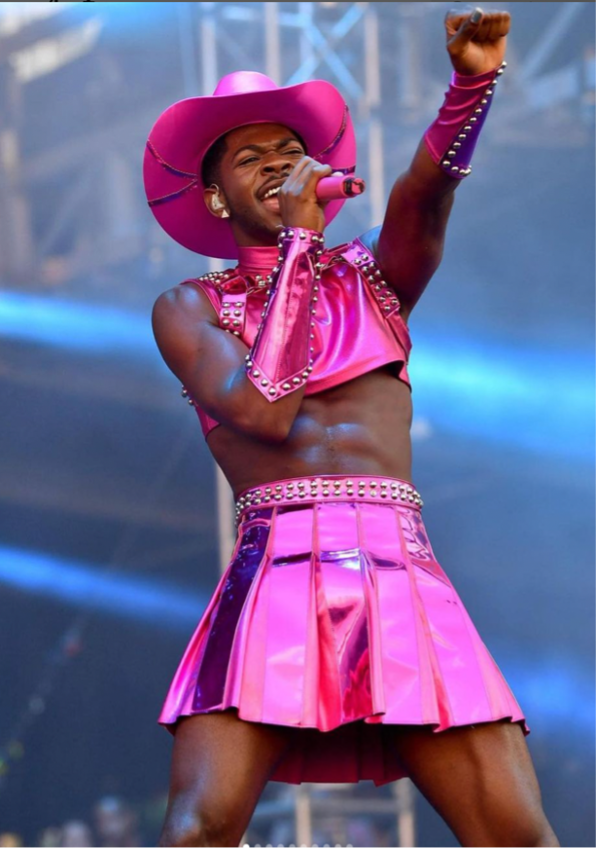 Lil Nas X performs at Audacy Beach Festival in Fort Lauderdale, Florida in December 2021
In the outro of his 2021 hit "Industry Baby" with Jack Harlow, Lil Nas X sings "I'm the Industry baby." In the Genius Verified interview about this song Lil Nas X explains those lines. He says, "I'm that motherfucker that's grown up watching everything, how it plays out. I've learned the fall downs of artists, the risings and what happened and why it happened. And I'm acquiring that knowledge for myself."[1] Much has been written about Lil Nas X's unique rise to fame and I wish to highlight the ways in which he, arguably, became "the industry" and diversified popular music in the process. By utilizing inexpensive and independent modes of digital production, distribution, and promotion, Lil Nas X became a highly successful mainstream artist who is Black, openly gay, musically genre-busting, publicly sexualized, and defiant of hegemonic masculinity. In my view, his public image is meaningfully different than many pop stars before him. While I will readily concede that the social milieu around pop music, Blackness, hegemonic masculinity, and young gay men is changing in the United States, Lil Nas X was not scoped, signed, and then ushered into the mainstream music industry with fanfare. He found his way in through side doors by making, distributing, and promoting his own music on the cheap.

Original version of "Old Town Road" posted to SoundCloud on December 2, 2018
In terms of political economy, Lil Nas X recorded his first hit, "Old Town Road," in an Atlanta recording studio in under an hour during one of their "$20 Tuesdays" promotions.[2] The original song was very short—just 1 minute and 53 seconds. It featured a beat created by a then 19-year old Dutch producer, YoungKio, which Lil Nas X purchased online for $29.99, and included a free banjo track created by Trent Reznor and Atticus Ross of Nine Inch Nails.[3] Lil Nas X released the song on SoundCloud that same night, later posted it to YouTube, and personally created hundreds of memes to promote the song.[4] Importantly, all of these modes of distribution and promotion were free. As Meghan Grosse (2020) explains in the Flow article, "Self-Promotion in 15 Seconds: Finding Mainstream Success Through Memeable Sound Clips on TikTok," the original version of "Old Town Road" first gained traction on TikTok, reaching number 19 on the Billboard Hot Country Songs chart. As Grosse observes, "an artist like Lil Nas X shows the great potential power TikTok has to influence the mainstream music industry, allowing artists to rise from unknown and unsigned to the top of the year-end Billboard chart in a matter of months."[5] While the original version of "Old Town Road" debuted on three Billboard charts in early 2019—the Hot 100, Hot R&B/Hip Hop Songs and Hot Country Songs—it was removed from the Country chart one week later when Billboard disqualified it on the grounds that it did not have enough elements to fit the country genre. This removal revived longstanding debates about whether Billboard's structure of charting by genre continues to be tantamount to charting by race.[6]
Original Version of "Old Town Road" Tik Tok Compilation, February 26, 2019
In a pivot that few could have anticipated, Lil Nas X capitalized on an already established, mainstream artist's fame, White privilege, hegemonic masculinity, and clout, to catapult himself back into the pop, R&B/hip hop, and country charts. Prior to the Billboard controversy, in early December of 2018, Lil Nas X had tweeted that he wanted Billy Ray Cyrus on the song, later saying that he knew of the country music star from his role on the Disney series Hannah Montana.[7]
twitter please help me get billy ray cyrus on this pic.twitter.com/UDoeiOZqc1

— im not reading all that (@LilNasX) December 5, 2018
@LilNasX tweet, December 4, 2018
In turn, the well-established White country artist heard the song and learned about its Billboard-related controversy through his record label. Together, Lil Nas X and Billy Ray Cyrus recorded a remix that spent nineteen consecutive weeks at number one on the Billboard Hot 100 and earned the duo two Grammy Awards.[8] Billy Ray Cyrus received new relevance and yet another image refresh, while Lil Nas X walked away with a newly elevated mainstream music career.
"Old Town Road" Remix, official video, featuring Billy Ray Cyrus
While the remix of "Old Town Road" was at number one on Billboard charts, Lil Nas X made headlines for identifying publicly as gay.[9] He did so within a mainstream music industry that has historically shown a preference for closeted gay men (for example, George Michael, Luther Vandross), or at least those who desexualize their non-straight desires on public stages.[10] After facing a backlash for kissing another man on the lips onstage during a 2021 performance at the BET Awards, Lil Nas X joked that next time he would have sex onstage.[11] In his infamous video for the song "Montero," Lil Nas X dons thigh high boots and lap dances the devil. This video and others by Lil Nas X—notably "Industry Baby" and "That's What I Want"—feature Black men vividly desiring, touching, kissing, and having sex with other Black men, a relatively rare sight in mainstream media. Further, his commentary on social media regularly jokes about his "limp wrist," and refers to himself as gay and a "power bottom." In 2021, he reminded his Twitter followers: "i get 10% gayer every time i read a 'we get it you're gay' comment."[12]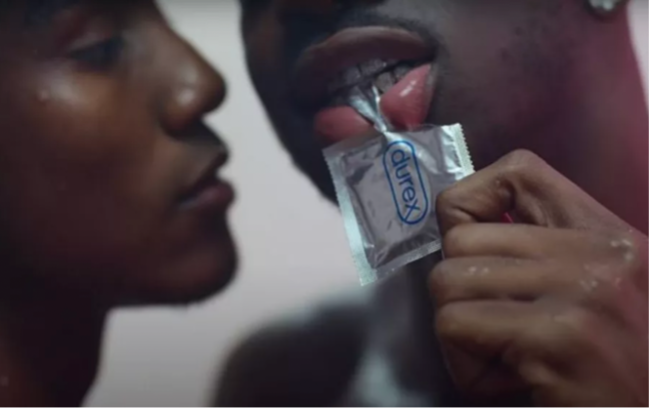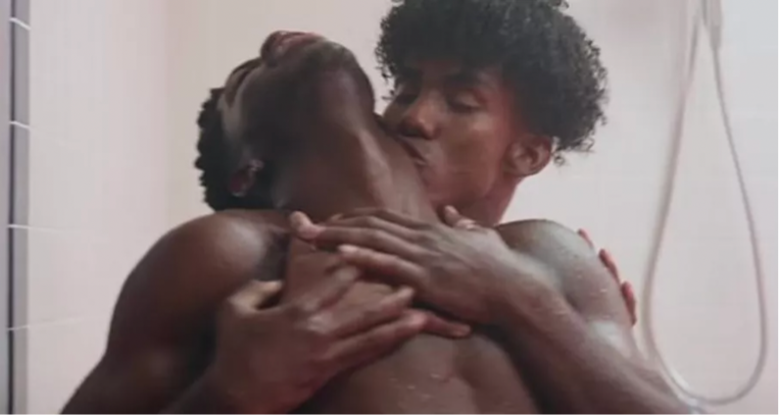 Stills from "That's What I Want" video
Lil Nas X is not the first openly queer pop star to gain mainstream success (for example, Troye Sivan, Hayley Kiyoko, Miley Cyrus), or even the first Black and openly queer mainstream pop/R&B/hip hop star (for example, Janelle Monae, Kehlani, Frank Ocean), but he is the first young, Black, and openly gay man in pop music to have fifteen songs chart on the Billboard Hot 100, including three number one hits and five top ten hits.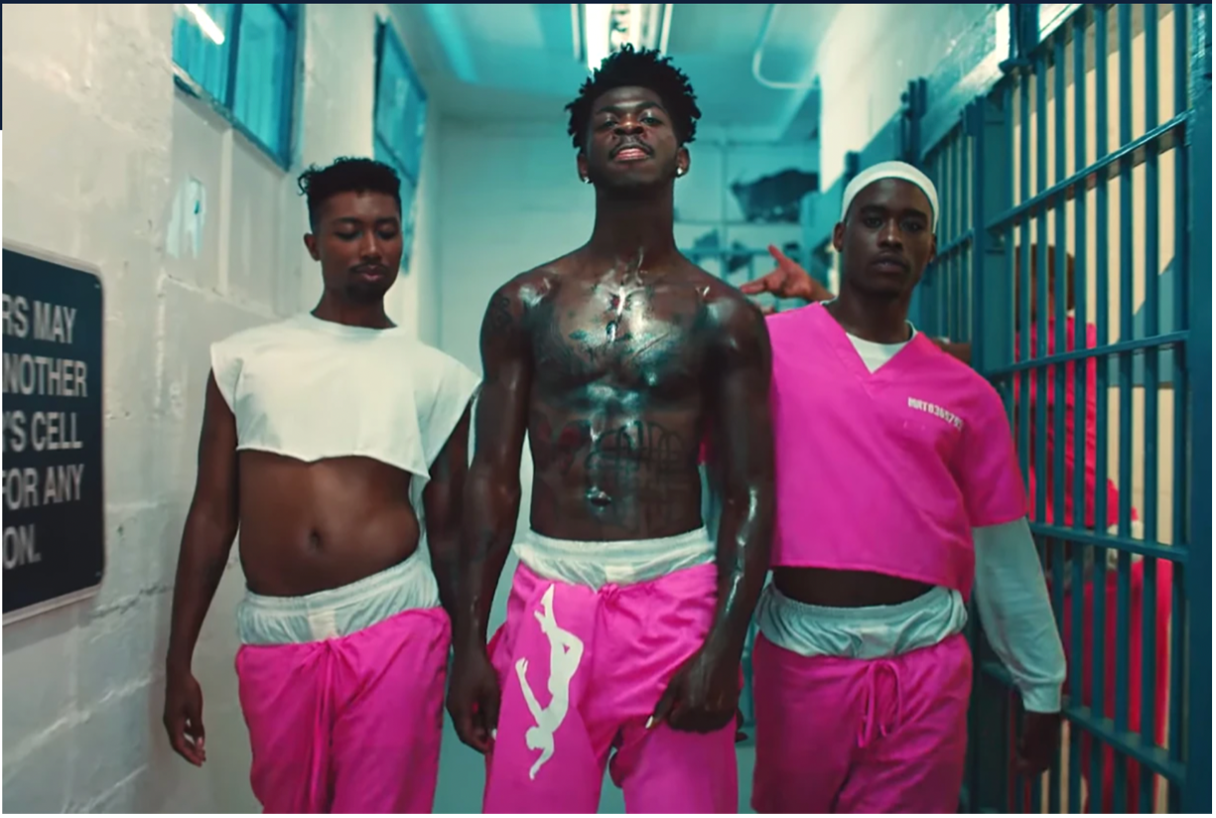 Still from "Industry Baby" video that seeks to raise money for The Bail Project
Further, the mainstream popular music industry has tended to favour Black men who emulate hegemonic masculinity, arguably to satisfy White audiences and increase profitability.[13] If hegemonic masculinities invite Black men to emulate hypermasculinity, hypersexuality, and heteronormativity, Lil Nas X does not accept any of these invitations. He can be hypermasculine, but is not exclusively so. If he expresses his sexuality publicly, it is not in heteronormative ways. His public image does not include dominating and excluding women, men who emulate alternative masculinities, or anyone else who is excluded from the category of hegemonic masculinity.[14]
Lil Nas X "Sun Goes Down" Official Video
Lil Nas X transgresses against hegemonic masculinity by publicly acknowledging his personal insecurities and fears. In interviews, lyrics, and social media posts, he is often tender and vulnerable. His given name is Montero Lamar Hill and in a 2021 tweet, he wrote: "Dear 14 year old Montero. I wrote a song with our name in it. It's about a guy I met last summer. I know we promised to never come out publicly, I know we promised to never be 'that' type of gay person, I know we promised to die with the secret, but this will open doors for many other queer people to simply exist."[15] In this post, Lil Nas X speaks of his understandable fears of homophobia and desires to help other "queer people." In the lyrics to "Sun Goes Down" (2021) he writes, "Since ten, I been feelin' lonely / Had friends, but they was pickin' on me / Always thinkin', 'Why my lips so big? / Was I too dark? Can they sense my fears?' / These gay thoughts would always haunt me / I prayed God would take it from me." In his lyrics, interviews, and social media presence, Lil Nas X centres being Black and gay, offering countless examples of his own loneliness, vulnerability, fears, and hurt feelings, as well as internalized racism, shadeism, and homophobia.
i'll be honest all this backlash is putting an emotional toll on me. i try to cover it with humor but it's getting hard. my anxiety is higher than ever and stream call me by your name on all platforms now!

— im not reading all that (@LilNasX) March 29, 2021
@LilNasX tweet, March 29, 2021
While extraordinarily popular in 2022, Lil Nas X is not without controversy and has been condemned for being openly gay, being "too sexual," "corrupting children," and "attacking the masculinity of Black men."[16] He faces tremendous backlash online and readily acknowledges the "emotional toll" this takes on him.[17] In June of 2022, he feuded with BET, contending that he was shut out of their 2022 award nominations because of homophobia.[18] Much as Lil Nas X is breaking new ground in mainstream music and continues to be remarkably successful, these examples serve as reminders that not everyone welcomes his arrival.
In this highly specific example of Lil Nas X, I wish to suggest that the contemporary and decentralized context of music production, distribution, and social media promotion diversified and transformed pop music by enabling a Black and openly gay star to rise. In the old model of music production in which talent scouts sign artists to labels, I suspect that Lil Nas X would have been screened out for some combination of: being Black and openly gay; acknowledging racism, shadeism, and homophobia in his lyrics and interviews; having a sexualized gay public image; refusing to perform hegemonic masculinity; and creating genre-busting songs. While the decentralized model of music creation, production, and distribution is likely to reproduce many of the same problems of White privilege, racism, homophobia, and hegemonic gender norms that exist elsewhere in the mainstream music industry and the broader culture, in this instance it more likely enabled the rise of a ground-breaking young artist who seems to represent a significant change in mainstream popular music.
---
Image Credits:
References: