Self-Promotion in 15 Seconds: Finding Mainstream Success Through Memeable Sound Clips on TikTok
Meghan Grosse / Washington College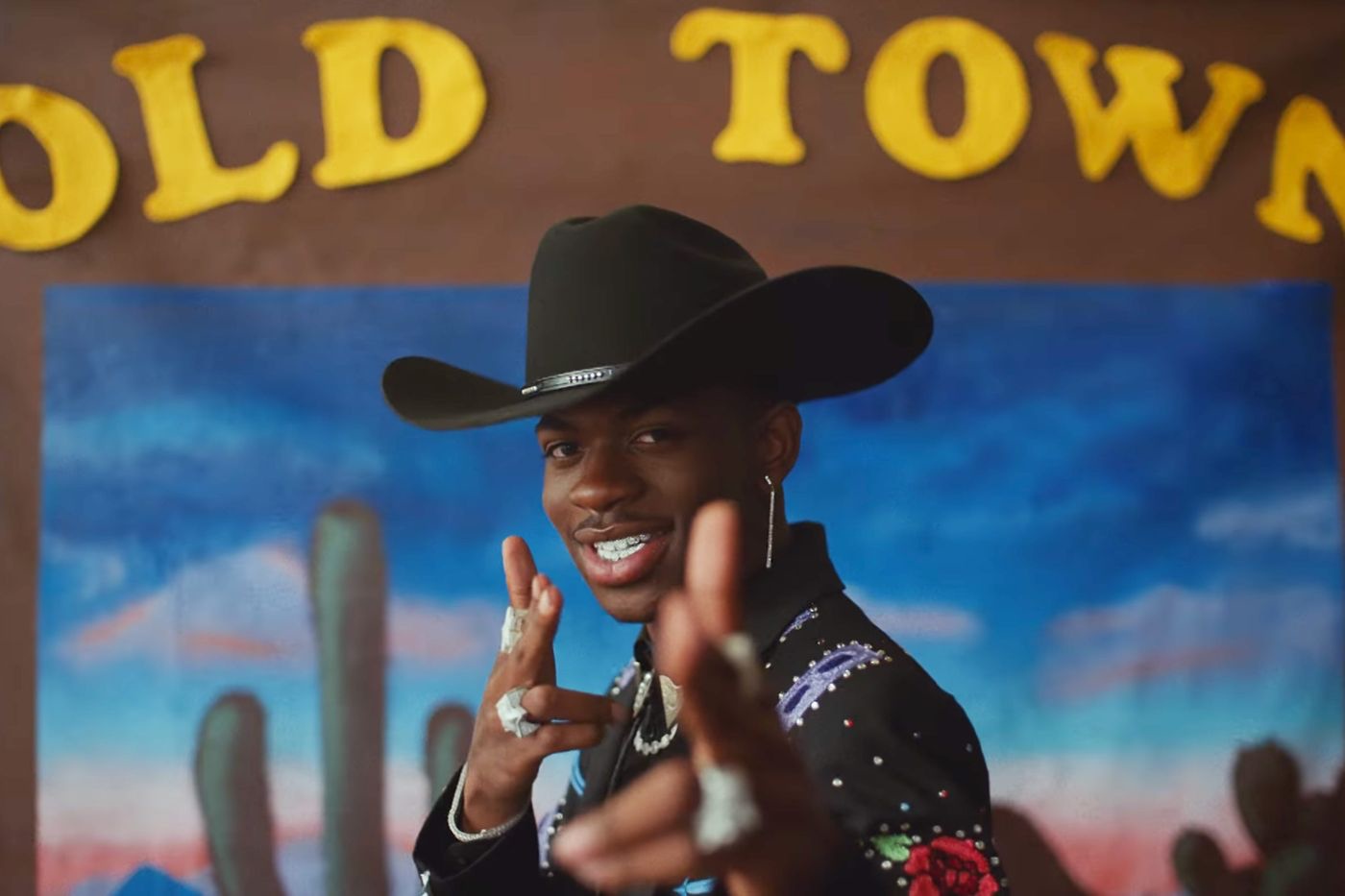 Still from Lil Nas X's 2019 music video for "Old Town Road (Remix)" feat. Billy Ray Cyrus. Lil Nas X's original song first found viral success on TikTok.
Artists have been using the internet to find new audiences for a long time now. Stories of musicians who were "found" on YouTube or who release their songs through SoundCloud are familiar ones. On TikTok, the audio clip is essential. A well selected 15-60 second clip can turn a mundane video into one with millions of views. TikTok is a platform that encourages play and engagement, and as such, is uniquely well positioned to connect artists with potential fans. The kind of filtered perfection frequently associated with something like Instagram is less common on TikTok. Rather than seeing the perfect album cover shot, musicians may appear in their homes and perform straight to camera. This relatability coupled with the memeable structure of the platform is highly valuable to artists. Because of the viral nature of TikTok, in which sound clips are the foundation for challenges and trends, songs can easily spread to a larger community and new potential fans. The best songs on the platform become earworms, and if attributed correctly, the artists' names are seen countless times by an enormous audience.
One of the most highly visible success stories from TikTok is Lil Nas X and his song "Old Town Road." In less than a year's time, the song that first gained attention on TikTok earned Lil Nas X a record deal and the single reached Diamond status, indicating it had sold 10 million units. While the original meme had TikTok users drinking "Yee Yee Juice" to transform them into cowboys, the song has now been memed in a variety of ways. One trending use of the song involved people recreating popular choreography for the song.
Video compilation of TikToks recreating a popular dance to "Old Town Road (Remix)."
These dance challenges are a familiar part of the TikTok landscape, but the kind of imitation in those challenges shows up in other ways. Another trending use of "Old Town Road," a slight variation on the original "Yee Yee Juice" videos, involves a person or people appearing first in what is, presumably, an outfit from their everyday wardrobe. Then with a hop and quick cut, the same person/people emerge in their best approximation of cowboy garb.
Video compilation of "Old Town Road" TikToks evolving into new memes.
Still others use the song as the background to horseback riding, dog riding and suitcase riding, and much else.
@LadBible's TikTok, 11/28/19.
It is hard to overstate the magnitude of success Lil Nas X has seen since premiering his music on TikTok. Young artists like him continue to seek that same level of success on the platform, many using TikTok to speak directly to fans. More recently, 19-year old singer Abigail Barlow has seen her single, "Heartbreak Hotel," move into mainstream charts after promoting it through social media. Taking a quick scroll through her TikTok feed, it might be hard to distinguish her from other users. Neither her nor her home are perfectly filtered or made up, and her excitement and sense of overwhelming joy watching her song move up the Apple Music and Spotify charts seems equally earnest and unfiltered.
@AbigailBarloww's celebratory TikTok, from 7/24/20, as her song was climbing the iTunes Pop charts. Two days later, she posted a follow-up video when "Heartbreak Hotel" reached #6 on the iTunes Pop charts without a record label.
In multiple videos she credits TikTok with "making [her] dreams come true," claiming that "TikTok is the future of the music industry."[1]
@AbigailBarloww's TikTok duet, 7/24/20, with her original Heartbreak Hotel upload from 7/5/20.
Engagement with fans, in most cases, works in these artists' favor. The people in these videos are not just listening to their songs, they are creating new content that then further promotes the song. Of course, there are instances where TikTok users have co-opted songs for harmful purposes. This was the case for the artist Jonathan Visger who performs under the name Absofacto. While Visger is signed with a label, his efforts on TikTok got his years old song back into public attention and onto the Billboard charts. The song for which he is TikTok famous, "Dissolve," is a frequent favorite on the app. After many months of seeing the song in non-controversial TikToks, it became an anthem for videos referencing childhood sexual abuse and incest that were, at best, described as "vaguely creepy" and, at worst, as "deeply disturbing." In this instance, the artist, Jonathan Visger, and his fans had to work overtime to reclaim the sound. Once a sound is on the app, artists have little control of what happens with it. Nevertheless, artists continue to seek attention on the app, and music industry and TikTok executives continue to explore ways harness that attention.
The success of these independent artists is not lost on executives at TikTok. Whereas artists like Lil Nas X made money when they signed to record labels, TikTok is looking for other models for artists using their app. In August of 2020, even as the app's future in the U.S. market is unclear, the platform announced it would partner with UnitedMasters to distribute songs from the app on well known streaming services like Apple Music and Spotify. Unlike with a record label, artists keep a high percentage of their royalties—90% or 100% if they pay a monthly fee. In either case, they retain ownership of their master recordings. Of course, artists need to find ways to gain attention on the app before this kind of thing would pay off.
In Japan and South Korea, TikTok launched a feature called "Spotlight" to help highlight the work of independent musicians. The feature included music industry representatives who actively worked to discover new artists and then provide exposure for them on the app on through other music platforms. For artists who find success, TikTok then goes on to co-promote concerts and events to showcase these artists with established groups in the music industry. In the United States, the process of gaining attention requires more effort, and perhaps more luck, from individual artists.
Countless Quora forums, Blogs, and YouTube videos all try to tackle the question of how to get attention on TikTok. A blog dedicated to independent artists using TikTok claims that "[c]ontext is king." Their advice for musicians is largely technical—use trending hashtags, apply popular filters and camera effects, and shoot videos in the 9:16 aspect ration suited for the platform. However, they also encourage "authenticity" and "fun" as essential for building a fan base amongst the young demographic using TikTok. Artists like Abigail Barlow and Lil Nas X are very much of the Gen Z demographic mentioned in the blog and together represent these characteristics clearly. "Authenticity" and "fun" are not without labor though, and in some ways, the aesthetic of TikTok—in many ways quite distinct from the highly glossy world of Instagram that may be more defining of the Millennial generation—can mask the labor of creative production in content that appears to showcase mundanity, boredom, and imperfection.
Like on other social media platforms, artists must create their music in addition to creating a steady stream of other digital content. Good self-promotion requires constant work responding to comments and direct messages, and on TikTok, it may mean dueting with fans or creating videos featuring their comments. In rare instances this pays off, but like other creative industries, this labor pays off for very few. TikTok may, as Abigail Barlow suggests, be the future of the music industry, but it is one that offers ample opportunities for uncompensated creative labor by artists and their fans. And, even in the best-case scenarios, artists need to get listeners to streaming services to see income.
@AbigailBarloww's "thank u" TikTok recapping the song's viral success, from 7/28/20.
TikTok is a highly relevant place for artists to reach new fans, particularly young and active ones. The platform is not just a place for people to hear new songs, but to interact with them and the artist. This kind of buy-in can be enormously helpful, particularly for independent artists. The labor that goes into creating a successful TikTok presence is high. Still, seeing an artist like Lil Nas X shows the great potential power TikTok has to influence the mainstream music industry, allowing artists to rise from unknown and unsigned to the top of the year-end Billboard chart in a matter of months. For those who can find the right 15 second clip, TikTok may be the way to find new and engaged audiences.
---
Image Credits:
References:
See @abigailbarloww's "Just…. thank u" TikTok from 7/28/20. This video is also embedded further down in this column. [↩]