A Love letter to ALT Black Girls
KáLyn Banks Coghill / Virginia Commonwealth University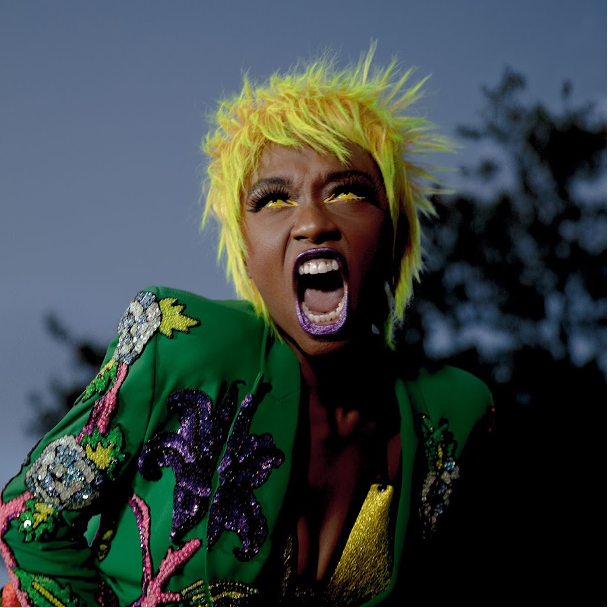 Rapper and alt Black girl Jungle Pussy.
"We know that art and aesthetics of Black girls, Black femmes, and Black women create movement from which life and living become otherwise and always already experienced with texture, complexity, and joy-justice." – Dr. Ruth Nicole Brown
In 2003 I was getting ready for school, and I overheard a powerful rock song, but the singer's voice had so much soul. I immediately had to run to my 13inch television and see who it was. To my surprise, it was a Black woman with dark hair, a grungy style, and a rock band backing her. That woman was Fefe Dobson and my first introduction to an alt Black girl. An Alt Black Girl is an alternative Black girl, an eclectic girl, may love rock music, sometimes wears quirky clothes, all Black, and may even have bright colored hair. This was the first time I had seen a Black woman on television singing rock music, and I was in love. As I got older, I began to play with my style by wearing mix-match earrings, colored fishnets, and blue mascara. My grandma let me get pink braids and lime green braids to express my unique self through my hair. I began to meet more girls like me. Their love for everything alt allowed us to create deep bonds that have lasted longer than 15+ years. We created a space where being "weird" and "different" was normal. The weirder, the better. My alt Black girl love started with Fefe Dobson and grew as I witnessed Black girls and women tap into their quirkiness. My friendships with these Black women have kept me alive, thriving, and wanting to be a better version of myself. My love for alt Black girls runs deep and wide from bright colored hair, shaved sides, tattoos, piercings, and eclectic clothing. – KáLyn Banks Coghill
With social media sites like Tiktok, Instagram, and Youtube, young Black girls and Black women are leaning into their alternative style. It is more than an aesthetic for Black girls and women; it is a way of life. Black women have been setting the trend since the beginning of time, and alt Black girls in Hip Hop is no different. Artists like Rico Nasty, BbyMutha, Jungle Pussy, and many more combine punk, rock, and hip hop to make some of the best music.
Artists like them and many others continue to create and carve out a space for alt Black girls to exist in spaces like hip hop. Their style, music, and performances through unique videos are radical. Audre Lorde states that "If I didn't define myself for myself, I would be crunched into other people's fantasies for me and eaten alive." And these artists, YouTubers, Tiktokers, and Instagram influencers define what being an alt Black girl means in 2022. Because being an alt Black girl does not require a particular class, anyone at the intersection of Blackness and gender (cishet women, non-binary baddies, and agender angels) can be an alt Black girl.
Rapper and alt Black girl Kelow Latesha.
In Black girlhood studies, scholars such as Ruth Nicole Brown and Aria Halliday discuss the importance of representation and Black girls having the freedom to show up as their whole selves. This means that Black girls are not a monolith, and even alt Black girls represent the magic that Black girls contain within themselves. Brown states that "Black girlhood is freedom, and Black girls are free." Alternative (alt) Black girls express themselves through their clothing, hair, nails, and music choices. They push against the stereotypes that are associated with Blackness and womanness. These alt Black girls show us what freedom looks like and how being yourself is the only way to be.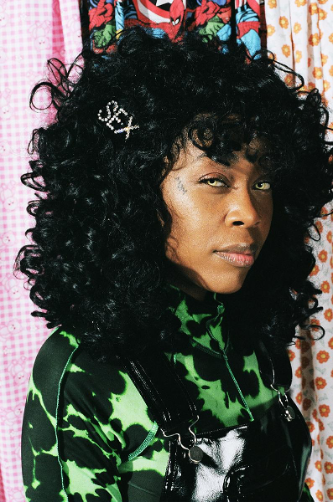 Rapper and alt Black girl Bbymutha.
Makeup guru and makeup line-owner Glam Goth is an alt Black girl from Virginia who uses her unique goth style to create makeup for women like her. She has become a favorite on social media sites like Instagram due to her edgy and glamorous gothic makeup and hair looks. As a Black woman, she represents other Black girls and women in spaces that white women typically dominate. She makes it clear that she is a Black woman first, and that is important to see represented for alt Black girls.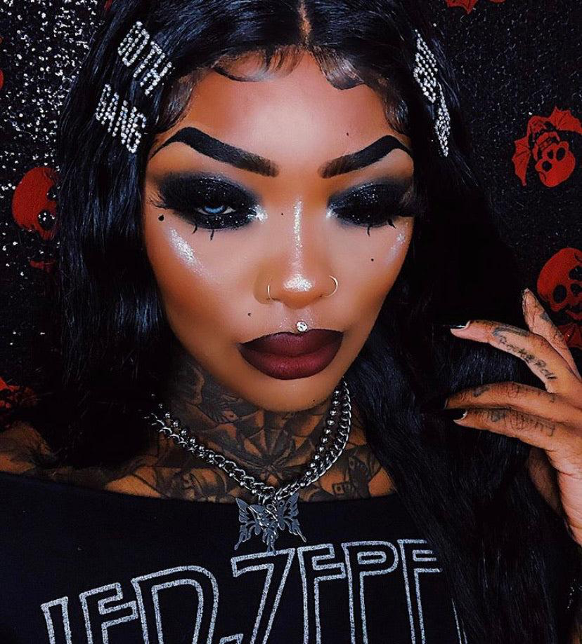 Make-up guru and alt Black girl Glam Goth.
It can be said that Black women created alternative aesthetics and styles. This alternative style and way of living aren't just limited to goth. There are music artists like Baby Tate who dons bright colors and dramatic nails to express her alternative styles. There are Black women who are into anime culture and rock pastels to embody the cuteness that is Kawaii. These women and more embody what an alternative Black girl can be. Alt Black girls style is like "a choose your own adventure" where you, as the Black girl, can create your own look and express yourself in many ways.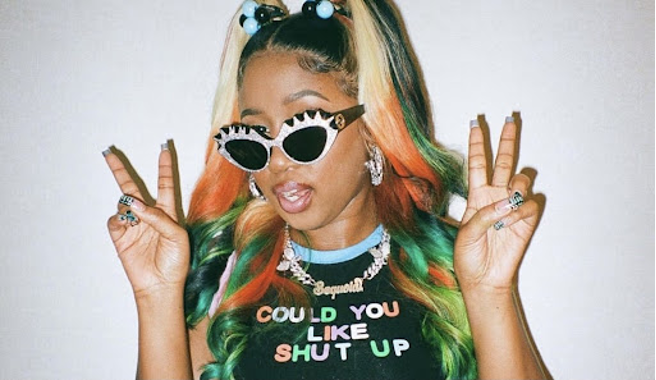 Music Artist and alt Black girl Baby Tate.
Places like Tiktok are now using hashtags like #altblackgirl to chronicle the many different alt Black girls online. These Tiktokers do fashion videos, make-up videos, and even use their pages to speak out against racism and sexism. These alt Black girls are doing the work to dismantle the patriarchy, and we love them for it. However, we love to see the uniqueness each alt Black girl brings and how they genuinely create their meanings behind being alternative. The community is constantly growing, and with alt Black girls showing up in Hip Hop, we now have examples of Punk Hip Hop Princesses who are not afraid to scream on the track or lay down a tight verse over an electric guitar.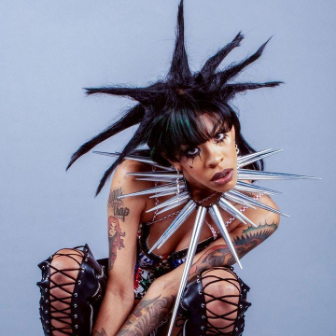 Rapper and alt Black girl Rico Nasty.
---
Image Credits:
References:
Brown, Ruth Nicole. Hear Our Truths : The Creative Potential of Black Girlhood, University of Illinois Press, 2013. ProQuest Ebook Central, http://ebookcentral.proquest.com/lib/vcu/detail.action?docID=3414310. Created from vcu on 2022-02-01 16:08:01.
Brown, & Smith, B. E. (2021). Complex Textures: Visual Art, Play & Aesthetics of Black Girlhood. Visual Arts Research, 47(1), v–viii.
Love. (2017). A Ratchet Lens: Black Queer Youth, Agency, Hip Hop, and the Black Ratchet Imagination. Educational Researcher, 46(9), 539–547. https://doi.org/10.3102/0013189X17736520
Love. (2016). Complex Personhood of Hip Hop & the Sensibilities of the Culture that Fosters Knowledge of Self & Self-Determination. Equity & Excellence in Education, 49(4), 414–427. https://doi.org/10.1080/10665684.2016.1227223
Articles:
THE INFINITENESS OF ALT BLACK GIRLS
A new dawn for alt black girls
the issue with the perceived "whiteness" of being an alternative black girl
Intersectional Confessional: Alternative black girl
Video Content:
The Rise of Alternative Black Girls
The Alternative Black Girl Tag!
Alternative Black Girls | I Stan with Keke Palmer
Music Videos:
Tank And The Bangas – Big ft. Big Freedia (Official Video)
Kari Faux – LEAVE ME ALONE (Official Music Video)
Rico Nasty – Key Lime OG (Official Music Video)
LAVA LA RUE – STITCHES [TWENNYFOUR /BISCUIT] (OFFICIAL MUSIC VIDEO)