LAW AND ORDER AND TV CRIME: FIGHTING FOR NARRATIVE CONTROL ON THE RADIO CRIME SITCOM
Catherine Martin / Denison University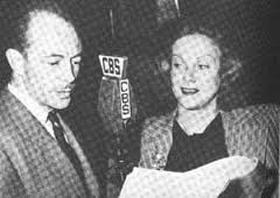 Claudia Morgan and Les Damon record an episode of The Adventures of the Abbotts.
If people remember detecting wives at all – and that's a big if – they usually think of screwball comediennes like Myrna Loy, of The Thin Man series (MGM 1934-1947), or maybe Gracie Allen, of Mr. & Mrs. North (MGM 1941). Across their respective films, both actresses played active, zany wives who ran circles around their jovial, befuddled, and, especially in the later Thin Man films, dismissive husbands. Media historians like Katrina Glitre (2006) situate these comedic detecting wives within the broader context of 1930s screwball comedies, which dramatized post-19th Amendment debates over women's expanding rights and changing marital relationships as battles of wits between an equally matched, heterosexual couple. They did not ultimately disrupt prevailing patriarchal assumptions about gendered social power, but screwball comedies did suggest a "cultural fascination with the possibility of sexual equality in [1930s] America." [1 ] This possibility was curtailed in post-World War II romantic comedy movies, including the final Thin Man films, which increasingly restricted Nora to domestic roles. However, it flourished during and after the war in a different, more prolific site: the network radio crime sitcom. While each crime sitcom approached marital conflict in its own way, this post focuses on The Adventures of the Abbotts (MBS 1945-1947, NBC 1955), which extended its gendered battle for control to the episodes' form. Notably, Jean Abbott, wife to professional private investigator Pat Abbott, was one of the only women to consistently narrate her own postwar radio series. The privilege – and power – of narration was usually reserved for male PIs, but Jean wielded it to disrupt her husband's control over their story.
"Crime sitcom" is of a retrospective label, to be sure. [2 ] Contemporary critics typically discussed series like Adventures of the Abbotts, Mr. & Mrs. North (CBS & NBC 1946-1954/TV, CBS & NBC 1952-1954), The Thin Man (NBC/CBS/ABC 1941-1951/ TV, NBC 1957-1959), and It's A Crime, Mr. Collins (MBS 1956-1957) as "whodunit[s]," "comedy-myster[ies]," "comedy-thriller[s]," or simply "myster[ies]."[3 ] Still, these programs contained all the hallmarks of later television sitcoms, including external disruptions to family peace (usually bodies), humorous misunderstandings, and witty banter. Most episodes followed a consistent, episodic structure. Every week, the central married couple was pulled into a mystery. Over the next half hour, the husband would try and fail to prevent his wife from interfering with his own – or, in the case of the amateur Norths, the official police – investigation. Wives resisted husbands' efforts to push them back into the home through varied strategies, and for different reasons. Some were jealous of the attractive women their husbands encountered. Others more clearly sought an intellectual challenge. But none was so direct as Jean Abbott.
Despite her often-violent jealousy, Jean was clearly interested in participating in her husband's investigations. Prolific radio actress Claudia Morgan voiced Jean Abbott as a deep-voiced, sultry woman with a cynical, cutting edge, who responded to her husband's efforts to restrain her with a mix of aggressive self-assertion and defensive petulance. Reflecting radio noir's post-1950 shift away from lone wolf detectives and toward law-and-order procedurals, the surviving 1955 episodes of Adventures of the Abbotts emphasize crime's serious moral and social impact and reserve their comedy for Jean and Pat's marital spats, and for Jean's voice overs.[4 ]
Jean's narration was constrained by the terms of her genre. She had to be clear, concise, and direct in order to keep listeners engaged and avoid confusion. However, she also interjected more emotion and personality than most contemporary men.[5 ] Instead of asserting ostensibly hard facts and a linear progression of time, as men did in voice-overs, Britta Sjogren (2006) argues women's voice-offs highlight emotional reality by representing contradiction and difference, a circular narrative progression that emphasizes repetitive patterns and emotional truth, and a concerted – if ultimately unsuccessful – effort to take control of male-dominated discourse.[6 ] This emphasis on conflicting points of view further hailed audience members as active participants in the act of making meaning.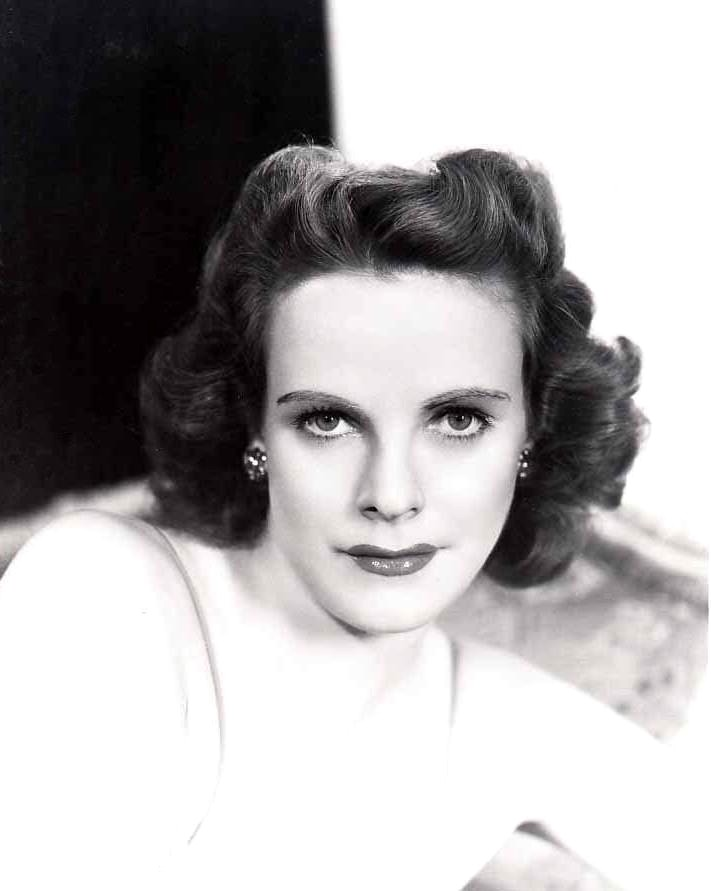 Claudia Morgan, who portrayed Jean Abbott in The Adventures of the Abbotts.
For Jean, the case was secondary to her relationship with her husband, Pat. Jean began each episode with an abrupt "After all" that punctured the radio silence with a definitive assertion of her presence. Her subsequent statements cryptically set the scene for the case to follow and justified her involvement in her husband's investigation. Many of these justifications involved some appeal to jealousy. She often evoked the specter of the lascivious femme fatale who might tempt her husband away from her – and justice – with her sexual wiles through statements like "After all, if your husband is chasing a murderer, it doesn't look very nice for him to have his face smeared with lipstick, now does it? Especially if it's another woman's lipstick."[7 ] Other introductions objected to murders interrupting the couple's romantic time together. Another case began with the question "After all, if you haven't seen your husband in weeks and he takes you to your favorite bar to drink champagne, you certainly don't want anyone joining the party, especially if they've…just been murdered."[8 ] Only after Jean has finished this teaser did the introductory music swell and the male announcer come in to introduce The Adventures of the Abbotts.
Jean's position as narrator ensured that she had a role in every episode of The Adventures of the Abbotts, even when she remained off mic for most of the episode. Jean also narrates the novels on which the program was based, but it is significant that the series producers chose to retain her in that powerful role. As narrator, Jean was able to share her most intimate hopes, fears, and ambitions with her listeners. And despite her introductory statements' efforts to frame her interference as jealousy, Jean evinced a decided wish that her husband would "[realize] at last that I was a VERY valuable assistant" and include her in investigations.[9 ] Jean frequently displays the skills required to be a successful detective. She is smart, inquisitive, and suitably skeptical. Indeed, she could easily pass for a femme fatale and seduce secrets out of men if she so chose. Moreover, Jean's jealousy is often indistinguishable from her vocal annoyance at being excluded from an investigation, further reinforcing the idea that both feelings are rooted in her desire to investigate. In 1955's "The Royal Purple Scooter," she is equally angry with Pat when he goes to interrogate an attractive woman on his own and when he later spends time playing games with a group of boys without telling her why.[10 ] When Pat does appear to let her in on an investigation, she greets the chance with a joyful giggle. Later, she discusses their ostensible progress on the case with a businesslike pride.
But despite Jean's authority over how the narrative was told, Pat retained control over the plot action, and he usually succeeded in thwarting Jean's investigative efforts. He even occasionally disrupted Jean's voice-over to correct her narrative. In "The Royal Purple Scooter," he disrupts Jean's glee over being asked to track down leads with a hearty chuckle of his own. In one of his few direct addresses to the audience, Pat tells listeners that, while he rarely "barge[s] in on Jean's storytelling," "just between you and me," he has given Jean busywork to keep her out of the way while he interviews an attractive widow.[11 ] Pat's narrative control assured listeners that Jean was not, in fact, a dangerously independent femme fatale. In the few cases where Jean does investigate suspects, she acknowledges she is acting under her husband's direction.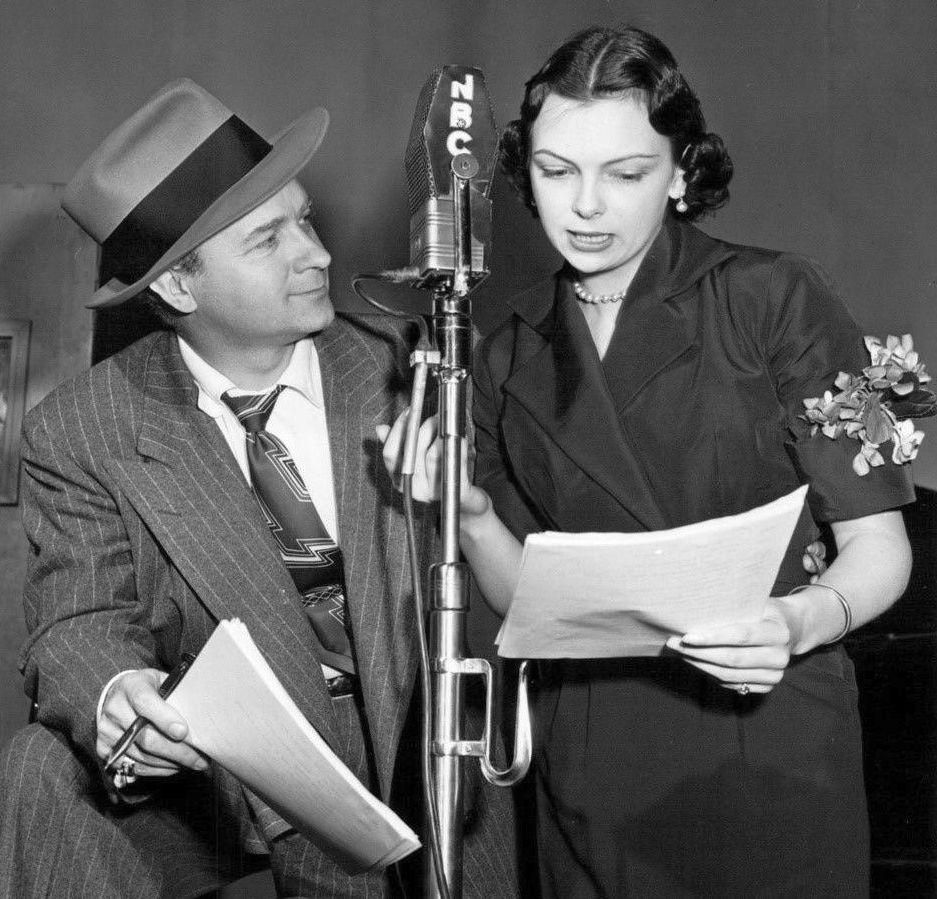 Claudia Morgan and Les Damon performing together.
Still, Pat's efforts to control Jean often failed at the level of speech. While he dominates the technical explanations of criminal methods and motives, Jean often interrupts to deliver crucial information in a more emotive, dramatic register. She is the first to introduce the idea of murder in "The Royal Purple Scooter": Pat hints at it, but Jean is the one to break into his conversation with the client. Her breathy "oh" signals her emerging realization of the truth, which she delivers in a tone that hardens into conviction: "Oh, I see Pat. Rick MacDonald was murdered!"[12 ] This emotional outbreak is heightened by a sharp musical sting that signals to audience members that it is time to get excited about the crime. Jean's emotional, sensual response contrasts with Pat's calm authority. It gives listeners cues as to how they should react to the narrative without implicating the detective in their weakness. Pat's lack of emotion is also subtly presented as the reason he is the detective: in most cases both he and Jean notice the same clues. However, where Pat is able to evaluate them with a dispassionate eye, Jean is more likely to be muddled by fear or excitement. Still, Pat appears to enjoy withholding information in order to prompt Jean's emotional responses. Sometimes, these exchanges imitate a romantic seduction. Later in the same episode, Jean begs Pat to tell her more about what he's learned with breathy "yes"es that sound more like she is waiting for a kiss or declaration of love than a set of cold, hard facts about a murder.[13 ]
Crime sitcoms provided a flexible forum through which producers and audiences could consider conflicting views on crime-curious women. In the immediate postwar years, detectives' wives like Nora Charles and Jean Abbott fought to participate in their husbands' investigations, either directly or by seizing the power of voice-over narration. Meanwhile, amateur detective Pam North, of Mr. & Mrs. North forced her publisher husband to accede to her own investigative adventures. Crime-solving couples were a remarkably persistent, and well-rated, feature of radio's so-called golden age, especially in the final decade before television took over.[14 ] Indeed, the beleaguered radio networks may have hoped that such series would help stem their audience losses by retaining the women who were their most loyal audience.[15 ] Gail Collins, of It's A Crime, Mr. Collins, joined the pantheon near the end of the 1950s as the Mutual Broadcasting System struggled to maintain its economic standing against better funded, multi-media networks.
Given their radio popularity, it is notable that only Pam North and Nora Charles transitioned to television. Mr. & Mrs. North enjoyed a brief run in the early 1950s (CBS & NBC 1952-1954). The networks appeared reluctant to support the independently produced program and its assertive heroine, but the series circulated in syndicated reruns, mostly for children, through the 1970s.[16 ] The Thin Man (NBC 1957-1959) made its network TV debut until near the end of the decade. By then, however, Nora had been re-imagined to adhere to the late-1950s more conservative gender roles. Instead of forcing her way into her husband's cases, Nora did her upmost to pull him into an early domestic retirement that would ensure his safety and – though she never stated it so directly – provide her with a constant companion at home.
---
Media Credits:
References: