Liberation and Learning from the 60s in One Night in Miami
Christina N. Baker / University of California, Merced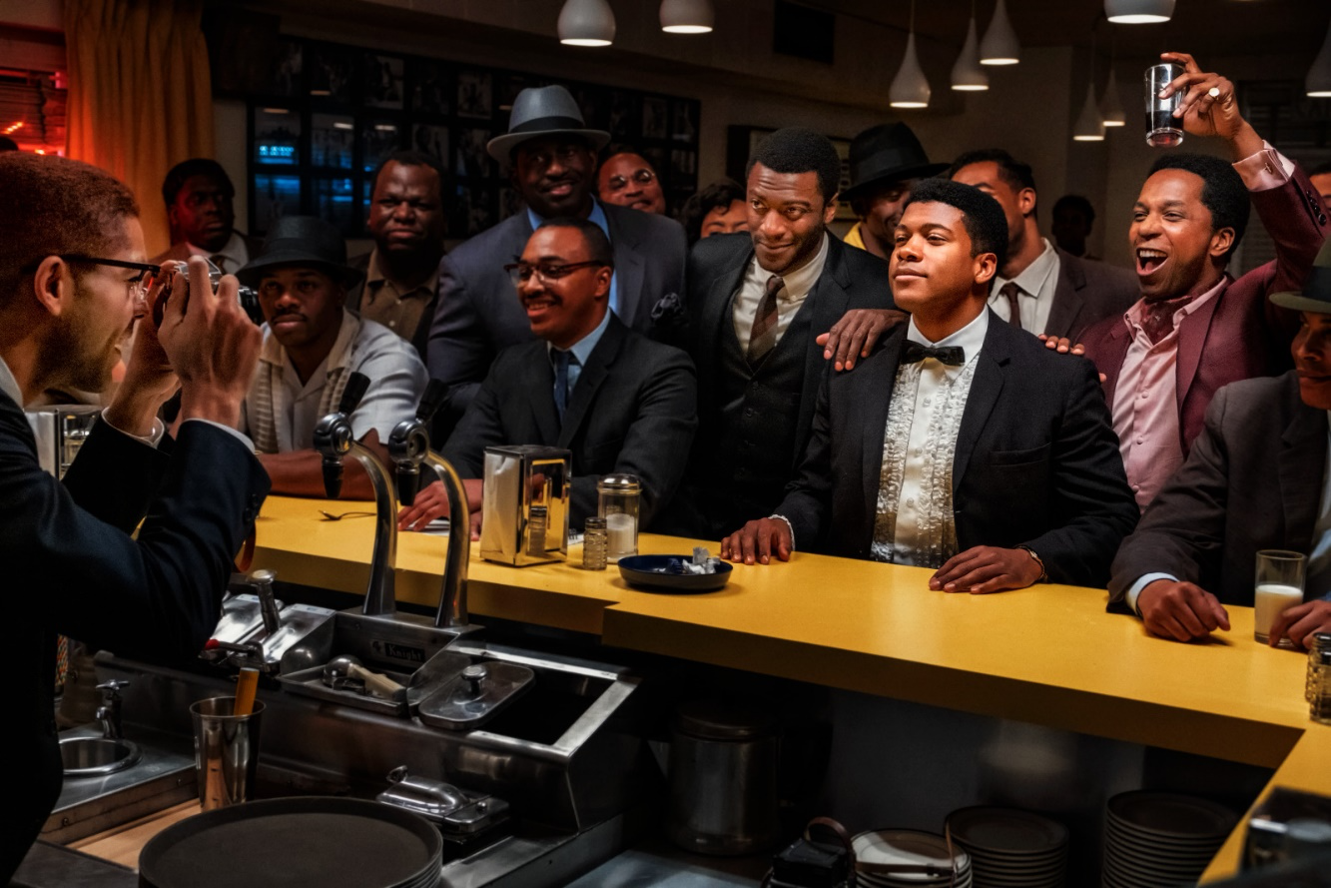 One Night in Miami (Directed by Regina King, 2020)
What can we learn from the 1960s? In this column, I draw from Audre Lorde's insights from that pivotal time-period to illuminate my discussion of Regina King's directorial debut,[1] One Night in Miami (2020).[2] This is the third column in which I draw from the words of Audre Lorde to shed light on themes in the films of Black women directors. My first column explored Radha Blank's film The Forty-Year-Old Version (2020) through the lens of "Poetry Is Not a Luxury," Audre Lorde's testament to the power of poetic and artistic expression. The second column focused on the role of intuition in the creative work of filmmaker Kasi Lemmons and was guided by insights from Audre Lorde's essay "Uses of the Erotic: The Erotic as Power." While I drew from Lorde's vision of personal liberation through creative expression and intuitive feeling in the first two columns, in the present column I incorporate Lorde's views on the complex dynamics involved in collective liberation.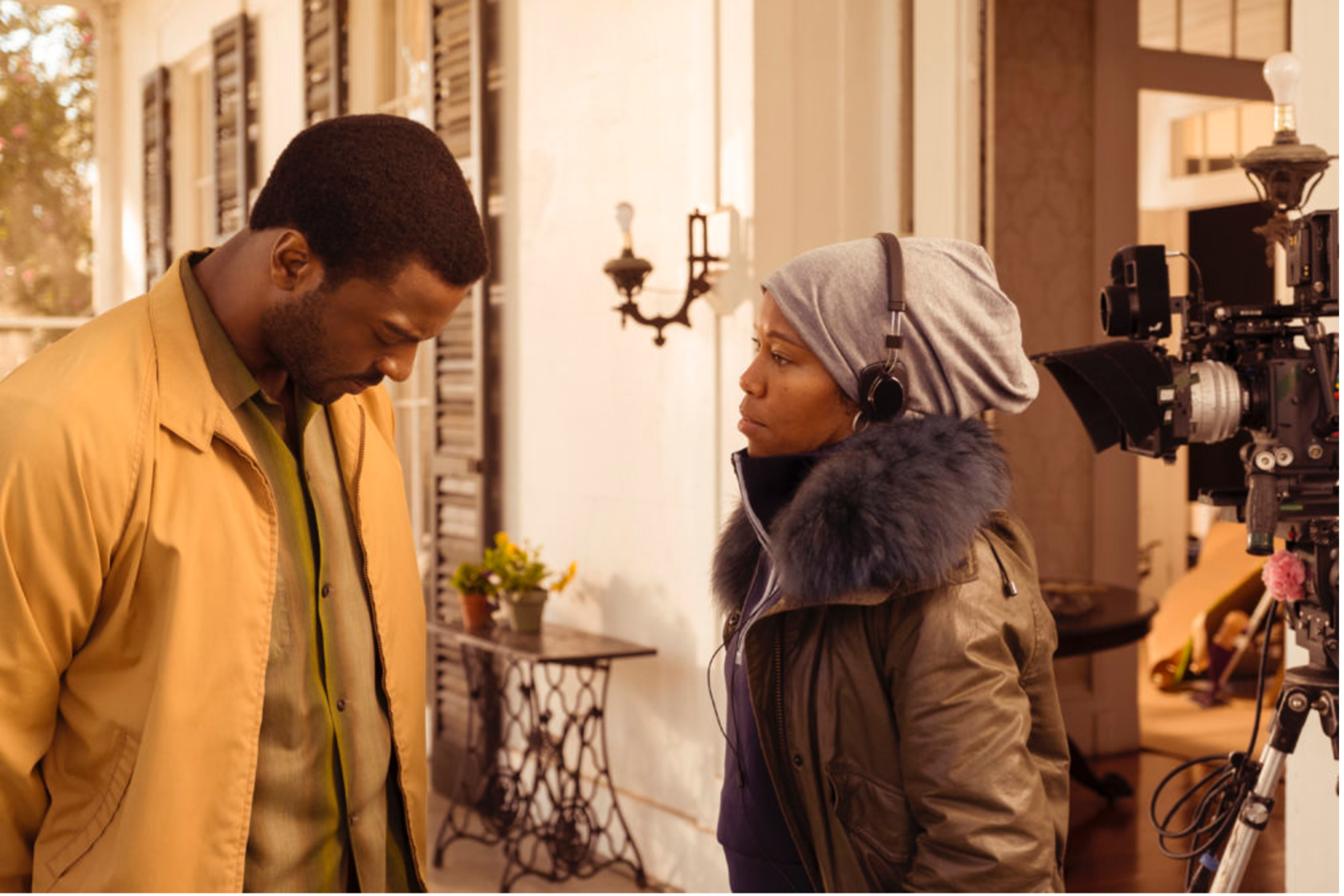 Aldis Hodge (as Jim Brown) and director Regina King on the set of One Night in Miami
One Night in Miami is directed by veteran Academy Award-winning actor Regina King and is written by Kemp Powers (based on his 2013 stage play). The complexities of collective liberation take center stage in the film, by way of its fictionalized account of a night in which Malcolm X, Muhammad Ali (then Cassius Clay), Jim Brown, and Sam Cooke meet in a Florida hotel room in February of 1964. Reaching far deeper than the idolized (or vilified) public personas of these four men, Regina King envisions the men engaging in honest and at times heated conversations about their varied experiences, perspectives, and roles in light of the racism and movements for Black liberation that characterized the 1960s.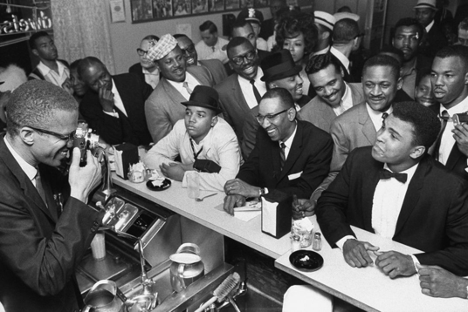 Malcolm X takes a photograph of Cassius Clay on February 25, 1964
Roughly forty years before Regina King created her cinematic vision, skillfully engaging with the critical questions about racism and liberation that made the 1960s such a pivotal time, Audre Lorde gave a public address in which she, too, reckoned with questions that many were asking during the 1960s—questions that many continue to ask to this day. In her 1982 speech, "Learning from the 60s,"[3] Lorde underscores the necessity of embracing complexity within movements for liberation and points out, "As Black people, if there is one thing we can learn from the 60s, it is how infinitely complex any move for liberation must be."[4]
During Lorde's speech, what lays the foundation for her emphasis on the importance of embracing complexity alongside liberation is Lorde sharing her personal revelation about 1960s iconic activist and leader Malcolm X. Lorde reveals that she had previously been guilty of what she notes many people were guilty of—allowing the media to define who he was. She admits, "I'm not going to pretend that the moment I first saw or heard Malcolm X he became my shining prince, because it wouldn't be true…I was one of the one's who didn't really hear Malcolm's voice until it was amplified by death."[5] Lorde continues, "When I read Malcolm X with careful attention, I found a man much closer to the complexities of real change than anything I had read before."[6] She recognized Malcolm X's awareness of the complexity involved in social transformation because it is something that Black women activists have long known and expressed. From Anna Julia Cooper to Ida B. Wells, and from Angela Davis to Alicia Garza, Black women have been leaders and advocates for the liberation of Black people while simultaneously speaking out about their intersectional experiences.
---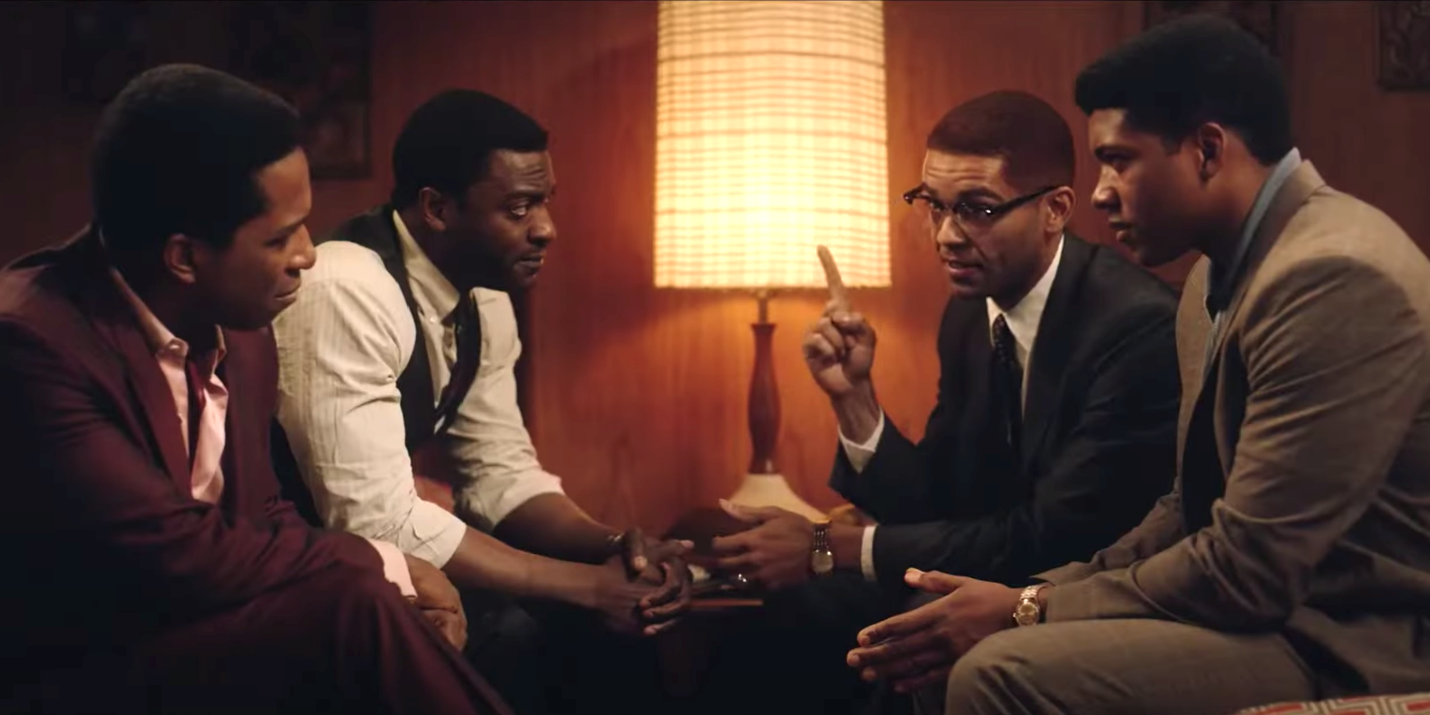 Leslie Odom Jr. (as Sam Cooke), Aldis Hodge (as Jim Brown), Kingsley Ben-Adir (as Malcolm X), and Eli Goree (as Cassius Clay) in One Night in Miami
One Night in Miami is Regina King's envisioning of the complexity of moving toward collective liberation. By imagining a night of revealing conversations between Malcolm X, Cassius Clay, Jim Brown, and Sam Cooke, complexities related to race, power, and liberation are voiced and made visible through the characterization of the goals, successes, and struggles of each man. Though all four men are now recognizable and influential to the point of reaching iconic status, that is of less concern throughout the film. Instead, it focuses on the human differences and struggles that are in conversation with each other and woven into the discussions between the four men throughout the course of the film.
Regina King set the tone for the men to explore these human differences and struggles by creating a context in which the actors were just talking as men—not acting as icons or public figures—in order to bring out the complexities behind the public personas: "All four of these men are so different in just their approach to life…I always stressed to them throughout, to remember the humanity. People see pictures of them and think they know them. We haven't really explored the themes behind the image. To take the time to capture those vulnerable moments that every human has, that men more often than women are not comfortable with exposing, this is an opportunity, because you are not exposing it outwardly, you are exposing it within this comfortable space with your brothers." The result is what King refers to as a "love letter" to Black men—a love letter that encourages vulnerability and authenticity. King created a space for her actors and in the film where the complexity that is a natural part of the human experience is supported, rather than confined into a box of cultural expectations.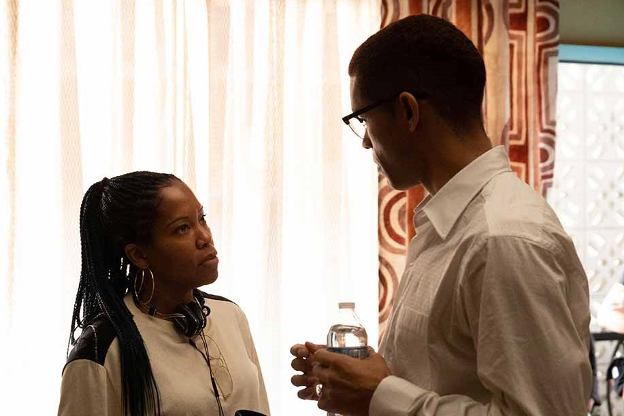 Regina King with Kingsley Ben-Adir (as Malcolm X) on the set of One Night in Miami
In One Night in Miami, the "question of difference as a creative and necessary force for change"[7] is most strikingly revealed through the spirited debates that occur between Malcolm X (Kingsley Ben-Adir) and Sam Cooke (Leslie Odom Jr.) and their different approaches toward liberation. Their divergent reactions to Cassius Clay's (Eli Goree) announcement that he has officially decided to join the Nation of Islam is emblematic of their differences: Cooke pauses and replies with caution, "Cassius, are you sure that's such a good idea?" and Malcolm X retorts "We're entering a new time where no one can hold us back from voicing our honest opinions." Then, later in the evening, Cooke elaborates on his personal approach to liberation by posing the following question to Malcolm X: "Don't you think my determining my creative and business destiny is every bit as inspiring to people as you standing up on a podium trying to piss them off?"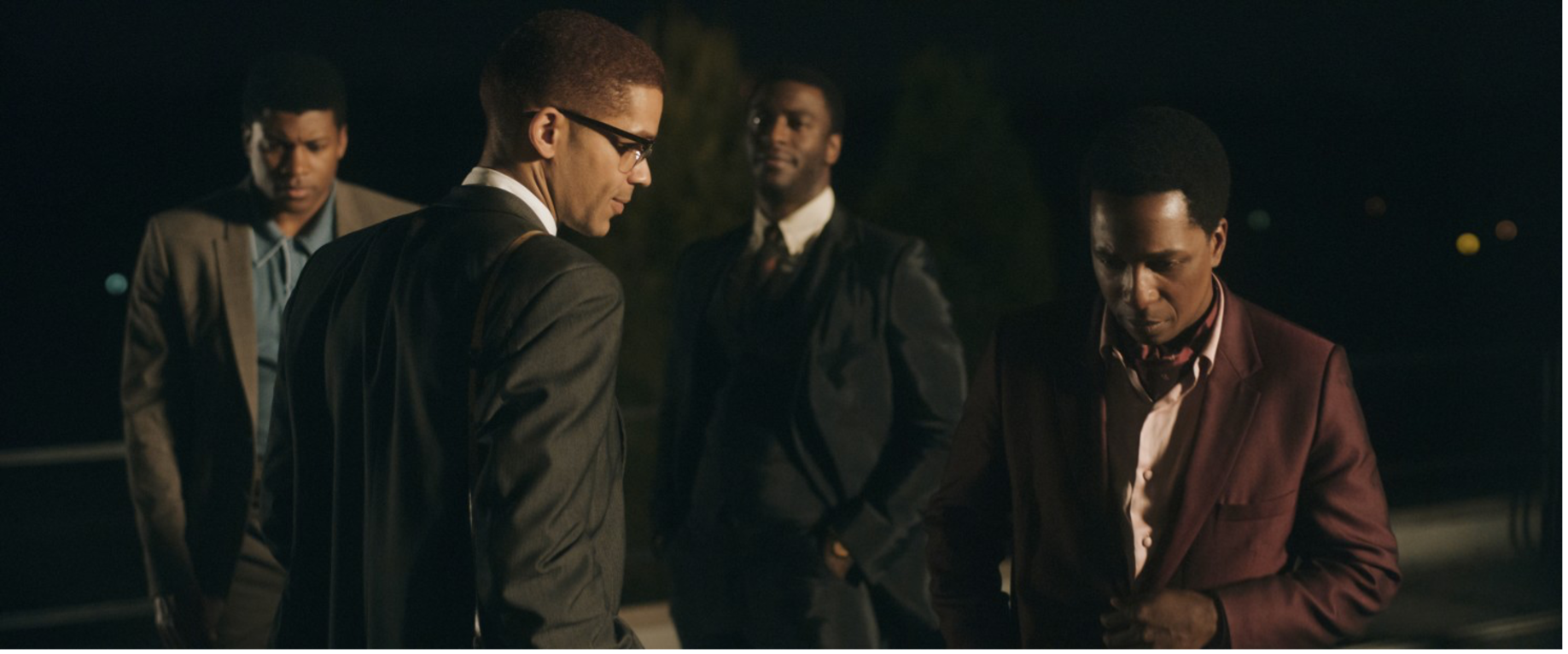 Kingsley Ben-Adir (as Malcolm X) with Leslie Odom Jr. (as Sam Cooke) in the foreground, and Eli Goree (as Cassius Clay) with Aldis Hodge (as Jim Brown) in the background
Throughout the film, differences between all four men continue to reveal themselves. Within the context of the one night depicted in the film, the men express their differences with joy and anger, laughter and tears, and ultimately with respect and admiration for each other. The beauty of their differences is that, as one journalist notes, "Cooke, Ali [Clay], Brown and Malcolm X together presented a dynamic range of new possibilities for Black Americans to engage in and reshape the national conversation."
Audre Lorde's impactful work centers our need to recognize differences as a condition for unity, as well as liberation. As she points out, "In order to work together we do not have to become a mix of indistinguishable particles resembling a vat of homogenized chocolate milk. Unity implies the coming together of elements which are, to begin with, varied and diverse in their particular natures."[8] In describing her experiences navigating situations in which she was expected to become indistinguishable from others by isolating parts of who she was, Lorde states: "As a Black lesbian mother in an interracial marriage, there was usually some part of me guaranteed to offend everybody's comfortable prejudices of who I should be."[9] She knew that by allowing others' prejudices to stifle complexity, we'd also be stifling our humanity and power. Lorde's sentiment about this inherent relationship between our ability to be true to ourselves and our power is captured brilliantly by a line in One Night in Miami, spoken by Cassius Clay's character: "Power just means a world where we're safe to be ourselves. To look like we want. To think like we want. Without having to answer to anybody for it." Indeed, the power to safely be ourselves in this world is true liberation. And that is something we can learn from Audre Lorde and from One Night in Miami.
---
Image Credits:
References: