Insecure, Issa Rae, and The Interstitial Space of Black Female Friendships
Daelena Tinnin / University of Texas at Austin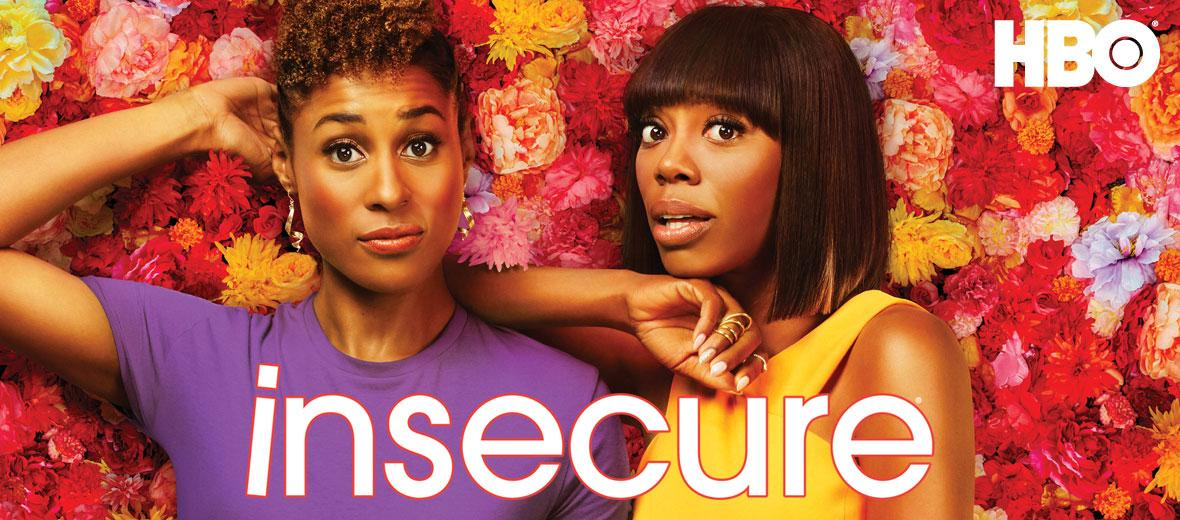 Stars of HBO's Insecure, Issa Rae and Yvonne Orji, promote season 3.
In the penultimate episode of Insecure's (HBO, 2016-) first season, "Real as F**k," the argument between Issa and Molly rivals the heartbreaking blowups viewers counted on between Toni and Joan in the dynamic early aughts sitcom, Girlfriends (UPN, The CW, 2000-08). Issa is doing her best to escape the truth of her infidelity and Molly is doing her best to escape the realization that therapy might be the missing link in her seemingly perfect life. When Issa awkwardly nudges Molly in this direction, not even a lighthearted "Bitch, you mad now?" can prevent the building tension from spilling out amidst the shiny veneer of the We Got Y'all, a white savior non-profit and Issa's employer, fundraiser.
Individually, they are hurling toward a rock bottom brought on by an astounding number of questionable decisions, so when Molly throws the argument's final dagger — a gutsy "Fuck you, Issa" — the terrifying possibilities of loveless and friendless life linger in the frame. Nothing cuts like the knife hurled with good intentions, an arsenal of deep personal knowledge and a chip of exasperation from your best friend. This moment is illustrative of what pools the magic in Insecure: the backdrop of the ache of romance, professional growing pains, and general late 20s anxiety is all there, but the gut punch is the connective flesh of the show's most enduring and complex relationship — the friendship between Issa and Molly.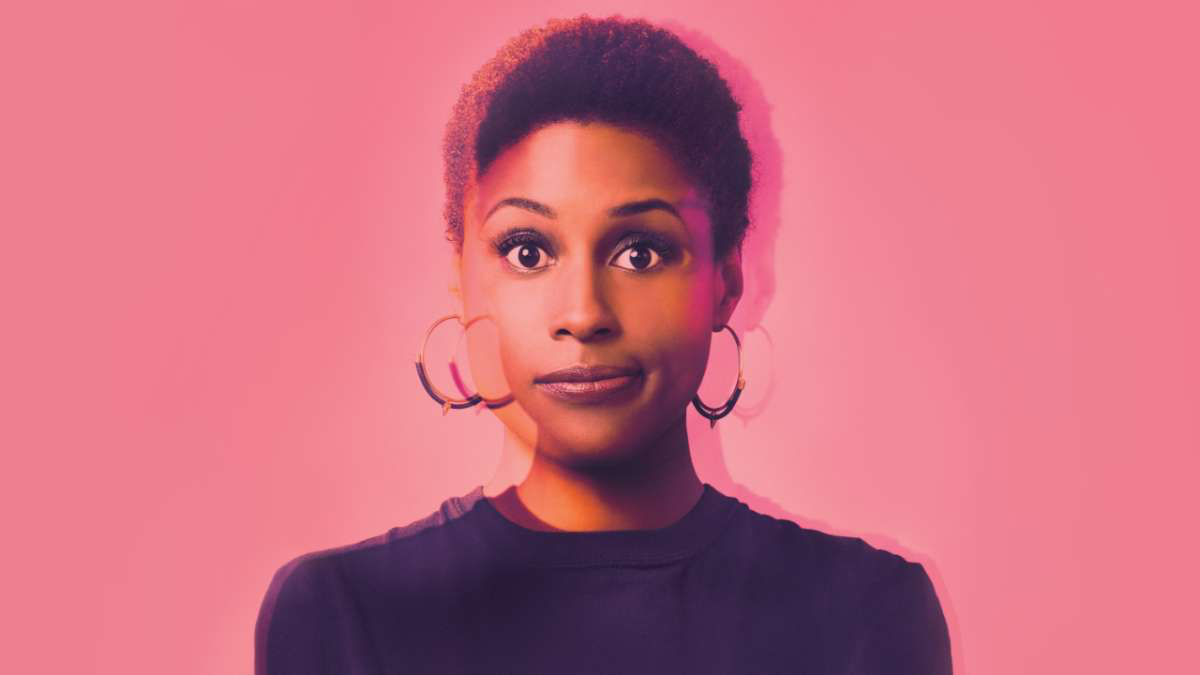 Issa Rae on the official Insecure season 1 poster.
Premiering in the fall of 2016, Insecure, a successor to Issa Rae's popular web series Awkward Black Girl (YouTube, iamOther, 2011-13), entered into a television landscape where Black women could be seen on Scandal (ABC, 2012-18), How To Get Away With Murder (ABC, 2014-), Being Mary Jane (BET, 2013-17), Empire (Fox, 2015-), Queen Sugar (OWN, 2016-), Underground (WGN, 2016-17), Black-ish (ABC, 2014-), and a host of reality series. Before Olivia Pope, acted by Kerry Washington and created by Shonda Rhimes, broadcast television had not seen a Black female lead in forty years. It was and remains a frustrating, but not all that surprising, reminder of television's historic ambivalence around narratives that center Black women. While all of the network broadcast shows mentioned have complicated and clever roles for their Black female leads, most of them also have their Black female leads siphoned off from one necessarily intimate component of Black womanhood — Black girlfriends. This narrative strategy effectively flattens blackness and removes specificity in such a way that acknowledging the intersection of race and gender can become clumsy, if not wholly absent altogether. Gently setting reality series aside, Black female friendships seemingly disappear as a focal point on scripted television series after the cancellation of Mark Brock Akil's Girlfriends in 2008. When we consider the litany of contemporary white female friendships on television shows, the absence is palpable and, frankly, exhausting. What we miss when we refuse a creative seat at the table for the specificity the interstitial space of Black female friendships allows is not only a particular representative power, but also a more generative space from which to theorize the intersections of race, gender, and the machinations of visibility. In other words, Insecure can be seen as bridging a narrative divide that may sacrifice race for gender or vice versa. Like Kristal Brent Zook said of Living Single and its feminist-minded narrative, Insecure presents an "unprecedented opportunity to experiment with black female subjectivity on a weekly basis." [1]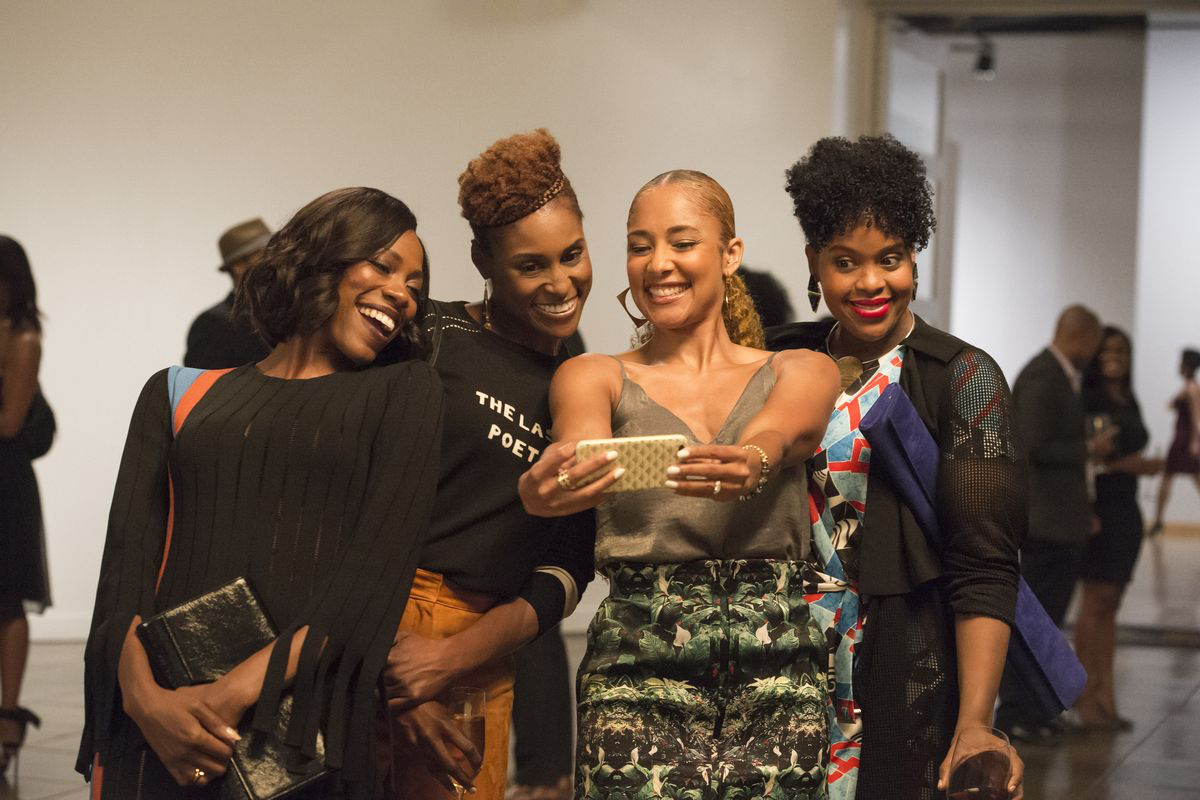 Insecure Season 2 Official HBO Trailer.
Throughout Insecure's three seasons, Issa Rae, co-creator, writer and star, and her creative team have set out to intentionally treat friendship as a site through which to explore Black womanhood and the attendant politics of joy, desire, sexuality and how those politics might shift according to space and time. Some moments like "Hella Great" in season two slice into subjectivity in such a way that the interiority of Black women feels devastatingly human. Others, like "Hella Blows" in season three, fail to locate the specificity of sexual exploration and boundaries without awkward recitations of dialogue that feels out of time and step with the show's radical politics. Still, I find that the challenge that swirls around the cultural, industrial, and theoretical analysis of Insecure is one of paradox. Some of the most visible analytical options stall when they encounter the space of Black female subjectivity — a space that should necessarily disrupt any equation that might incorrectly connect being visible to being seen.
Kristen J. Warner's scholarship often challenges the analytic binaries and offers analytic alternatives to the ways in which Black women, specifically, experience their media representation. She argues that "we should seek out the nuanced space that is located in the interstices between positive and negative." [2] Importantly, Warner ask what recourses Black women have in the face of the structural logics of racism and misogyny that cannot be recalibrated by respectable images in the regime of representation? Warner posits "that envisioning black womanhood as a mosaic of the self can generate possibilities that are not available offhand in currently dominant media and political discourses." [3] Thus, engaging or creating Black women on television requires a liminal space of negotiation where resonance can affectively register in various ways. To this end, Warner proposes "a third option: an ethics of care that prioritizes identificatory pleasures over pedagogy." [4] This is not to suggest that we conclude the conversation about the power of representation, especially in a critical media moment, and acquiesce to characterizations that value shock over substance. For Warner, this means pausing to ask, "at what point do black women acknowledge that mediated representation is as much about pleasure and community as it is about respectability?" [5] Warner's interrogation lead me back to Hortense Spillers and her deft conceptualization of the interstice as symbolic of the space, or non-space, of Black female subjectivity. [6] That is, an analytic opening through which we might understand the paradox of invisibility that accompanies Black women and the limiting pursuit of access to recognition. It is through Warner's third interrogation space and Spillers' interstice that I continue to wrestle what Insecure's Black female friendships "do" more so than what they "mean."
In parts of her 2014 book-length poem, Citizen: An American Lyric, Claudia Rankine brilliantly captures the apparatus Black women are propelled into by manifestations of the paradox of invisibility and hyper visibility. [7] This apparatus multiplies its meaning through the language that ruptures, sutures, and insists upon Black women a knowing of the emotional and bodily costs of the very human desire to be seen. Further, Rankine's lyrical exploration of reality, race, and imagination, traces the intimacy and subtly of the ways in which Black women support each other through the relentless clutches of racial-sexual violence. The grotesque is made bearable through collective deliberation. Positing television as the apparatus Rankine conjures, the presence of Black women on the small screen, then, is often running against a hill of conjecture awaiting a moment exhaustive enough to speak to those intimate, subtle, and collective experiences. In the midst of shifting discourse on the precarious politics of representation, images of Black women exist in a liminal space of imperfect subjectivity; beings of marvel seeking enough precision to be both buoyant and grounded. Insecure is set to return for its fourth season in 2020 and as we anticipate the creative growth of Insecure let us also rethink the interstice of Black womanhood.
Image Credits:
1. Stars of HBO's Insecure, Issa Rae and Yvonne Orji, promote season 3
2. Issa Rae on the official Insecure season 2 poster
3. Insecure Season 2 Official HBO Trailer
Please feel free to comment.