Listening—Finally—to Soundtrack Albums
Paul N. Reinsch / Texas Tech University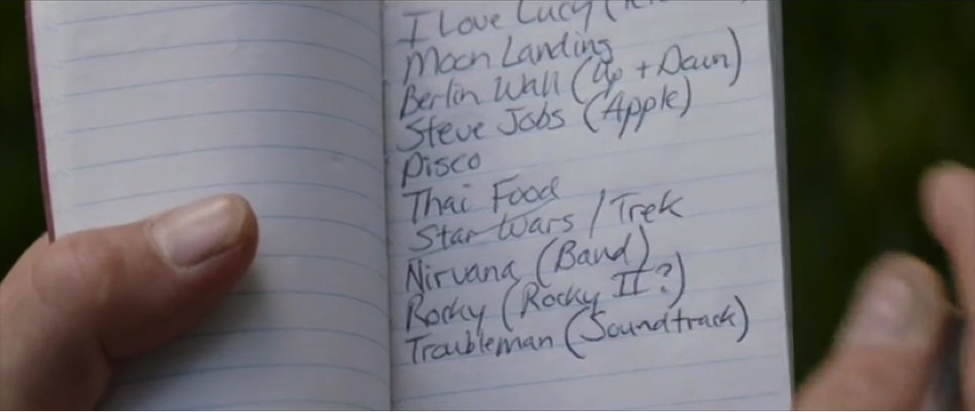 A list of important cultural moments from Captain America: The Winter Soldier
This is a list, or, more accurately stated, the image of a list, of perhaps the most important texts and cultural developments between World War II and the first decade of the 21st century. It appears on screen a few minutes into Captain America: The Winter Soldier (2014). Each item here is worth considering, and we might question each item's place here in lieu of other events, texts and signifiers.
My interest is in the final item: the Marvin Gaye soundtrack album Trouble Man (1972). In this first column I want to assert that the soundtrack album, can, and should, be thoughtfully considered by any scholar who will admit to owning, or listening regularly, to one. That likely means anyone reading this, and many of your friends.
Though many films and television shows promote their own ancillary products — action figures, t-shirts, soundtrack albums, plush toys, sippy cups — it is unusual for one film to promote the soundtrack album of another. And though the "Trouble Man" single appears on the Captain America: The Winter Soldier soundtrack album, Disney does not stand to profit from Trouble Man album sales.
In this moment, a Disney film does more to promote the idea of soundtrack albums as significant cultural objects than most works of media scholarship of the last several decades. In this scene, a summer blockbuster acknowledges the importance of one of the most ubiquitous, but least analyzed of all media paratexts, despite its apparently matching Jonathan Gray's welcome call for an "off-screen" studies. [1] Here, within a superhero film, is at least the suggestion that soundtrack albums are meaningful. Almost 20 years ago, Jeff Smith asked: "What do fans derive from listening to soundtracks? Is it merely the chance to relive a pleasurable cinematic experience or does a film's music relate to fans on some other extratextual level?" [2] Though some popular writing has recently considered soundtrack albums, Smith's important questions have largely gone unanswered. [3] But let's back up.
In Captain America: The Winter Soldier, Sam Wilson (Anthony Mackie) and Steve Rogers (Chris Evans) meet while jogging on the Mall in Washington, D.C. Wilson knows that Rogers is also Captain America and was encased in ice for decades (awaking at the end of the previous Captain America: The First Avenger [2011]). Wilson wants to give Rogers guidance that goes beyond what he might learn from searching the Internet for information about the missed decades.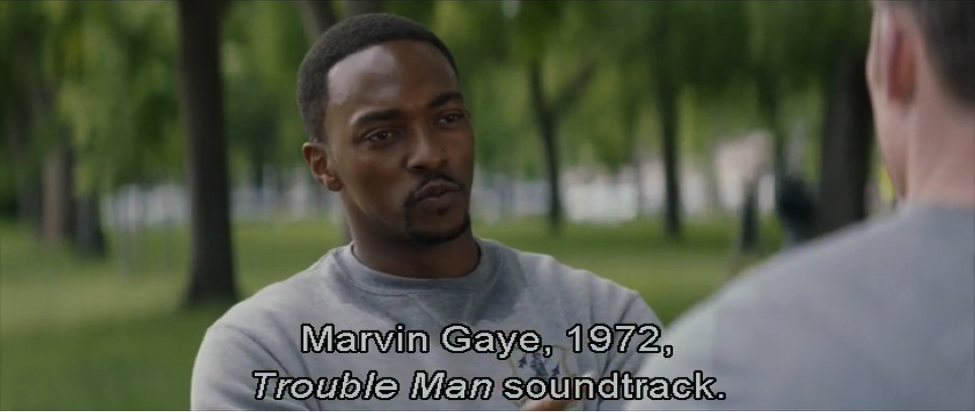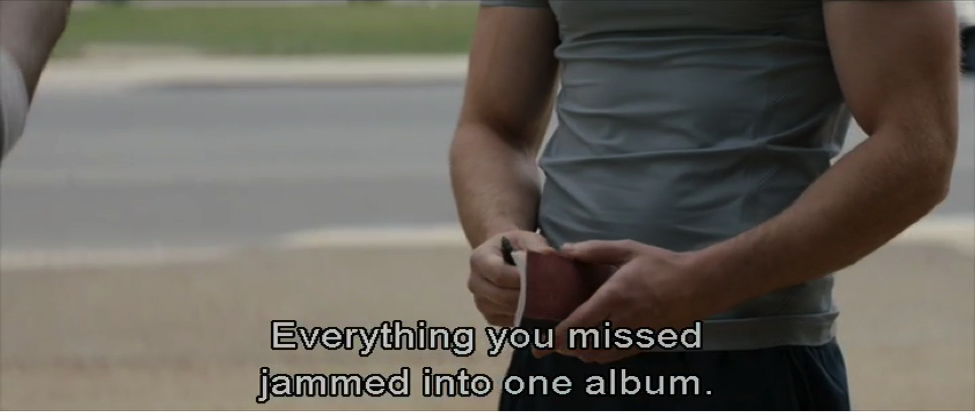 Captain America catches up on the twentieth century
This is also clearly a gesture that a number of other well-meaning folks have undertaken. Rogers immediately replies, "I'll put it on the list," and documents the recommendation. Possibly others have made strong endorsements of particular items or ideas, but Wilson's "Everything you missed jammed into one album" is a bold statement.
Please look again at the list Rogers is creating (scroll up if necessary). Admittedly, the list may cover multiple pages that remain unseen. But what we can see is striking: the list is dominated by pop culture material. The only items of a "historic" nature (the moon landing and the Berlin Wall) will almost certainly be experienced by Rogers not as history but instead as media events. Beyond these topics, the culinary arts are included, television is represented by I Love Lucy, Star Wars and Star Trek remain locked in their eternal struggle, and disco and Nirvana cover the music Rogers has missed. The presence of Trouble Man just below Rocky (1976) and Rocky II (1979) perhaps signals that the album will act as a corrective to the racial politics offered by those films. Rogers has mistakenly written "Troubleman" as a single word, but his awareness of Steve Jobs and Apple will, we can hope, allow him to find the album via iTunes.
Most importantly, Rogers has correctly labeled the item a "soundtrack," just as Wilson carefully stated. Note that Wilson makes no effort to recommend the film which Gaye's album would conventionally be said to "accompany." The album, and not the film Trouble Man, is the text which is promised to contain "everything." [4] Trouble Man is, not surprisingly, the only soundtrack album on the list. But it stands in pretty well as the single representative of this media type, not simply because of its quality as popular music, but also for the way it mixes instrumental tracks with songs foregrounding Gaye's voice and lyrics.
Main theme from Trouble Man on YouTube
Trouble Man might not explain decades of American culture, or even the single year of its release. It may not do any better in orienting Rogers—or the audience—than any of the other texts and topics in the list. But the idea that a soundtrack album has this potential is provocative. And perhaps even radical.
In media and popular culture studies it often (thankfully) is a given that television programs, films, music videos, comic books, gifs, and video games merit close analysis. Yet soundtrack albums are all too often dismissed as cynical attempts by massive corporations to extract more money from a duped public. Dazzled by a film's logo and poster image on an album cover, the film-drunk teen buys the 8-track, LP, or CD and is saddled with music that is not even featured within the film itself. The horror. But media fans are not, and have never been, victims.
I would argue that Rogers's list should include more soundtrack albums. Among other reasons, some of the best-selling albums in history are film soundtrack albums. The Saturday Night Fever (1977) album can help with disco and the 1970s more generally, everyone should hear Whitney Houston covering "I Will Always Love You" from The Bodyguard (1992), and Purple Rain (1984) is, well, Purple Rain.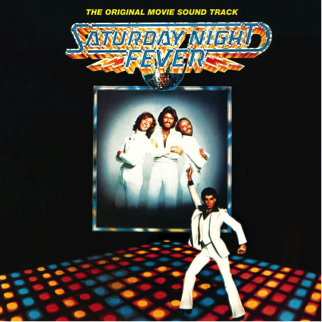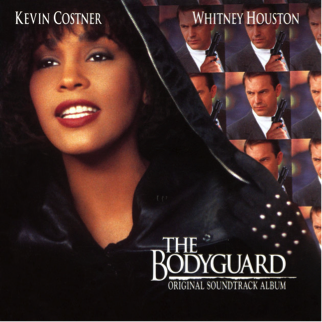 The Soundtrack Albums for Saturday Night Fever (1977), The Bodyguard (1992), and Purple Rain (1984)
These albums, Gaye's Trouble Man, and countless others, do not merely support or promote the films listed on their covers. To suggest they do is to dismiss their contents as music, to disregard this cluster of audio texts as a (potentially) coherent whole, and doubt the seemingly simple notion that soundtrack albums create meaning whether or not the user has "seen" the film.
Though the record industry reports annually that album sales are "down" in the face of streaming services and YouTube postings, soundtrack albums continue to circulate. And soundtrack albums are still quite capable of being the top seller in a given year, with High School Musical (2006), High School Musical 2 (2007) and Frozen (2014) topping sales in their year of release. To study soundtrack albums is certainly to study synergy, marketing, and mass culture, but these texts invite analysis that crosses disciplines.
Film soundtrack albums are ubiquitous, and hiding in plain sight. We pull them up on YouTube, select them from streaming services, play them on turntables, cassette decks, and 8-track players, use them as workout music, allow them to engulf us in aural nostalgia, use them to set a variety of moods, and take advantage of their ability to provide access to a diverse range of artists in manageable servings as though Wim Wenders has made us a personal mixtape.
With these columns, composed in response to Flow's invitation to explore media and culture, I hope to begin a conversation about soundtrack albums. I am also, with my colleague Laurel Westrup, editing a collection of new essays on soundtrack albums. This work has put me in contact with scholars trained in a range of disciplines who agree that studying soundtrack albums, and analyzing them as albums, is a good use of intellectual labor. My work here and elsewhere intends to build on and expand the foundation laid by a number of scholars and suggest new avenues, and texts, that we might explore. [5] It is time to listen, finally, carefully, to soundtrack albums.
Image and Video Credits:
1. Author's screen grab
2. Author's screen grab
3. Author's screen grab
4. Main Theme from Trouble Man on YouTube
5. Saturday Night Fever Soundtrack
6. Purple Rain Soundtrack
7. The Bodyguard Soundtrack
Please feel free to comment.