Lindsay Lohan: Star Image Succubus
Andrew Scahill / George Mason University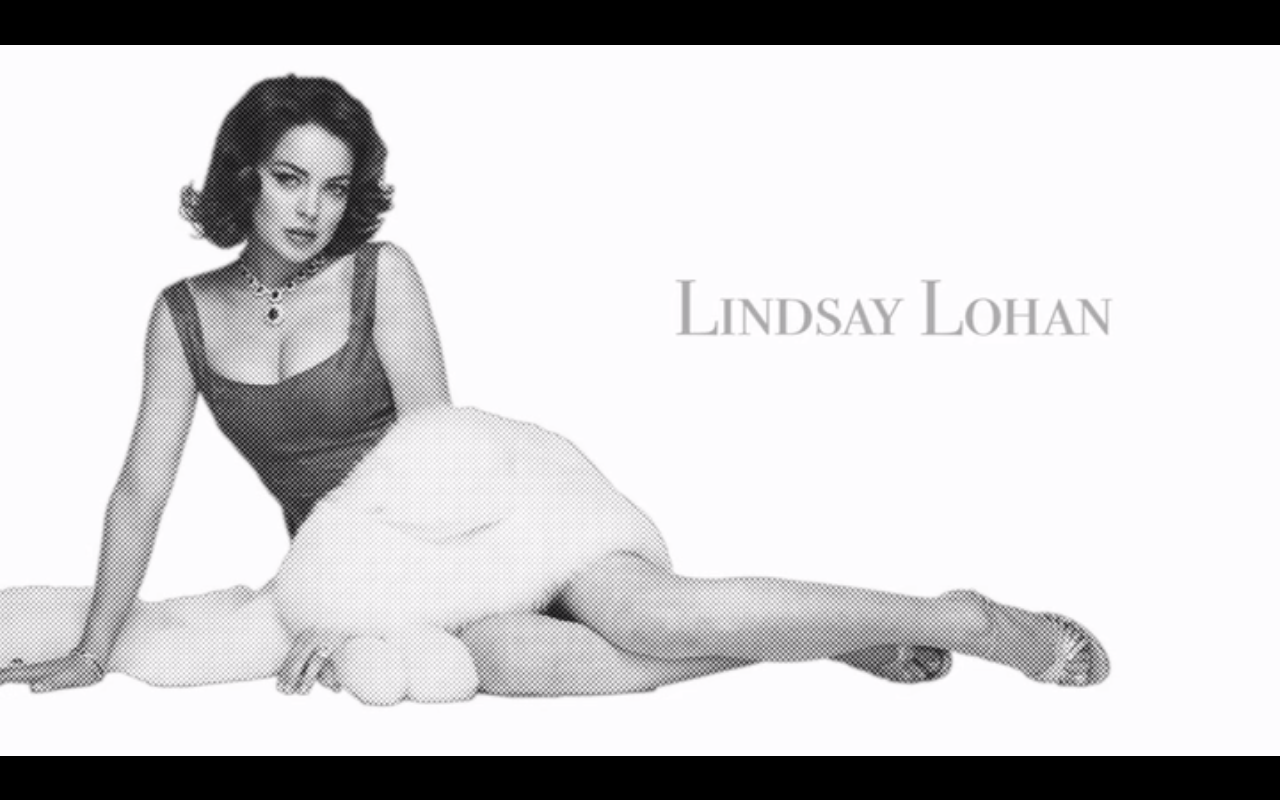 Lohan as Taylor presented as a photo effect of newsprint, suggesting that she and Taylor are the sum total of media discourse.
At this point, stories of Lindsay Lohan's tumultuous personal and professional life are legion—enough to warrant a timeline of legal woes. They show no sign of abetting, either, as a recent New York Times article entitled "Here's What Happens When You Cast Lindsay Lohan in Your Movie" chronicles a nightmare scenario of unprofessionalism, melodrama, and ego.
Indeed, stories of her "troubledness," be it her diva behavior on set, alcohol and drug abuse, frequent trips to rehab, driving under the influence, grand theft, or violating parole after many of these actions, have largely eclipsed the narrative of Lindsay Lohan as a promising young starlet. The new narrative is a familiar one in our construction of the "child star": squandered talent, Hollywood excess, selfish parents, corrupted innocence, and spiraling addiction. In effect, Lohan's celebrity image has become her star image—and any role she now undertakes must be presented not despite that image, but through and because of it. Her recent engagements with the star images of Marilyn Monroe and Elizabeth Taylor witness an attempt to accommodate her troubledness within a larger and more prestigious narrative of female stardom and celebrity.
A Star is Reborn
"Stars are actors 'with biographies'" writes Robert C. Allen in Film History: Theory and Practice.1 This simple definition draws upon Richard Dyer's assertion that the star is a "structured polysemy" in which multiple meanings and contradictions coexist in the body of the actor through her/his performances, publicity, and celebrity life. John Ellis has referred to stardom as a feedback loop in which performances, celebrity, and audience interpretation continually recapitulate the star's image, which in turn controls the modes through which the star engages with the public to manufacture meaning. Ellis goes on to claim that the star image is perpetually unstructured—that the promise of cinema is redress incoherencies and to provide a "true" understanding of the star.2
Finally, and perhaps most usefully for examining Lindsay Lohan, Christine Geraghty has argued in "Re-Examining Stardom: Questions of Texts, Bodies, and Performance" that we must unpack the various categories of star to understand "the different ways in which well-known individuals 'appear' in the media [and to] understand what film stars have in common and how they differ from other mass media figures."3 She argues for three categories: "star-as-professional," whose stable star image makes them a certain type (Stallone, for example), "star-as-performer," known for their method performance (DeNiro, Streep), and "star-as-celebrity," known largely for their off-screen personas.
Frequently (at least frequently enough to take note), Lohan's touted "return" to acting or non-celebrity forms of fame occurs by invoking beloved former female stars. Indeed, Lohan depends of upon the semiotic utility of these stars as not simply "troubled," but "troubled, AND YET…" By tapping into the semiotic value of Monroe and Taylor, Lohan and her handlers seek to place her within a pantheon of female stars whose troubled celebrity lives stand as evidence of their genius, and where words like "spoiled," "entitled," or "addict" can be replaced by "fiery," "passionate," or "misunderstood."
Lindsay Lohan as Marilyn Monroe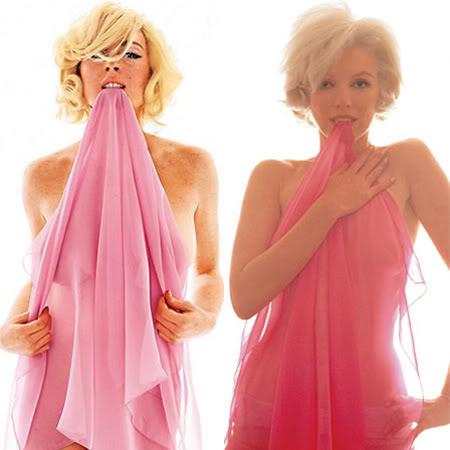 Lohan here in a side-by-side comparison: this image would be used as the cover for New York Magazine's spring fashion issue.
Lohan has taken three turns at reproducing the iconic bombshell, first in 2008 when Bert Stern chose Lohan to reproduce his iconic 1962 photos of Monroe for New York Magazine. The original session, just six weeks before Monroe's barbituate overdose, is often referred to as "The Last Sitting." Hazy and dreamlike, the original photos suggest an intimate and private experience with Monroe. In the context of her death, the photos take on an ethereal quality—ghostly, or at least angelic—as most of the public would not see them until after her death.
One wonders at the thought process of Lohan, a frequent rehab clinic guest, to reproduce these memento mori photos of Monroe at her most troubled moment. Asks Amanda Fortini of New York Magazine, "…one wonders whether Lohan's participation in this project, given all the spooky parallels, isn't the photographic equivalent of moving into a haunted house. (Which, in fact, she may have already done.)"4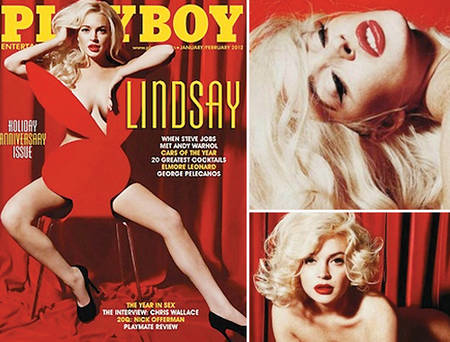 The cover and select cropped photos from Playboy's Jan/Feb 2012 issue. The full spread can currently be seen here.
Lohan would return to mimicking Monroe in 2012 by reproducing the star's centerfold spread for Playboy magazine in 1953. It's worth noting the trajectory of these reiterations—first at the end of Monroe's career, then at the early stages… from haziness to freshness and vitality, or—if you choose—from death to life. Ironically, associations with Monroe's death continued despite this context as the photo spread marked the 50th anniversary of Monroe's death.
Another iteration of Monroe's image will occur in 2013 as Lohan uses an avatar for revenge against the paparazzi. She can be seen in this (nearly unwatchable) trailer for InAPPropriate Comedy reproducing Monroe's famous scene from The Seven Year Itch and then gunning down photographers who take her photo.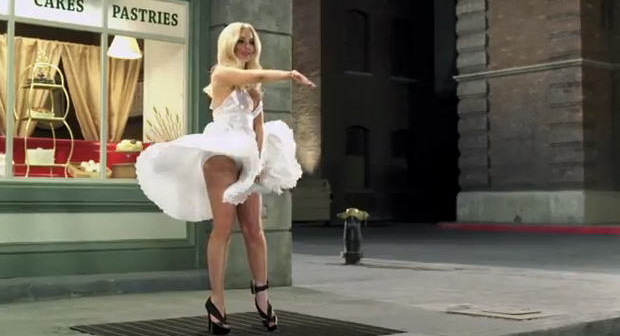 Lohan in InAPPropriate Comedy
Lindsay Lohan as Elizabeth Taylor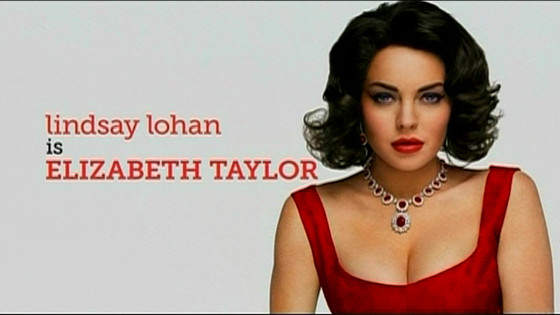 Lohan as Taylor
The promotion for Liz & Dick was essentially two-fold, both features entirely reliant upon Lohan's celebrity image. First was anticipation (rightfully) that the media would discuss at length the "train wreck" potential of the film. Indeed, both mainstream and gossip outlets balked at Lohan's casting, and much of the draw of the film seemed to be its potential for spectacular failure. Stories of Lohan's on-set antics—including a paramedic visit and car crash—did nothing but fuel these expectations.
This was played out, for the most part, as the media summarily panned the film for writing and performances. Claiming that the film was tailor-made for drinking games, Tim Goodman at The Hollywood Reporter called it "an instant classic of unintentional hilarity."5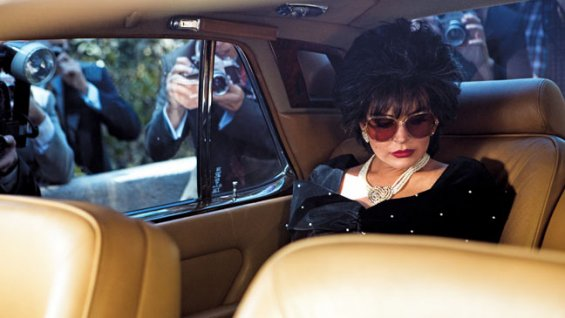 Taylor in later life: interestingly, many critics (including myself) found Lohan most convincing as an elderly Taylor, as Lohan's raspy voice suggests neither youthfulness or Taylor strong, clear tones.
The second mode of promotion was to subsume Elizabeth Taylor completely and to promise the spectator a film about Lindsay Lohan as her star-as-celebrity persona overrules her performance. This recalls Ellis's suggestion that cinema is a forever unfulfilled promise to finally reveal, in toto, the full star.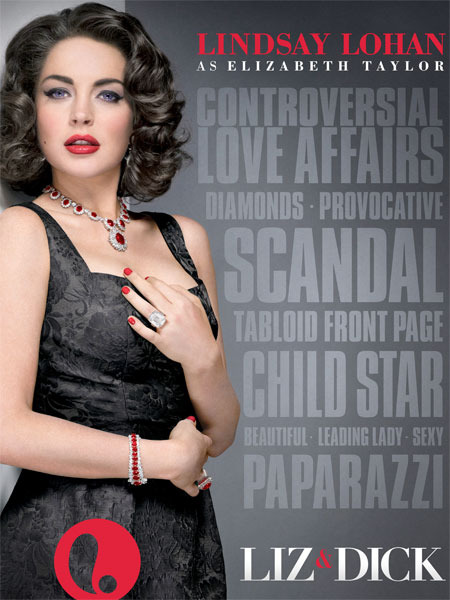 Lifetime's poster for Liz & Dick
The litany of phrases on the poster reference Taylor, certainly, but are there most potently to address Lohan's persona. Phrases like "PAPARAZZI," "TABLOID FRONT PAGE," "SCANDAL," and "CHILD STAR" seem more directed at Lohan, especially as the film itself makes no mention of Taylor's early career as a child actress. "DIAMONDS" becomes almost parodic in light of Lohan's frequent bouts with jewelry theft.
[youtube]http://www.youtube.com/watch?v=lCNFGJWNjZs&feature=youtu.be[/youtube]
Good Morning America
In a behind-the-scenes promotional clip, Lohan describes herself as a huge Elizabeth Taylor fan, and details their similarities, including "living in the public eye" and "dealing with the stress of what people say." Costar Grant Bowler even goes so far as to call Lohan "pretty much Elizabeth Taylor, reincarnated."
[youtube]http://www.youtube.com/watch?v=mV8lzhW-qMM&feature=youtu.be[/youtube]
Behind the Scenes promotional clip
The media, too, touted the similarities, often talking as if the film were a biopic about Lohan rather than Taylor. In a November appearance on Good Morning America, the interviewer says, "Liz Taylor's life was out of control at times, and to be honest, so has yours. From the moment you step out of your house there is often times drama, there has been legal troubles." Lohan later discusses her performance, saying that one "can never you be, y'know, a clone of the person, so you have to bring some of yourself into it, and [I] relate to Elizabeth Taylor in a lot of ways."
Certainly Lohan feels some sort of commonality with these former stars, but her actions seem to suggest that something more is at play here. The young actress seems to also trounce the boundary between fan and actress by engaging in mimicry behavior6 which reproduces the semiotically fertile exterior image of the stars without attempting to inhabit their personas. In essence, Taylor (and Monroe before her) become conduits for Lohan to navigate and attempt alter her own star image within the Hollywood system.
Image Credits:
1. Lohan as Taylor presented as a photo effect of newsprint (Author's screengrab)
2. Lohan in a side-by-side comparison
3. The cover and select cropped photos from Playboy
4. Lohan in InAPPropriate Comedy
5. Lohan as Taylor
6. Taylor in later life (Author's screengrab)
7. Lifetime's poster for Liz & Dick
Please feel free to comment.