A Bitter Pill: Nurse Jackie and a Discourse of Discontent
Janani Subramanian / University of Southern California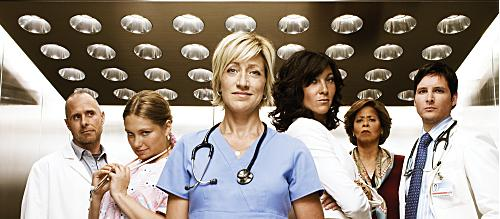 Nurse Jackie Season 2 Poster
Showtime has emerged in the last few years as a serious contender in the premium television league with its super-hits like Dexter, The Tudors, and Weeds challenging HBO's reign over the "quality" (Emmy-winning, adult-oriented, original) television category. Four of its series – Nurse Jackie, Weeds, United States of Tara, and Secret Diary of a Call Girl – center their narratives around a strong female protagonist who eschews conventional morality for personal or professional gain. Jason Mittell notes that "HBO has built its reputation and subscriber base upon narratively complex shows," and, in a slightly different vein, Showtime has incorporated the female-centric, single camera, half-hour "dramedy" genre into its quality brand identity.1 Building on its success with the groundbreaking and controversial The L Word, the network has diverged from HBO in its efforts to push the boundaries of gender and sexuality within premium cable.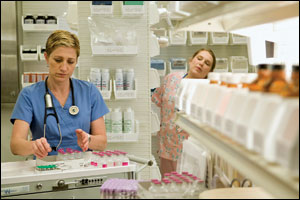 Nurse Jackie and Zoey (Merritt Wever)
With the addition of Nurse Jackie, which debuted on June 8, 2009, Showtime enters into another conversation within the television landscape; its middle-aged, working class heroine Jackie Peyton (Edie Falco) joins a growing group of older female protagonists across both network and cable programming. Julia Lesage's "Watching for Botox" in Volume 11 of Flow TV deftly highlights the contemporary prevalence of plastic surgery for public figures but also perhaps touches on another point – that older female protagonists are becoming more ubiquitous in fictional and nonfictional media narratives.2 Glenn Close in Damages, Julianna Margulies in The Good Wife, Kyra Sedgwick in The Closer – these are a few examples of series focused on middle-aged women who try to negotiate professional success with complex personal lives. While these series highlight these women's powerful professional profiles in the midst of male-dominated environments, they also tap into what Diane Negra defines as a kind of temporal anxiety that often structures women's lives. In "Time, Crisis and the New Postfeminist Heterosexual Economy," Negra argues that the convention of "cheating time" in contemporary media texts is often related to a sense of urgency that dominates the female characters' lives – in particular, an urgency to complete the requisite "stages" of the conventional heterosexual feminine life, including relationships, marriage and children.3 Along these lines, Close's Patty Hewes, Margulies' Alicia Florrick, and Sedgwick's Brenda Leigh Johnson are represented as having sacrificed or continuing to sacrifice stages of their personal lives for professional achievements, and from week to week, the narrative push behind these dramas is the continuing dissatisfaction of these women with their personal/professional choices. (Just to note, though, that TNT's The Closer is a throwback to more old-fashioned "whodunit" detective stories, with every case neatly and efficiently tied up by Brenda; the arc that extends from episode to episode is usually focused on Brenda's recent, "late" marriage to FBI agent Fritz Howard (Jon Tenney).)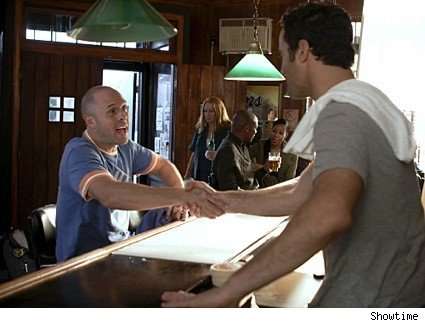 Jackie's lover (Paul Schulze) meets her husband (Dominic Fumusa)

As Negra notes, anxiety surrounding aging and the passage of time is largely class-based, as upper middle-class women possess the luxury of choosing to maintain their public images from an entire industry marketed towards reclaiming youth. The heroines of Damages, The Good Wife, and The Closer may be conflicted by their choices, but they are comfortably conflicted within well-paying jobs and nice homes. Lesage argues about Damages, "In this show, most of the characters are upper-middle class, so that the actors' cosmetically worked-on faces fit well with the narrative's entrepreneurial psychology, one that neoliberalism now imposes on the managerial class: work on yourself, develop yourself, make good choices, take charge of your life—especially in terms of services you can buy."4 While not challenging the individualist rhetoric of neoliberal cultural production, Jackie does break the mold as a solidly working class middle-aged woman whose short hair, unmade-up face and plain uniform, strikingly different from Falco's image in her previous role as Carmela Soprano, signify a marked lack of concern for physical appearance. As the main breadwinner in her household, Jackie shuttles (on public transportation) between work at the hospital and her modest home in Queens, and with husband Kevin (Dominic Fumusa) as part-time bartender and stay-at-home dad, money always appears to be tight.
Yet Jackie's focus is not on moving up a professional ladder at work or accumulating more money to improve her home life; her simple lifestyle is constantly emphasized next to the ostentatious nature of her best friend Dr. O'Hara (Eve Best), whose extravagance Jackie observes with amusement rather than envy. Her motivations throughout the series are less obvious than those of her more ambitious television peers; she has to work, she dutifully takes care of her family, but she doesn't seem to like either one very much. While she moves seamlessly between work and home, it's not because she's managed to maintain a healthy work-life balance, but more because she appears to be equally fed up with both. It is through Jackie's ambivalence that I read the show's groundbreaking representation of a working class, non-consumer-oriented femininity that adds shades of complexity not only to the work-life conflicts that mark other female-centric series, but also to the idea that a woman must move linearly down a particular timeline in order to achieve satisfaction. While female characters in mainstream television and film are often caught between the "either/or" of personal life and work, Jackie appears to choose neither, her deep dissatisfaction with all facets of life evidenced by her ongoing addiction to painkillers. The half-hour series oscillates quickly between episodes of melodrama and comedy in Jackie's interactions with co-workers and peers, but often pauses for quite a few beats to focus on Jackie's lined, tired and inscrutable face, suggesting that there are dark dimensions to the character that we have little hope of understanding.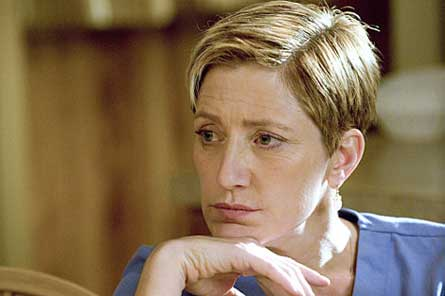 Nurse Jackie
Jackie's unhappiness does not stem from not caring, though, but quite the opposite. It is a testament to Falco's acting prowess that she's able to carry Jackie's poker-face grimace from home to work while also conveying the deep compassion and affection that Jackie feels for her patients and family. She appears to care equally about her ex-pharmacist lover Eddie (Paul Schulze) – who she seemed to be sleeping with in exchange for painkillers – as she does about her husband, yet there is no time in the show or her life for self-reflection (or voice-over narration, a la Sex and the City) on the moral ramifications of her affair – it just is. Her often unethical nursing practices and ongoing drug addiction are similarly left unquestioned, which has garnered criticism from critics that the show skims the surface of its characters with a "numb detachment."5 I would argue, though, that Jackie's ambivalence poses a challenge to viewers to critically consider her motivations in career and personal life and undoes assumptions that her desire must remain confined to either one or the other. The show not only encourages us to rethink the generic codes of the melodrama and the situation comedy but also to reconsider not what the priorities of our female protagonists should be, but rather what they could be.
Image Credits:
1. Nurse Jackie Season 2 Poster
2. Nurse Jackie and Zoey (Merritt Wever)
3. Jackie's lover (Paul Schulze) meets her husband (Dominic Fumusa)
4. Nurse Jackie (Edie Falco)
Please feel free to comment.