Sweatin' Out the Shame
Lucas Hilderbrand / University of California, Irvine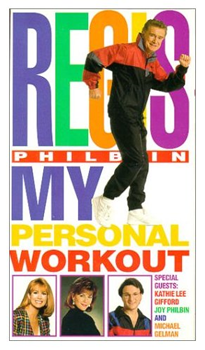 Regis Philbin's My Personal Workout
For several years now, I've wanted to write about workout videos. Aerobics tapes were central my thinking about videotape more generally because of the way the cultural degradation of the workout video has become ever-more intertwined with the physical degradation of the VHS format. For "research," I have been known to pick up dusty celebrity releases at thrift stores (my most preposterous specimen is Regis Philbin's My Personal Workout) in order to build my archive. But reflecting on such tapes in light of the recent emphasis in queer theory on discourses of shame1 and the even more recent attempts at fostering institutionalized queer mentoring by the Society for Cinema and Media Studies' Queer Caucus, I've shifted my orientation somewhat to try to grapple with the complexity not just of the workout tape as a cultural and material text but also about my own conflicted personal relations to the form—and to one of its most popular personalities: Richard Simmons.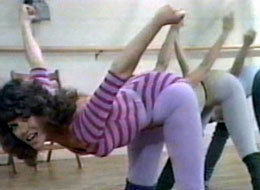 Jane Fonda strains to make eye-contact with her audience during a work-out routine
With Jane Fonda's breakthrough Workout, aerobics videos were the second major kind of content to build the home video sell-through market and with which VHS became identified. Like pornography, the first kind of content credited with growing home video, aerobics tapes were a low cultural form, one that was too excessively carnal. In this respect, aerobics videos function like a synecdoche for the format more generally: they were ubiquitous, yet they have generally not been taken seriously for their actual interventions.2 In part, what interests me about workout videos is the dialectic between aspiration and degradation: that is, the dynamic tension between the drive toward self-improvement—and the form itself was commercially hugely successful—and the ways these tapes have always been kind of embarrassing.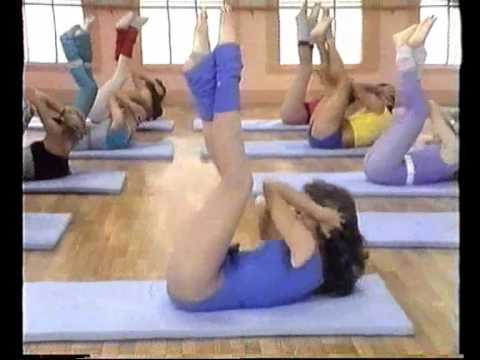 With crunches, it's physically impossible to perform the motion and watch the instructor at the same time
But there's something even more revelatory than this content-platform mirroring. I suggest that, more than pornography or perhaps any other kind of home video releases, workout videos distinguished the format and its unique spectatorial relations from cinema or broadcast television. The viewer, while doing a workout, performs a physically mimetic type of spectatorship; the problem is that, when actually doing a workout, many of the motions make it impossible to see the screen at the same time. So the mirroring is often one that is frustrated, whether in moments of confusion (what's that move?) or in moments of failure (fatigue, inability to perform specific contortions, missing the beat, tripping, or falling out of step). It's the moments of breakdown when one's relationship to the text and the screen make the text most self-evident. More specific to video spectatorship, the workout tape operates on the premise of repetition: if you practice, the routine becomes easier as you learn to anticipate the moves and your body builds endurance. One of the central appeals of home video was likewise this idea of repetition: that you could record or buy a movie, a TV show, a cartoon, a workout routine, and that you would be able to watch it repeatedly on your own schedule in your own home. This was what made video different from cinema or even broadcast TV.3
The logic of self-improvement through repetition, however, operates in the inverse to the technological degradation of the tape from repeated playback. After writing a book on the aesthetics of home video, one that claims degeneration is inherent in its form, I was delighted to discover "Body Fuzion," a Saturday Night Live digital short that self-reflexively illustrated the analog defects of dated and worn videotape in service of a parody of 1980s workout videos. These defects operate not just as markers of degradation but also as signs of nostalgia. The cast of women in their 30s (Drew Barrymore, Kristen Wiig, Maya Rudolph, and Amy Poehler) suggests a generation-specific women's cultural memory of these tapes as formative texts. For me, it's impossible to watch the SNL video without also imagining these actresses as their younger selves watching and doing workout tapes in their own living rooms in the 1980s. "Body Fuzion" suggests a double-edge affect of shame and affection, a conflicted retrospective relation; if they associate these tapes with their mothers, probably the people who brought these videos home, there's likely a mixture of adolescent embarrassment of how uncool they are and earnest attachment. But the short also suggests a knowing sense of the ways the grossly sexualized positions and camera framing opened these texts—and the women's bodies on screen—to the erotic gratification of men; indeed, although the workout craze was framed as being about self-improvement, it was critiqued as making women's bodies over in service of their sexual desirability for men.4 "Body Fuzion" affectionately mocks the pelvic close-ups, leotards, color palette, and even the dual routines (low impact and high impact) that pervade workout videos, but it does so with such precision that the makers had to have known the object of the parody intimately. The same goes for the subtle but insightful use of analog video glitches in what is hailed as a "digital short."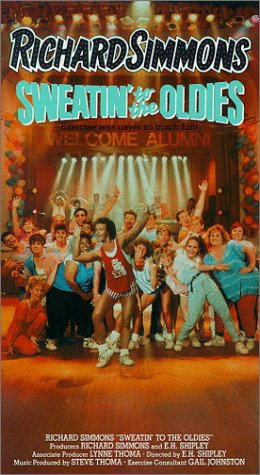 Original Sweatin' to the Oldies VHS release (1988)
My own personal relation to workout videos was more public than domestic. Whenever given a choice during high school gym class between, say, a unit on aerobics and one on weight lifting, that I invariably chose aerobics. Now, you might think that there was a certain shame to my choice, but here's the thing: aerobics was one of the few physical activities things I was good at, whereas failing spectacularly at bench-pressing in front of a room full of testosterone-fueled boys would have been far more humiliating. The gym teachers would wheel an A/V cart into the wrestling room and put on a tape; between the airless stink of masculinity and the cushiony wrestling mat floor, there was something great about that space. The tape the girls and I usually chose was Richard Simmons' Sweatin' to the Oldies. Sometimes we'd mix things up by doing Sweatin' to the Oldies 2.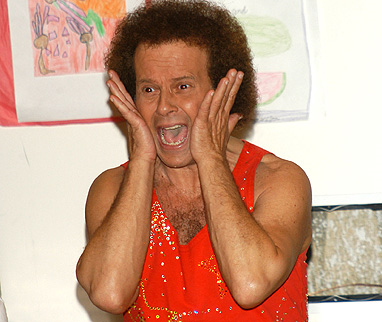 Richard Simmons' camp excess.
Richard Simmons has always been, in a word, shameless. To borrow a term from José Muñoz, I have always disidentified with him, his spastic behavior, his flamboyance, even his relentlessly accepting attitude.5 Thinking back, he may have been the most consistently visible queer public figure of my youth, even if he was never exactly "out" or precisely the kind of positive role model I sought, despite his indefatigable mission to help so many people with body issues help themselves. The most honest word for my feelings would have to be ambivalence: he seemed to disavow his sexuality, yet he seemed to be his own person; I found him slightly abject, but I also actually enjoyed his tapes. It's only now, decades later, that I feel less conflicted admiration for him. Part of what strikes me as so revolutionary in retrospect is that Simmons has never been identified with the kinds of idealized hard-bodied fitness junkies who make other people feel bad about themselves; instead, his Sweatin' to the Oldies featured bodies that were, according to dominant cultural standards, imperfect: plus-sized, middle-aged, and very probably lower classed. The bodies on screen were mirrors for his demographic rather than unattainable ideals, and the goal was to help people take the first step toward self-improvement. He worked his butt off to make people's lives better. I wasn't necessarily his target demographic, yet what better queer mentor might there be?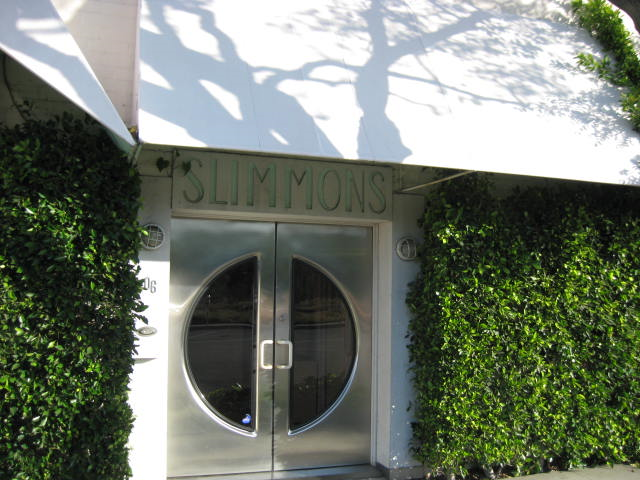 Welcome to Richard Simmons' Slimmons
At the recent SCMS conference, after a workshop on queer mentoring, I coincidentally learned that Simmons still teaches classes at his own workout studio in Beverly Hills, called Slimmons.6 So I went, of course. When Simmons entered the studio, he hugged and kissed every single participant to make us feel welcome. He wore a bedazzled tank top with concentric hearts and tights under his striped shorts. The clientele was a mix of friendly regulars—mostly older women—and tourists, including a few more young women and men than I had expected. His instructional media were vinyl LPs, which he carried loose in a tote bag and let drop on the floor, and he cranked the stereo so that the speakers bristled with the crackle of old vinyl. But he wasn't just anachronistic; he used LPs to occasionally push the routine ever harder by playing the records at a faster RPM. In person, he had more edge and wit than expected: he turned down the volume on the stereo to shout bitchy insults like a drill sergeant, and he barked double-entendres such as, "What has your butt been doing all day?" But Simmons engaged his audience with such availability that ultimately critical distance just seemed cynical. How ironic could I be when I was drenched in sweat? Or when the legendary fitness and self-improvement guru was, if less the force of nature I imagined, seemingly genuine and lacking any pretense? Richard Simmons touches lives. I wish I could say the same.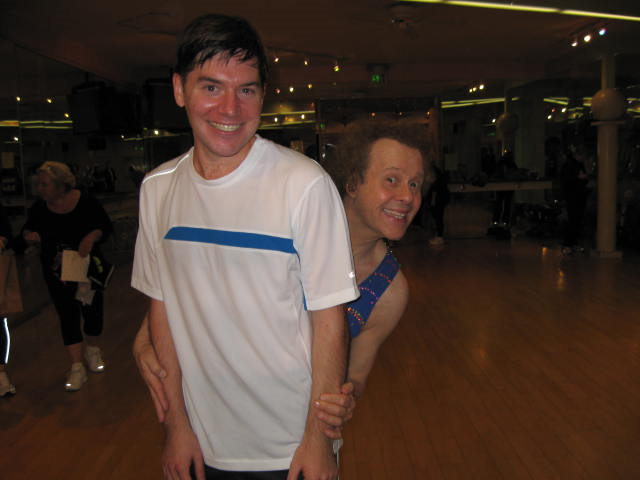 Twins: Me and Richard Simmons
Midway through the class, Simmons incisively interrogated how I, an interloper, knew all of his moves. His theory was that I was trying to steal his identity. I playfully denied. But upon further reflection, maybe he was seeing a deeper kind of mimesis than I initially wanted to admit. And I'm okay with that.
Image Credits:
1. Regis Philbin's My Personal Workout
2. Jane Fonda
3. Jane Fonda
4. Richard Simmons' Sweatin' to the Oldies
5. Richard Simmons
6. Photo by author
7. Photo by author
Please feel free to comment.