The Best 10 Minutes of Television?… Ever?
by: Stephen Harrington / Queensland University of Technology
IN ADDITION TO OUR REGULAR COLUMNISTS AND GUEST COLUMNS, FLOW IS ALSO COMMITTED TO PUBLISHING TIMELY FEATURE COLUMNS, SUCH AS THE ONE BELOW. THE EDITORS OF FLOW REGULARLY ACCEPT SUBMISSIONS FOR THIS SECTION. PLEASE VISIT OUR "CALLS" PAGE FOR CONTACT INFORMATION.
By any measure, The Office (and I talk here about the original, British version) has been an immense success. The show that – discounting two Christmas specials from 2003 – ran over just 12 half-hour episodes1 picked up two Golden Globes, six BAFTA awards, spawned an American version (starring Steve Carrell) and made Ricky Gervais, the show's co-writer, co-director2 and lead actor white-hot property in the world of television. Commercial success aside, the show – which centres around the trials and tribulations of the Slough branch of Wernham Hogg (paper merchants), lead by the hapless regional manager David Brent (Gervais) – has had an amazing impact on popular culture. Perhaps partially due to strong DVD sales which now provide a longevity for television series that they may otherwise have never enjoyed (I've never actually watched a broadcast episode of The Office), the show has been one of the most popular British television programs of the last decade.
But what is all the fuss about? What is it that made the show so good in the first place? It has been written about endlessly by media pundits, but, even then, attempts to actually explain what makes The Office really great have been few if any. On this point though, I wish to start making up some lost ground, and examine a few moments from the last 10 minutes of the show's finale.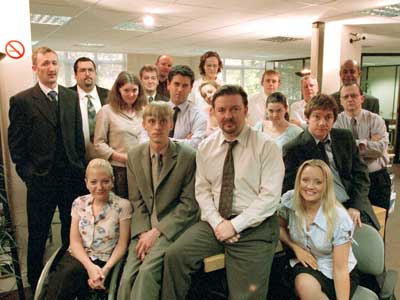 The cast of The Office
The final episode of The Office is the second of two specials originally broadcast over Christmas 2003.3 In the last ten minutes of the show, we pick up with the employees of the Slough branch of Wernam Hogg in the midst of the workplace Christmas party where former receptionist Dawn – who is about to return to the United Sates where she now lives an un-glamorous life with her fiancée Lee – is trying to say goodbye to Tim: the man with whom she spent two series mired in sexual tension. Here we truly feel the pain that moment holds. How do you say goodbye (we presume, forever) to someone you can't express feelings for? The nervousness of both sees them say very little and make strained attempts to ignore the elephant in the room that is their mutual admiration, choosing instead to say goodbye as if they were mere colleagues. Tim opts not to make a grand gesture of love, and instead chooses to avoid the possibility of embarrassment and lets Dawn walk out of his life with a man who does not appreciate her. As the audience, we are so aware of how difficult it is for them both, but this is so subtly portrayed in the two characters. Although the show is a sitcom, this moment is a comedic desert, and is actually very 'real' and believable, mainly because Tim and Dawn (like most normal people in emotional situations) try desperately to pretend there is, in fact, nothing to get emotional about.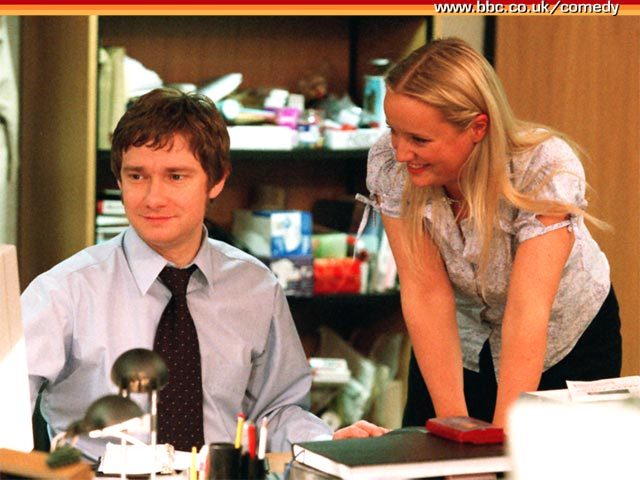 Tim and Dawn
Meanwhile, David has brought to the party a blind date, Carol, who is simultaneously beautiful, intelligent and, unlike his previous blind dates, actually interested in him. And, for the first time, well, ever, as far as the audience is aware, David does not say something stupid to mess everything up. Throughout the show, David's completely terrible management and awful, unsuccessful attempts to be a popular leader are certainly the key source of comedy. He says and does some truly awful things, and yet the twist is that one really cannot help but develop feelings of pity for the man. Throughout the show you're kind of left hoping that something might finally work out for the guy – and, with Carol, something finally does. In a conversation with her he is, perhaps for the first time, open about his own failures, saying to Carol that he is not doing very well in his career and is embarrassed by the way he is treated. It is as though progressive lull in his life has required him to finally be emotionally honest with others and is, at last, getting some admiration from a female for exactly this. This demonstrates so beautifully one key characteristic of the human condition: that so often we get what we're looking for only once we stop trying desperately to find it.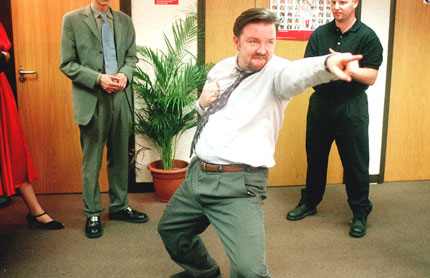 David Brent (Ricky Gervais)
Now speeding away from the man she really adores in a cab with her drunk, semi-conscious fiancée sitting in the front seat, Dawn opens a Christmas present from Tim [I won't spoil completely everything for those who haven't seen it by revealing what it is], and begins to cry.
Returning to the party after seeing Carol off in a cab, David comes across his boss (from the second series) Neil, and 'best mate' Chris Finch. Throughout the show, 'Finchy' is held up in awe by David because he thinks he is so smart, so funny and can drink like a fish. He is really everything David wants to be, but isn't. In reality David – who dramatically overestimates his success in life – and his inability to openly acknowledge (let alone laugh at) his weaknesses and mistakes seems to be a hilariously awkward façade, behind which is a man who is painfully self-aware. He is like the class-clown in school – the source of much laughter, but also pity, because everyone knows he will never get what he really craves: respect. This lack of respect for the man shows as Chris makes a joke about Carol, insinuating that she is ugly. Suddenly though, something changes. At long last David realises he doesn't have to look up to a guy who has continually laughed back at him, and now responds to Chris' joke with a marvelously delivered '… why don't you f–k off'.
The final stirring moment of the show comes as Dawn returns to the party. Without any fuss, or even a spoken word, she approaches Tim and kisses him. In typical Office style, Gareth (Tim's perpetually-annoying co-worker) interrupts them by blurting: "careful, she's got a fiancée"… This moment was seemingly forever in the making and is long overdue for the waiting audience, and yet its flaws – i.e. Gareth's interruption – make the moment more genuine, and more realistic, rather than take any gloss off it.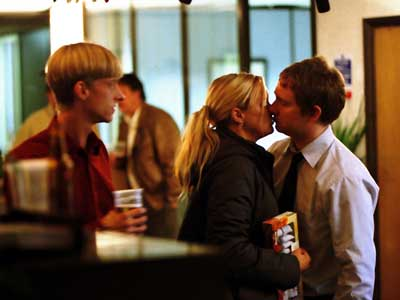 Gareth watches on as Dawn kisses Tim
I think that The Office is an extraordinary comedy series because it acknowledges the fact that real humour most often comes at unexpected moments, in the most mundane situations. The moments in real life that make us hurt with laughter are regularly unintentional, and seldom come from a precisely-delivered one-liner. That's what makes this show very good. What makes this 10 Minutes of television truly great though, and what sets it apart from other comedies (and the reason I haven't spent much time discussing humour here) is its ability to deftly mix comedy with such human emotion. However over-the-top some of these characters may be, they act, react and experience emotions in a way most real people do: and for this they're believable. I think this is indicative of The Office's success overall, because it so brilliantly reminds us that so often in real life, genuinely funny moments aren't a result of perfectly-timed jokes, that authentic, heartfelt romance is unspoken and comes without fanfare, and that we feel for people most when they are deeply flawed – and not just in an Ally McBeal sort of way. For me, this 10 minutes of television is about as good as it gets.
Notes
1. Interestingly, another much-celebrated British sitcom Fawlty Towers, also ran for just 12 episodes.
2. Stephen Merchant (who plays the role of Darren Lamb alongside Gervais in their new show Extras) was co-director and co-writer of The Office.
3. These two episodes were stylistically quite distinct, in that they are far more self-referential as mockumentaries (or at least, textually self-aware).
Image Credits:
1. The cast of The Office
2. Tim and Dawn
3. David Brent (Ricky Gervais)
4. Gareth watches on as Dawn kisses Tim
Please feel free to comment.