The Transformative Power of Podcasts Bonni Stachowiak / Vanguard University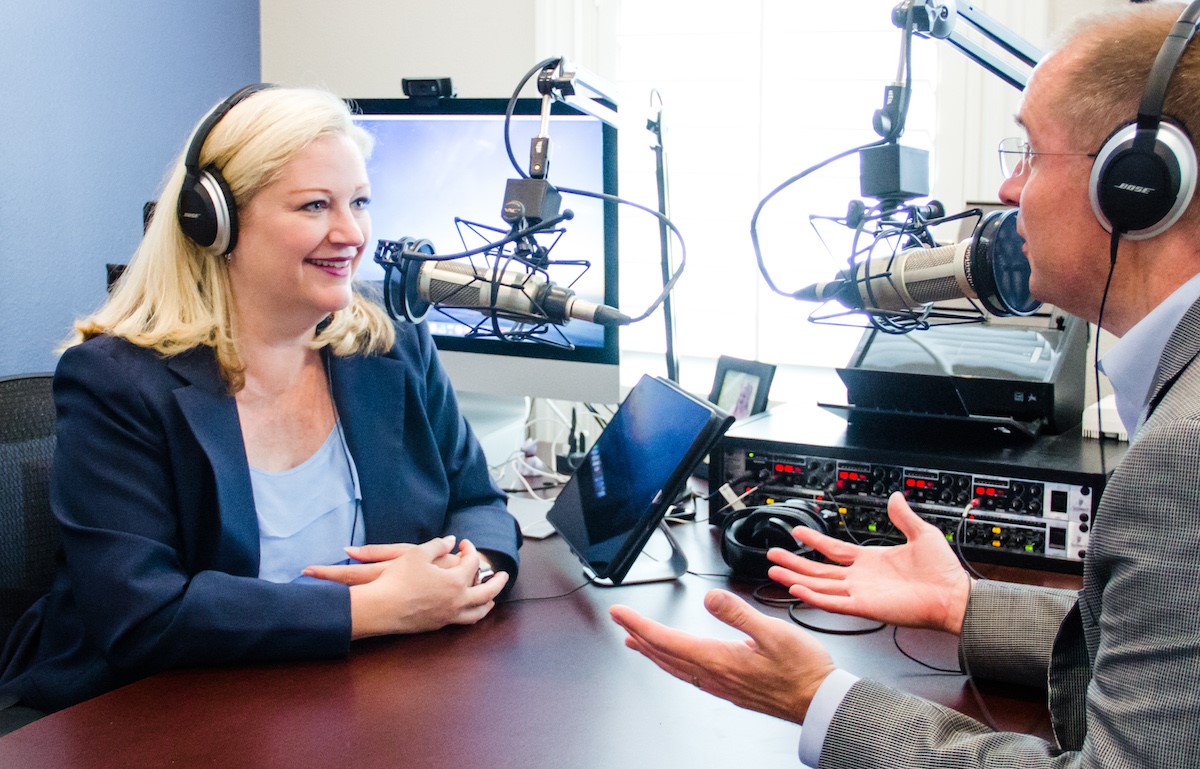 Bonni Stachowiak producing her podcast Teaching Higher Ed
In 1999, Hae Min Lee, a well-loved high school student, went missing. Weeks after that, Adnan Syed, her ex-boyfriend, was arrested for her murder. Almost 20 years later, Adnan still asserts his innocence. We were able to hear every detail of the trial, through the eyes of Sarah Koenig, a journalist and podcast producer.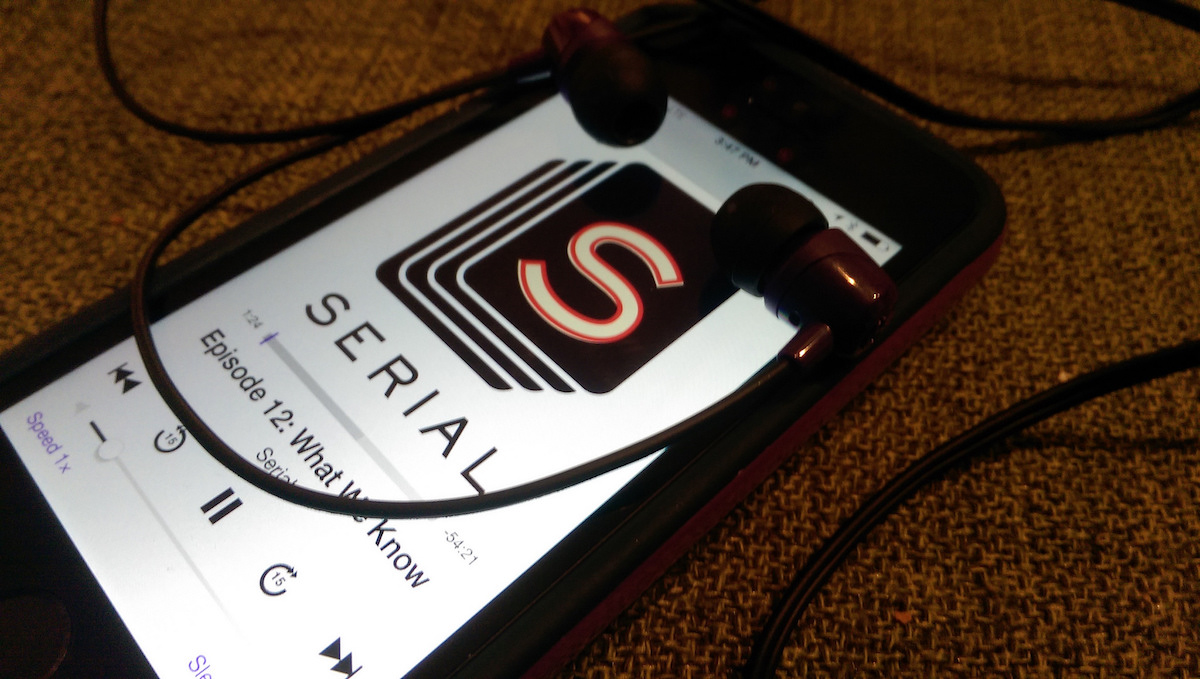 The podcast Serial
"For the last year, I've spent every working day, trying to figure out where a high school kid was for an hour after school one day in 1999. Or, if you want to get technical about it (and apparently, I do), where a high school kid was for 21 minutes after school one day in 1999. This search sometimes feels undignified on my part…" – Sarah Koenig
In early 2016, Koenig's Serial podcast episodes had been downloaded over 80 million times. [1] The podcasting landscape was changed forever.
For those who listen to podcasts, it has become our most preferred source of audio. 13-34 year-olds spend more time listening to podcasts than they do AM/FM radio content. Podcasts are with us at home and in the car. More and more people are discovering podcasts, with a growth trajectory of 21-24% each year. [2]
Podcast listeners were captivated by another alleged murder in 2017, when first being introduced to John B. McLemore in his hometown of Woodstock, Alabama, through the S-Town podcast. We quickly captivated by John and his vivid descriptions of what he called "shit town," the place he resided. By May, the S-Town podcast had been downloaded more than 40 million times. [3]
Brian Reed, creator and host of S-Town
Brian Reed is the journalist who responded to McLemore's requests to visit S-Town and to research the death of a resident of Woodstock. In the opening of Chapter 1, Reed's descriptions of the art of clock restoration foreshadow some of the challenges that arise when we try to discern another person's brokenness.
When clocks are repaired, they are often left with what are known as witness marks. These blemishes hint at the ways in which the clock has been damaged in the past. Since old clocks lack instruction manuals, clock restorers are left with the frustrating process of trying to discern what's wrong and how to fix the problem.
"I'm told fixing an old clock can be maddening. You're constantly wondering if you've just spent hours going down a path that will likely take you nowhere, and all you've got are these vague witness marks, which might not even mean what you think they mean." – John Reed
Despite podcasting's growth, AM/FM radio still rules supreme for overall audio choices. Americans spend 54% of their listening time on AM/FM radio. Edison Research calls this "Share of Ear" in their analysis. When disaggregating the data to focus specifically on those who already listen to podcasts, we spend 30% of our time consuming them. [4]
Without wanting to spoil the experience of listening to Serial or S-Town with "fresh ears," it is safe to say that both Adnan's and John's lives have been transformed through podcasting. My life is different, as well, though not quite in as dramatic of ways as theirs.
Whenever I identity my favorite podcasts, the virtual ink has not even dried before a newly cherished one comes along. Our children are going to grow up thinking that everyone in the world has a podcast, since their Dad has one, their Mom has one, their parents' friends have one, and even newer friends who come to visit us during the holidays have one. They have also found their own favorite podcasts and advocate for more episodes to be played that are geared toward children.
My teaching has also been transformed through podcasting. I launched the Teaching in Higher Ed podcast in June of 2014. Episodes have been airing weekly ever since. Each episode is downloaded by thousands of us in higher education who are seeking to improve our teaching. While it takes an incredible amount of work, not to mention the willingness to fail and be vulnerable, I am grateful for how my pedagogy is different, today, because of the podcast.
I used to think of plagiarism and other forms of cheating as a personal affront. James Lang, Stephanie Vie, and Phil Newton changed my perspective on issues of academic integrity.
My teaching approach used to be more about control and less about agency. Kevin Gannon and Jesse Stommel stressed kindness and respect in the classroom. "The more restrictions we place on learning, the less students have the ability to explore it themselves," emphasized Sean Michael Morris.
Yolanda Flores Niemann helped me envision what it would be like to be Presumed Incompetent in the classroom and in my scholarship. Clint Smith stressed the danger of silence and "the difference between a sort of silence of complicity and a silence of listening." Stephen Brookfield revealed how often people like me can want to come across as "good white people" and how unaware can be of the dangers of that perspective.
Despite the power that podcasting possesses to transform us, only 40% of Americans have ever experienced one. [5] People often do not realize how easy it is to listen to a podcast. Most Americans tend to stick with radio, which has a wide reach. 95% of 35-49 year-olds listen to the radio on a weekly basis. [6]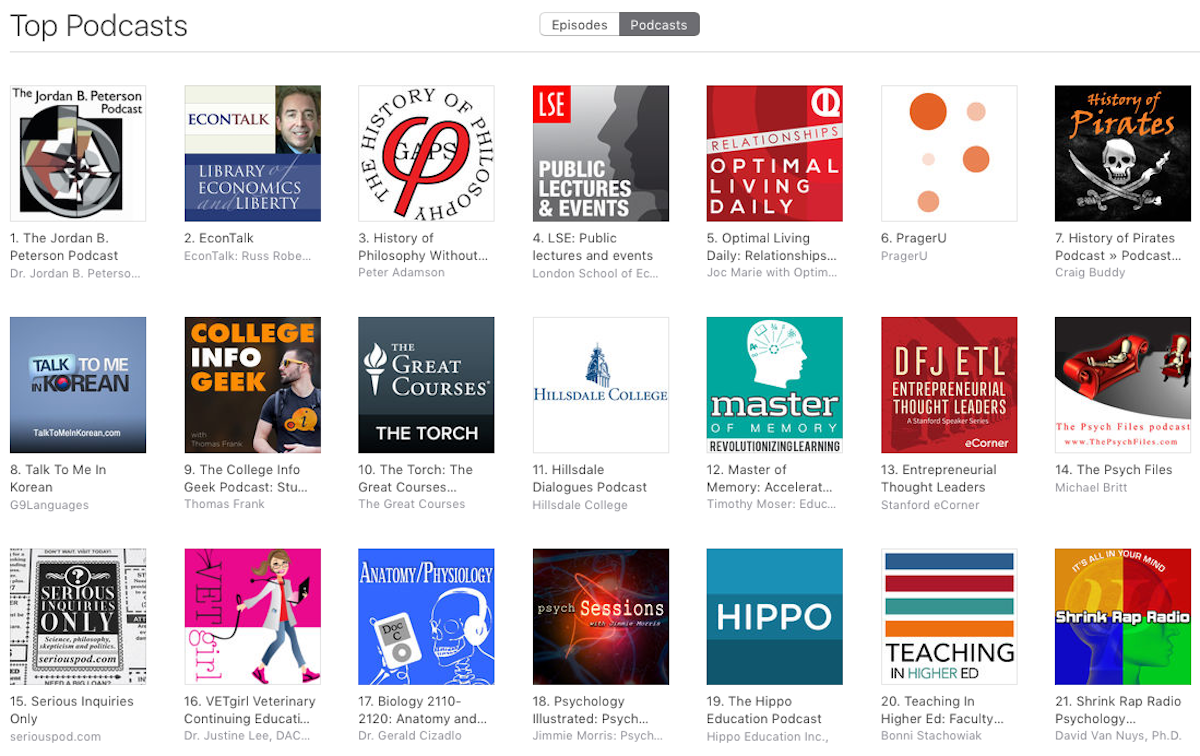 The top higher education podcasts in Apple Podcasts
Discoverability is an issue for finding relevant podcast content. On the morning of September 23, 2017, the top higher education podcasts included recordings of college lectures, language tutorials, discipline-specific continuing education, advice for student success, and the Teaching in Higher Ed podcast (which bounces around the fickle, iTunes charts hour-by-hour).
Despite these challenges, more of us are listening to podcasts than ever before. Some of us are even becoming what Neilsen [7] describes as "avid" fans. We get captured by the people we meet through podcasts: people like Adnan Saed from Serial and McLemore from S-Town. Once people discover podcasts, they quickly convert it to being their favored form of media. [8]
Emma Rodero is quoted in The Atlantic [9] as illustrating one of the reasons that podcasting captures our minds and hearts:
"Audio is one of the most intimate forms of media because you are constantly building your own images of the story in your mind and you're creating your own production." – Emma Rodero
Podcasts travel with listeners wherever we go. Artists and business people are increasingly discovering the power of the medium. It is exciting to consider what is on the podcasting horizon. I look forward to all that I will learn from hosting my own podcast, as well as consuming up to ten hours of podcast favorites each week.
Image Credits:
1. Author's promotional photo
2. "Serial Podcast"
3. Brian Reed, creator and host of S-Town
4. Top Higher Ed Podcasts (Author Screenshot)
Please feel free to comment.