My Hair Journey and the Black Women That Made It Possible
Sidney Garner / University of Texas at Austin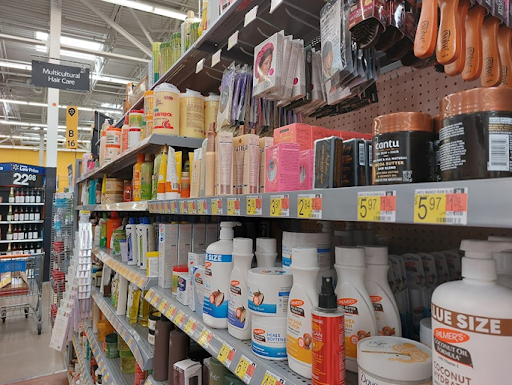 Walmart Multicultural Hair Care aisle. Photographed by author April 23, 2022.
Dr. Aria Halliday's recently published book, Buy Black: How Black Women Transformed Popular Culture, was more than just assigned reading for me as a Black woman. Her words were deeply personal. The chapter on Black women in hair care prompted self-reflexivity and analysis of my own relationship to hair, Blackness, and Black women. Before I begin, I would like to acknowledge, as Halliday encourages, my symbolic habitus (64), the unique set of identities and life experiences that have shaped my relationship with Black hair care. My father is Black and my mother is Native American and white. I was raised by my mother — of course with all the complexities of split custody and lengthy vacations with my paternal grandma that have given me unique connections to Blackness. As a father, especially to a daughter with hair wildly different from his own, he couldn't have known what was best for my hair. And my mother, though she knew of all the right styles and accessories, relaxed my curls into semi-submission. The resulting mess was frizzy, tangled, and sent me into agony every morning before school.
As a small kid, my grandma would sit me between her knees, part my hair in rows, and apply "pink oll" (Luster's Pink Oil Moisturizer Hair Lotion). If I think hard enough, I can still feel the cold of the Pink Oil and the vice grip she had on my hair to keep it sectioned away. And she shampooed my hair in the kitchen sink while I kneeled on a step stool. With more thought, I can feel the warmth of the water running down my cheek with my head pressed against a towel on the kitchen sink angled just right to keep the water in.
No one told me how to take care of my hair once I was old enough to take care of it myself. As long as it was washed and unmatted I was doing fine. But I wasn't fine. I have vivid memories of crying in front of a mirror begging my hair to behave. I used all the wrong products: whatever my mom bought for her short straight hair, shampoo and conditioner from the dollar store, and a brush that yanked the hair from my scalp. Only when I realized my hair could look happy and healthy like the curls I saw on TV did I take my first step (thank you Lena from The Fosters).
The Big Chop. Fall of my first year of undergrad, I went to a salon where they cut off a foot of hair in some places, and six inches in others thanks to heat and chemical damage. The remaining hair was relaxer-free, bleach-free, and dye-free. A fresh start. A strong foundation on which to try every curly hair product I could justify buying. Milks, creams, mousses, gels, lotions, and sprays are just half the things I have tried over the years since I started my journey. I flocked to the hair care section like I had all the money in the world. I could spot the products meant for me from across the store. Words like ethnic or natural written on the bottles are platitudes when africana golds, reds, and greens are a dead giveaway compared to the strong visual contrast of purple and pink florals on products meant for white girls. Nevertheless, today's products are starting to resemble those in the normal hair care section, but they are still labeled in ways that mark us as different. Ethnic. Natural. Multicultural. Textured. Some of these terms are better than others, and yet I still find comfort in knowing that this one section of the store, no matter how small or cluttered, belongs to me.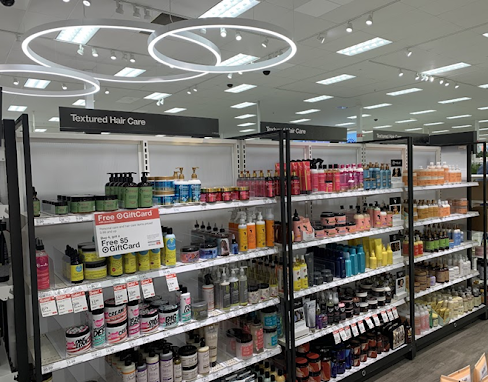 Target Textured Hair Care aisle. Photographed by author April 28, 2022
The siren calls of Black hair care products pull me in, even if just to marvel at the magic they claim to perform. They reach out and feel my hair telling me exactly what's wrong with it. Their labels recycle the same language to tell me my hair is dull, lifeless, shapeless and in need of TLC. The Pink Oil sitting on my bathroom shelf right now tells me "It Works!" And the Creme of Nature Style & Shine Foaming Mousse proclaims "NO petrolatum, mineral oil, or drying alcohol." The Carol's Daughter Leave-In Conditioner my mom got on sale "REPLENISHES MOISTURE, IMPROVES MANAGEABILITY, ADDS SHINE!" I fall for these buzzwords every time, but at least I can say I love my hair a lot more than I used to.
Halliday writes about Carol's Daughter, its founder Lisa Price, and the complexities of Black women's cultural production as they navigate creating products for Black women and girls and fitting within our white-dominated consumerist society (19-20). Naming the company after herself, Lisa being the daughter of Carol, was a move to invoke the lived experiences Black girls have of sitting between the laps of their maternal figures (24). But when Lisa Price sold Carol's Daughter to L'Oréal, she was called a sell-out (26). This acquisition took Carol's Daughter from the hands of Black women and dispersed it to the multicultural masses, i.e., white consumers. As Black women cultural producers, they are called upon to provide for Black people and be our moral compass. But they are also called in to create and reify the images and stereotypes upheld by whiteness so they can ensure their own success in the white-dominated market. They are producers and repositories of Black symbolic power — the images, sounds, and aesthetics that resonate with and permeate throughout Black communities (18) — that we as Black people identify with. And Black women cultural producers must contend with this power as they themselves are interpellated, or called into being, as a subject of white supremacy (17).
I don't always have the time, money, and dedication to support Black women cultural producers, but I will forever acknowledge how their labor has made hair care accessible to me. Carol's Daughter sat at the forefront of the recent natural hair movement (24). And Lisa Price, along with many other Black women, led the natural hair community into a better understanding, not just of our hair, but also of ourselves and how we navigate spaces not meant for us. Although I can't relate to the kinky tight coils of my Black family, I also can't relate to the smooth flowing hair of my Native American family. My hair has multiple curl patterns and a mind of its own that has made my journey both difficult and unique. Even so, I try my hardest every day to love my hair and accept everything that comes with it. I use my carefully curated cabinet of products every morning to sculpt my Black woman identity. But my hair journey isn't over, and I have a lot more Black women to learn from.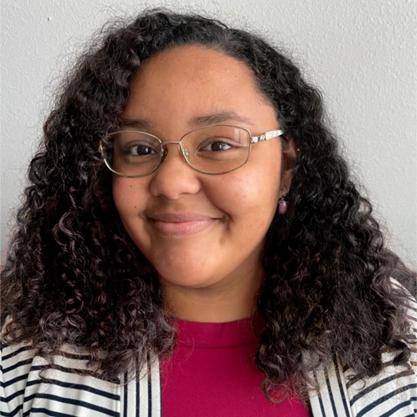 Photo of the author.
---
Image Credits:
Walmart Multicultural Hair Care aisle. Photographed by author April 23, 2022 (author's personal collection)
Target Textured Hair Care aisle. Photographed by author April 28, 2022 (author's personal collection)
Photo of the author (author's personal collection)
References:
Halliday, Aria S. Buy Black: How Black Women Transformed US Pop Culture. University of Illinois Press, 2022.