Wanting a Latina Sophie: Bridgerton and the Desire for Problematic Representation
NIna Linhales Barker / University of Texas at Austin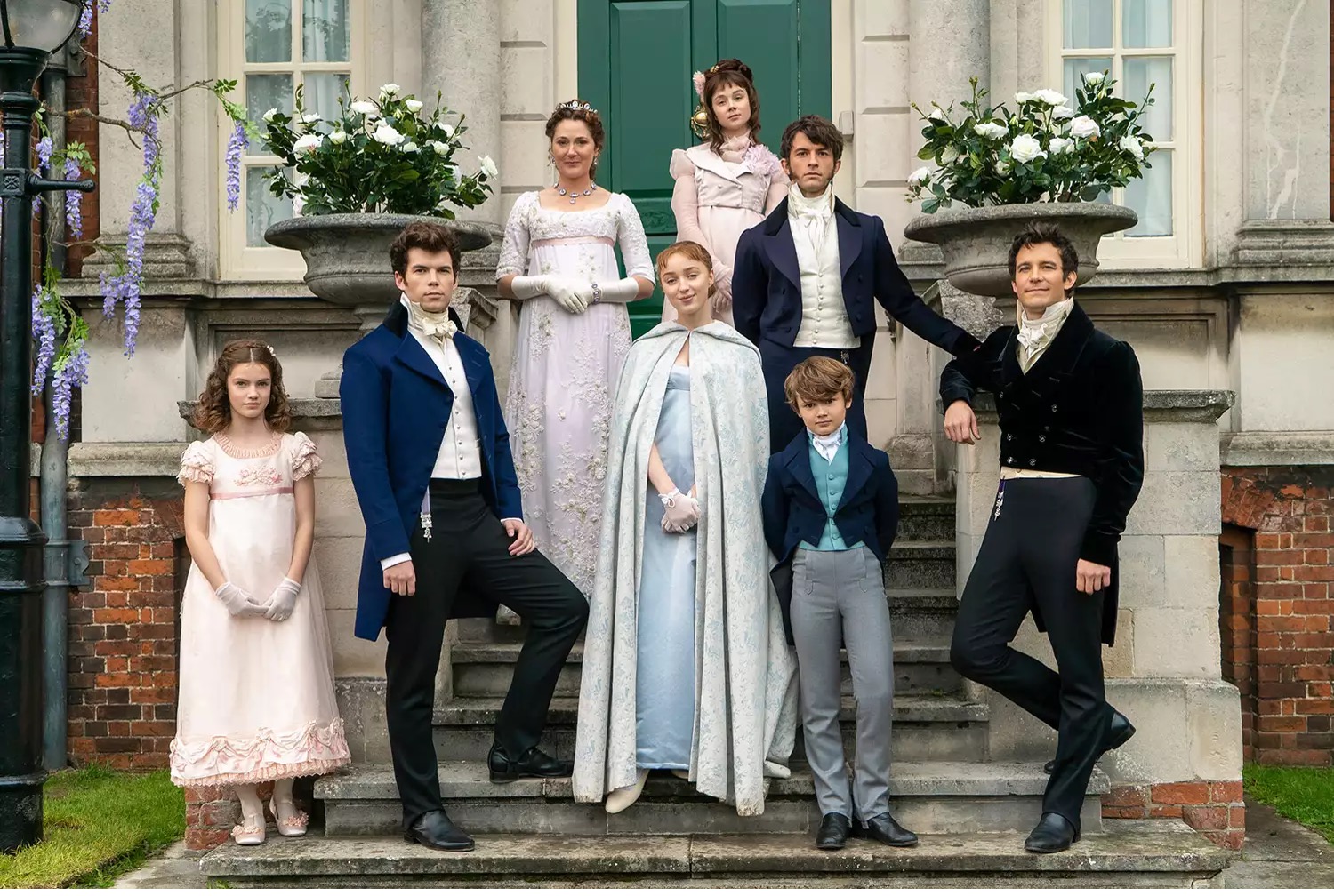 The eight Bridgerton siblings and their mother Violet.
When Bridgerton premiered on Netflix in December of 2020, it broke the mold of a traditional regency romance. Bridgerton, the first Shonda Rhimes production for the world's most popular streaming platform, is an adaptation of a popular regency romanced series (written by Julia Quinn) which focuses on the eight kids of a wealthy titled family in 1800s London and their respective romances. Part of that adaptation process included, through both casting and plot changes, making the television world of Bridgerton much more diverse than the book version.
In the first season, Regé-Jean Page, an English and Zimbabwean actor, played the leading man Simon Basset (aka the Duke of Hastings), whose romance with the eldest Bridgerton daughter Daphne serves as the core of the first season. Alongside him, Golda Rosheuvel (a Guyanese-British actress) as Queen Charlotte and Adjoa Andoh (an English and Ghanian actress) as Lady Danbury, made Bridgerton's imagined regency setting one that doesn't only belong to white characters. This extended to the second season, released in March of 2022, with actress Simone Ashley, who is of British and of Indian Tamil descent, serving as the leading lady and love interest to the oldest Bridgerton son, Anthony.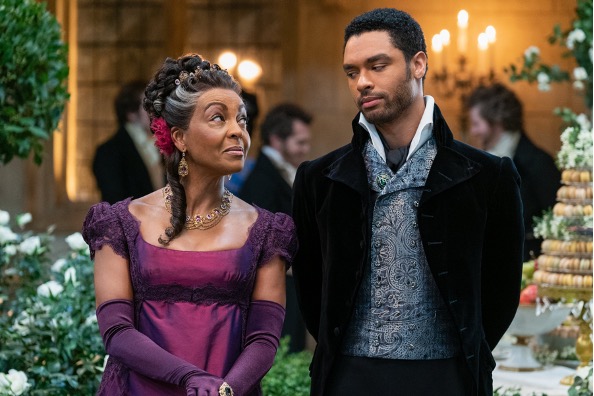 Lady Danbury and The Duke of Hastings.
While a step forward in a genre that has not been known for its racial or ethnic diversity, casting actors of color to play what were originally white characters (as all the actors listed above are doing) inevitably changes the characters' stories. Kristen Warner, writing for The Cut on how Bridgerton casts Black actors but does not acknowledge the way race would impact their characters' lives, specifically notes how Page embodying Simon changes how his romance and sex life with Daphne are seen (including this controversial scene, trigger warning for discussions on sexual assault), regardless of the fact that the show does not acknowledge it. Warner asks: "with the complications of race, colonization, and chattel slavery rendered invisible in the world of Bridgerton, how were we to navigate the hypersexuality of Hastings when showrunners failed to acknowledge how black men's bodies have been fetishized historically?" [1]
There has been a lot written on the one step forward and two steps back way Bridgerton imagines its fictional world, which seemingly acknowledges the way the female characters are all highly impacted by sexism and gender roles (along with stark class differences), but is afraid of doing the same when it comes to the reality of racism (beyond, quite literally, a scene where Andoh's Lady Danbury tells Simon that they can exist in high society London because the King married Queen Charlotte). Even so, these characters expand what heroes and heroines look like in fictional spaces that are often only reserved for white characters. For audiences from these communities, they get to people who look like them be loved and desired, and in some instances (Ashley's Kate and her family) see their culture on screen.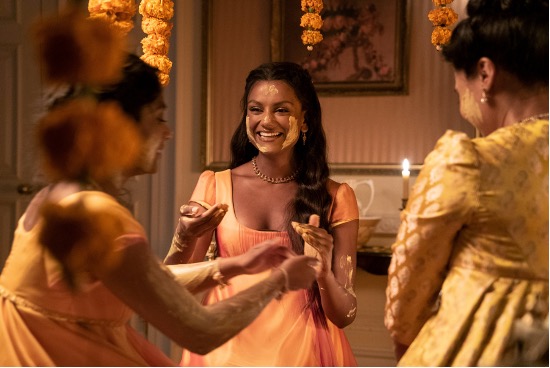 Kate, her sister Edwina and their mother performing a Haldi ceremony in season 2.
After the second season was released, fans online started speculating who was going to be playing the lead in the following season. The third book of the series is An Offer from a Gentleman, which features the character of Sophie, a maid who falls in love with the second Bridgerton brother, Benedict. Fans online listed several actresses of different races and ethnicities that could play her. This included some Latina (and Latine) fans listing Latina actresses – arguing that they want the kind of representation that Ashley was able to give to South Indian fans.
This sort of fan casting presents a contradiction. Sophie's arc is a play on the story of Cinderella, with her being a lady's maid when she meets Benedict. While ordinarily this would not be an issue, a Latina actress playing Sophie would transform the character, at least in some ways, into a long and enduring stereotype; the Latina maid. While the character would supposably be more than that, this concession nonetheless feels complicated. It isn't that Latinas who work as maids don't deserve to be main characters, but rather that making Sophie into a Latina would also play into a stereotype, that as Yajaira M. Padilla writes, is "viewed as a signifier of affirmations as well as contestations with regard to U.S. hegemony, assimilation, immigration, and Latino identities." [2] The complicated history of Latinas as maids is connected to how the U.S. views immigrants and domestic labor and is often also exacerbated by the fact that many Latina actresses only were only able to play maids, whose characters were minor and relegated to the sidelines. With what I outlined above, I would not trust the creators of Bridgerton to keep that in mind, as even though the show is not set in the U.S. many of its viewers come from the U.S.
Even more intriguing, the viewers who were discussing Sophie being played by a Latina knew of this contradiction. Searching the keywords "Bridgerton" "Sophie" and "Latina" together on both Twitter and TikTok brings up several examples of fans not only wanting Latina actresses to play Sophie, but fans discussing how they wanted that even if means the character will touch on certain harmful tropes.
While I believe Sophie will likely not be played by a Latina actress due to the show's overwhelmingly British cast and the focus on showcasing large minority communities from the U.K. (which isn't to say there are not British Latinos), as Bridgerton the franchise keeps expanding, it could possibly include stories that feature the colonial eras of different Latin American countries. However, it would seemingly have to do so without acknowledging the impact and violence of racism and colonization, which is hard to accept.
What is certain is that the desire for representation is complicated. Viewers and fans alike can desire inherently imperfect representation, even heading into likely problematic territory. If Sophie is played by a Latina actress, millions of people will see a Latina be the main character in one of Netflix's most popular shows. They will also see an image that is already frequently seen and perpetuated, connected to a common way Latina characters are relegated to the sidelines of stories. There is a lot that Netflix could do to balance those two truths to create a compelling character and story. Say, showcasing other maids of various backgrounds and other Latine characters who are not maids would mitigate the idea that Latinas can only be maids. However, with Bridgerton's track record, it is likely that the show would not acknowledge the harsher realities of the show's setting, or how the implication of Sophie's story would change by virtue of her being played by a Latina.
Whoever Sophie ends up becoming, it is clear that viewers and fans are already critically aware of the dynamics of her story (and Simon and Kate's), and how Bridgerton – in all its complications and success– plays a part in the larger media landscape. They might even be more aware than those making these decisions in the first place.
---
Image Credits:
The eight Bridgerton siblings and their mother Violet.
Lady Danbury and The Duke of Hastings.
Kate, her sister Edwina, and their mother performing a Haldi ceremony in season 2,.
References:
Kristen Warner, "Bridgerton Still Has a Diversity Problem," The Cut, April 1, 2022, https://www.thecut.com/2022/04/bridgertons-season-two-has-a-diversity-problem.html. [↩]
Yajaira M. Padilla, "Domesticating Rosario: Conflicting Representations of the Latina Maid in U.S. Media," Arizona Journal of Hispanic Cultural Studies 13 (2009): 43. [↩]