Portrait of an Art house during a pandemic, part 2
Sarah E. S. Sinwell / university of utah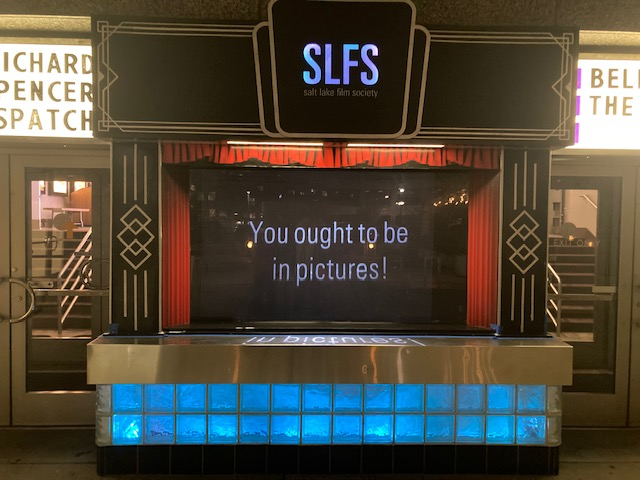 The Projections series at the Exterior of the Broadway
The Broadway Centre Cinemas in Salt Lake City, Utah were shuttered from March 13, 2020 to October 22, 2021 due to the COVID-19 pandemic. Since its reopening in October, the Broadway has screened such films as Dune (Dennis Villeneuve, 2021), Bergman Island (Mia Hansen-Love, 2021), The French Dispatch (Wes Anderson, 2021), The Power of the Dog (Jane Campion, 2021), and Parallel Mothers (Pedro Almodovar, 2021). Currently, it is now screening such films as CODA (Sian Heder, 2021), The Godfather (Francis Ford Coppola, 1972), The Worst Person in the World (Joachim Trier, 2021), and The Northman (Robert Eggers, 2022). This essay examines how a local art house and venue-based non-profit cinema, the Salt Lake Film Society, has adapted during the pandemic and worked to engage the local community through its commitments to diversity, equity, and inclusion in its venues and through its support of local and global films and filmmakers.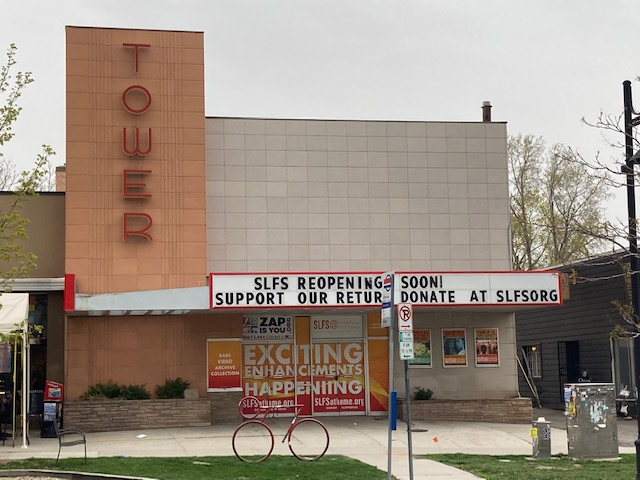 The Tower Theatre in Salt Lake City, Utah
The Salt Lake Film Society operates three venues: the Broadway Centre Cinemas, the Tower Theatre, and the Studio Backlot Motor Cinema. Currently, the Studio Backlot Motor Cinema is closed for the season and as of April 24, 2022, the historic Tower theatre is still closed for renovation. While the Film Society continues to make "exciting enhancements" to the historic 1928 Tower Theatre in the 9th and 9th district of Salt Lake City, The Broadway, on the other hand, has not only reopened, but, it has also begun its Projection series at the front of the theatre as a means of encouraging the local community to be engaged with film. Additionally, it has continued to adapt and respond to the pandemic by at first requiring both proof of vaccination and masks, and later shifting its policy by continuing to respond to local and global health and safety protocols. Upgrading their HVAC system with high MERV-rated filters and increased air flow, as well as operating at a reduced capacity in each auditorium, the Film Society has continued to work to create a healthy and safe environment for its patrons.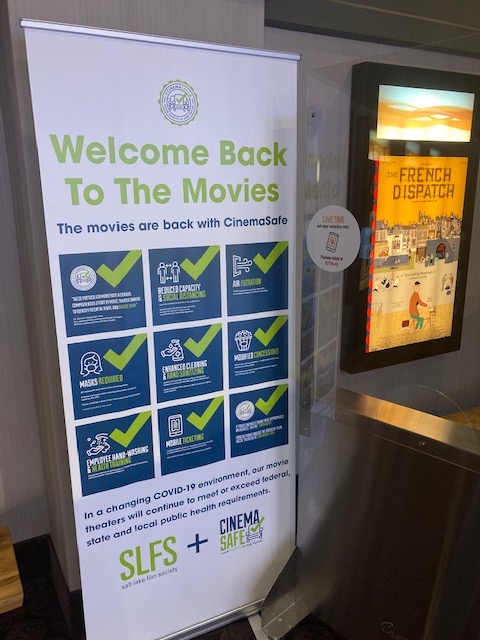 The CinemaSafe welcome poster at the Broadway
In late March 2022, following the decline of the Omicron variant, more recent WHO and CDC guidelines, and local and state authorities placing Salt Lake City in a lower COVID-risk category, SLFS instituted "CinemaSafe Mondays" in which all guests will be required to show proof of vaccination "to allow access to those in our community who are at higher risk for Covid, SLFS has set Mondays aside as a CinemaSafe+ day."[1] SLFS has also reinstituted its Open Captions, All Films, Every Wednesday, announcing "Every Wednesday we will be screening all films with Open Captioning. This is a part of our mission to provide independent film to all in our community."[2]
As the Film Society has adapted to the pandemic, it has continued to support MAST, a media accelerator studio and "a non-profit program of the Salt Lake Film Society that grows artists into artist entrepreneurs."[3] To date, MAST programs have covered topics ranging from personal branding, to distribution, to VFX and VR. MAST has also curated a program of fellowships that encourages local filmmakers by providing opportunities for mentorship, networking, subsidizing, and sponsor matching. Through this mentorship program, former fellow Cole Sax released his feature documentary on how skateboarding, surfing, and rock climbing grew from fringe activities to the Olympic stage, entitled World Debut: From Outsiders to the Olympics on YouTube Originals.
Trailer for "World Debut"
During the pandemic, the Salt Lake Film Society also ushered in its Never Zero Programming Initiative. According to the SLFS website, this Initiative includes the following tenets:
"Hold ourselves accountable for never having an absence of programming that represents marginalized voices. In addition, we commit a financial resource annually to programming, to provide honorariums to BIPOC & LGBTQIA+ advisors and those who can assist us in evaluating the quality of stories told at SLFS."[4]
In addition, the Film Society is committed to amplifying outreach, amplifying "the voices of institutions and individuals doing good work in the anti-racism field every week on our platforms, also amplifying those who are experts to our staff and allowing learnings from these institutions and their work" and working "to balance the BIPOC and LGBTQIA+ representation and strive to ensure our BIPOC and LGBTQIA+ are also not experiencing undue pressures for being the only one represented on our staff or board(s)."[5]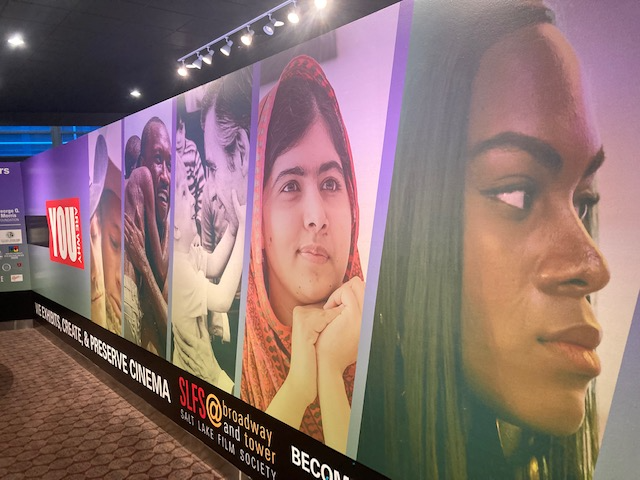 The Interior of the Broadway showcasing its Never Zero Programming
The Film Society also recommitted to promoting its annual cultural film tours, including the Mexican Film Tour, Pacific Islander Film Tour, and Israeli Film Tour. It also continues to offer SLFS@home, a digital screen program for those who are not comfortable attending in-person screenings. Currently SLFS@home is screening such films as Happy Hour (Ryusuke Hamaguchi, 2015), A Cops and Robbers Story (Ilinca Calugareanu, 2020), and Ahed's Knee (Nadav Lapid, 2021). In April 2022, the Film Society also kicked off its second annual Climate Change Film Tour, featuring such films as Meat Me Halfway (Brian Kateman, 2021), The Race to Save the World (Joe Gantz, 2021), and River (Jennifer Peedom and Joseph Nizeti, 2021). In partnership with local non-profit organization Utah Clean Energy, the Film Society has also invited local advocates from the Nature Conservancy, as well as the Utah Recycling Alliance and Hello Bulk Markets to participate in this programming. And, later this spring, the Broadway will host its second annual Pacific Islander Film Tour. Thus, the Film Society is continuing to adapt to the pandemic and serve the local community through its programming, as well as its commitment to amplifying outreach, fostering film talent, and cultivating film appreciation and participation.[6]
Trailer for "Meat Me Halfway"
---
Image Credits:
The Projections series at the Exterior of the Broadway (author's personal collection).
The Tower Theatre in Salt Lake City, Utah (author's personal collection).
The CinemaSafe welcome poster at the Broadway (author's personal collection).
Trailer for "World Debut."
The Interior of the Broadway showcasing its Never Zero Programming (author's personal collection).
Trailer for "Meat Me Halfway."
References: