It Was a Filmways Imprint, Darling
Quinn Miller / University of Oregon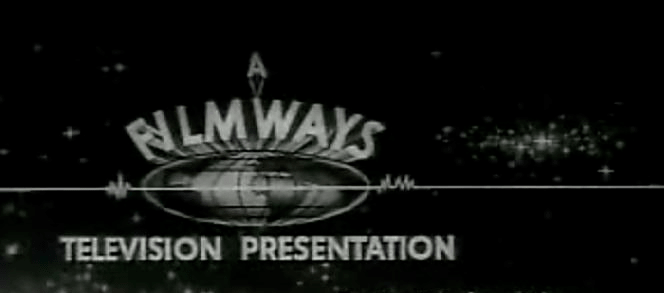 Filmways Television closing logo.
The other day I had an unexpected TV experience. I was suddenly launched into a televisual space by two 1976 paperbacks lying around the house. They were the Leo and Sagittarius volumes of Two-Year Horoscope: 1977-1978. I'd had them for years without realizing the TV industry connection. When I finally checked out their front matter, I saw the publishing company Grosset & Dunlap identified as "a Filmways Company."
And with that, the momentum of internalized media and the talents of Eva Gabor took over. "This has been a Filmways Presentation, Darling," I said to myself, channeling Gabor's notable performance of a voiceover featured at the close of the end credits crawl of the sitcom Green Acres. Gabor played the versatile and inventive Lisa in this surreal small screen star vehicle, which aired 170 episodes from 1965-1971.
The classic after-Green Acres moment, followed in this video by two production cards appended long after the original broadcast.
Filmways Productions, originally an east coast studio that in the 1950s specialized in television advertising, in the 1960s produced Mister Ed, The Beverly Hillbillies, The Addams Family, and Petticoat Junction. These programs established audiences' familiarity with, and, for some people, an expectation for, the brief overlaid audio "This has been a Filmways Presentation," a trademark of the closing credit sequences of many Filmways shows.
A Beverly Hillbillies version.
Sign-offs occurred on other TV shows, too, and, in general, they were free of any added endearments. An authoritative voice, often with an anonymous omniscience, suggested a seriousness in the production and delivery of prime-time programming. Gabor's rendition embellished the branding strategy that was this particular suite of concurrently broadcast Filmways finale announcements.
Another Beverly Hillbillies version: Donna Douglas, without the "darling" (followed by a Viacom card). According to Beverly Hillbillies lore, Douglas, who played Elly May, on rare occasions also said "darling," in a twangy, taste-stratification-scrambling meta-tribute to Gabor.
Gabor's vocal performance for the version run on Green Acres is distinct. It adds a last dash of panache, amidst the afterglow of the closing sequence score, to a series already full of idiosyncratic flair. Gabor's iconic, cool a cappella intoning of "Dahhling" right before the break bookends the "Dahhling" in the lyrics Gabor sings in the series' opening: "Darling, I love you, but give me Park Avenue."
In this Facebook post by TV personality Paul Poteet, the phrase "This has been a Filmways presentation, darling" accompanies a screen capture of Lisa in a Green Acres episode.
The line "This has been a Filmways Presentation, darling" is an effective "audio logo." It's cut in to coincide with the image of Filmways' visual logo (the company's first logo, known as the "Filmways Globe," which James Fabiano, Jude Cormier, and Stephen Cezar date from 1958 to 1974).[1] The production company card has animation, special effects, and, "at least on Filmways' more successful shows…a voice over saying 'This has been a Filmways (television) presentation," often in a recognizable voice of a cast member.[2] I'm far from the only one who committed it to memory. One viewer, at least, finds these fun, multi-sensory flashes of media ownership uncanny, responding to the question, "What's a random thing that gives you anxiety?" by tweeting "When I was a little kid, Eva Gabor saying 'This has been a Filmways Presentation, darling' on the production card at the end of 'Green Acres'…used to scare the crap out of me. I'd run out of the room to avoid being confronted with it."[3] Airing integrated audio-visual logos tailored to a handful of their high-profile properties, the company offered quirky encores, a kind of curtain call as calling card.
The classic Green Acres-is-over moment, with ambient noise.
"This has been a Filmways Presentation, darling." This is the line that, as a result of a couple of odd publications I'd purchased on a whim, echoed within my mind like an earwormy jingle—the kind you randomly sing yourself (on your own, and to yourself), that may migrate, surfacing in encounters with signage or supermarket shelf stock. After seeing "Filmways" ("A Filmways Company," precisely) inked on the title page of my books, I was suddenly sparkling with fuzzy TV feelings, in a manner actually quite reminiscent of the very mid-century, soft-focus galaxy of (celestial) stars that seem to alight in its broadcast logo.
This reverie has led me to many insights, which in turn emphasize the potential of research within our everyday media environments. There are many reasons to emphasize our own archives, namely the stuff surrounding us in our apartments, especially in this pandemic moment, which prevents us from researching in some ways of old. Exploring tangible media stashes at hand, recognizing everyday habits we have around relating to objects and texts as research, can really pay off—with potential benefits in the form of experimental inquiry and novel questions, as well as for the purposes of supporting public health.
My principal interest in the books, previously, had been in their "off-center" quality. The covers of these apparently disposable books, whose throwaway cues recall the ephemerality of broadcasting in this period, look to have been set too far forward, with the print slightly too enlarged. Something about their manufacture creates a kind of blurring effect based on the shape of the object, and these details eventually drew my attention to rough, imperfect splices between separate pieces of cardstock.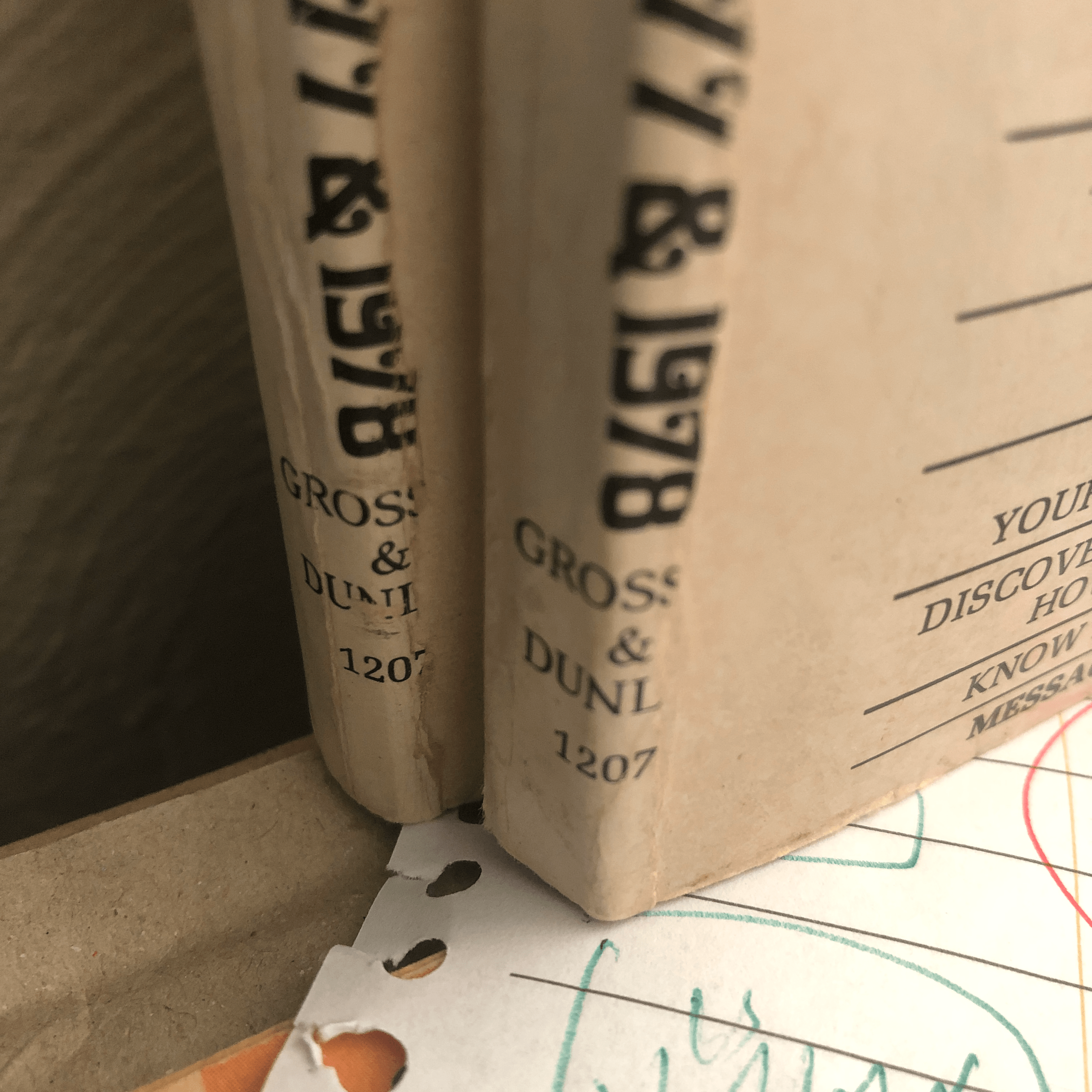 The words of the side titles on the spines seem to bend, tilting around the upper crease of the spine and spilling onto the left side of their front covers. The publisher's name is missing 2-3 characters, the Leo text even more "off" than the Sagittarius.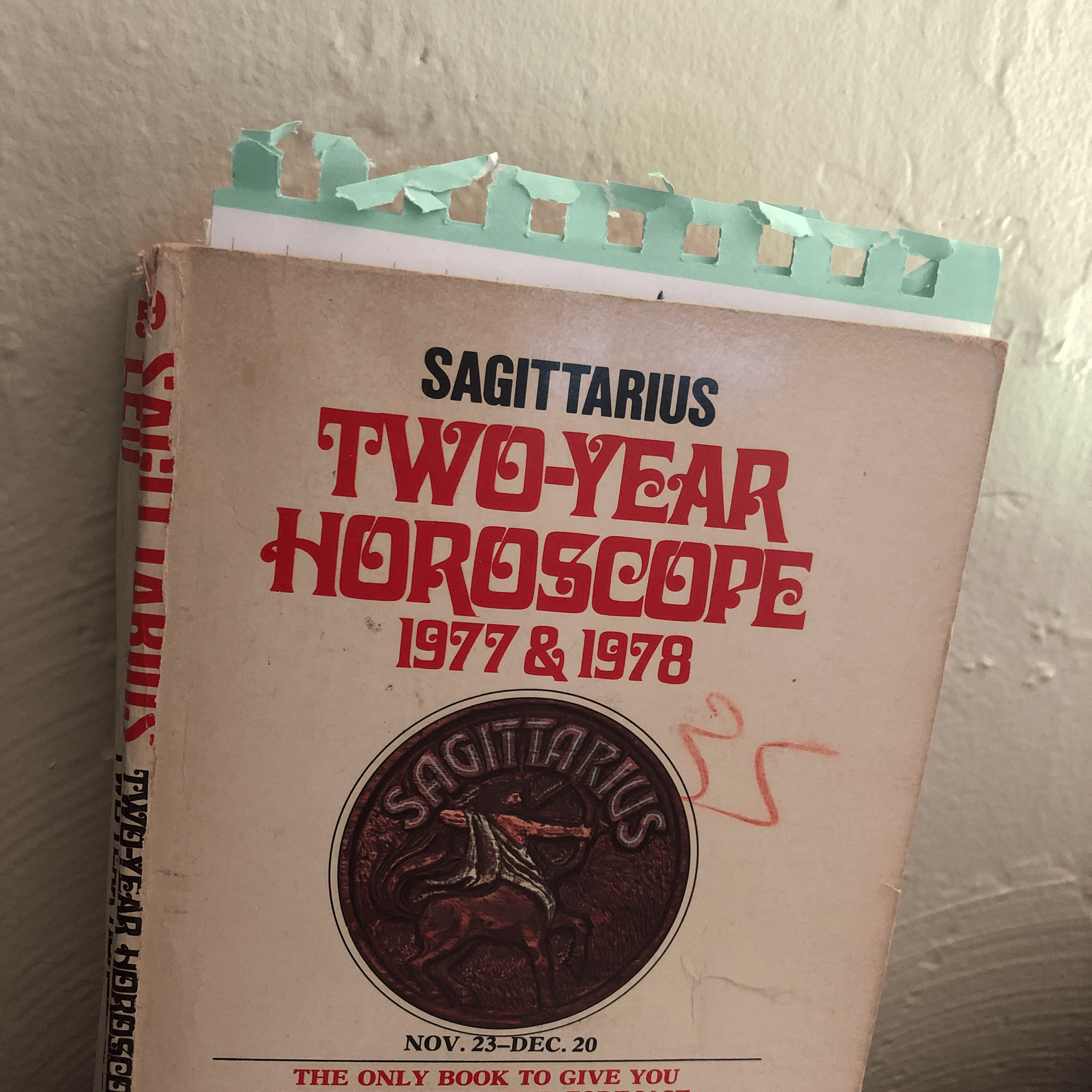 Nine different slogans and sixteen total lines of advertising, in varying modes of address, promote the book on its cover. An ambiguous byline sits below a somewhat redundant announcement identifying the Two-Year Horoscope as "the only book to give you a complete two-year forecast—daily, weekly, yearly."
For years I'd enjoyed these publications (without ever really reading them) based on an intuitive sense that their "mistakes" made sense, that these flaws in fact improved on conventional expectations for quality products. I treasured them especially because they reminded me of my baseball card collecting as a kid, when the most valuable card I owned, according to market guides, was an "error" card, one that had been printed incorrectly at the factory but circulated anyway.
Now I've gleaned that there is much more to be seen that is facilitated by viewing them in their television industry context and in the context of questions of TV materiality. These covers include many slogans placed all in a row, which could indicate the influence of Filmways' expertise in packaging advertising. Across the volumes marketed to individual sun signs, large sections of introductory, overview, background, and framing copy repeat, an element reminiscent of the formulas of TV formats and of the banal rerun experience of episodic opening/closing theme song and credit sequences. Knowing that "Filmways" is inked inside, I feel more acutely and ricochet further the books' sparks of industrial pop magic, and I sense another realm, or an extension, of camp TV. My unpracticed but long-tutored, and, it seems, hardly exceptional, ability to teleport into the ambiguously extratextual final moments of Green Acres, thanks to Gabor's iconic fourth-wall-straddle, is tied to the branding of these paperbacks, whose odd-seeming cover designs had already been serving as a kind of space-travel time capsule for me.
The Filmways era of Grosset & Dunlap was from 1974, when the company acquired the press, to 1982, when Orion Pictures, as part of its purchase of Filmways Inc., sold that company's press and its imprints.[4] My copy of Dylan: An Illustrated History, a 1978 compendium, another book I'd never fully scrutinized post-purchase, turns out, like these other paper relics, to be a Grosset & Dunlap title, with "a Filmways Company" stamped inside. This bigger, more coffee-table-collectible-type paperback is twice the size of the astro guides, which, when rotated to landscape orientation, are together the size of this Dylan intriguingly "produced by Michael Gross," as if it were a sound recording, a TV program, or a motion picture…as if the bibliographic information was like the "live" credits of moving image media.
Was the phrase "A Filmways Company" prominent in all of the books Grossett & Dunlap released while it was a Filmways subsidiary? Or is this moniker only on those determined to be strategically advantaged by association with the television industry and its products (including celebrities-as-products, it seems, and perhaps "Hollywood" predilections like astrology)?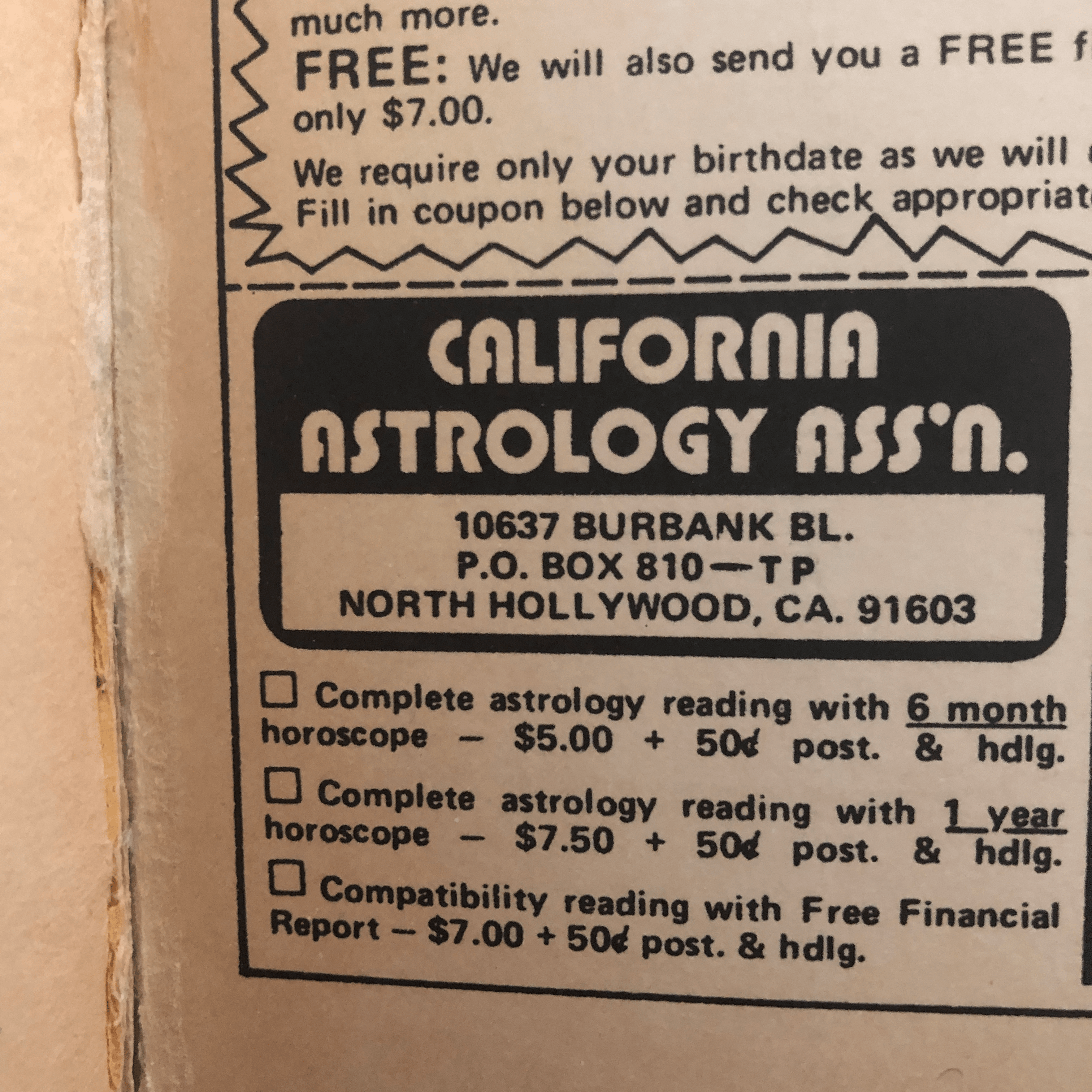 The order form within the advertisement on the inside back cover, for the California Astrology Association with a Burbank Boulevard address.
A title page with Grossett & Dunlap identified as "A Filmways Company."
I will be looking into this and other print-publishing-packaging-TV crossover phenomenon as I sift through, stare at, and sit with the stuff around me, ready for fleeting moments of flow to surface from within.
---
Image Credits:
Filmways Television closing logo.
The classic after-Green Acres moment, followed in this video by two production cards appended long after the original broadcast.
A Beverly Hillbillies version.
Another Beverly Hillbillies version: Donna Douglas, without the "darling" (followed by a Viacom card). According to Beverly Hillbillies lore, Douglas, who played Elly May, on rare occasions also said "darling," in a twangy, taste-stratification-scrambling meta-tribute to Gabor.
In this Facebook post by TV personality Paul Poteet, the phrase "This has been a Filmways presentation, darling" accompanies a screen capture of Lisa in a Green Acres episode.
The classic Green Acres-is-over moment, with ambient noise.
The words of the side titles on the spines seem to bend, tilting around the upper crease of the spine and spilling onto the left side of their front covers. The publisher's name is missing 2-3 characters, the Leo text even more "off" than the Sagittarius. (author's personal collection)
Nine different slogans and sixteen total lines of advertising, in varying modes of address, promote the book on its cover. An ambiguous byline sits below a somewhat redundant announcement identifying the Two-Year Horoscope as "the only book to give you a complete two-year forecast—daily, weekly, yearly." (author's personal collection)
The order form within the advertisement on the inside back cover, for the California Astrology Association with a Burbank Boulevard address. (author's personal collection)
A title page with Grossett & Dunlap identified as "A Filmways Company." (author's personal collection)
The classic moment in the context of closing credits, along with the tail end of an episode titled "Oliver's Jaded Past," taken from an MGM DVD. (author's personal collection)
References: