Crossing the Sonic Color Line: TV Voiceover Narration in Never Have I Ever
Crystal Camargo / Northwestern University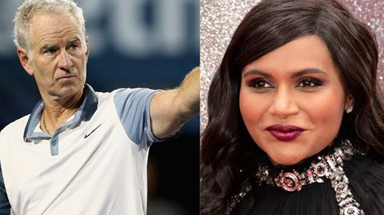 Tennis legend John McEnroe narrates Mindy Kaling's Netflix comedy Never Have I Ever (2020-).
Prior to the premiere of Mindy Kaling's Netflix show Never Have I Ever (2020), a comedy inspired by Kaling's own teenage years as a first-generation Indian American girl, The Hollywood Reporter announced that 1980's tennis legend John McEnroe would narrate the series.[1] McEnroe discussed his role on the show during an appearance on Late Night with Seth Meyers, sharing that Kaling's parents were "big tennis fans, they used to watch me play way back when."[2] Additionally, Kaling told USA Today that "one thing that's common for a lot of Indian parents is a love of tennis. It's like an English Anglophile kind of thing."[3] McEnroe's participation in the show is a sweet nod to Kaling's and other Indian parents who love tennis; it also adds a sentimental touch to the series, as McEnroe is the idol of the main character's late father.
Yet while watching the first episode, I grew uncomfortable listening to an older white man narrate the life of the overachieving and thirsty Devi (played by Maitreyi Ramakrishnan) and her racially diverse best friends and love interests, and discuss the issues addressed on the show, such as South Asian identity, teen sexuality, and Hinduism. As I continued to watch, I thought about Jennifer Lynn Stoever's concept of the sonic color line, the historical process through which sound has been racialized.[4] Stoever highlights how ideologies of race help the listener make sense of who we are listening to. For example, listeners make racialized assumptions about the identity of the speaker based on accents, dialect, speech, and extraverbal utterances. Like many others, I have been listening to white male voices all my life, and thus I was able to quickly pick up the sonic racial and gender markers of whiteness from the narrator. My aural and visual signifiers of race were utterly confused as I listened to McEnroe's white voice but visually saw Devi and her parents' brown faces and bodies.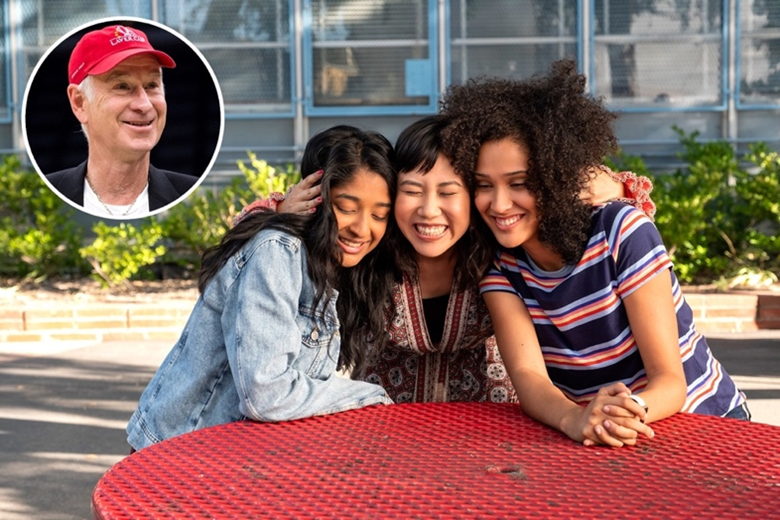 Devi (left) and her racially diverse best friends Eleanor (middle) and Fabiola (right).
Numerous scholars have investigated how white men and women have crossed the sonic color line by mimicking and performing racialized sound, dialect, and accents, amongst other sonic markers. For example, Michele Hilmes discusses how white radio actors Freeman Fisher Gosden and Charles Correll performed a sonic blackness for neo-minstrel characters in the series Amos 'n' Andy (1928-1960).[5] Priscilla Peña Ovalle similarly uncovers that Betty Wand, a white woman, dubbed Rita Moreno's vocals for "A Boy Like That" in the film adaptation of West Side Story (Wise and Robbins, 1961) because the production believed that Moreno did not have the sonic "Latina" ferocity that the scene demanded.[6] Lastly, Shilpa S. Davé reveals how Apu Nahasapeempetilon, a recurring Indian character in The Simpsons (1989—), is voiced by Hank Azaria, a white man performing an accented brown voice.[7] These examples point to the instability between pairing the "look" and "sound" of race in popular culture, as one might be watching a person of color on screen while hearing a white voice.
Furthermore, as argued by Stoever, sonic technologies—such as radio, dubbing, and voiceovers—allow for the possibility of crossing the sonic color line in popular culture. Historically speaking, white voices have always had the ability to cross the sonic color line, often stereotyping, reducing, and appropriating marginalized communities. This pattern reveals how sonic technologies are part of a larger legacy of U.S. media's long allegiance to upholding white supremacist ideology. In the case of Never Have I Ever, the white voiceover narrator also acts as a sonic technological and narrative technique that interjects whiteness itself into an otherwise racially diverse story. The older white male narrator guides, frames, comments, and inserts himself into the multiracial and diverse story world, which affects representation and diversity on the small screen as McEnroe regularly chimes in with commentary on Devi's inner thoughts, poor decisions, and her relationships with her friends and family.
Example of John McEnroe's narration in Never Have I Ever.
The discourses of Brownness and whiteness in Never Have I Ever are mutually entwined categories. Devi's Indianness, specifically her Hindu teen girl identity, is co-constructed alongside McEnroe's white, male, and sports narrator identity within the first two minutes of the series. Shortly after praying to a shrine of Hindu gods, Devi Vishwakumar is introduced by the narrator as a "15-year-old Indian American girl from Sherman Oaks, California," on her first day of sophomore year. The narrator immediately transitions, introducing himself as, "And I am legendary tennis player John McEnroe," where the music changes to an upbeat soundtrack. We hear crowds excitedly cheering for him and see historical footage of him, highlighting McEnroe's famous tennis career. Then, underscoring the strangeness of this voiceover choice, McEnroe confesses, "You may be asking yourself, why is sports icon John McEnroe narrating this tale?" The scene quickly cuts back to images of Devi getting ready for school, in which he responds, "It will make sense later, I promise," as he transitions back to Devi's story.
While McEnroe quickly redirects the story back to the protagonist, and this brief aside is played for laughs, simultaneously the series via the narrator establishes a form of sonic whiteness. In his collection, The Persistence of Whiteness, Daniel Bernardi writes, "whiteness is addressed explicitly as a racial code and indirectly as an implicit discourse that fractures the representation and stories of other colors."[8] By introducing and identifying McEnroe, the series implicitly fractures Devi's story in Never Have I Ever. The audience has to pay attention to a 15-year-old Indian American girl's daily trials and tribulations while also trying to figure out why a white male sports icon narrates the series.
What unites McEnroe and Devi is their short temperament. In a flashback scene, Devi's father, Mohan, compares McEnroe's performance at a tennis match to Devi's personality: "Look at him giving it back to that umpire. He's a firecracker… just like you." A second later, McEnroe narrates, "I told you it would make sense." As an omniscient narrator, McEnroe makes constant jokes and comments about his and Devi's short fuse. For example, when Devi shouts at her friend Fabiola, McEnroe adds, "we hotheads fly off the handle." These caustic and comic asides diminish cultural differences between the narrator and the main protagonist, specifically the racial, gendered, and spatial politics of having and displaying a quick temperament.
Never Have I Ever Episode 4, titled "…felt super Indian." Devi (left) and Kamala (middle).
Never Have I Ever is culturally specific, representing an Indian Hindu family at the center of the show; however, the series utilizes the narrator's sonic whiteness to universalize Indian Hindu cultures and traditions for white audiences. When Devi's cousin Kamala (Richa Moorjani) reluctantly agrees to an arranged marriage in the series, McEnroe narrates, "Kamala had a sinking feeling. She didn't want to get married, but she put on a happy face like I did at the trophy ceremony when I lost the French Open to Ivan Lendl in 1984." Recalling this moment, McEnroe told Vanity Fair that the narration used the worst tennis memory of his life to describe Kamala's apparent lack of agency and discontent in her arranged marriage.[9] Furthermore, while celebrating Ganesh Puja, Devi struggles between feeling too Indian and not Indian enough, as seen in a conversation with her friend, Harish. Not seeing eye to eye with their Indian identity, Devi ends the conversation and awkwardly says, "I love being Indian" as she walks away. McEnroe immediately narrates, "Real convincing, Devi. I look more comfortable being Indian."
McEnroe's narration sonically opens up a racial space of projection and identification in these examples, constructing different viewpoints of Indian Hindi traditions and identity through his whiteness. While white audiences might not fully grasp Kamala's feelings towards an arranged marriage or Devi's struggle with her Indian identity, McEnroe's comparisons and absurd commentary provides a white translation of these culturally specific struggles. The series achieves a form of universality through McEnroe's whiteness and sports identity, a sport with a long history of white elitism.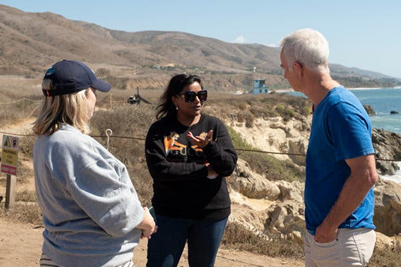 Mindy Kaling (middle) on the set of Never Have I Ever with John McEnroe (right).
In this series, as with many other series I examine in my scholarship, whiteness exceeds the visuality of race on television, creating what Richard Dyer recognizes as an "invisible" form of whiteness that is perceived to be "ordinary, neutral, and even universal."[10] The widespread popular culture coverage of Never Have I Ever has either appraised the series for normalizing diversity, as most characters are people of color, or occasionally criticized the problematic portrayal of Indian cultural tropes, such as arranged marriages. Overall, most of the series documentation omits the narrator from conversations around racial representation or diversity. This is an example of how sonic whiteness via voice narration is uncritically assumed to be "ordinary," even though it has an active role in the show's racialized representation.
By looking beyond the visuality of race and pairing it with the sonic alongside TV techniques, we can understand how producers insert whiteness into the technical, aesthetic, and narrative chains of TV production, fracturing the representations of other races on screen. Next time you watch a series such as Never Have I Ever with a diverse racial cast and culturally specific storylines, I encourage you to pay special attention to audiovisual elements such as a narration, subtitles, or laugh tracks. Ask if these TV styles or aesthetics are reproducing a form of invisible whiteness—one you might hear but not see.
---
Image Credits:
References: