Women Horror Hosts in the Southern United States, 1957-1960
Caroline N. Bayne / University of Minnesota, Twin Cities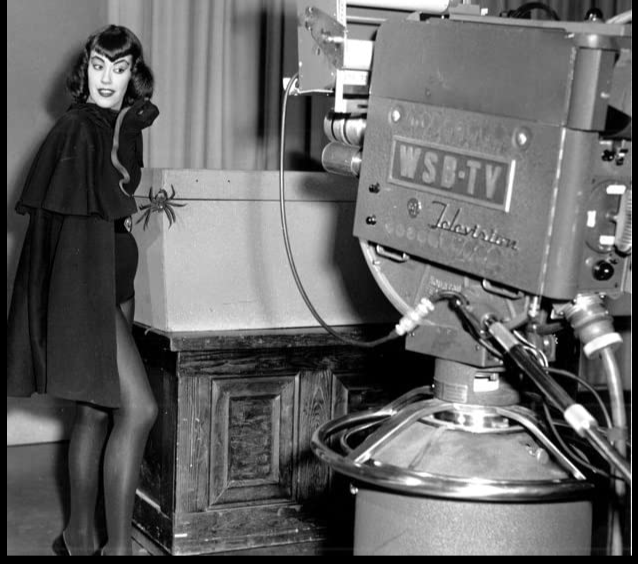 Sateena at WSB-TV in Atlanta, Georgia
Early daytime television programming across the United States featured a host of programs targeted at women audiences. Such programming, beginning in 1948, included "homemaking shows, shopping shows … live anthology drama, [and] feature films edited for television," and with the slate of programs came a surge of women hosts from local television stations.[1] While daytime television became increasingly solidified as women's entertainment domain, due in part to the makeup of the audience, the content, and the hosts, late night programming such as monster movies edited for home viewing also employed women to introduce the films and provide playful banter and campy entertainment. In what follows, I provide a brief account of two horror movie hosts from the southern United States – Sateena from WSB-TV in Atlanta, Georgia, and Draculinda from WRAL-TV in Raleigh, North Carolina. While there are several books dedicated to horror movie hosts,[2] the women mentioned here do not appear in these texts. This account is part of a larger project dedicated to recovering the work of women in the southern United States on early television.
Popular "shock shows" and monster movie packages aired on television stations around the nation in the 1950s and commonly featured a host unique to each station. Maila Nurmi, the woman who created and embodied the illustrious Vampira, began hosting KABC-TV's shock show out of Los Angeles in 1954 and perhaps still serves as the most well-known and most replicated example.[3] In 1953, Nurmi attended a masquerade ball dressed as a ghoul based on the work of Charles Addams and months later, "a KABC-TV Channel 7 producer tracked her down and offered her work as hostess of a late-night horror show."[4] Despite only hosting The Vampira Show from 1954-1955, Nurmi became a cult icon and her popularity extended far beyond Los Angeles after a spread in Life Magazine in 1954 and guest appearances on the Red Skelton Show.
Maila Nurmi as "Vampira" became a cult icon.
In a December 1957 issue of The Atlanta Constitution, a column reports that WSB-TV, Georgia's first television station, had acquired the rights to a monster movie package to begin airing on Channel 2 (NBC), on January 1, 1958.[5] "Shock Show" originally aired on Thursday nights at 11pm but soon moved to Friday nights after campaigns from Atlanta teenagers protested the original time slot due to it airing on school nights instead of the weekend. Two weeks into 1958, another article notes:
When Channel 2 started showing its newly acquired horror movie series … I asked if Friday night was not a better night because the school children can see them. I asked teenagers to write to me or to WSB-TV expressing their views. Ray Moore gave the idea a rise on his popular [program] Today in Georgia.[6]
Letters came in from teenagers and parents alike and WSB-TV responded quickly, moving "Shock Show" to Friday at 11pm for its duration (except for special instances such as Good Friday, on which the show did not air).
In June 1958, the Constitution ran a piece on recent WSB-TV hire, Joanne Good, cousin to popular television and film actor Bob Cummings.[7] Good, who was raised in Georgia and graduated from the University of Georgia with an MA in drama, moved to Los Angeles to pursue acting and worked as a secretary for Cummings. She later relocated to Atlanta and began work at WSB-TV in the promotions department. The article states that Good began working at the station approximately eight months prior to its publication, around November 1957, shortly before the station announced the purchase of the monster movie package. Two months later, the Constitution ran a second, longer exposé on Good that detailed her work on "Shock Show" and her character Sateena,[8] known as the devil's daughter. Writer Harriette Schreiber describes "Shock Show" as "a cozy collection of such living room companions as Boris Karloff and Lon Chaney in old horror movies … accompanied by the local station's own prescription for panic, Sateena, host of ghoulish games."[9]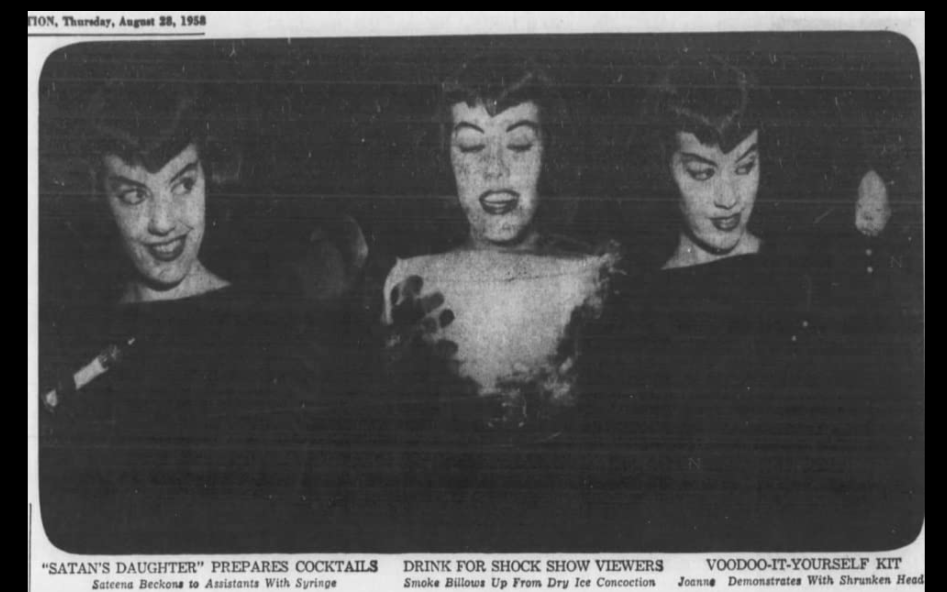 Sateena – The Atlanta Constitution, [Atlanta, GA], 28 August 1958, p. 28.
Good transformed into Sateena for the Friday night monster movie showings with her bangs slicked into a widow's peak, wearing a black cloak, and surrounded by sinister props such as bubbling drinks, large spiders, and her trusty syringe. According to the article, Good created the character of Sateena and co-wrote her scripts alongside WSB-TV producer Gy Waldron (who later went on to create The Dukes of Hazzard (CBS, 1979-1985)). Additionally, despite the short, one-minute sequences designed to introduce the film, Good and Waldron rehearsed three nights per week prior to their Friday night shows. The article emphasizes Good's leadership role in the production of "Shock Show," from the creation of the character, writing the scripts, and creating special effects that are described as some of the most advanced in the South at that time.
Again, despite her relatively limited screen time on the station each Friday night and her brief tenure as Sateena, Good was an incredibly popular part of WSB-TV's local talent. In October 1958, WSB-TV celebrated its ten-year anniversary with a parade showcasing local and national talent. In newspaper coverage leading up to and after the event, Sateena's presence in the parade is mentioned several times. Alongside Mayor Hartsfield, Miss Georgia 1958, and Cleo the Dog, Good "rode by with a skeleton sitting in the front seat of her convertible."[10]
In September 1959, nearly two years after "Shock Show" began airing on WSB-TV, WRAL-TV out of Raleigh, North Carolina announced the introduction of its own horror movie package program titled "Nightmare," hosted by "channel 5's mistress of ceremonies, who is described as 'a nightmare come true,'" and compared to the likeness of a Charles Addams' cartoon.[11] The photo featured alongside the article shows a woman, unnamed, with slick, dripping bangs and hollowed cheeks. Despite her brief and anonymous mention, four months later in an article from the Daily Tar Heel, published out of Chapel Hill, North Carolina, the now apparently well-known and beloved Draculinda, "ghoul hostess of the WRAL-TV (channel 5) Saturday night horror show" was named the "sweetheart" of a UNC dormitory. Dorm residents invited Draculinda, the "cool ghoul" with "midnight black hair" and "blood red lips," to attend a party hosted on campus, which she was unable to make, but instead, sent gifts in her wake.[12] Draculinda's name appears throughout Raleigh's The News and Observer from February to March of 1960, but unlike Joanne Good, the identity of the woman who portrays Draculinda is never revealed.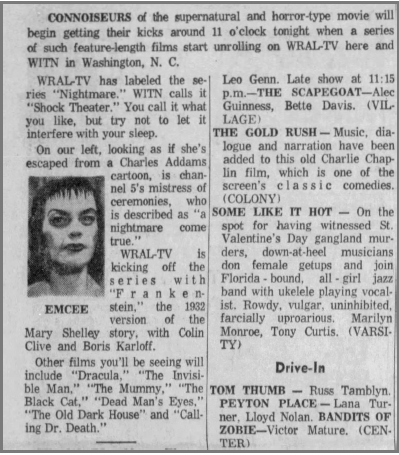 Draculinda – The News and Observer, [Raleigh, NC], 19 September 1959, p. 10.
Much like the dramatic brevity of popularity experienced by Vampira, Sateena and Draculinda fade from newspapers just three years after their arrival. As mentioned above, the identity of Draculinda is never revealed and as of yet, I have been unable to uncover more about the woman's identity. As for Good, I also have not found information beyond her stint as Sateena and whether she went on to occupy other roles at WSB-TV or beyond in the entertainment industry. In a Los Angeles Times article from March 1955, writer Walter Ames laments the disappearance of Vampira from television screens and more so, the lack of information as to why. He writes:
But Saturday, Vampira didn't show. Instead, daring Bill Stewart was sitting in her spot … When I called KABC's praise agents yesterday I was informed Vampira was canceled out late Friday. 'We were told not to say anything about it,' one flack, who shall mercilessly remain nameless, told me.[13]
The secretive cancellation of Vampira, an iconic part of the televisual landscape by that time, reflects the even less ceremonious disappearance of Sateena and Draculinda as their popularity was strictly local. However, both women clearly had established fanbases and were known as a major part of early television programming in their respective cities. The last mention of Sateena appears in a February 1959 article from the Constitution, which describes Joanne Good as the "former host" of "Shock Show." The article states Good "received a valentine from one of her ghoulish fans which depicted a smiling Satan with black cat and pitch fork. Satan [sic] had this to say: 'Hell-O.' The return address was simply: '7734 Zombie Rd.' Oh, well."[14]
---
Image Credits:
Sateena – The Atlanta Constitution, [Atlanta, GA], 28 August 1958, p. 28. (author's screen grab)
Draculinda – The News and Observer, [Raleigh, NC], 19 September 1959, p. 10. (author's screen grab)
References: