Preserving Tourism Imaginaries: Vacationers Urged to Visit Online Now, Travel IRL Later
Maria Skouras / University of Texas at Austin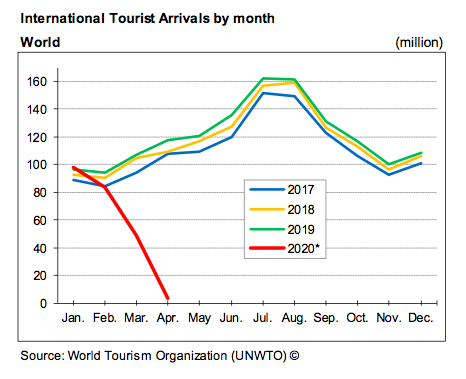 Dramatic Decline in Global Tourism in April 2020 (UNWTO)
National tourism boards, hotels, airlines, travel companies, and other related businesses are struggling to survive as global tourism came to a halt during spring 2020 due to the COVID-19 pandemic. This downturn has considerable implications for the global economy; according to the World Economic Forum, the travel and tourism industry produced 10.4% of the world's GDP and a similar percentage of jobs in 2018.[1] While travel restrictions are beginning to ease in Europe and elsewhere, widespread lockdowns and quarantines have already caused drastic financial damage. The United Nations World Tourism Organization reported that international tourist arrivals declined 97% globally during April causing a loss of $195 billion in travel-related revenue when compared to the same period during 2019.[2]
In addition to enhancing a nation's ability to be competitive in the global economy, the character of a country's tourism sector is essential to the nation's overall brand. Whether a country's landscape features the rainforest, mountains, beaches, glaciers, or deserts, the commodification of the terrain into possibilities for tourism shapes perceptions of the place.[3] Likewise, the nation's history, attractions, music, food, and culture contribute to the creation of such fantasies and "tourism imaginaries".[4] As such, tourism marketing campaigns employ imagery that develop or reinforce positive mythologies to appeal to foreign visitors. To authenticate the narratives being constructed, local citizens are often instrumentalized to provide personal testimonials about the nation's ability to provide extraordinary experiences.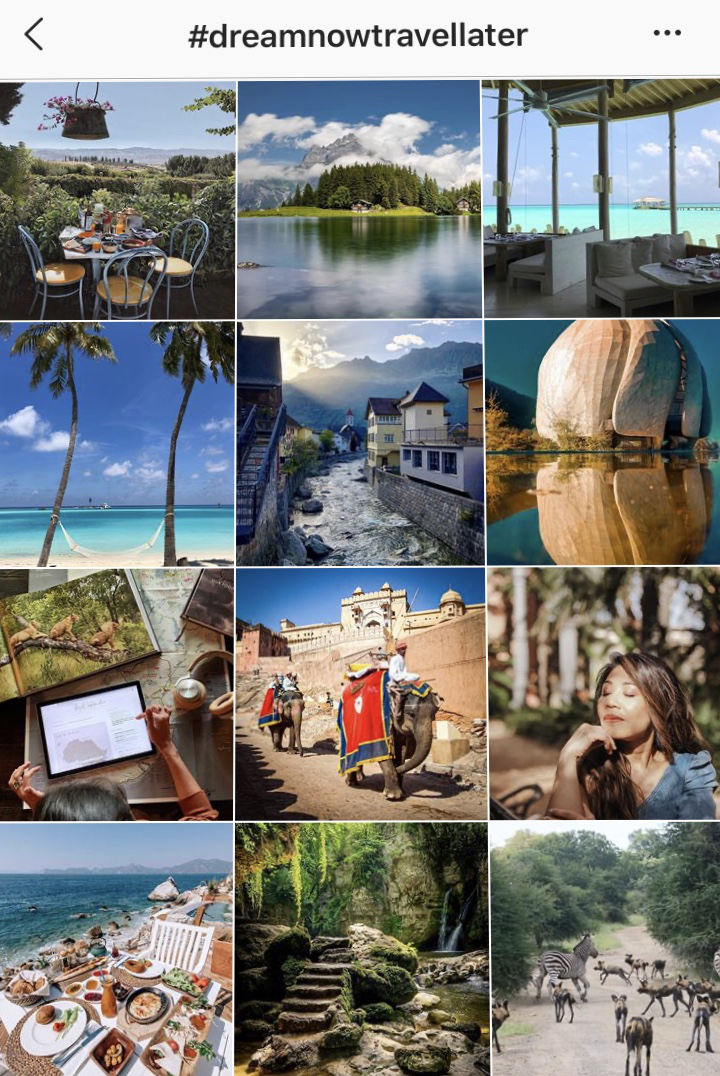 As of 7/18/2020, 61K Instagram Images Used the #DreamNowTravelLater Hashtag
In response to global shelter-in-place orders, tourism boards have been presented with an unusual challenge. They need to artfully acknowledge the unprecedented situation we are living in and deter visitors for an unknown amount of time while still enticing privileged individuals with expendable income to consider future travel. Many have risen to the occasion by developing creative messaging, catchy hashtags, and participatory campaigns. For example, Switzerland's tourism board has advised travelers to "Stay safe-stay home" and is credited with popularizing the #DreamNowTravelLater hashtag on social media platforms.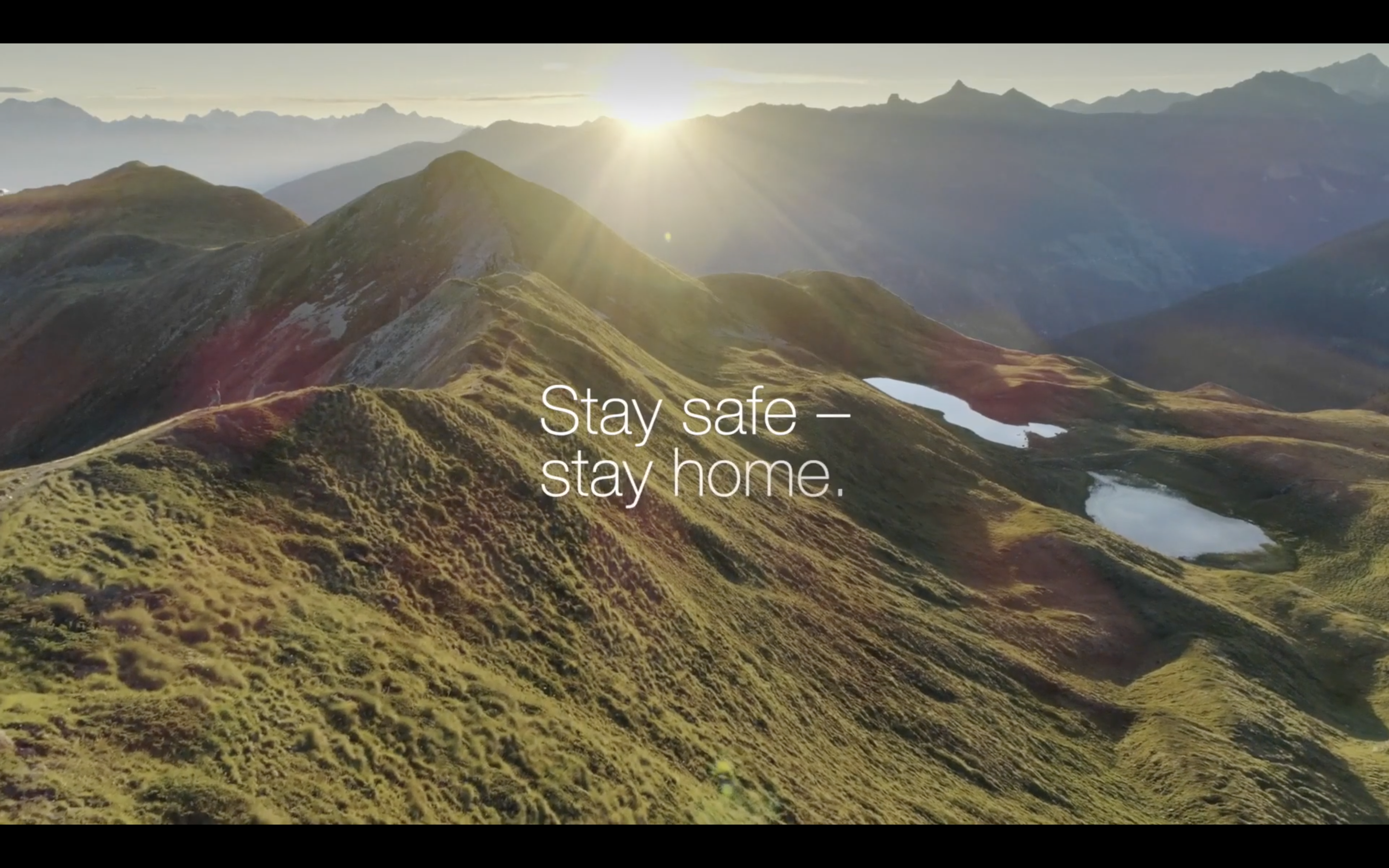 A message from Switzerland's Tourism Board to Tourists: "Stay safe-stay home"
On March 31st, the MySwitzerland official Youtube account posted the video, "Dream now – travel later," in which would-be tourists are encouraged to use this time to plan for a forthcoming trip to Switzerland while being inspired by aerial views of the country that are fit for a postcard. As a soft acoustic guitar tune plays in the background, the words "Dream now- travel later" arise over a quintessential vision of Switzerland, a glowing town nestled amongst the snow-covered Swiss Alps at sunset. Other images showcase Switzerland's versatility: awe-inspiring lake views fit for kayaking, green hills perfect for a challenging run, and winding train rides that conclude with warm embraces from friends all await visitors.
Switzerland's "Dream Now – Travel Later" Video Ad from 3/31/2020
Greece's tourism industry has taken a comparable, if not more abstract, approach. On June 5th, the Tourism Ministry and Marketing Greece released a video that proposed "Greek summer is a state of mind." Acknowledging that travel is not advised or possible for all at this time, the video claims summer in Greece is more than an experience; it is a concept within itself. The narrator in the video philosophizes that as long as one is with loved ones, enjoying nature, and "feeling free," they can achieve the essence of a Greek summer from wherever they are. However, the clear blue sea and empty, idyllic beach depicted is an invitation for viewers to picture themselves there in the future. Having welcomed a record-breaking number of tourists during 2018, summer tourism is a pillar of the Greek economy and thrives off its imaginary as a summer paradise.
"The Greek Summer State of Mind" Video Ad from 6/4/2020
Two months earlier in April 2020, the Greek National Tourism Organization launched the #GreeceFromHome digital campaign, which invites viewers into the homes of nationally-known Greek citizens as they perform everyday activities from cooking traditional recipes like moussaka, a comfort food often likened to lasagna, to reciting monologues from Greek tragedies. Although international viewers may not be familiar with these personalities, they will learn more about the nation's culture and talented people. At the same time, Greeks who are quarantining at home will enjoy the unique opportunity to hear from their favorite chefs, journalists, actors, and musicians in a more casual, unfiltered way. The simple, no-frills approach to filming and sharing personal stories in #GreeceFromHome furthers the revival of Greece's narrative as a vibrant nation with friendly people, delicious food, picture-perfect islands, and a rich history, rather than one embroiled in financial and refugee crises.
Prior to the pandemic, in June of 2019, Tourism New Zealand launched a similar people-to-people campaign called #GoodMorningWorldNZ. As the first country to experience the daily sunrise, a different New Zealander wishes the world a good morning from a scenic location each day for a year, oftentimes incorporating words and sayings in the Māori language. Serving as national brand ambassadors and local guides, ordinary citizens describe their hobbies and active endeavors in a diversity of terrains, from mountain vistas to colorful urban landscapes. The #GoodMorningWorldNZ website provides directions for how any resident can film their own video by "selecting an epic spot" from which to say good morning, sharing what they are up to, and wishing the world a good day before uploading to a social media platform.
New Zealand's "Good Morning World" Day 366 Video Ad with Lola from 6/15/2020
Although New Zealand detected and contained the virus early on, several of the campaign videos posted in the spring of 2020 reflect the changes precipitated by the pandemic while still presenting the natural beauty of the country. Brooke, a doctor sharing her greeting in front of the stunning Bay of Plenty, thanks nurses around the world for their care at a time when it might not be possible for individuals to be with their loved ones. Reporting from the lush, tree-lined river at the Whanganui National Park, Baldy and Tom explain the spiritual and life-sustaining significance of the river and encourage visitors to "come back" while assuring them "we will still be here." The final video concludes with Lola, a young citizen reporting from the sea in Auckland. She relays that while it is not possible for the country to currently welcome visitors in its traditional way, "as whānau – or family," they look forward to seeing everyone soon.
"Can't Skip Hope," a powerful video released by Portugal's official tourism board in March, echoes the sentiment that this is a time to stop, dream, and plan for future travel. It begins with two caveats which explain that the footage was captured when "we could spend time outside" and that narration was recorded safely from home on a smartphone. Then it launches into a myriad of snapshots: wild horses running in reverse, a passionate kiss, the release of a massive lantern in the night, a festive group dinner, and beach scenes amongst others. Like rewinding through fragmented memories or experiencing a dream-sequence, the video is equal parts reality and fantasy. For those who lack an image of what travel to Portugal might be like, the video shows a dynamic country full of life as well as contemplative moments. The voiceover stresses the importance of being apart so that we can be together again. It ends with the Visit Portugal logo and a series of hashtags including #cantskipyesterday, #cantskiptomorrow, and #cantskiphope.
Portugal's "Can't Skip Hope" Video Ad from 3/20/2020
Taking a more humorous approach, Iceland is using the hashtag #LetItOutIceland and encouraging bored, frustrated, and listless individuals to record a scream and select one of seven incredible outdoor locations to have it played from a loud-speaker. For those who are fortunate enough to be safe at home rather than on the frontlines of the pandemic, the video shows familiar situations: the monotony of doing another puzzle, a self-haircut gone wrong, the disappointment and loneliness of a quarantine birthday, and the near impossibility of simultaneously working and parenting. For citizens of countries who are being ravaged by COVID-19 and won't be able to take advantage of borders starting to reopen for limited tourism, releasing a scream is a welcome opportunity. And if scream therapy is not your thing, online tourism campaigns featuring friendly faces and picturesque imagery can provide a little inspiration to #DreamNowTravelLater.
Iceland's "Let It Out!" Video from 7/15/2020
---
Image Credits:
Dramatic Decline in Global Tourism in April 2020 (UNWTO). Author's screen grab from the UNWTO World Tourism Barometer, Volume 18, Issue 3, Update June 2020.
As of 7/18/2020, 61K Instagram Images Used the #DreamNowTravelLater Hashtag. Author's screen grab.
A message from Switzerland's Tourism Board to Tourists: "Stay safe-stay home." Author's screen grab.
Switzerland's "Dream Now – Travel Later" Video Ad from 3/31/2020
"The Greek Summer State of Mind" Video Ad from 6/4/2020
New Zealand's "Good Morning World" Day 366 Video Ad with Lola from 6/15/2020
Portugal's "Can't Skip Hope" Video Ad from 3/20/2020
Iceland's "Let It Out" Video Ad from 7/15/2020
References