"You Can Still Do It": Apple Watch Activity Notifications During COVID-19
Andy Fischer Wright / University of Texas At Austin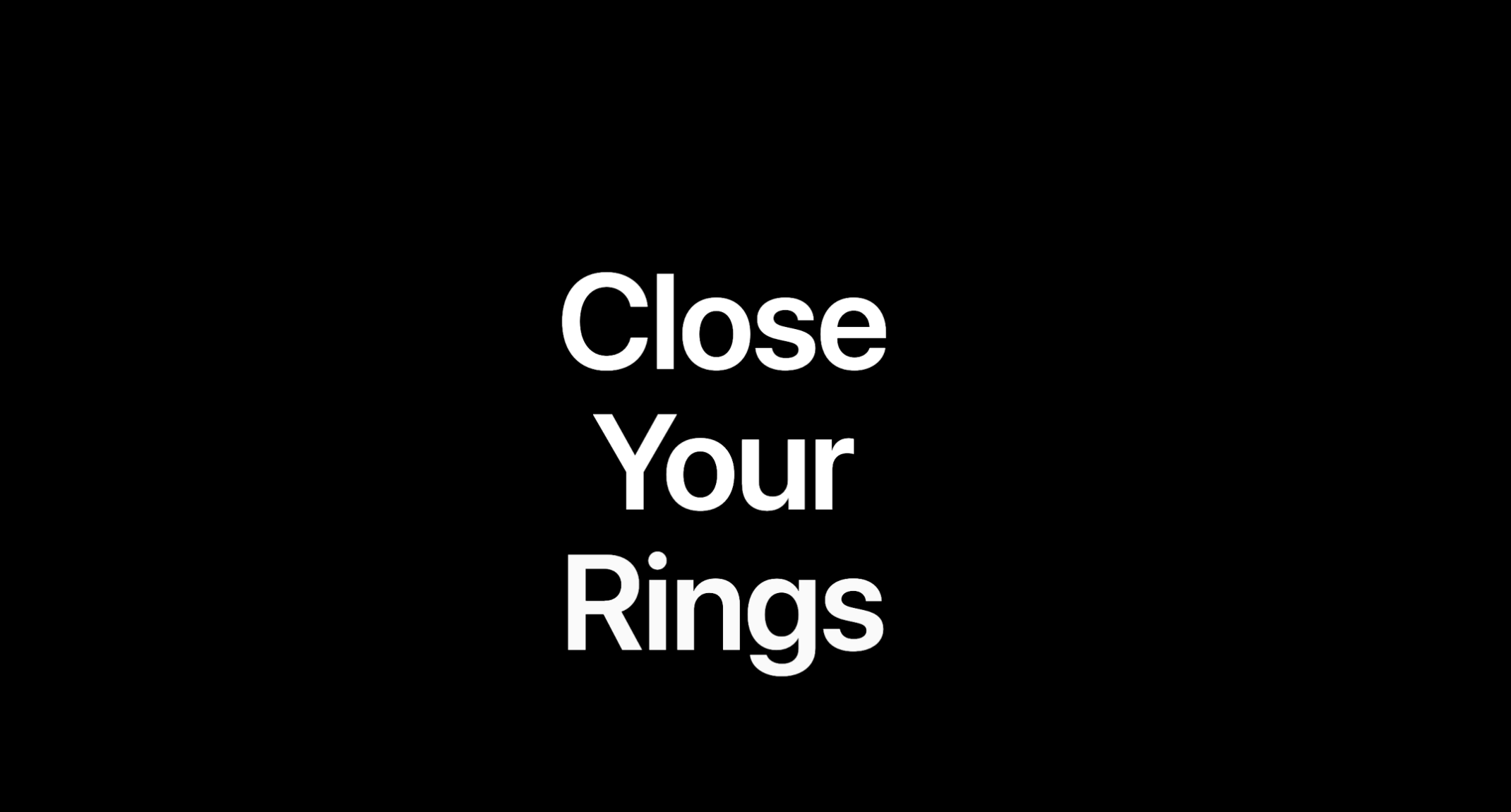 The rather ominous opening words on Apple's webpage detailing the Apple Watch's Activity app and features. It is immediately replaced by a graphic of the Activity app above the following text: "Three rings: Move, Exercise, Stand. One goal: Close them every day. It's such a simple and fun way to live a healthier day that you'll want to do it all the time. That's the idea behind the Activity app on Apple Watch."
The wristwatch is at its base level an intimate machine situated at the end of the arm and designed with the explicit purpose of keeping the user aware of a regimented system of 'time.' Like many people operating in capitalism I have used watches and clocks to regulate my labor and personal life, whether this was to coordinate beer deliveries for my former employer or simply to make sure I didn't burn muffins at home. From a critical angle, timepieces are interesting because of how infrequently I interrogate their ubiquitous presence in my daily life; per Vincent Mosco, the "social impact" of technology is greatest when devices and systems become "banal" and "withdraw into the woodwork."[1] As I found myself beginning to work on a thesis project that critiqued push notifications in my daily life last year, I decided to invest in an Apple Watch Series 3 linked to my iPhone in order to see if a 'smart watch' that reached out to me would change the way I used this familiar machine to structure parts of my life. After an unsurprising period of collision as the rhythms of my daily life met the disruptive methodology of the Apple Watch, I soon found that the chimes on my wrist folded themselves into the fabric of life just as the vibrations in my pocket had after acquiring my first cell phone.
The most distinct new flavor that the Watch added beyond even my phone was notifications about my body. Stevens and Wernimont wrote in 2018 that wearable technologies in the 21st century first gained momentum from the 'Quantified Self' movement, whose adherents use smart devices like heart rate monitors "with the objective of noticing trends over time and optimizing based on their personal observations."[2] While the motivation for this movement was based on a utopic cyborg dream of perfectly optimized biology, the researchers note that "[wearable] digital technologies situate the body not as a self-contained, sovereign subject but as a leaking, commodified data-producing body." [3] Moreover, the notion of a device that appears to record bodily activity for my benefit is complicated by our 'appified' society where mobile apps are "embedded into the everyday routines and rituals of users" [4] and large technology companies continually strive for what Couldry & Mejias call "the capitalization of life without limit."[5] So while Apple Watches seem to provide a consumer service of measuring and analyzing my body and fitness growth, a second look makes it clear that the data about how I live and move is a clear asset for information technology companies wishing to go from delivery of service to urban infrastructure control. A device that quantifies bodily function sutures (sometimes quite literally) external interest to my body, reducing my physiology to a numeric performance with each method of measurement determined by its potentiality to produce data.[6]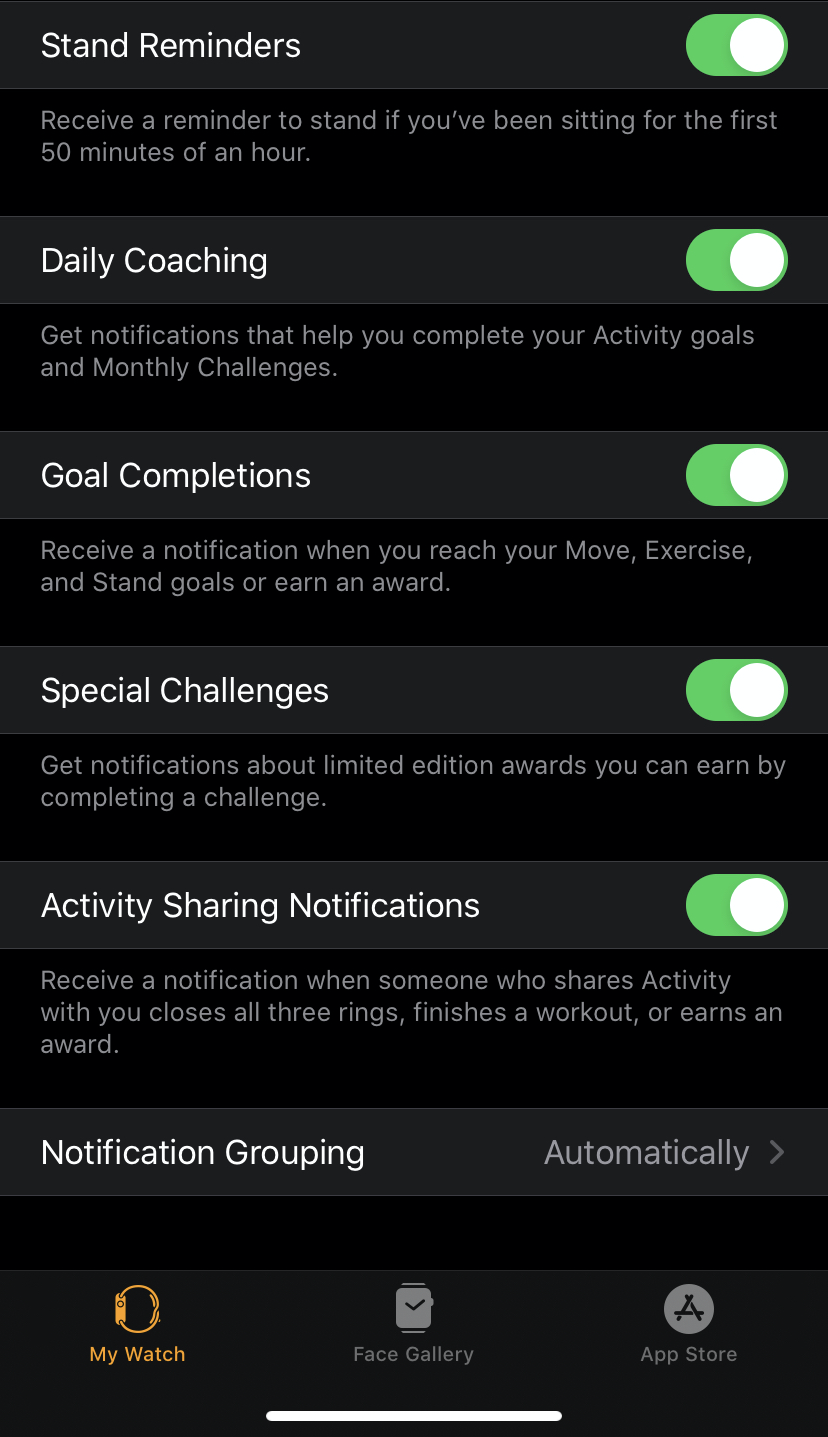 The screen on my iPhone's Watch companion app showing settings for my Watch's Activity notifications.
It is at this point an open secret that my Apple Watch is a surveillance tool with neat features, but what if we consider the media produced by the Watch alongside the data harvested by it? The Activity app on my Watch is particularly insistent on reminding me of three daily goals: stand once an hour[7] for twelve separate hours ('Stand'), elevate my heartrate for thirty separate minutes ('Exercise'), and burn a user-determined number of calories ('Move'). In the companion app on my iPhone (above) I am able to set which notifications are sent from the Activity app to my Watch face: Stand Reminders, Daily Coaching, Goal Completions, Special Challenges, and Activity Sharing Notifications. Though Special Challenges and Activity Sharing are rarer, I receive notifications from each other category on at least a daily basis. Each of these notifications lights up the screen, vibrates the Watch body, and emits an audible chime if I have the volume turned on; the fact that the Facebook Messenger, Gmail, and Activity apps all produce a similar sequence[8] erases the sensory difference between a message from my partner, an email from my employer, and a reminder to stand up again.
The Activity app appears to 'just work' following the model of opaque computing, but anyone who owns an Apple Watch will tell you that in reality their Watch's notificatory flow is not fused perfectly with the motions of their body. In my time with this device, I have had Stand Reminders regularly occur while standing, had my Move Ring nearly double my average on a day I spent fourteen hours driving across the country, and been commended for my exercise and elevated heartrate during an anxiety attack.[9] It is also worth noting that a Goal Completion notification is symbolically simple and positive. In the middle of screen, a diagram of all the progress I have made on my various goals (represented by completed 'rings') that day is visible directly over bold text reading "Goal Achieved," with smaller capitalized text underneath identifying that this message arrived courtesy of the "ACTIVITY" app. Taking this form both codifies and incentivizes the particular type of activity quantification that the Apple Watch is capable of, deigning all activity that what is essentially a wrist-mounted accelerometer and heartrate monitor cannot measure as both non-conforming and unrewardable. Given the tendency for surveillance technology more generally to mark as Other "virtually anything that aberrates from the norm," this should be perhaps not be surprising.
A machine whose notifications rewarded 'proper' measurement of my body's movement became especially problematic during the "Stay Home- Work Safe Order" that my county first implemented in mid-March of this year due to the COVID-19 pandemic, especially when further restrictions "requiring individuals to stay at home or their place of residence" except in the case of essential work or activities were deemed necessary in mid-April. Unsurprisingly, it is difficult to do things that will register as Activity for my Apple Watch while I am under a legal order and moral imperative to stay inside of my small shared apartment whenever possible without access to gym equipment. Though it would be out of character for Apple to release hard data on their Activity users, a March 23rd blog post from rival smartwatch company and recent Alphabet acquisition Fitbit documented a global reduction in measured weekly step count from 2019-20, including peaks of -38% and -25% from heavily effected Spain and Italy respectively while the US averaged -12% with higher reductions in most metropoles. Though I have not been able to find any more recent studies or relevant external data, I can personally attest to the chilling effect of a pandemic on exercise; even after I lowered the threshold for my 'Move' goal, I completed all of the daily goals my Watch put before me twenty-six times in February, eighteen times in March, and nine combined times between April and May.
And yet, the frequency of notifications from the Activity app into my life as mediated by my Watch remain unchanged. Messages like "Keep it going" (documented 5/24, 5/26, 5/31, 6/3, 6/9, 6/10, 6/11, 6/14, 6/16) in the morning, "You can still do it" (documented 5/24, 5/26, 5/31, 6/10, 6/11) in the evening, and "[Check/Close] your rings" (documented 6/10,6/11, 6/12) on slow days continually drop into my daily life, encouraging behavior that is either logistically impractical or potentially hazardous to public health. My Watch asks me to return to the type of activity it can measure, and when I refuse to comply, it withholds praise and chides me. In encouraging data collection under the guise of exercise the Watch notifications discourage 'safe'[10] behavior and assigns notifiable value to breaking quarantine during a global pandemic. More simply, these notifications operate in daily life without taking into account its context.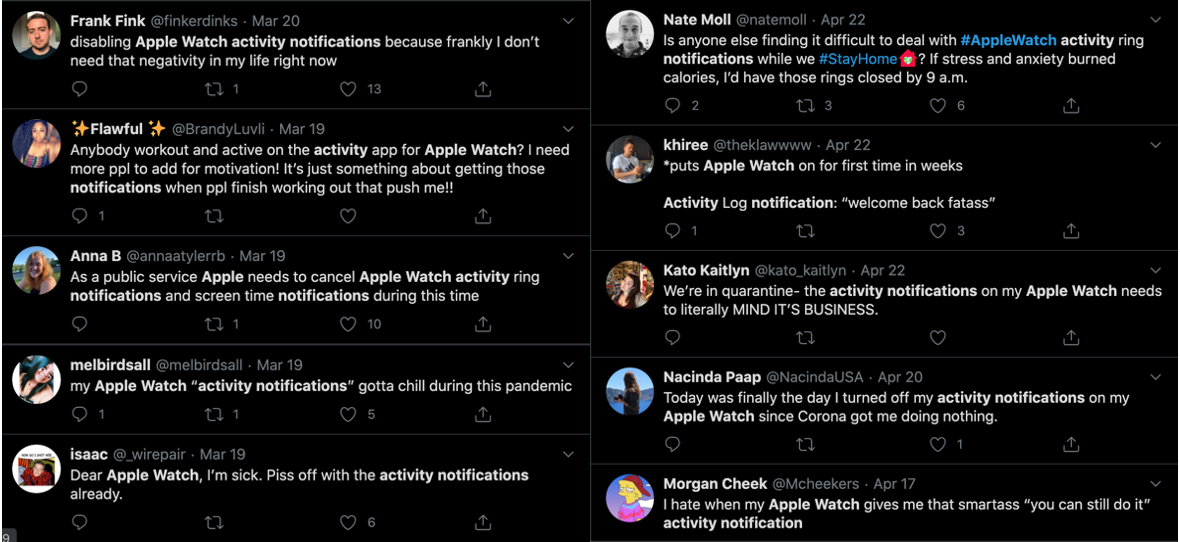 Two screenshots showing the results of a search on Twitter for the latest tweets containing the words "apple watch notifications activity" conducted 6/12/20 (chronologically read bottom to top.) Results on the left range from 3/19/20-3/20/20 relatively near the beginning of major American cities reacting to the pandemic, and the results on the right range from 4/17/20-4/22/20, before most reopening plans began to take place.
I have been continually asked in the course of my academic work with notifications, "why don't you just turn them off?" While this is a valid question, just telling people to turn off a default feature is not an adequate fix especially when they are designed as "a simple and fun way to live a healthier day." Though notifications are usually easy to opt out of, to set the expectation that individual users are the only party responsible for moderating the messages that arrive on their screens without taking into account the entities that generate notifications and the software that delivers them sets a dangerous precedent when these media are designed to give input in daily life. It is the duty of users, developers, and designers to hold the notification accountable for its potential societal repercussions, especially in these times.
---
Image Credits:
The rather ominous opening words on Apple's webpage detailing the Apple Watch's Activity app and features. It is immediately replaced by a graphic of the Activity app above the following text: "Three rings: Move, Exercise, Stand. One goal: Close them every day. It's such a simple and fun way to live a healthier day that you'll want to do it all the time. That's the idea behind the Activity app on Apple Watch." (author's screen grab)
The screen on my iPhone's Watch companion app showing settings for my Watch's Activity notifications (author's screen grab)
Two screenshots showing the results of a search on Twitter for the latest tweets containing the words "apple watch notifications activity" conducted 6/12/20 (chronologically read bottom to top.) Results on the left range from 3/19/20-3/20/20 relatively near the beginning of major American cities reacting to the pandemic, and the results on the right range from 4/17/20-4/22/20, before most reopening plans began to take place. (author's screen grabs)
References: