Teaching Music Video in the Pandemic
Carol Vernallis / Stanford University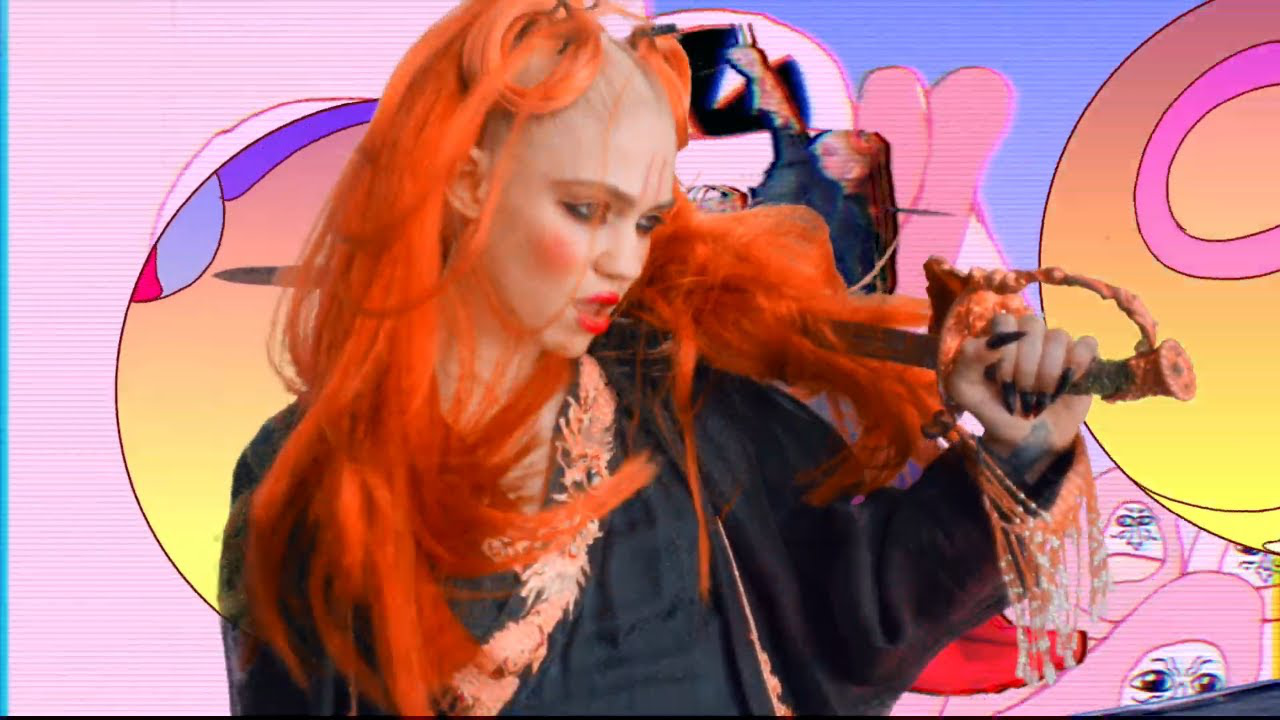 Fan-produced music video, using Grimes' chromakey footage for her latest single, "You'll Miss Me When I'm Gone."
My current research focuses on spectacular expansion, but with the coronavirus pandemic it seems like everything is constricting. Transmedia Directors: Artistry, Industry and New Audiovisual Aesthetics, a volume I co-edited with Holly Rogers and Lisa Perrott, has just come out, and my manuscript, The Media Swirl: Politics, Audiovisuality and Aesthetics, is nearly done, but here we are. I've emulated directors and practitioners who have forged new relations between soundtracks and images, and who work across cinema, streaming web-series, documentaries, music videos, and commercials. I've felt compelled to cross boundaries; I've published a piece in Film Criticism on FOX News's aesthetics. But in the COVID-19 era, will these activities matter?
My home genre is music video. I love it for its tightly choreographed, intertwined dancers and performers, and the play of tinsel, costumes, and intensified color. What will happen now? I've watched music video die twice. In the mid-90s my students and I sensed that ideas had been played out. (Clips would pick up around the Winter holidays, but it was too late.) Napster and teen sitcoms killed it again in the early-00s. Music video has always resurrected itself, but it may be difficult to sit through its hard times (advertising is down, and, as Ann Kaplan has noted, music videos are ads plus). Strong videos featuring safe distancing have already been appearing, but the possibilities may be limited: e.g., chromakey, Zoom boxes, single takes on a cellphone, and so on. In my Art of Music Video class this week, we compared Grimes's lovely, crowdsourced chromakey-in-your-own-background project, and we discussed whether Dua Lipa's videochat Zoom-originated dance clip on Corden's late-night talk show was live (absolutely not). We watched Drakes's hybrid TikTok cellphone music video. Beyond this, there might be holograms and subbed-in figures via motion control, or immersive clips that resemble videogames (with safe-distancing disclaimers).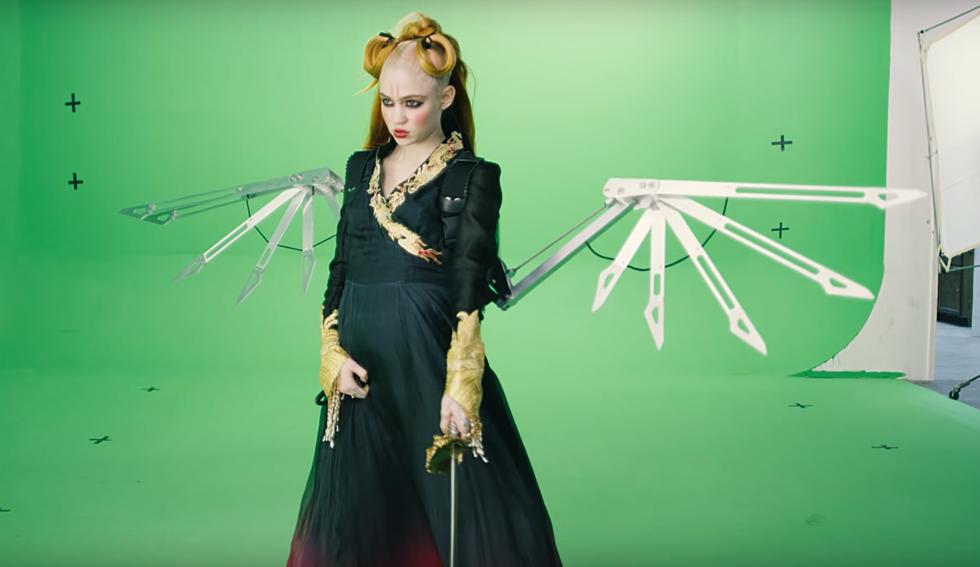 Grimes performs against a green screen for her latest single, "You'll Miss Me When I'm Gone."
What do I teach my students, who are charged with creating content at a distance this quarter? I sense we'll experience a bodily hunger, a just wanting to touch or be next to another, and this will drive us mad.
I'm curious if some music videos portended our moment. Pre-COVID-19, Grimes's "Violence" has dancers wearing N-95 masks. In Dave Meyers's video for Rita Ora's "How To Be Lonely," she embraces a skeleton and next a bear. She then steps on eggs and breaks them.
Will our moment resemble cinema's transition to sound? Only some actors and directors will carry over? Grimes will, I believe (as will Billie Eilish – take a look at her bedroom-studio-based songs and minimalist videos). Grimes is already part avatar—witch, imp, and goddess. She self-produces. Her compositions are mostly her with her laptop. (If she needs a violin she plays it.) Her songs encompass the full frequency-spectrum—they suggest an immersion in sound, an autoeroticism, a headphones experience. She has also long directed her own videos. Her audiovisual relations are sophisticated and subtle, and they often feature just her or a few other performers at a distance. She's perfect for our moment.
---
Image Credits:
Fan-produced music video, using Grimes' chromakey footage for her latest single, "You'll Miss Me When I'm Gone." (YouTube)
Grimes performs against a green screen for her latest single, "You'll Miss Me When I'm Gone."