Locked Down Listening / Communal Re-imagination
Holly Rogers / Goldsmiths, University of London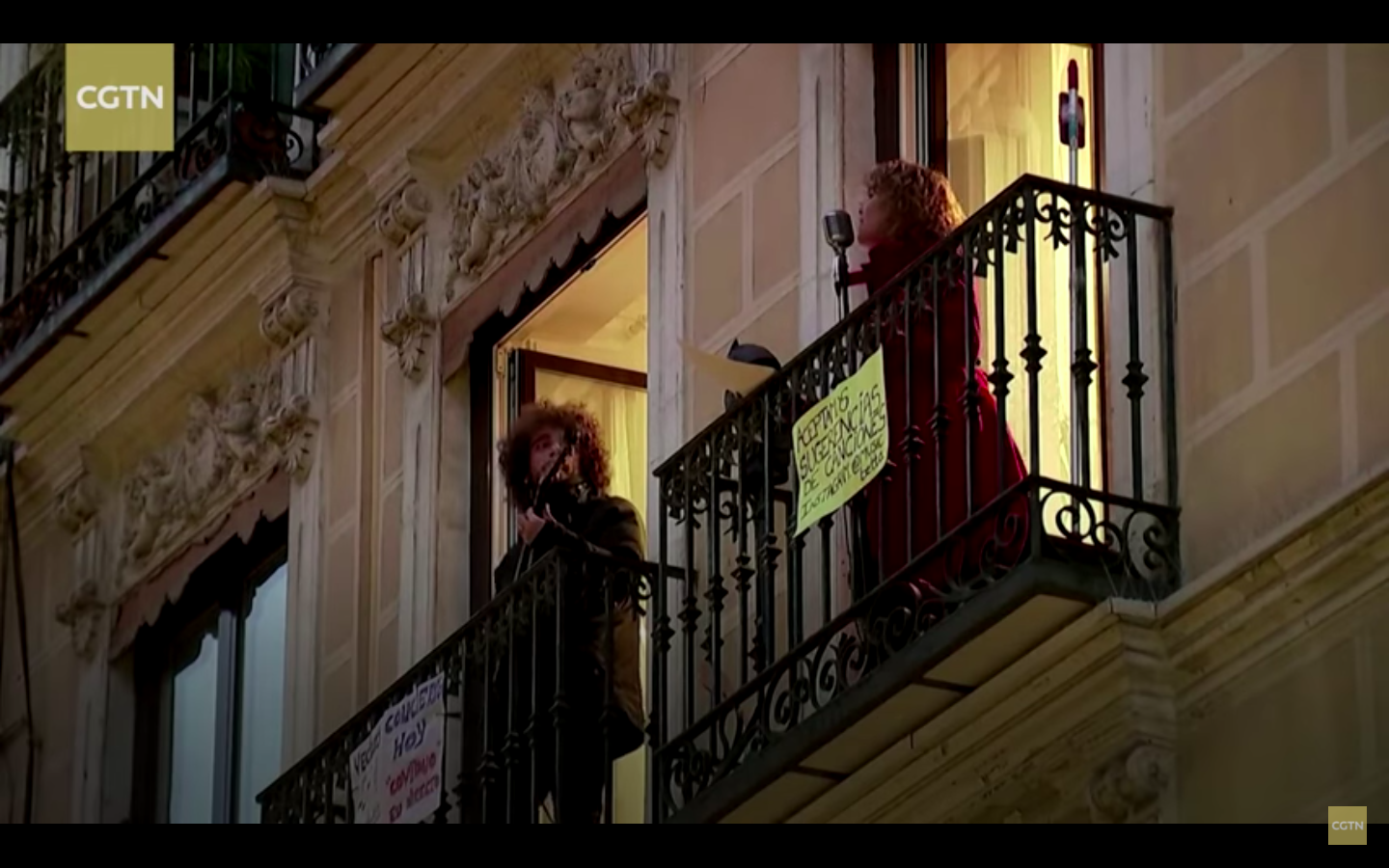 Singing from the balconies in Spain.
Today we are listening harder than ever. But to what? Social distancing and isolation have reduced the noise of everyday life. As cities retreat indoors and transport comes to a standstill, the world has become a quieter place. But while a hush has settled over the outside world, our virtual spaces have exploded into a cacophony of communal and participatory noisemaking as the sounds of quarantine have been circulated and used creatively online by musicians eager to understand and engage with recent events.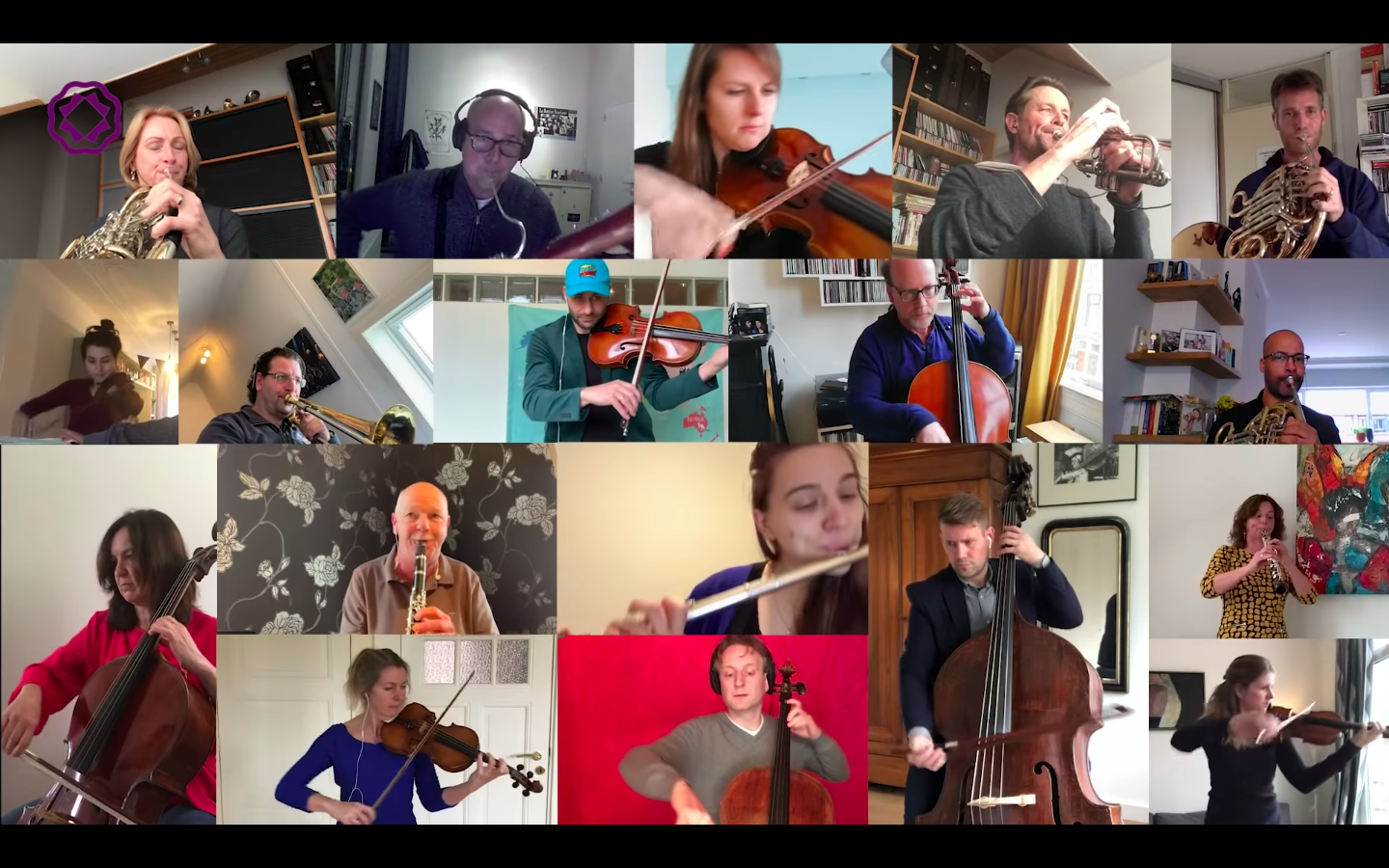 The Rotterdam Philharmonic give a Skype performance of Beethoven's 9th Symphony.
As the world retreats indoors during Covid-19, cyberculture has become a significant tool for creative expression, collaboration and inclusion. During lockdown, online music has become a vital tool for maintaining and developing community, visible in the numerous clips of apartment block singsongs and singing doctors.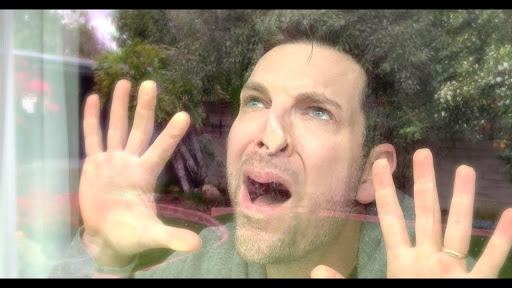 Chris Mann's parody of Adele.
While these forms have allowed locked-down residents to join together and to transmit their sonic communality to the world, other forms have embraced the online opportunities for live collaborations—from Lady Gaga's One World: Together at Home concert to the Rotterdam Philharmonic's performance of Beethoven's 9th—and pedagogy—with many university music classes moving online and opening access to the public. Other musical opportunities have seen a relay of sonic re-imaginings from remediations in the form of parody songs (like Chris Mann's "Hello (From the Inside)"), to remixable content found on TikTok and Instagram's "pass-it-on" covers game. Such collaborative events have harnessed the participatory potential of cybermedia to create and develop new forms of communal musicmaking and expression.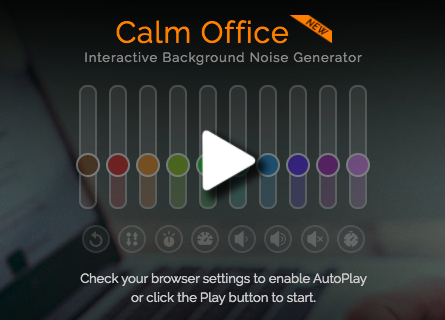 Calm Office: An interactive sound generator that simulates a typical office soundscape.
Unplugged versions, duets, parodies, games. Although these forms existed before, our currently isolated lives have made the interactive opportunities of new media more important than ever. But one form of interactive musicmaking that has become vitally significant is the creative manipulation of real-world sounds. As quarantined life has seen cities and workplaces become increasingly quiet, there has been a surge of hits on websites that provide natural sounds and background noise generating apps have emerged that pipe in familiar sounds of office life into your home to help form a productive working environment. These common sounds fill the silence of isolation with some normalcy, helping to reduce the anxiety of sonic omission.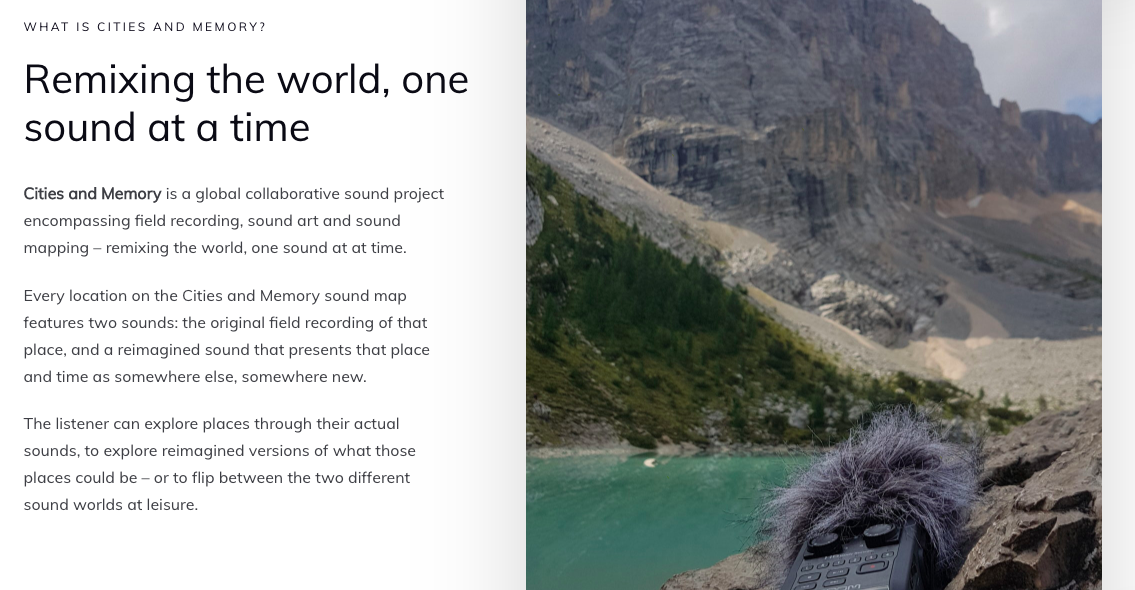 Cities And Memories collect and remix sounds.
Other online events that have embraced the new sonic ambiences of quarantine in more creative ways. Although there have been examples of musical produsage and democratised creativity in the past, the current pandemic has given sonic experimentation a peculiar resonance. Electronic musicians Matmos, for example, have asked people from all over the world to "sit together from afar" by recording their "ambient sounds of isolation" to be used as compositional material for a new work. Such crowd-sourced soundscapes enable cybercommunities to bridge geographical and cultural distances through distributed creativity. This process—which I call sonic elongation—allows participants to not only document our current sonic landscapes, but also to use cyberspace to imagine ways in which they can be shared, challenged and interpreted. The result is a simultaneous snapshot and remediation of our current auditory worlds and a glimpse into the possibilities of online creativity and its increasing entanglement with real-life.
---
Image Credits: