Over*Flow: Festival of Disruption: A Report from the 2020 Sundance Film Festival
Sarah E. S. Sinwell / University of Utah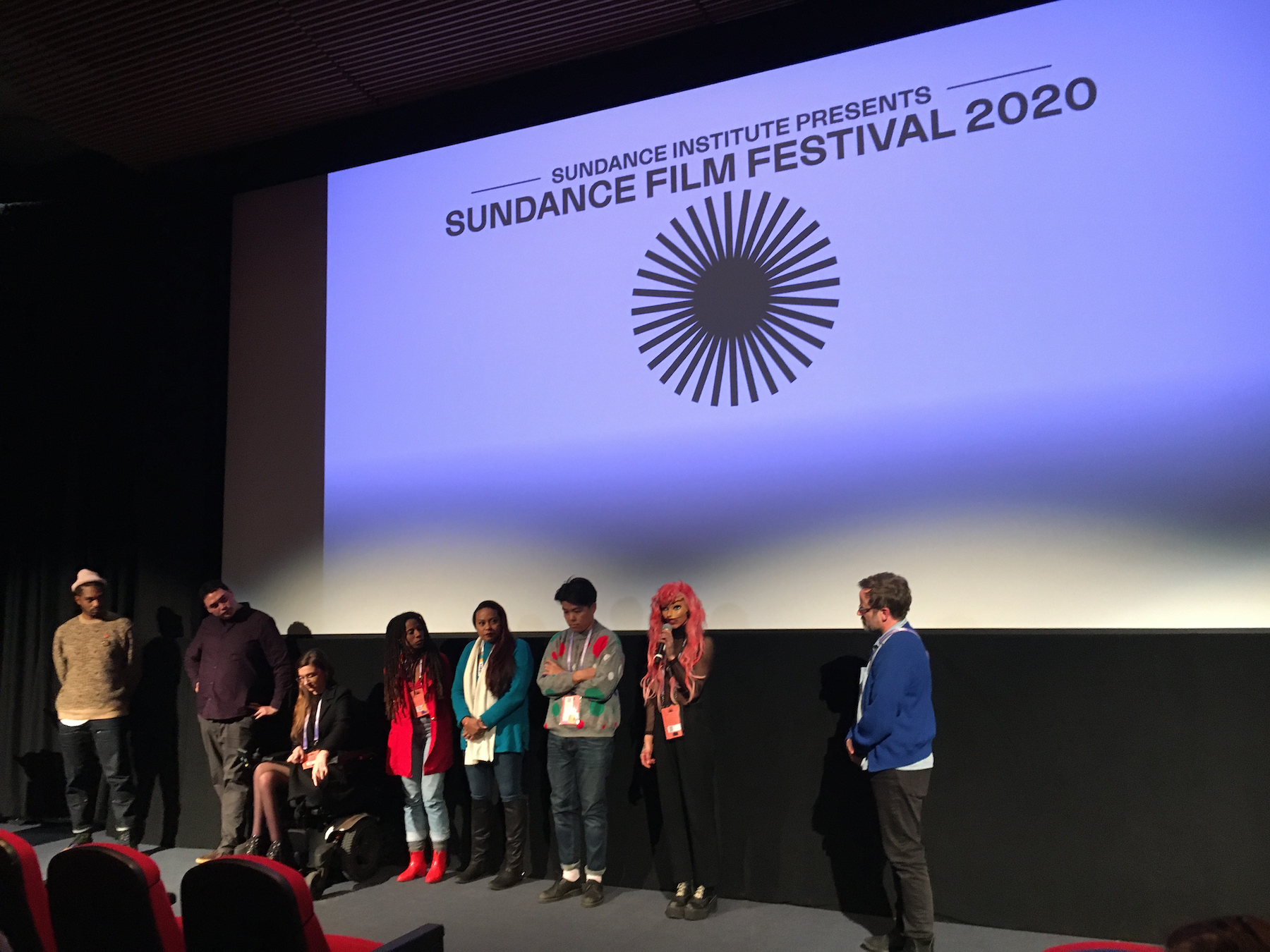 Directors of the New Frontier Shorts Program
I have attended the Sundance Film Festival for the last five years. As a scholar of contemporary American independent cinema, I have eagerly followed the festival from afar as films such as sex, lies, and videotape (Steven Soderbergh, 1989) and Reservoir Dogs (Quentin Tarantino, 1992) changed the meaning of indie cinema and transformed the independent film industry. As a "Utah Local," a special ticket option for those in the local community who hold a Utah driver's license, I have had the opportunity to witness the excitement of local cinephiles as directors and stars such as Lynne Ramsay (You Were Never Really Here, 2017) and Paul Dano (Wildlife, 2018) have graced the stages of our art house theatres and libraries. I have also listened to seasoned festival-goers express their wistfulness for the earlier years of the festival when they would arrive at Trolley Square with camp chairs and coffee at 5 AM in order to queue for tickets. Even as recently as 2016, I myself queued for "Best of Fest" tickets at Trolley Square and made long-lasting friendships as I waited in that early morning line that snakes through the hallways of the mall. More recently, tickets for Sundance are obtained through waiting in an online queue or an online waitlist, so much of that comradery of long lines in pursuit of tickets is now limited to the lines before the screenings that are filled with eager cinephiles awaiting the latest "Sundance hit."
The Sundance Film Festival still upholds its mission to be "the ultimate gathering of original storytellers and audiences seeking new voices and fresh perspectives," but, those audiences are changing. It is now part of Sundance lore that Park City screenings are for the industry, while the Salt Lake City screenings forty-five minutes away are for the "true cinephiles." When stars and directors choose to arrive at their Salt Lake City screenings (an occurrence that is not guaranteed since many stars and directors choose to return home after their Park City premieres), they often remark upon how these are the "real audiences," as opposed to the Los Angeles industry insiders in Park City. In turn, Salt Lake City audiences are constantly seeking out the director or star Q&A after the screening, hoping they will travel that 45 minutes from Park City even if it is not the film's premiere. This attraction to "liveness," this hope for access to the industry, stars, and directors, and the possibility of discovering a new voice of independent film is often what drives audiences in Salt Lake City to brave the lines and snow and continue to attend the festival, even if those films may be present on Netflix just a few days later.
In 2020, the buzz at the Sundance Film Festival centered mainly around Lana Wilson's Miss Americana (a documentary about Taylor Swift that was available for streaming on Netflix even before the festival ended) and the Andy Samberg comedy Palm Springs, Neon and Hulu's joint acquisition that beat Sundance's record by selling for $17,500,0000.69 (69 cents more than Nate Parker's The Birth of a Nation in 2016). In fact, Mike Fleming, Jr. of Deadline notes that the value of this deal is actually closer to $22 million. After winning a binning war with A24 and Netflix, the deal includes streaming rights and a bonus structure through Hulu. This year, Hulu also bought Justin Simien's comedic horror satire Bad Hair for $8 million.
After the limited success of Amazon's high-profile acquisitions of two crowd-pleasing comedies at Sundance 2019, Nisha Ganatra's Late Night and Paul Downs Colaizzo's Brittany Runs a Marathon, many distributors were hesitant about what the future of distribution would be like at the Sundance Film Festival in 2020. In fact, many industrial professionals suggested that art house and niche films might be less likely than ever to receive expensive deals from streaming services such as Netflix, Amazon, and Hulu. At the 2020 festival, the need for a partnership between streaming services such as Netflix and Hulu as well as theatrical exhibition through specialty divisions such as A24 and NEON became especially significant since the Directors Guild of America announced in 2019 that day-and-date releases would no longer be eligible for its top award, which would now be titled "Outstanding Directorial Achievement in Theatrical Feature Film."
Many of these distribution deals were made before the festival even began so some savvy Sundance-goers changed their screening choices knowing the films had already been picked up by streamers like Netflix. Interestingly, winner of the U.S. Dramatic Grand Jury Prize and Audience Awards, Lee Isaac Chung's Minari was already picked up for distribution by A24 before the Festival even began. This is becoming more and more prevalent as the streaming wars continue and new streamers like Apple TV+, Peacock, HBO Max, and others enter the market. In fact, the distributors of Sundance films are included within the program, so audiences may already be aware of a film's distribution by companies like A24 or Netflix before the festival begins and may even choose their screenings accordingly.
At my local art house theatre, The Salt Lake Film Society, it has already been announced that more than seven Sundance films will be showing at our local theatre since companies like Fox Searchlight, Focus Features, and Sony Pictures Classics picked up films such as Downhill (Nat Faxon and Jim Rash), Promising Young Woman (Emerald Fennell), and The Climb (Michael Angelo Covino) even before the festival began. The possibility of seeing these films theatrically just a few weeks or months after Sundance is a new development, as previously it often took between six months to a year for a Sundance film to receive a wide release, especially in cities outside of New York and Los Angeles.
Also notable this year was the presence of Netflix's own slate at Sundance 2020, including ten finished films and three additional acquisitions, ranging from dramas including Dee Rees' The Last Thing He Wanted and Jeff Baena's Horse Girl, to documentaries such as James Lebrecht and Nicole Newnham's Crip Camp and Kirsten Johnson's Dick Johnson is Dead. Even Disney + showed its presence at the festival within the Kids' section, Tom McCarthy's feature Timmy Failure: Mistakes Were Made. One can assume that Netflix's and Disney's presence at Sundance provides free marketing and word-of-mouth for these films before they are released on streaming services.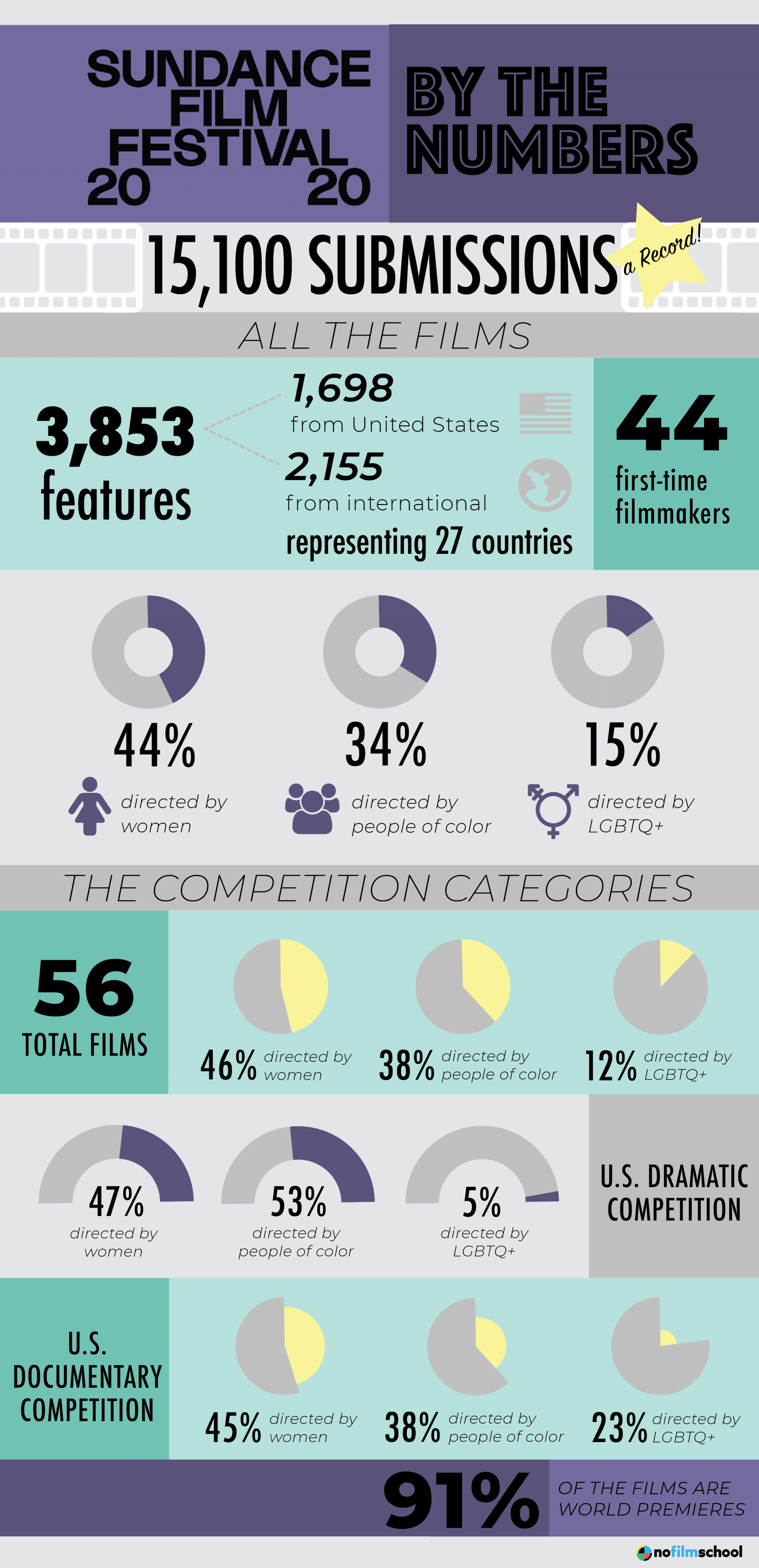 Sundance 2020 By the Numbers
The Sundance 2020 slate of directors also seemed more diverse than ever, with 46 percent of the competition categories directed by women, 38 percent directed by people of color, and 12 percent directed by the LGBTQ+ community. Women also took home all four directing awards, "of the 28 prizes awarded … to 25 films – comprising the work of 29 filmmakers – 12 (48%) were directed by one or more women; 10 (40%) were directed by one or more people of color; and 2 (8%) were directed by a person who identifies as LGBTQ+," according to a press release from the festival. During the Q&A after the screening of her film The 40-Year-Old Version in Salt Lake City, Directing Award winner Radha Blank even alluded to the possibilities of turning her feature into a series. According to Chris Lindahl of IndieWire, The 40-year-Old Version is currently nearing a mid-to-high seven figure deal with Netflix. Since I had the opportunity to see Blank and her crew in the Q&A after a screening at the Salt Lake City Library, I can say that the room was full of the anticipation that comes with the discovery of an indie hit. As writer, director, and actor in her own story, Blank is certainly an exciting new voice in independent filmmaking; however, when this film shows up on Netflix in a few months, those watching at home will not be able to replicate that buzz of excitement as those 300 festival-goers discovered a star.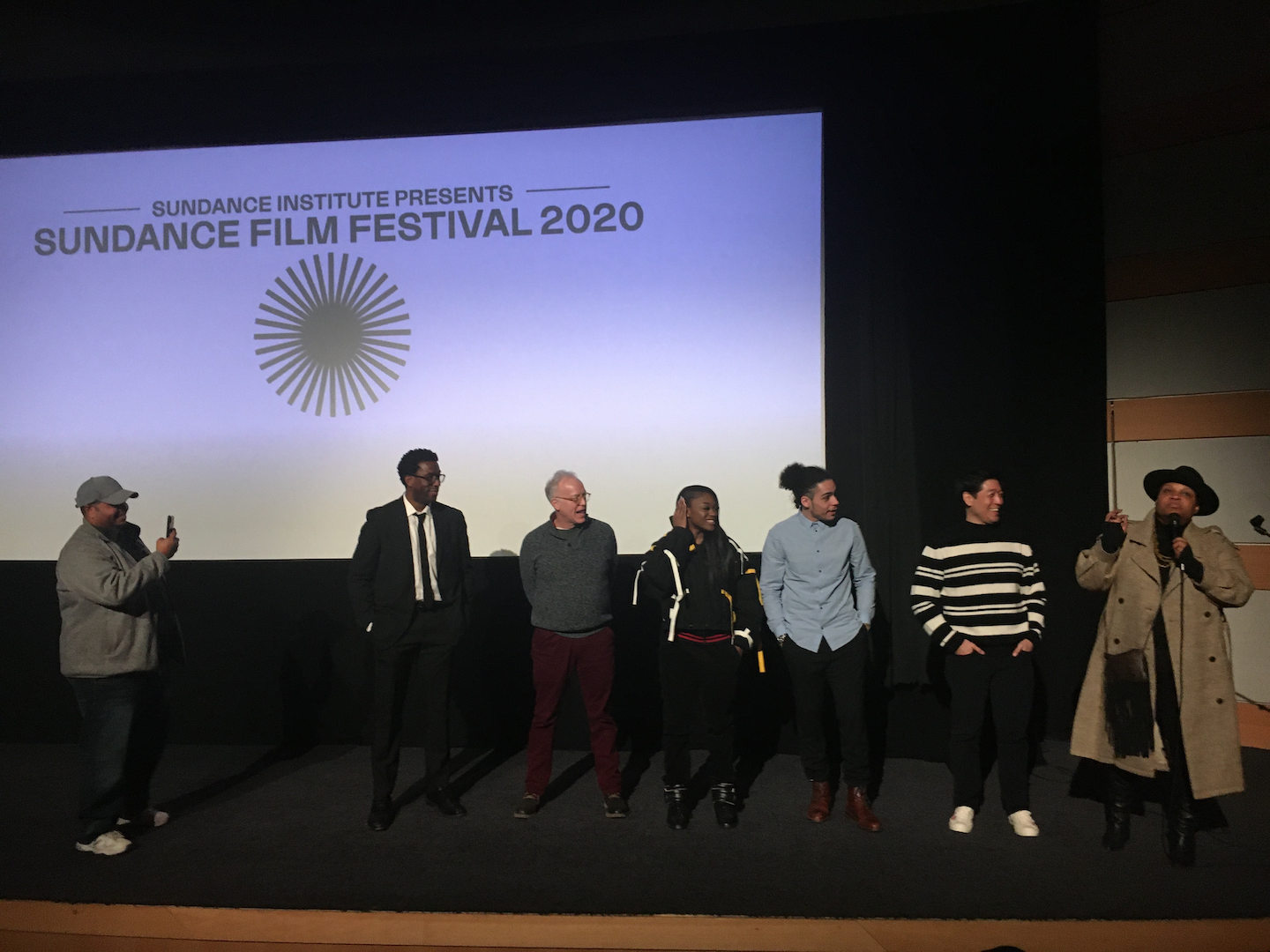 Radha Blank and the Cast and Crew of The 40-Year-Old Version
Two of the often underdiscussed components of the festival, Indie Episodic and New Frontiers also exemplified this year's festival's continual rediscovery and fascination with redefining the meaning of "indie." Including the virtual reality exhibition Persuasion Machines, from the director of festival favorite of 2019 The Great Hack Karim Amer, and indie episodic series from executive producers Mark and Jay Duplass (The Ride) and director Sarah Polley (Hey Lady), the possibilities of seeing these series and exhibitions in the future is still uncertain compared to 2019 in which Netflix picked up Richie Mehta's Delhi Crime and SundanceTV distributed Nick Hornby's State of the Union.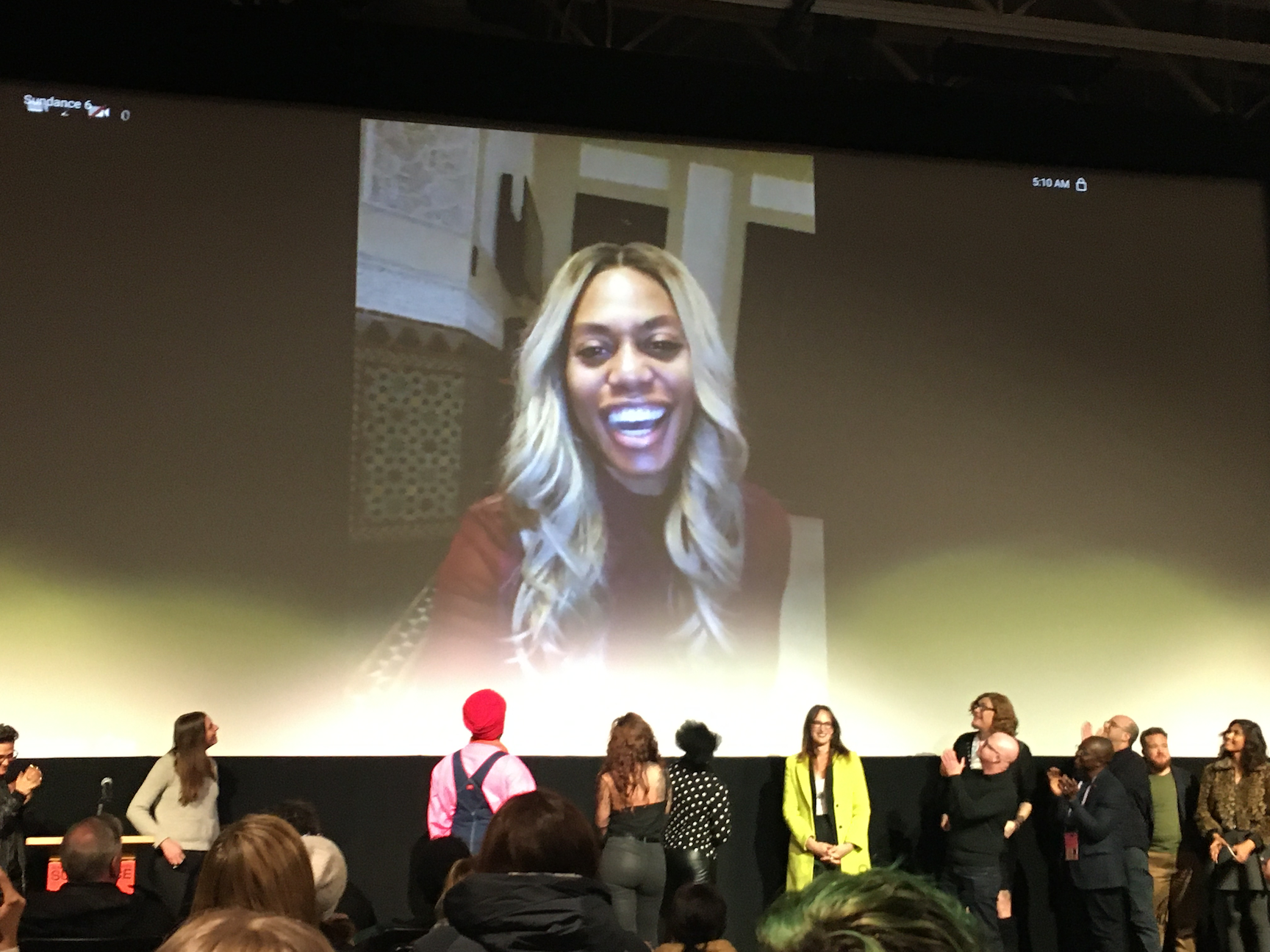 Laverne Cox and the Cast and Crew of Disclosure
This year also saw the most expensive documentary acquisition ever at Sundance: $12 million for streaming rights on Apple TV+ and theatrical release from A24 for Amanda McBaine and Jesse Moss's U.S. Grand Jury Prize winner for documentary Boys State. HBO also proved its commitment to documentary with its purchases of David France's Welcome to Chechnya and Laurent Bouzereau's Natalie Wood: What Remains Behind. Whereas other documentary films such as Sam Feder's Disclosure: Trans Lives on Screen, executively produced by Laverne Cox, are still awaiting distribution. Overall, at Sundance 2020, streamers such as Netflix and Hulu continued to flood the market by buying more and more content, including features, series, and documentaries. And, it remains to be seen whether more traditional distributors such as A24, Focus Features, and Sony Pictures Classics will be able to compete for content as other streaming services such as HBO Max and Peacock enter the market. However, Salt Lake City audiences are already eagerly awaiting the possibilities of discovering even more new voices in independent cinema in 2021.
---
Image Credits:
Directors of the New Frontier Shorts Program (author's personal collection)
Radha Blank and the Cast and Crew of The 40-Year-Old Version (author's personal collection)
Laverne Cox and the Cast and Crew of Disclosure (author's personal collection)