Over*Flow: New Year's Eve in front of the TV, 1959: What was on, why does it matter, and where can I see it?
Kit MacFarlane / University of South Australia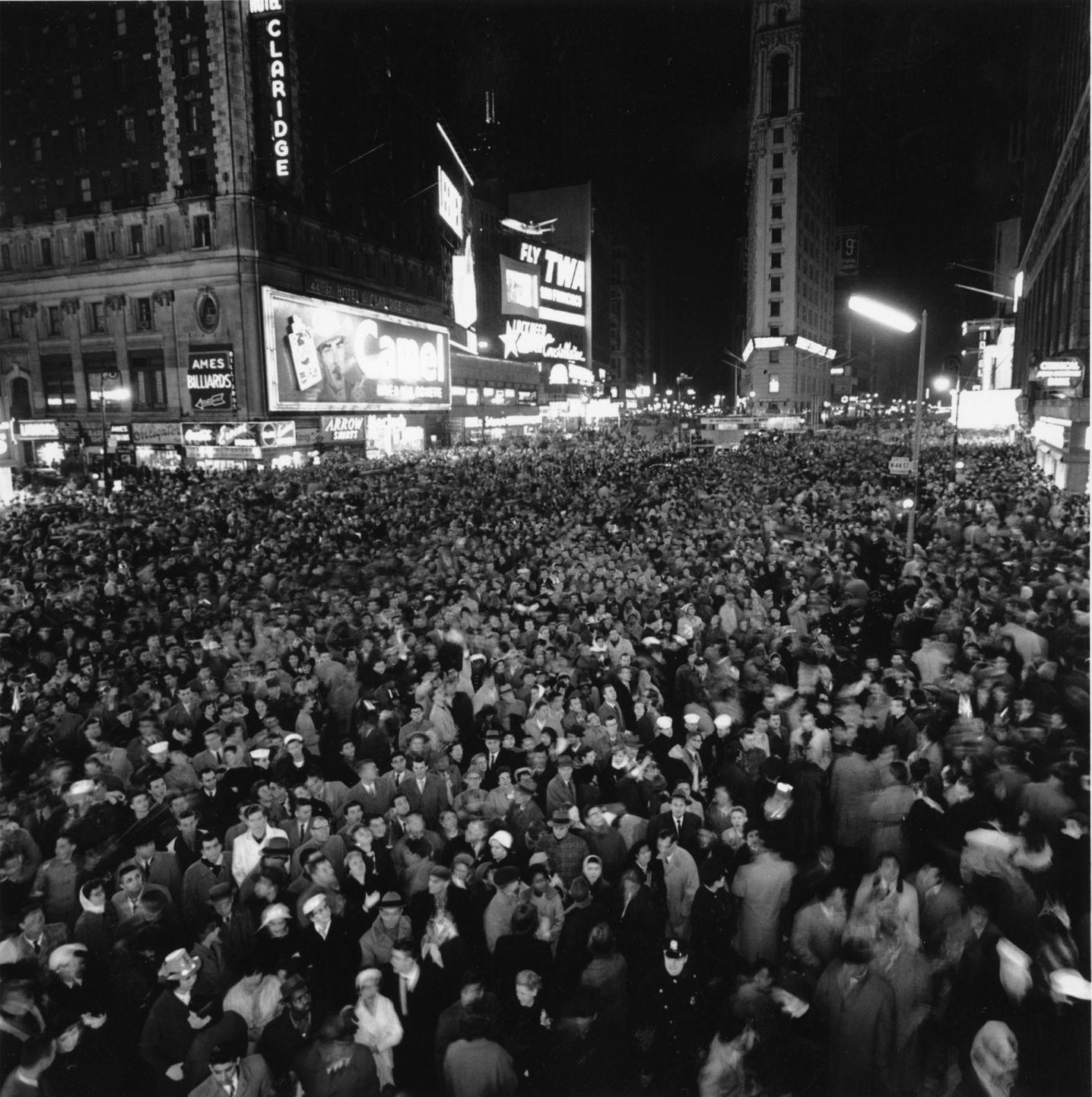 New York's Times Square, New Year's Eve, 1959.
For the last couple of years, I've been trying to make some kind of dent in one small part of TV history: 1959 [https://twitter.com/RetroRemote]. Even trying to recreate just a single day of 1959 brings problems, but examining broadcast context — i.e., what else was on that day — is one way to help understand TV series and episodes within a larger cultural narrative.
So what would New Year's Eve have looked like on prime-time TV sixty years ago in the US? And how much is a general viewer actually able to recreate without having to rely on access to archives?
Broadcast dates can be difficult to pin down, tend to be unsourced when presented online, vary in different regions, and may also differ from contemporary listings. To create some sense of a representative evening, I'm using UCLA's Film and Television Archive catalogue, The Classic TV Archive which often indicates sources, and other contemporary sources whenever possible.
Thursday, 31 December 1959:
8pm: The Donna Reed Show, "Lucky Girl"; Bat Masterson, "The Inner Circle"
Donna Reed could be seen as domestic fantasy or as offering a more complex image of women within a limited genre. In "Lucky Girl," Donna is sick of her friends and acquaintances making a fuss about how fortunate she is to have such a wonderful man by her side. Donna's irritation at the attention paid to her husband is largely a straightforward narrative of a minor resentment followed by a restorative reminder that things aren't really so bad — ie. she really is a "lucky girl" — but the scene in the interval of a play that sees Donna's husband peppered with questions about the meaning of Beckett's Waiting for Godot (1953) and Ionesco's The Chairs (1952) while Donna is largely ignored captures this kind of cultural and social sidelining (in an entirely middle-class societal context) succinctly.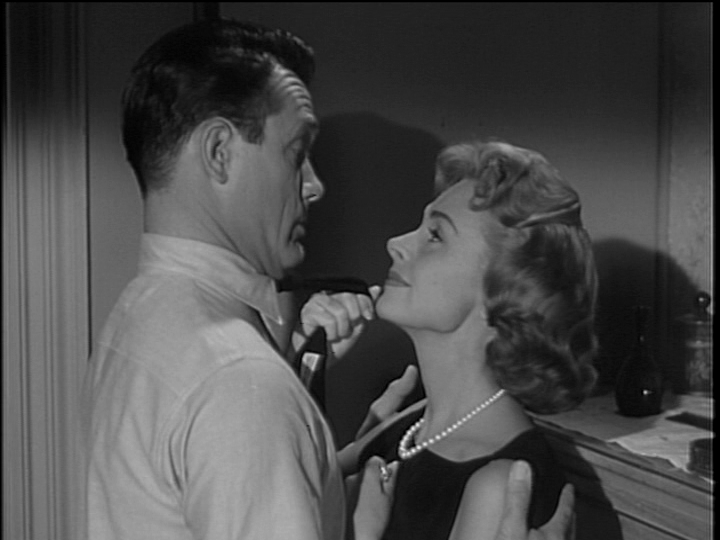 Screenshot from The Donna Reed Show, "Lucky Girl."
At the same time on NBC in "The Inner Circle," Bat Masterson was fighting for women's rights more overtly (if somewhat unconvincingly), taking on a bunch of wealthy men and one woman to fight for women's suffrage in Wyoming, a state that the opening narration proudly informs us was "the first in the history of the world to give the right to vote to women" (in 1870). Like most statements along those lines, the word "some" or "white" should be added before "women" — only citizens or those seeking citizenship could vote, which ruled out "Native Americans and Chinese immigrants" — but Ziv-produced Bat Masterson wasn't ready for intersectional feminism just yet. Despite briefly mentioning the potential for suffrage leading to "blue laws" (i.e., no drinking and gambling), Bat ultimately lauds the head suffragette as "a woman thinking of other women" and her petition as "the declaration of independence." The episode is far from a fiery feminist statement: the pleasant suffragettes are generally happy with societal norms. Nevertheless, any popular 1950s series engaging directly with gender equality on any level is essential viewing.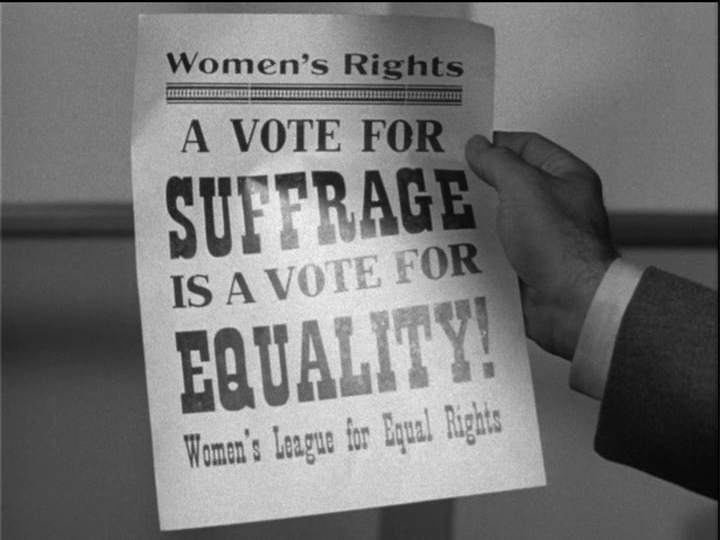 Screenshot from Bat Masterson, "The Inner Circle."
That week's episode of The Betty Hutton Show (1959-1960) does not appear to be available.
8:30pm: Johnny Ringo, "Bound Boy"; Johnny Staccato, "Collector's Item"; The Real McCoys, "Marriage Broker"
Aaron Spelling's Johnny Ringo (1959-1960) on CBS was one of the more perfunctory westerns on TV, its overall insipidness matched by star Don Durant's performance as Ringo (and his singing on the terrible theme song). "Bound Boy" does broadly deal with indentured servitude, but a mess of kidnapped girlfriends and good boys "on the wrong path" make it simply another variation of tired story (already seen on Law of the Plainsman episode "Calculated Risk" on NBC at 7:30pm the same night).
Johnny Ringo, "Bound Boy."
Another Johnny, Johnny Staccato (1959-1960) on NBC, starred John Cassavetes. While it generally fails to please Cassavetes aficionados — and didn't please Cassavetes either — it's still an intriguing series, not least of all for the occasional directorial appearances by Cassavetes. "Collector's Item" stands out specifically for having a rare black supporting cast, including the memorable Juano Hernandez and Ann Henry who open the episode with a song. While having black musicians on screen wasn't exactly challenging the racial norms of the medium, the key roles are substantial enough to make the episode of interest to those interested in representations of race on screen as well as those looking at Johnny Staccato in relation to Cassavetes' broader filmography.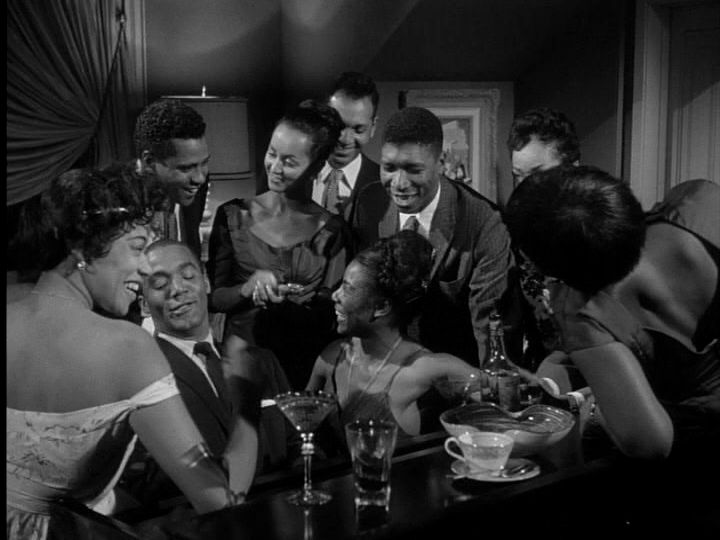 Screenshot from Johnny Staccato, "Collector's Item."
Over on ABC, the popular The Real McCoys (1957-1963) offered rural diversions, here tiptoeing around a question of illegal immigration: the tension between sympathy for the immigrant and unbending respect for the law is conveniently sidestepped with a citizen-creating marriage that, fortuitously, also reveals true love.
The Real McCoys, "The Marriage Broker."
9pm: Bachelor Father, "Kelly the Politician"
In NBC's Bachelor Father (1957-1962), rich and attractive John Forsythe is looking after his orphaned niece Kelly, played by Noreen Corcoran who captures the insufferable sulky peevishness of a conservative privileged teen uncomfortably well. The result is minor clashes between privileged cavalierness and adolescent prudishness. The civic reaffirmations of ABC's The Real McCoys continue in "Kelly the Politician." An election voting booth is set up inside the house and everyone is impressed by an immigrant's recitation of the Preamble to the Constitution: uncomfortably prompted by the requirement that she demonstrate her ability to speak English.
Bachelor Father, "Kelly the Politician."
Zane Grey Theatre season 4 episode "The Ghost," which aired at the same time on CBS, isn't readily available: DVD releases of this interesting anthology series stopped at season 3. The Pat Boone Chevy Showroom for that night also appears to be unavailable, although it exists within UCLA's archives.
9:30pm: The Untouchables, "The Underground Railway"
While ABC's The Untouchables touted law and order, the best episodes just involved watching inevitably doomed gangsters at work. In "The Underground Railway," Cliff Robertson plays escaped robber Frank Halloway negotiating his escape through the mob's "underground railway," which promises an end-point of safety while also fleecing him of all available cash at each stopping-point. As well as being a cold-blooded murder, Frank is also hideous; the plastic surgery required for his escape comes with the bonus of turning him into a (sociopathic) dreamboat.
The real star of the episode is Virginia Vincent as Frank's mob-assigned "wife" Mona Valentine. When we meet her, she's trying to win a dance marathon (in its 257th hour) to make something of her life. It's impossible not to sympathise as she's dragged into Frank's death spiral. There's plenty to say about class and power in relation to Mona's descent, Frank's upgraded social status thanks to plastic surgery, and predatory networks promising "safety."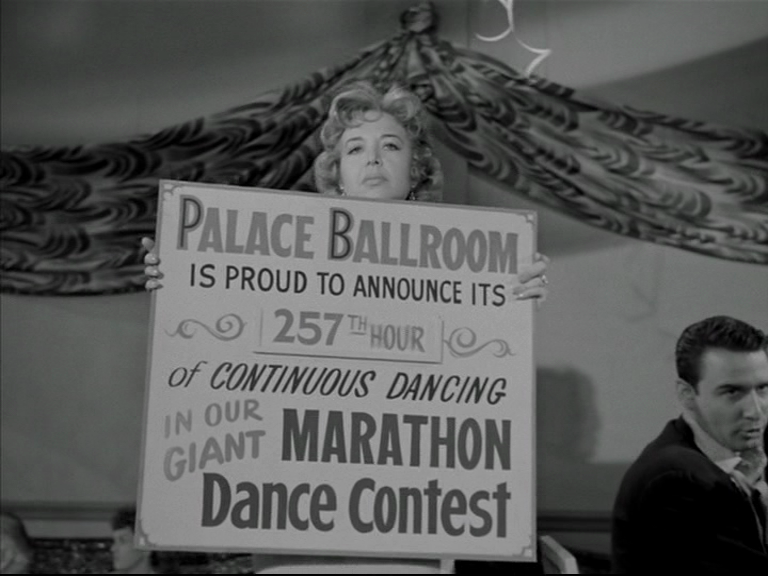 Screenshot from The Untouchables, "Underground Railway."
On CBS was The Big Party (1959), a variety show with celebrities, comedy, and music. It would be particularly interesting to see the New Year's Eve episode — also the last episode produced — but it doesn't seem to be available.
On NBC, The Tennessee Ernie Ford Show (1955-1965) aired at 9:30. The episode listed as December 31 currently online may actually be from 11 December 1958 — both feature Charles Laughton. The 31 December 1959 episode is listed in UCLA's catalogue.
10pm: You Bet Your Life
The full December 31 episode of Groucho Marx's You Bet Your Life exists in UCLA's archives but doesn't seem to be circulating online. The Reading Eagle indicates that it featured "beatnik poet-sculptor Stuart Perkoff," and some of Perkoff's appearance can be seen in Philomene Long's 1980 documentary, The Beats: An Existential Comedy.
10:30pm: Take a Good Look
At 10:30pm on CBS is Ernie Kovacs' endearingly anarchic Take a Good Look (1959-1961), which makes few attempts at sense, its primary joy watching Hans Conried despair over the obliqueness of the clues. Cesar Romero did better by keeping up with recent news stories, which simply disrupted the nonsensical flow. If you can make it through a racist skit with an appalling (even for 1959) representation of Native Americans, guests include a man selected as "Family Doctor of the Year" and the "Sole Woman Reporter Among 81 Newsmen on President's Global Tour."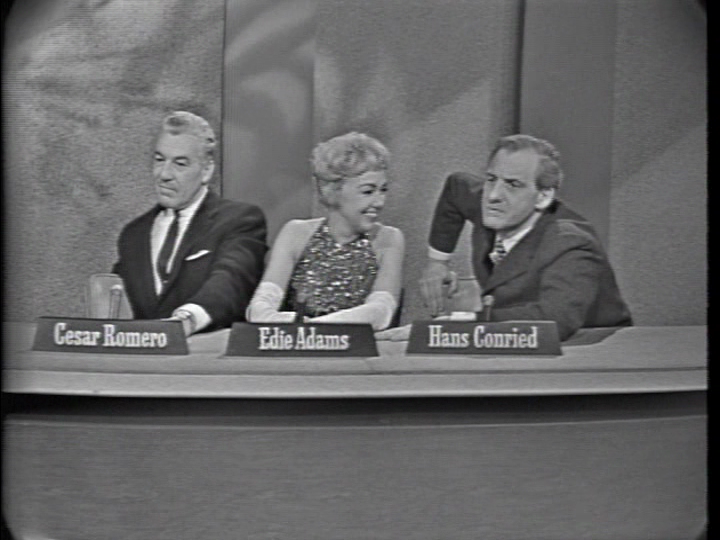 Screenshot from Take a Good Luck, episode 11.
11pm onwards…
And what of the late night shows taking us into the new year? Viewers had a choice of Dick Clark, Jack Paar, and Guy Lombardo to bring them into 1960. None appear to be readily available.
From 1959 to 2020
Of the shows mentioned above, only Bat Masterson, Johnny Staccato, The Real McCoys, and The Untouchables are available in full on DVD. Take a Good Look has all (except one) surviving episodes available on DVD. The Donna Reed Show has had a partial release. The rest mostly need to be dug up unofficially in places like YouTube and The Internet Archive. While some remain, many — too many — of the TV moments that brought the 1950s to a close are unlikely to be seen again.
---
Image Credits:
Screenshot from The Donna Reed Show, "Lucky Girl." (author's screen grab)
Screenshot from Bat Masterson, "The Inner Circle." (author's screen grab)
Screenshot from Johnny Staccato, "Collector's Item." (author's screen grab)
Screenshot from The Untouchables, "Underground Railway." (author's screen grab)
Screenshot from Take a Good Luck, episode 11. (author's screen grab)