To Each Their Own Ad: Nielsen and the Addressable Future of Linear TV
Jennifer hessler / Bucknell university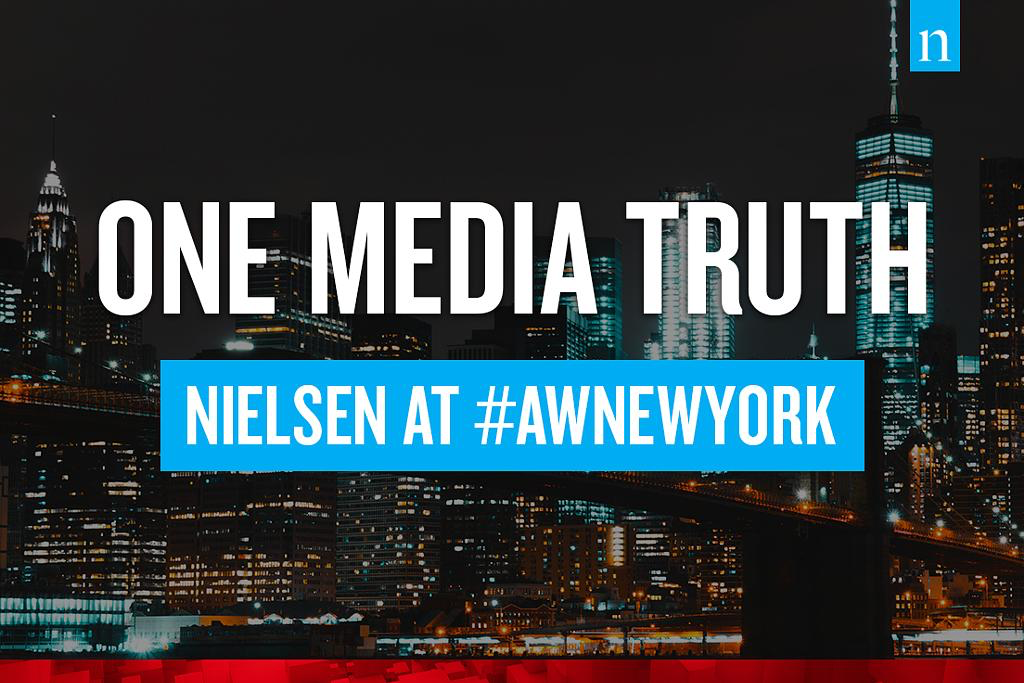 Nielsen tweet from Sept. 20th, 2019 publicizing their panel on the evolution of television advertising measurement at 2019's Advertising Week in New York City.
Few companies have emblematized the perplexed ontology of television's internet-convergence as well as Nielsen has. Throughout the last two decades, Nielsen's corporate identity has occupied a disjunctive space between broadcasting's legacy and the aggregative, big data logics of the digital landscape. All in all, throughout the past decade—partly due to the uncertain future of television itself—Nielsen's identity has been decidedly incohesive. But following David Kenny's recent promotion to CEO, and after undergoing months of strategic review, Nielsen hit the convention circuit this past spring with a new corporate mission—to be the industry's "single source of media truth"—that foregrounds their move to entirely cloud-based software; their innovations in artificial intelligence and machine learning; and perhaps most centrally, a more cohesive vision for how these innovations will converge with their legacy broadcast roots through a number of specific initiatives. A top priority is the initiative to incorporate addressable advertising into linear broadcasting, ultimately moving toward 100% addressability across all connected-TV. In simple terms, addressability is the ability to air different ads in the same ad spot to different viewers/households, targeted uniquely to each viewers' identities and consumer habits (or, rather, to what their stored data indicates about their identities and habits).
Addressability has been the hot topic at industry conventions like CES, Consumer Marketing, and Ad Week this year. Since early trials in 2003, addressable advertising has been steadily incorporated into OTT services and streaming platforms. Currently ~40% of the ad-supported television landscape is addressable. A very small portion of this already occurs on linear TV through, for example, Direct TV set-top boxes. What's new, is the initiative to scale this—to unlock "the whole 16 minutes," as Nielsen's Kelly Abcarian puts it.[1]
Multiple factors contribute to the push to "unlock" the addressability of linear TV. First, despite ever-dwindling ratings, broadcast television still has the largest audience reach. The American public watches around 36 billion hours of television a month, and 70% of it is linear and ad supported. In addition to currently bringing in the most ad revenue, linear has latent potential for growth. According to Tracey Scheppach, C.E.O. of Matter More Media, May's upfronts actually left money on the table from advertisers who were wanting to place more dollars but simply couldn't because there wasn't enough (impressions) to sell.[2] Addressability will enable broadcasters to splice their (already comparatively large) audience pie into infinitely more sellable units, resulting in a larger quantity of impressions up for sale.
Coupled with the motive, is the method. In the last four years, internet-enabled smart TV ownership has risen from 16% to 47% penetration and continues to grow.[3] Throughout the past several years, Nielsen has pursued a number of strategic acquisitions—including Qterics, a smart-TV software and privacy management platform; Gracenote, an automated content recognition system; and Sorenson Media, which provides technologies for executing addressability—to build a system that takes advantage of smart TV's census-level data collection and two-way information-sharing mechanisms to make addressability a reality.
Kelly Abcarian, General Manager for Nielsen's Advanced Video Advertising Group, discusses Nielsen's addressability initiatives.
While integrating addressability into linear TV is ultimately an expansion of what is already happening on OTT and streaming platforms, this move reconfigures many of the ontological features of what we currently call "broadcasting." More particularly, the turn to addressability will uproot Nielsen's current ratings currency, change the way audiences are valuated, and further disintegrate the remnants of broadcasting's status as a shared cultural forum.
Nielsen's commercial ratings, which have been the industry's primary currency for selling ad spots since 2007, combine the viewership of an "average commercial minute" in a live broadcast with viewing data from three days and seven days of its DVR playback to create C3 and C7 ratings, respectively. Commercial ratings have enabled advertisers to micro-target their ad loads based on minute-by-minute audience trends. But commercial ratings, as they function now, are not suitable for an addressable environment because they require all iterations (and playbacks) of a broadcast to carry an identical commercial load. With the goal to bring their addressability system to the market next year, Nielsen has a year to figure out how to reconcile C3/C7 with addressability or derive a new ratings currency, the latter of which promises to be a monumental task. Alternatively, with the "real time" machine learning analytics available through internet-connected TVs, the move to addressability could eventually mean the end of what's left of a shared ratings currency for the purpose of selling ads.
The incorporation of addressable ads into linear TV will also alter which demo groups or audience behaviors are considered most valuable (monetizable). For one, audiences that are "addressable"—audiences who own smart TVs, compared to unconnected TVs—will likely become exponentially more "valuable." While smart TV ownership is rapidly increasing, owners of smart TVs still tend to be higher income and more educated as a whole, with 46% possessing a bachelor's degree and 15% being in the top-10 percent socio-economic group.[4] Addressability could make relatively privileged early adopters of smart TVs particularly valuable audiences, motivating a shift in television content to appeal to these demos.
Among viewers who do have connected-TVs, addressability will further silo audiences into increasingly prescribed demographic categories.[5] The industry rhetoric around addressability spins this in a positive way, as an "opportunity for personalization." Pointing to the fact that the spending power across Blacks, Hispanics, and Asian Americans is poised to increase .7 trillion dollars by 2023, Nielsen's CEO Kenny (who recently adopted the title of Chief Diversity Officer) claims that addressability can more efficiently respond to the "new multicultural viewer."[6] But Nielsen's recent diversity initiatives are also a move to preempt the significant challenges machine learning poses to diversity and cultural representation. Through ad targeting, audience demo categories will be prescribed more stringently through data determined not only by our TV viewing, but also potentially our internet browsing history, consumer purchases, political affiliations, and credit history. Moreover, because these audience valuations will be increasingly based on census level data, shared proprietarily, and scaled through machine learning, our ability to critique how demos are constituted as well as the biases that inform how they're addressed will be diminished.
Nielsen's CEO David Kenny explains his adoption of the role of Chief Diversity Officer.
Lastly, addressability further fragments broadcasting's ever-dwindling status as a shared cultural forum by ensuring that we increasingly only receive ads that are geared toward topics we're already interested in, brands that cater to our social identities, messages we already agree with. Abcarian and Scheppach argue that addressability gives creatives the tools to respond to the unique, complex ways that demo groups want to be spoken to. They point to Under Amour's "I Will, What I Want" and Nike's "Dream Crazier" ads as examples of the progressive opportunities of "relevant" targeting. But while these ads speak effectively to young women in search of inspiring feminist role models, in an addressable environment these ads miss the opportunity to expose these ideals to (or challenge the mindsets of) other viewers. As algorithmic distributed media increasingly silos us into "gated communities" and "filter bubbles"—further entrenching us each within the perspectives we already hold while polarizing alternative viewpoints—the deleterious effects of this on social progress are already apparent.[7] The unique connection that broadcasting still garners with audiences, addressing us in the comfort of our living rooms, makes the further disintegration of the cultural forum all the more impactful.
Ultimately, these machine learning initiatives mark a substantial divergence for Nielsen from their historical role as currency. Nielsen is now also providing the mechanisms for media distributors to execute (in real-time) against the audience data they produce. Just as Nielsen's disjunctive identity thus far in the new millennium has emblematized the transitional ontology of television, their rebranding in this way forecasts how the conflation of machine learning and creative decision making will shape television's future.
---
Image Credits:
Nielsen tweet from Sept. 20th, 2019 publicizing their panel on the evolution of television advertising measurement at 2019's Advertising Week in New York City.
Kelly Abcarian, General Manager for Nielsen's Advanced Video Advertising Group, discusses Nielsen's addressability initiatives.
Nielsen's CEO David Kenny explains his adoption of the role of Chief Diversity Officer.
References: