OVER*FLOW: Millennial Angst and the Bad Mother from the News to Netflix
Miranda Brady / Carleton University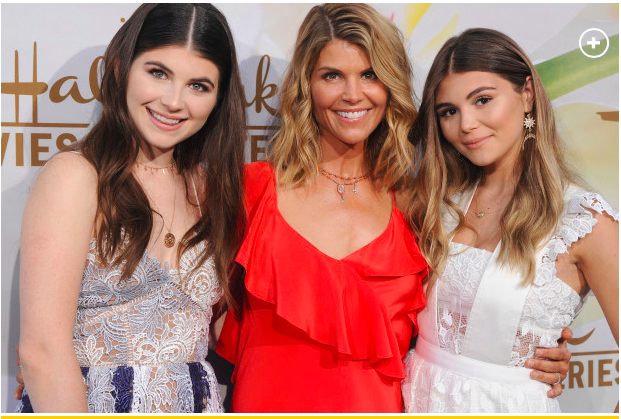 Lori Loughlin with daughters Bella and Olivia Jade
In the spring of 2019, stories about the college admissions scandal involving Hollywood actresses Felicity Huffman and Lori Loughlin gained wide attention. That these two mothers had tried to bribe their children's way into prestigious universities outraged some, while others were not at all surprised that this is the way it works for the very rich. Out of many possible stories about which to be outraged in 2019, why did these two women stick in the craw of so many? Was it because this was such an egregious departure from Loughlin's wholesome onscreen persona as Aunt Becky on Full House (ABC, 1987-1995) and Netflix's reboot Fuller House (2016-)? Or was this story so appealing because it involved a crime committed by famous, rich white women?[1]
Perhaps more interesting, the story aligned with a growing disdain for hovering mothers, especially amongst millennials who are eager to establish their independence in an economy that categorically disallows it. Picking up on this Zeit Geist, the story evokes the tried and true tropes of mother blame and the Good Mother/Bad Mother binary.[2] Regardless of the fact that 50 people were accused in the case, like several recent forms of popular entertainment, the news media and authorities could not resist comparisons between the two 'types' of women even though they were both implicated.
Huffman pled guilty to a single charge, admitting her guilt in paying $15k to enhance her daughter's SAT scores, and subsequently spent 14 days in prison. Loughlin and husband, fashion designer Mossimo Giannulli pled not guilty to charges related to paying $500,000 to have two daughters admitted to university on fake crew scholarships – an affront to fairness and crew. They now face additional charges and potentially much longer sentences resulting from their failure to cooperate.
The news media and authorities clearly privileged Huffman for her admission of guilt, lesser crimes, and demeanor. The New York Times pointed out the women's "Diverging Paths," and CNN identified them as the "contrasting faces" of the scandal. Huffman, described as "Tearful and Stoic," was compared with Loughlin, who seemed to treat her appearances in federal court "with an affect more common on the red carpet," smiling, waving, and autograph signing; she was even blamed for tarnishing the brand equity of her daughter, Olivia Jade, beauty blogger.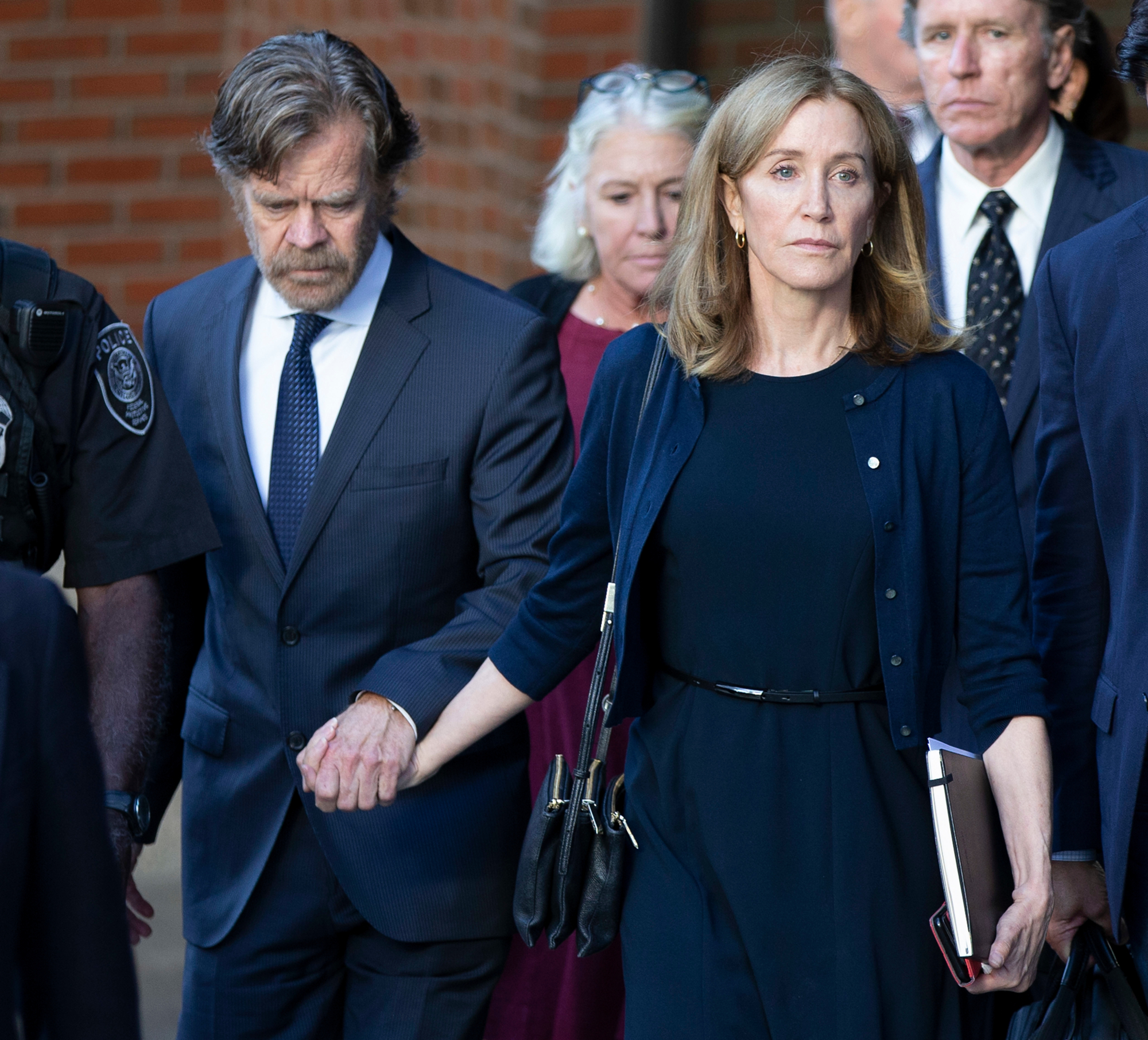 Felicity Huffman looking contrite with husband William H. Macy
These kinds of stories about women have been told before, but Huffman and Loughlin illustrate millennials' particular tensions with their mothers, and popular culture is more than happy to play with this variation on a theme, even when recycling the same old tropes.
Generation Gaps and Popular Fantasies
There have, for many years, been generational gaps and tensions which are exacerbated by popular culture because driving a wedge between target markets is profitable: from Elvis and rock n' roll to Tipper Gore and gangsta rap. In the 1980s, the Beastie Boys and Cindy Lauper respectively complained that their parents infringed on their "right to party" and "have fun."
In an era where young adults live with their parents longer than previous generations and often rely on them financially if they do move out, it is not hard to see why Loughlin and Huffman became media examples. Perhaps the helicopter mom represents the parent on whom millennials simultaneously depend but who stands in the way of their self-actualization with her misguided meddling or reluctant financial support that comes intact with strings. Huffman and Loughlin represent this mother – they try, without success, to control their children and their futures.
In popular culture, we see rejection of such figures and fantasies of super-wealthy youth who maintain privilege while breaking away from their parents as exemplified in Netflix's The Politician (2019).[3]
Variations on a Theme: the Bad Mother in Netflix's The Politician
The Politician plays with the Good Mother/Bad Mother archetypes via the puritanical Gwyneth Paltrow (playing Georgina Hobart) vs. Jessica Lang (playing Dusty Jackson). It even includes a cameo by the newer mother caricature, 'Karen,' a popular Reddit archetype of an irritating and entitled white, middle-aged mother who is usually complaining or requesting to speak to a manager. Karen is to millennials as Archie Bunker was to hippies in All in the Family (CBS, 1971-1979). As with celebrity women in the college scandal, these archetypal mothers illustrate some broader social and economic tensions.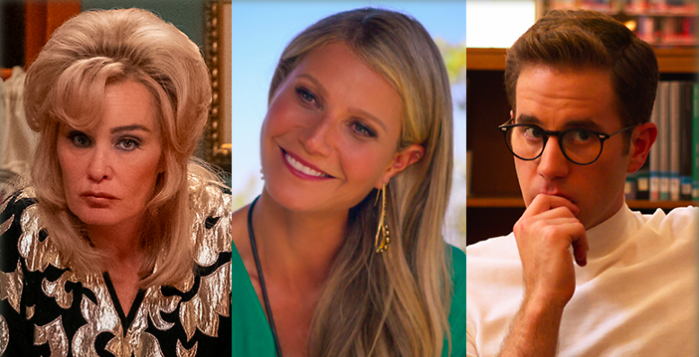 Bad Mother, Good Mother, and Millennial in The Politician
Georgina is the archetypal good mother – altruistic, elegant, and cool. She is totally self-sacrificing when it comes to her adopted son, Payton (played by Ben Platt), even willing to give up her one chance at love and wealth for him. By contrast, Lang is the monstrous mother[4] – slowly poisoning her daughter to death and doing the same to her granddaughter, who she is left to raise, for free trips and attention. Munchhausen by proxy is named as the culprit.
Where reproductive failure looms, chosen adopted family emerges as the millennial solution. Georgina has failed to reproduce worthwhile sons biologically – her birth sons, Payton's twin brothers, are caricatures of rich, spoiled assholes who hearken back to Wes Anderson's Rushmore (1998). Georgina's maternal dreams are fulfilled with Payton, so much so that she doesn't know who she is without him. Even in this perfection of found motherhood, Georgina is aimless without her son. This juxtaposes well with the murderous monster that Lang's performance embodies so well, and the annoying entitled archetype of Karen, who appears in the last episode of Season 1, in a scene that opens with the lines:
I don't appreciate your tone, young lady. I have a very influential mommy blog. So, I want to speak to your manager.
– "Karen" in "Vienna." The Politician. Netflix. 27 September 2019.
Astrid, the wealthy snob turned chain restaurant server rolls her eyes at this Karen figure with flock of embarrassed children in tow. Astrid (played by Lucy Boynton) has left her parents and wealthy lifestyle behind – having her father arrested for fraud and refusing her submissive mother (played by January Jones) who earnestly asks if she can come too, with a short "No."[5] She has asserted her independence and chosen to serve people like Karen and her children rather than live a life of privilege under the control of her parents. But there is an escape hatch from both – like several of her cohort from high school (a chosen family), Astrid will follow her once-rival, Payton Hobart, a young, ambitious male politician. She has come to understand that her true enemy is not Payton, but the parents.
After a failed attempt at high school politics, Hobart is positioned at the end of Season I to make a run for New York senate and upset successful female incumbent Dede Standish (played by Judith Light) and her lackey chief of staff (played by Bette Midler). Standish, an established politician who seems to be pretty good at her job otherwise, is apparently unaware that Payton is coming for her, and that his team of millennials has identified her Achilles heel – gross technological incompetence (her team is running Windows 99, just like Grandma). Therefore, Standish is a prime target for the ambitious white male millennial and his super-team of attractive and sexually fluid youths. They are ready to take on the establishment, but despite their progressive facade, they actually reproduce the establishment in many ways, namely through deeply entrenched misogyny.
Ironically, attempts to reflect millennial sentiment back to millennials in The Politician were met with lukewarm responses and only a 56 percent critic rating on Rotten Tomatoes' Tomatometer.
Where the News and Netflix Meet
So, are Loughlin and Huffman the monstrous mothers or Karens of Netflix? Maybe not exactly, but their appearances in the popular imaginary pander to the millennial fantasy that, unlike their parents, the youth have the path forward figured out. And, if they could just cut the umbilical cord, they could change the world. Who's to say they're wrong? But if Netflix is any indicator, they most certainly have not escaped the sins of their parents.
---
Acknowledgements
Many thanks to Emily Hiltz and Erika Christiansen for introducing me to Karen.
Image Credits:
References: