From Catchphrase to Single: Examining Megan Thee Stallion's "Hot Girl Summer"
Danielle Williams / Georgia Gwinnett College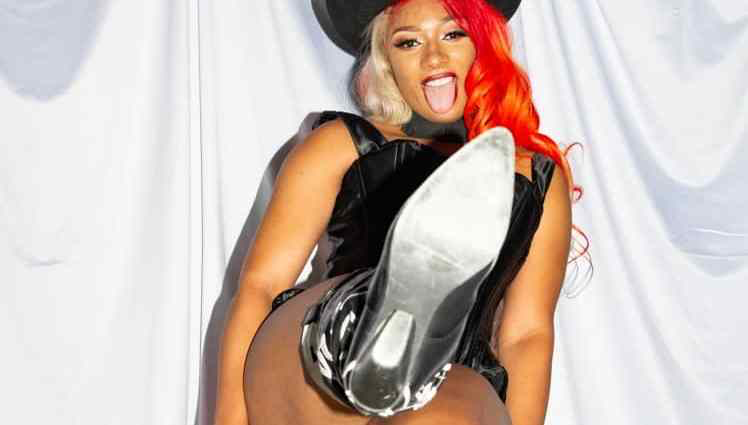 Houston rapper Megan Thee Stallion
Houston rapper Megan Thee Stallion is responsible for one of the most popular catchphrases and memes of 2019. The phase started as promotion for Stallion's third mixtape, Fever (1501 Certified Entertainment/300 Entertainment, 2019), which was released in May 2019. Part of the mixtape's cover line is the phrase "She's thee HOT GIRL And she's bringing THEE HEAT."
The phrase "hot girl summer" became one of the most popular memes and trends of the summer. By July 2019, Instagram users used the hashtag #hotgirlsummer over 100,000 times.[1] Two million users used the hashtag on Twitter.[2] Companies such as Wendy's and Maybelline incorporated the phrase into their social media accounts; on Twitter, Wendy's proclaimed that their lemonade was "The Official Drink of Hot Girl Summer."[3]
What does it mean to have a "hot girl summer?" Stallion defines it as:
It's just basically about women — and men — just being unapologetically them, just having a good-ass time, hyping up your friends, doing you, not giving a damn about what nobody got to say about it. You definitely have to be a person that can be the life of the party, and, y'know, just a bad bitch.[4]
Stallion took hot girl summer to the next level when she turned the phrase into a single. In August, Stallion released the song "Hot Girl Summer" featuring Nicki Minaj and Ty Dolla $ign; the music video was released in September.
"Hot Girl Summer" is more than body positivity and female agency. It sends a larger message within the industry. When it comes to female rappers, the traditional discourse has been that only one artist can claim the title of "best female rapper." When discussing her female peers and rivalry, Stallion states, "None of us rap alike. We might have some of the same content, but none of us are doing it in the same way … this generation of girls, everybody got their own swag … I just really appreciate what everybody brings to the table."[5]
Stallion demonstrates that she does not have animosity towards her female peers by including them in the video. Rap and R&B artists such as Rico Nasty, Summer Walker, Ari Lennox, DaniLeigh, and Dreezy have cameos. Part of Stallion's persona is "driving the boat," in which she takes a bottle of cognac and pours it into the recipient's mouth. In the video, Stallion drives the boat for her colleagues.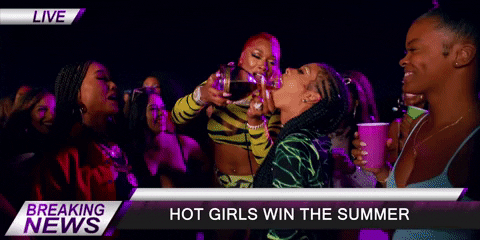 Megan Thee Stallion driving the boat with Rico Nasty
Moreover, she has the blessing and approval from the "Queen of Rap," Nicki Minaj. Minaj is one of the most successful female rappers. Hunter and Cuenca (2017) argue Minaj's ability to be the video vixen and the rapper in one as well as her alter egos disrupted the dominant ideology of the black male rapper.[6] Minaj has influenced Stallion. Stallion has alter egos, such as Tina Snow and Hot Girl Meg, who is present in "Hot Girl Summer."
Stallion is confident and in control of her body. In the video, Stallion dances and looks like a traditional video vixen, emphasizing her décolletage and derrière. The song's lyrics also demonstrate Stallion's agency:
I can't read your mind, gotta say that shit (say that shit) Should I take your love? Should I take that dick? Got a whole lot of options 'cause you know a bitch poppin' (hey) I'm a hot girl, so you know ain't shit stoppin' (hey)
Stallion's fans have the moniker of "Hotties," which the artist defines as someone who has self-love and confidence. According to Stallion, Hotties are helpers: "Hotties are supposed to turn other people into Hotties too. If you see someone that's not quite confident, you gotta be the Hottie to gas up your friend."[7] Hotties helping others occurs in the video. The video opens with comedian Jaimesha Thomas being invited to a party. Thomas laments that she is not having a productive hot girl summer. While in front of a mirror, she tries to embody Stallion's moves and mannerisms, such as sticking out her tongue. She evens asks, "What would Megan do?" Once Thomas arrives at the party, all of the other Hotties help Thomas transform into a Hottie.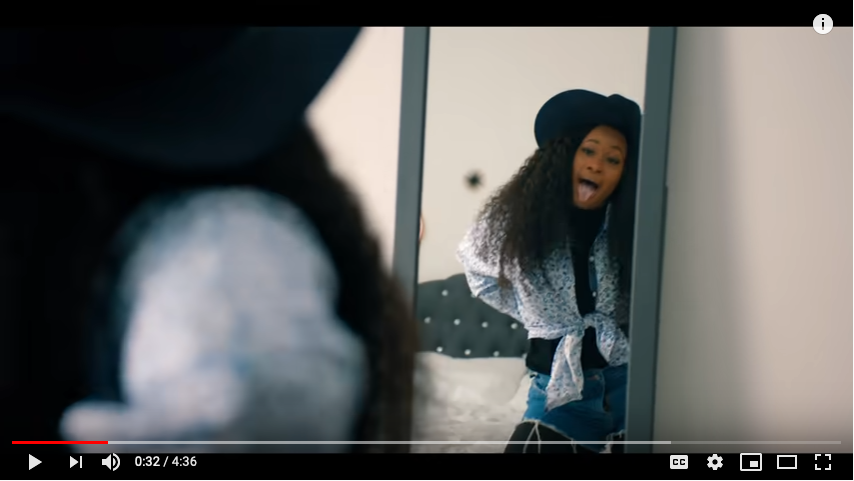 Instagram personality @thatgirljaycole featured in "Hot Girl Summer" music video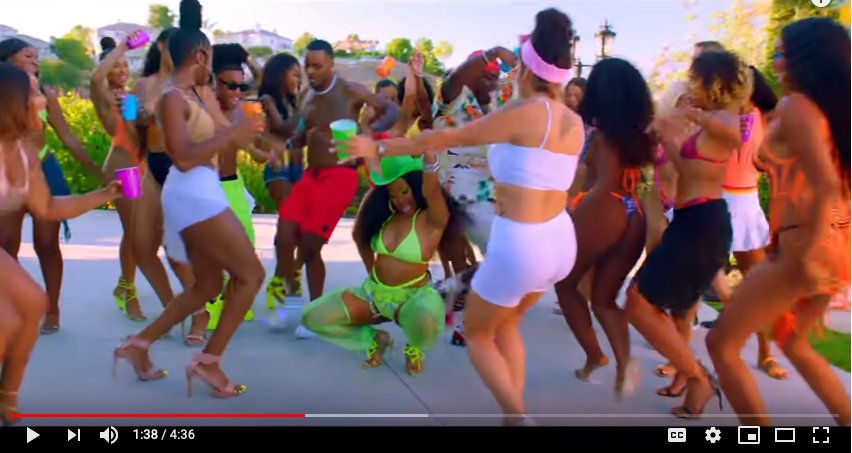 "Hot Girl Summer" music video featuring other Rap and R&B artists
Public reactions to Stallion and "Hot Girl Summer" have been receptive. As of this writing, she has 1.4 million followers on Twitter and 5.9 million on Instagram. Moreover, Stallion has actually trademarked the phrase "hot girl summer." Stallion uses social media to connect with her fans as well as to discuss topics such as veganism, education, and the environment. Over the summer, she hosted a "Hottie Beach Clean Up" and tweets about ways to improve the environment.
Even though summer is over, the hot girl theme continues. Teen Vogue shares with readers how they can have a "Hot Girl Semester." Currently, Stallion is a student at Texas Southern University. Because of her career, she takes online courses. Using the hashtag #hotgirlsemester, Stallion tweets about finishing her homework before attending her after party.
Stallion won "Power Anthem" at the MTV Video Music Awards in August. At the BET Hip Hop Awards in October, she won "Hot Ticket Performer" and "Best Mixtape" for Fever. She collaborated with Moneybagg Yo on the song "All Dat" and is featured on the Gucci Mane single "Big Booty." Although she releases her music with 1501 Certified Entertainment/300, she signed a management deal with Roc Nation; this deal will increase her media exposure. For example, after the announcement of the Roc Nation deal, Stallion appeared on The Tonight Show Starring Jimmy Fallon to announce "Hot Girl Fall" with assistance from J-Fal. In the video, Stallion parodies "Hot Girl Summer" by incorporating elements of fall, such as sweaters and drinking pumpkin beers, while including the original intent of the movement in that "Hot Girl Fall" is for everyone.
Hot Girl Fall — The Tonight Show official YouTube page.
Does the "Hot Girl" moniker represent a unique brand forging a new direction for women's rap, or will it prove to be just a passing fad? In either case, Stallion has certainly proven to be a precipitously influential force in popular culture, who provides an insightful lesson in navigating the fast-changing nature of the music industry.
---
Image Credits:
References: