"It's All American Stuff": Sports Champions in the Trump White House
Brett Siegel / University of Texas at Austin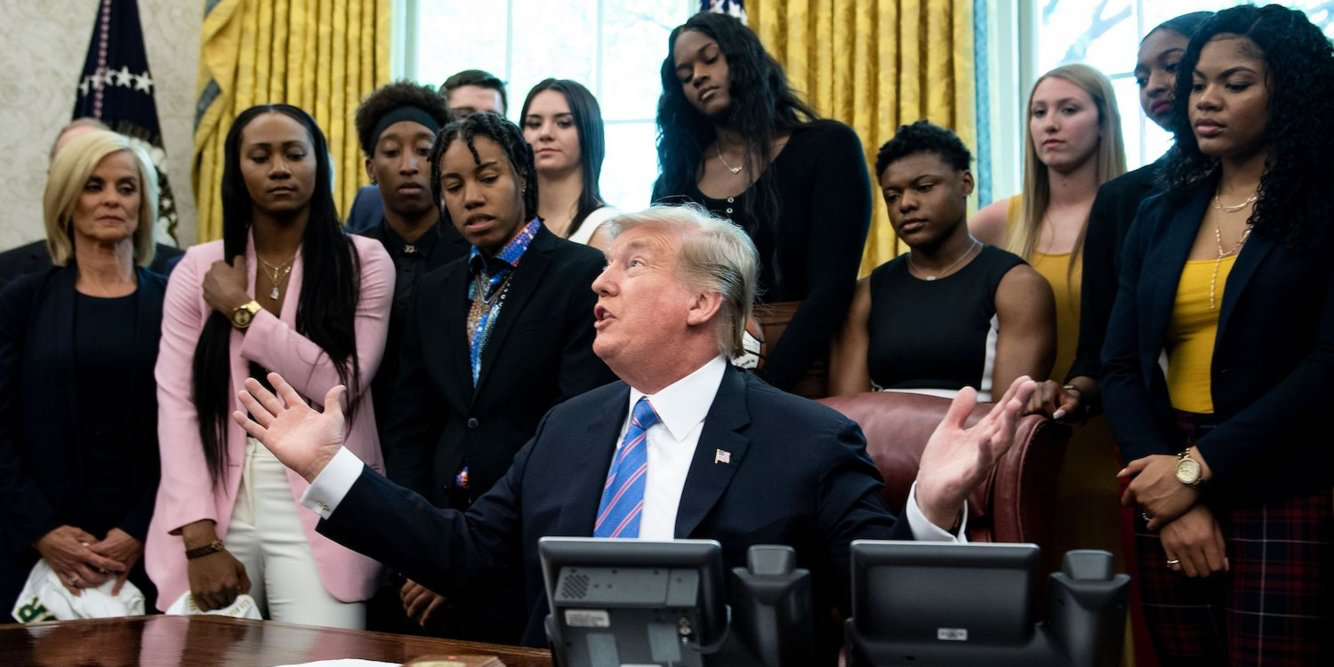 The 2019 NCAA Women's Basketball champion Baylor Lady Bears visit the White House.
Imagining sports as an apolitical enterprise was always a fool's errand. While media industries have long invested in the idea of sports content as ideologically safe [1], history has demonstrated time and again that structures of power, inequality, and injustice are never completely relegated to the sidelines. Instead, they fundamentally shape the ways we conceptualize, document, and memorialize athletic events and achievements. Considering that tweetstorms targeting professional athletes have now become par for the course, the Trump presidency has clearly introduced some new and compelling avenues for examining the intersections of sports, politics, and media. The evolving tensions surrounding the ceremonial White House visit for championship-winning teams offer an especially productive site for exploring these developments.
In a rhetorical analysis of these events, Michael David Hester details how U.S. presidents have traditionally used the language of sports adversity and triumph to applaud their own political victories, generating a "winner-by-association" effect designed to stimulate public approval and remind citizens of the president's popular interests. [2] While the tenor of these ceremonies is always contingent upon their unique historical contexts and the specific political agendas of the moment, they typically seek to emphasize a unified and cohesive vision of the nation that celebrates agreed-upon and ostensibly uncontested American ideals. I have written elsewhere that these rituals have taken on a disparate face and function during the Trump presidency, as athletes have increasingly opted not to attend the White House and Trump has responded by "disinviting" players and even entire teams who have openly critiqued the president and his policies. As a result, a previously taken-for-granted PR ritual has reemerged as a crucial symbolic space where essentialized versions of patriotism, citizenship, and America itself are challenged and reworked. [3]
The centerpiece of my previous research on this subject involved the 2017 NBA champion Golden State Warriors, who, after an exchange of Twitter barbs between Trump and Stephen Curry, decided to tour the National Museum of African American History with a group of children instead of attending the White House. The NFL naturally surfaced as another focal point for these discourses, further underscored by Trump's indictment of players who protested police brutality by kneeling during the National Anthem. Some of the most striking examples of these controversies, however, have come within this past year. With limited space remaining, I will primarily focus on White House visits by the College Football champion Clemson Tigers, the NCAA Women's Basketball champion Baylor Lady Bears, and the World Series champion Boston Red Sox. Much like those from the early years of Trump's presidency, these most recent examples illuminate a divisive political climate in which oversimplified appeals to an unproblematic and universal American consciousness are openly interrogated and deconstructed.
"If It's American, I Like It"
The 2019 College Football champion Clemson Tigers made headlines back in January with an unexpected rout of the perennial favorites from Alabama, but the menu at their visit to the White House proved equally surprising. Expecting to be treated to a formal catered meal, the team instead found a smorgasbord of fast food options — McDonald's, Burger King, Wendy's, and the like.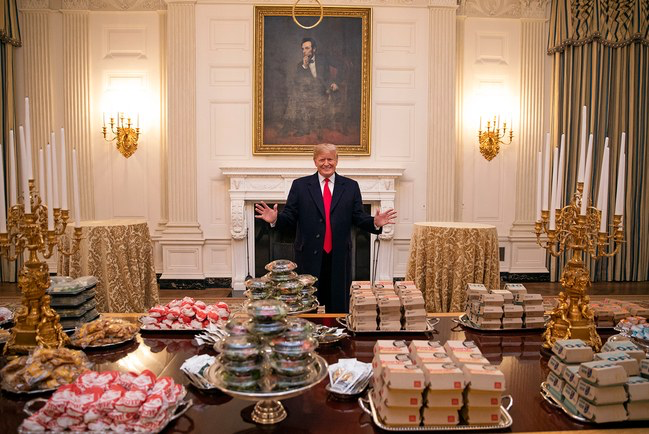 Trump poses with fast food before welcoming the 2019 College Football champion Clemson Tigers.
In the midst of a long-running government shutdown related to border wall funding, many of the staff that would normally work such an event were on furlough, leading Trump to purportedly pay for the spread himself. While prior visits in 45's tenure displayed the more blatant politics of (non-)attendance, Clemson's visit was notable for the ways in which the iconography of the event itself (read: burgers) came to represent and reconsolidate conceptions of nationalism and masculinity. Providing "great American food" from "all American companies," Trump proclaimed, "If it's American, I like it. It's all American stuff." Not only did the president frame a burger available in over 100 countries as unabashedly and definitively American, but he also deemed the unorthodox choice of cuisine as inherently masculine. In lieu of traditional catering, Trump joked with the team that an alternative proposition was "some little quick salads that the first lady will make," ultimately confirming that these "guys aren't into salads." Of course, Trump did not waste the opportunity to compare his preferred diet to that of an elite group of college athletes, declaring, "We have everything that I like, that you like." Ultimately, the president's justification for an overindulgent menu as the only fitting tribute to American male success reflects the insistence that Trump himself is a paragon of good health, as well as the ludicrous paranoia that Rep. Alexandria Ocasio-Cortez and her Green New Deal will take our burgers away. Now a mainstay at champion team visits, the fast food buffet and the "All-American" hamburger symbolize and contribute to broader Trumpian projects of "remasculinizing the nation by defying (feminized) moral authority." [4]
"I'll Give It to Melania"
While the president hosted a large NCAA event in 2017 that included some women's teams, it took over two years for Trump to hold an individual celebration for a women's champion. Even the North Dakota State Bison football team, winners of the NCAA Division I Football Championship Subdivision, were granted a solo tribute first, and the reigning WNBA champions have yet to even receive an invite. When Trump welcomed the 2019 NCAA Women's Basketball champion Baylor Lady Bears back in April, he doubled down on his fast food signature, despite the availability of caterers after the end of the shutdown. In a photo from the event, head coach Kim Mulkey appeared visibly miffed by the array, and a video posted by Kalani Brown shared similar sentiments.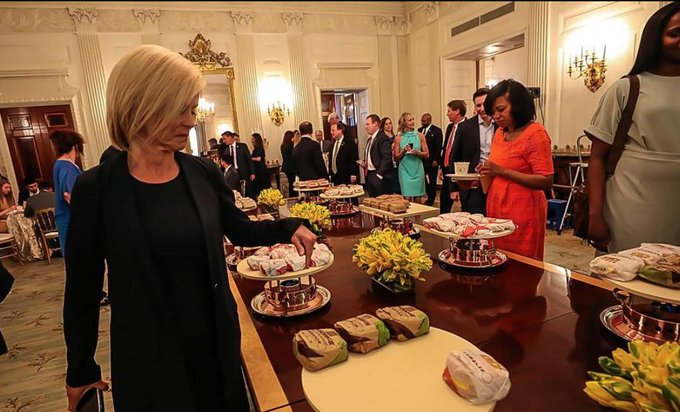 Baylor head coach Kim Mulkey appears unimpressed with the spread.
While it is difficult to argue that taking a relatively cheap culinary route signals a general lack of respect for female athletics, especially given Trump's defense of the same foods at Clemson's visit, the very fact that it took this long to host a women's championship team speaks volumes. When Mulkey offered him a commemorative jersey, Trump replied, "I'll give it to Melania. You know I love those short sleeves. Such beautiful arms. Great definition." Not only is the tone patronizing, but it further reinforces the rigid binary thinking that reflexively others the female athlete and reconstitutes the women's championship team as an afterthought. Maintaining that visiting the White House "is not a political issue for me," Mulkey recited familiar refrains about putting "politics aside" and embracing the moment. But in the case of the conspicuously named "Lady Bears," the politics of attending are multi-faceted and complex. Representing a sport with a pronounced number of black and queer women, the team was criticized for meeting an administration opposed to the health, well-being, and basic rights of these very communities. But in showing up and demanding the visibility and respect so frequently denied to these identities, perhaps this too amounts to a significant political act.
"So Basically It's the White Sox Who Will Be Going"
Although it was not the first time during the Trump presidency that white athletes attended the White House while many of their black and brown teammates stayed behind, the World Series champion Boston Red Sox visit in May marked the clearest racial division to date. When nearly every athlete of color elected to skip the ceremony, Boston sports columnist Steve Buckley tweeted, "So basically it's the white Sox who will be going."
The ceremony for the 2019 World Series champion Boston Red Sox was notably split along racial lines.
The team's Puerto Rican manager, Alex Cora, also declined the invitation, citing the Trump administration's inadequate response to Hurricane Maria and concluding, "I don't feel comfortable celebrating at the White House." Noting the many derogatory comments the president has made about Mexico and its people, Hector Velázquez worried that attending would offend fans from his home country. The black players who opted not to show were less forthcoming about their reasons than their counterparts in the NFL, where Trump has proven more liable to police and censor black athletes. Jackie Bradley Jr. told the Boston Globe, "I don't get into politics," while David Price refused to go because "It's baseball season." The Atlantic's Jemele Hill raises important questions about the tendency to urge sports personalities, and particularly athletes of color, to justify their decisions to forego the ceremonial White House visit, while the stark and disproportionate number of white athletes who do attend are rarely questioned in the same manner. Especially with a team that plays for a notoriously racist fanbase, we should question why these players are "comfortable being with a president who marginalizes and harms the communities to which their fellow players belong." [5]
"I'm Not Going to the F***ing White House"
I would be remiss not to close with Megan Rapinoe, who remains the only high-profile white athlete to kneel in solidarity with Colin Kaepernick, and who informed Eight by Eight during the 2019 Women's World Cup that she wouldn't be "going to the f***ing White House" if invited.
Responding to Trump's Twitter rant with a decisive championship, Golden Ball, and Golden Boot, the out lesbian soccer star and self-proclaimed "walking protest" set the stage for another fascinating case study. While the president took to social media to invite the team, "win or lose," after Rapinoe's comments, he has since cast doubt on the prospect of an official invitation. Teammates Ali Krieger and Alex Morgan have already resolved not to attend, and it remains to be seen how the issues and discourses surrounding the team (gender discrimination, queerness, whiteness, American exceptionalism, etc.) would translate to the political theater of a Trump White House visit (or rejection). Dominant international victories certainly welcome the opportunity to ruminate on national success and the so-called "American spirit," but a team consisting of outspoken, unruly, and openly queer women clashes with the "White male backlash" politics [6] that have ignited Trump's America, productively resisting the president's attempts to (re)define the nation in exclusionary and bigoted terms.
Image Credits:
1. The 2019 NCAA Women's Basketball champion Baylor Lady Bears visit the White House.
2. Trump poses with fast food before welcoming the 2019 College Football champion Clemson Tigers.
3. Baylor head coach Kim Mulkey appears unimpressed with the spread.
4. The ceremony for the 2019 World Series champion Boston Red Sox was notably split along racial lines.
Please feel free to comment.