No More Room for You: Reading Between the Lines of Netflix's Claims of Inclusivity
Jacinta Yanders / The Ohio State University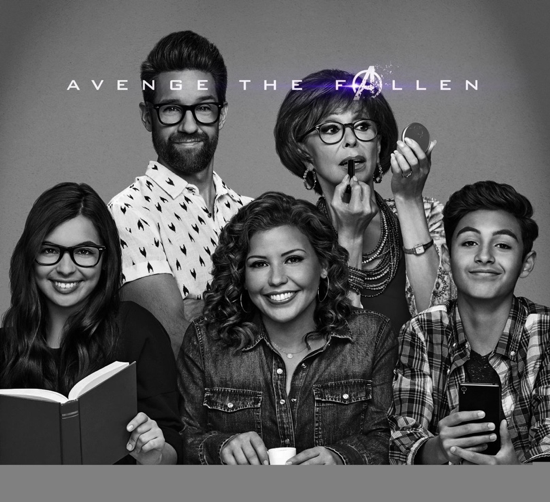 Avenge the Fallen image from Tri Vo (@tribranchvo)
In a recently published edited collection on Netflix and nostalgia, I wrote about how Netflix's current interest in nostalgia allowed for the production of the One Day at a Time (ODAAT) reimagining. Unlike other reimaginings that have changed elements of characters' identities strictly on the surface level, ODAAT attends to how such changes should necessarily influence characterizations and storytelling. Despite positive responses from viewers and critics, ODAAT has always existed in a sphere of uncertainty. According to Rotten Tomatoes, the series currently holds a 98% overall rating from critics and a 90% overall rating from viewers. [1] Yet, the series perpetually teetered on the edge of cancellation. Additionally, when it comes to matters of media representation, viewers have been let down more often than not. My chapter poses this question about Netflix in the end: "Will it continue to provide spaces to shows like One Day at a Time that both provide the comfort Netflix seeks to capitalize upon while also challenging dominant ideologies and providing space for underrepresented narratives?" [2]
Netflix essentially answered this question on March 14th by announcing the cancellation of ODAAT: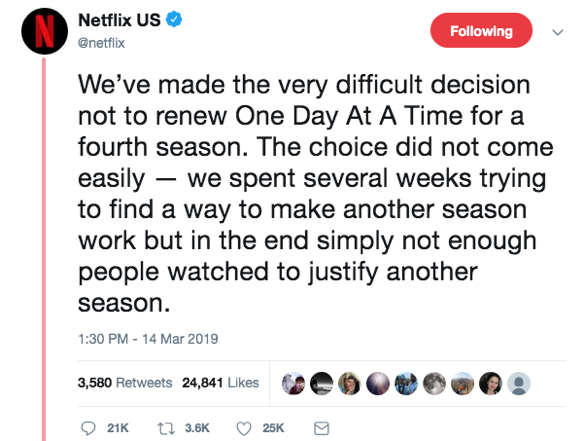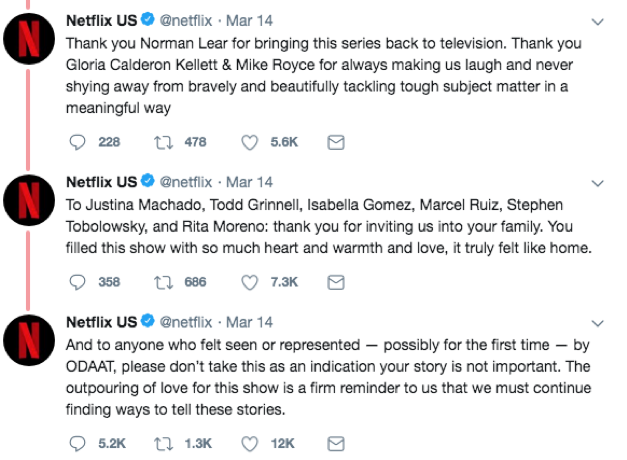 Netflix cancels One Day at a Time
This announcement was quickly met with displeased reactions. Because the series was regularly on the bubble, the fact that it was canceled was not surprising in and of itself. What seemed to be most off-putting, however, was the reasoning Netflix used to explain the cancellation, and in particular, the continued insistence that Netflix is invested in representation. This insistence in the cancellation notice—in addition to several promotional campaigns Netflix has produced—is presumably meant to entice viewers and lessen any blowback that might be incurred. However, because Netflix's words in these assurances have so noticeably conflicted with their actions, the good faith that the streaming service is hoping to cultivate is rendered nearly nonexistent.
Taking Netflix at their word is difficult for a variety of reasons. In the cancellation tweets, Netflix claims that "simply not enough people watched to justify another season." Two factors cast doubt on this statement. First, Netflix rarely shares any sort of viewership metrics. There's no way to know how many people watched the show or what "enough" would even look like. Additionally, Netflix seemed to do very little to promote the series. In recent years, Netflix's promotional toolkit has expanded beyond in-app notifications to include billboards, and perhaps most importantly, extensive social media engagement. [3] At the time of writing, the official Netflix Twitter account has made nearly 28,000 tweets. In conducting a basic search of the account's tweets, I found that only seventeen directly referred to ODAAT. Of those seventeen, eight occurred in 2019, which is curious for a series that began in January 2017. Admittedly, Netflix produces an exceptional amount of content, which might limit promotional efforts for individual products. However, one might expect to see a program that has gotten the sort of critical and commercial acclaim ODAAT has received as more of a focal point.
Limited promotion extends beyond Netflix's social media audience. Latinx media critic Yolanda Machado noted that she was unable to secure screeners for the show or set up interviews with cast, despite persistent efforts (@SassyMamainLA):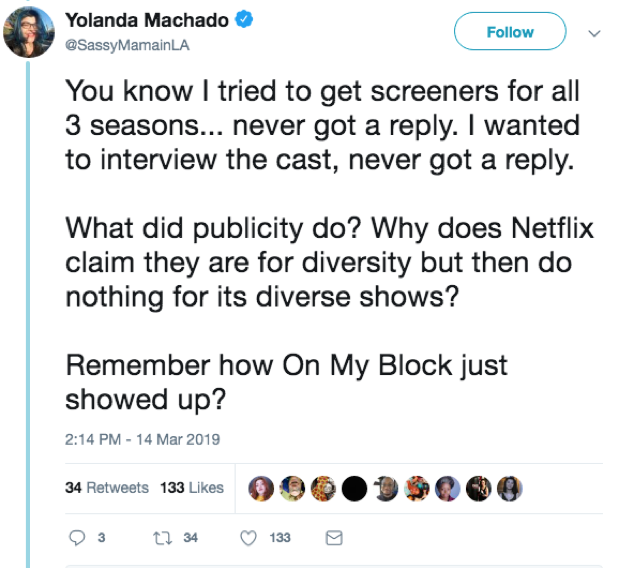 Yolanda Machado (@SassyMamainLA)
Given the lack of social media promotion and critical engagement, the task of promoting the series often fell to the cast and crew, and ultimately extended to fans, who engaged in the labor of renewal campaigns, viewing sprees, and sharing personal connections, often highlighting the importance of seeing well-developed portrayals of narratives featuring Latinx, LGBTQ, disabled, and working class experiences.
Like several other corporate social media accounts, Netflix has recognized that many fans enjoy when accounts tweet with some measure of personality as opposed to maintaining a sterile distance. This can foster a sense of "authentic" connection, which I've argued elsewhere doesn't necessarily need to be proven, but instead only needs to feel real. [4] But there's a catch here. Media entities can cultivate feelings of care with viewers, but this amplifies the likelihood of engendering negative sentiment when viewers feel lied to, manipulated, and/or cast aside. The final tweet in the ODAAT cancellation reads as follows: "And to anyone who felt seen or represented — possibly for the first time — by ODAAT, please don't take this as an indication your story is not important. The outpouring of love for this show is a firm reminder to us that we must continue finding ways to tell these stories." Every component of this purposefully-crafted message scans as disingenuous, as "an attempt to soften the blow, to make the company look better even while it twists the knife." [5] Netflix—not unlike many other institutions—grasps that the language of diversity and inclusion can be used as a cover. They parrot language often utilized by fans about feeling "seen" or "represented" and commit to continuing to tell such stories while eliminating an already-existing story that was accomplishing this goal. They note the "outpouring of love" the show has received just after claiming the audience wasn't there.
Ultimately, the use of this language comes across as little more than a marketing ploy. To be clear, I'm not arguing that one should expect a business to operate altruistically, but rather that Netflix's attempts to paint themselves as altruistic are so blatantly unbelievable that they're fostering more resentment than would likely occur if they simply said their decisions were about money. In the recent "Make Room" ad, Orange is the New Black's Uzo Aduba travels through various Netflix properties which might be deemed inclusive, such as Glow and Roma, while highlighting the lack of representation in media. The video begins with Aduba asking, "Have you ever been in a room and didn't see anyone else like you?" Ultimately, she delivers a call to action ("Let's make room") followed by saying, "We're making room for you to find them and for them to find you." The ad ends with text that reads "More room. More stories. More voices." followed by the Netflix logo. Through Aduba, Netflix asserts that it is already and will continue to be inclusive. Notably, Netflix's Chief Content Officer Ted Sarandos has previously indicated that ODAAT had a "unique value" because of groups of viewers it drew in, including women, LGBTQ viewers, and Latinx viewers. But this knowledge ultimately offered little protection. [6]
Of course, Netflix isn't the only network attempting to capitalize on such language. The CW's ongoing "Open to All" campaign provides another example of the operationalization of representational discourse to shore up a network's public persona. For the record, ODAAT is not featured in the "Make Room" ad, despite having just released a new season a few weeks prior. ODAAT's cancellation came two weeks after the ad's release. Netflix is still purportedly blocking other entities from picking up ODAAT, which curiously does not seem like an action that correlates with "making room." [7] After the cancellation, creator of the original ODAAT Norman Lear asked, "Is there really so little room in business for love and laughter?" (@TheNormanLear):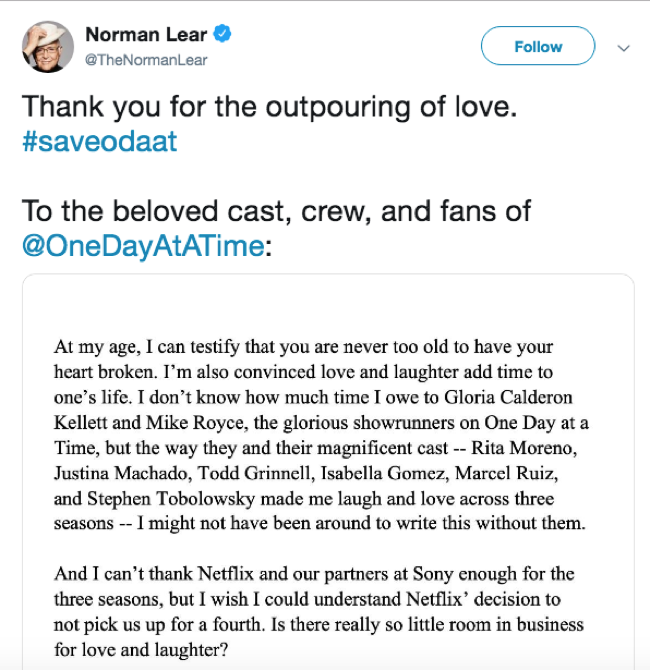 Norman Lear (@TheNormanLear)
On one hand, this might seem like an absurd question to ask a billion-dollar corporation, but it's a question that Netflix invites via its own choices, with ODAAT and beyond. As VanArendonk notes about the end result of the cancellation, "Thanks to Netflix's extensive social media efforts, it felt insulting, tin-eared, and greedy. It felt personal." [8]
So is it still worthwhile to viewers that care about representation to become invested in Netflix properties? If Netflix isn't going to promote these works and it's going to limit the sustainability of such projects, seemingly just to turn over to the next new thing, all the while paying lip service to inclusivity, what's the long term value of what Netflix offers? Industrial upheaval appears to be on the horizon, particularly with an onslaught of new streamers. Rather that taking Netflix's words at face value, its actions certainly need to remain in the foreground of conversations about what sort of change, if any, is actually being enacted.
Image Credits:
1. Avenge the Fallen image from Tri Vo (@tribranchvo).
2. Netflix cancels One Day at a Time.
3. Yolanda Machado (@SassyMamainLA).
4. Norman Lear (@TheNormanLear)
Please feel free to comment.