The Female Labor of Lennon Parham and Jessica St. Clair Playing House
Kelly Kessler / DePaul University

USA banner for Playing House
"Sisters, by the way, have you heard, are doin' it for themselves." Why am I quasi-quoting the Eurythmics and Aretha Franklin? Fair question. Simple. In season one of the sitcom Playing House (2014-17), Jessica St. Clair's Emma employs the line to encourage Lennon Parham's recently separated and incredibly pregnant Maggie to cast aside fears about her high school marching band's 15th anniversary and embrace the musically feminist salvo and subsequently the baby bump bulging through her baby blue band uniform as she "crabwalks" across the living room. The duo returned to this quotation often and it became a sort of rallying cry for their dedicated fans, the #Jammers. It also cuts to the chase regarding the kind of emotional and physical female labor driving Playing House and its creators, as they evoke both a uniquely 21st century kind of multi-platform activity and a projection of historically feminized notions of emotional labor.
Women have historically been expected to bear the burden of emotional labor and combine it with the associated physical exertion of giving birth, rearing children, and maintaining a home. In short, women are supposed to nurture. Over three seasons, St. Clair and Parham did just that over various sites of the Playing House footprint, blending the emotional labor of their real-life relationship with that of their onscreen alter-egos, laboring at the behest of advertisers and the USA network, and embracing and affectively cultivating a vibrant female fanbase. This all came on the heels of a nearly twenty-year working relationship including improv at Upright Citizens Brigade and their short-lived 2012 sitcom Best Friends Forever, and ultimately the personal and professional cultivation of what Parham calls "the most romantic relationship" of her life. [1] For the best friends, Playing House became an intense and contextually-porous emotional and physical production.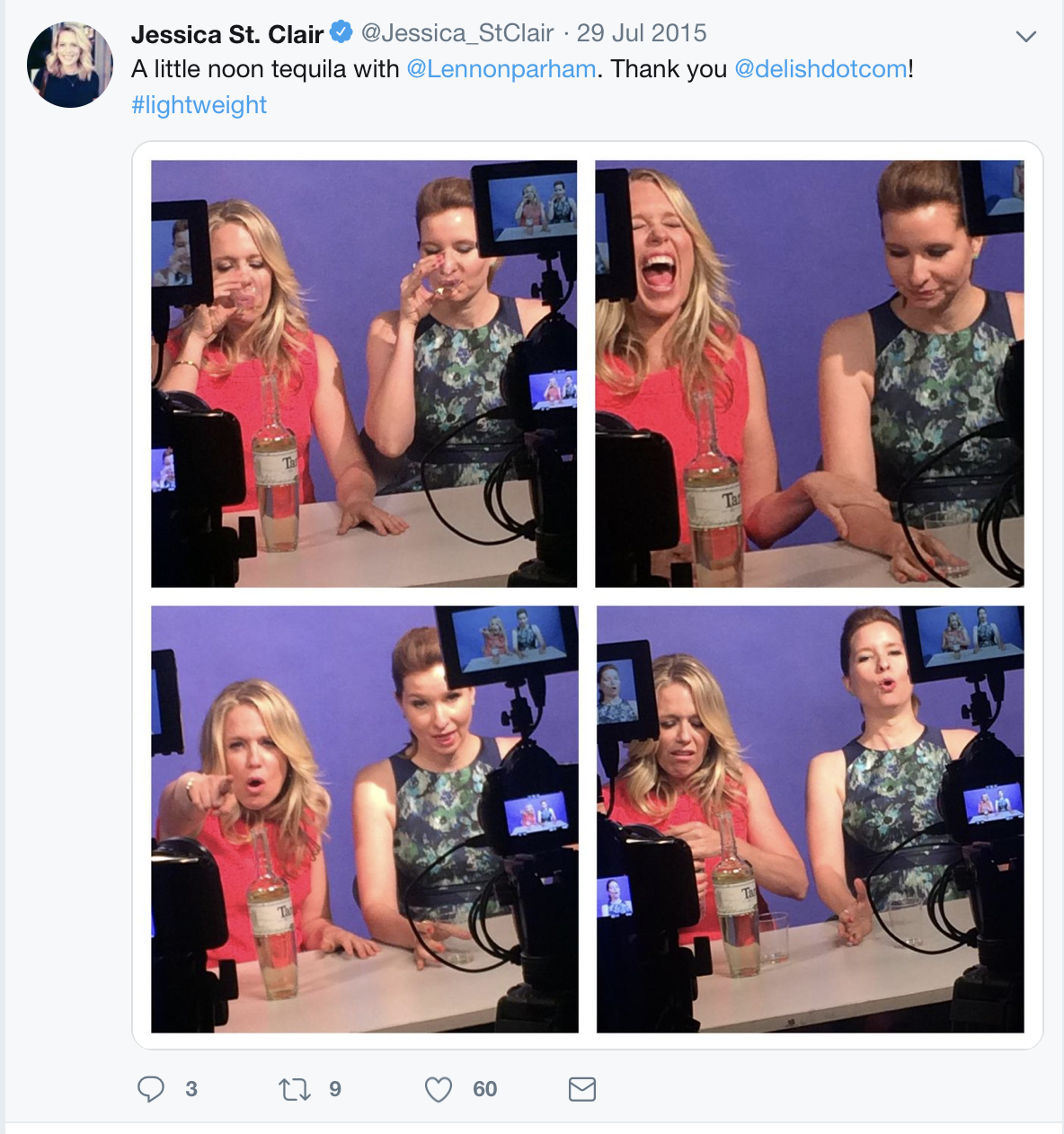 Jessica St. Clair Tweet, 29 July 2015
Heading into Playing House, the duo hoped to do what they did best, make something as funny as they could, with what Parham referred to as "the heart that you would expect from a one-hour CW show." [2] As the show's creators, often writers, and stars, Parham and St. Clair drew heavily from their personal experiences, repurposing emotional work already enacted in their real-lives. The show revolved around Emma leaving her international legal job to help childhood bestie Maggie raise her baby in their small hometown, following everyone's discovery that Maggie's husband had been carrying on an online affair with an aspiring German musician/butt-fetishist, munichmuncher69. Over three seasons, the ladies moved in together, supported each other, became biological (and emotional) mothers, and persevered through Emma's diagnosis and treatment for breast cancer. Like their creators, Emma and Maggie became one of the most intimate and emotional, yet non-sexual, female relationships on TV. They were each other's "ones."
All three seasons of the show drew closely on its creators' lives. They wrote season one just following the birth of Parham's first child and during the late months of St. Clair's pregnancy. Between seasons two and three, St. Clair was diagnosed with and treated for breast cancer. The diagnosis, her mastectomy, her emotional and physical recovery process, and the role played by Parham in her real-life structured the following season. With the comic timing and verbal wit of Rosalind Russell and Phyllis Povah in The Women, the duo transformed the highs, lows, and monotony of their personal emotional labor into their professional lives and a uniquely intimate, woman-driven comedic tour de force. Even their writing process relied directly on emotional transference through improv. St. Clair explained to The Los Angeles Times:
We were like, how can we best capture our voice? Because we're real-life best friends and real-life best friends have a language that is all their own. And so the only way we could think of doing that is to break the story in the writers' room to make sure it's actually funny. So then we go into our office with whoever's writing the script and we act out all the scenes and play all the parts. [3]
A similar emotional and physical labor carried over into marketing as USA continuously altered airing patterns for the show and Parham and St. Clair created various types of content to sell the show to their specific audiences. After a low-rated season one, USA worked to capitalize on what they saw as the show's more prominent online following. During season two the network dropped episodes online one-week prior to their actual airdate, and then for season three the entire season dropped online in one day, with episodes airing back-to-back, two episodes at a time, for that and for the next three Tuesdays. The two worked diligently to keep the show from suffering the same fate as Best Friends Forever. With USA's late renewal announcements and shifting distribution strategies, Parham and St. Clair creatively and emotionally hustled to nurture their televisual baby and the fans who loved it. They cared for the show, advertisers, and fans like steadfast mothers. During seasons two and three, they personally created show-styled, branded online content starring Emma and Maggie gushing over the wonders of Toyota, Samsung, and Xfinity.
Season 2 Playing House Toyota Ad
Far from dismissing the additional labor as compromising their artistic vision, St. Clair told Adweek that creating the branded content "was kind of a dream." [4] They publicly reveled in the chance to create additional character-driven content that, like the blurring of personal and professional, muddied the waters between narrative and promotional. St. Clair noted the material was so seamless that fans were tweeting quotes from the ads, assuming they were part of the actual show. [5]
On the fan-front, Parham and St. Clair tirelessly nurtured those who rallied around the show. With a less-than-robust social media buy-in by USA, they cultivated their Pinterest, Tumblr, Facebook, and Twitter profiles. They live-tweeted each episode, commenting on, liking, or retweeting nearly every fan tweet. Fans saw themselves as a Playing House family, led and nurtured by the show's dual matriarchs. Through tweet-streams, the duo reenacted their own close relationship and constructed a parallel one with the #Jammers, letting them in on inside jokes and making them privy to private joys and sorrows. This "inviting in" included staged Twitter and YouTube announcements for season two and three pickups/premieres and a virtual hug to grieving fans upon the show's cancellation, offering them the strength to power-on and a hope for the future.
"Playing House: Special Message: Second Season to Come!" YouTube Video
Again evoking the private/public and real/fictional blurring of feeling, one #Jammer said, "Their social media activity and connection with the fans just cements the love fans have for the show and blurs the lines between Maggie & Emma and Lennon & Jess." [6]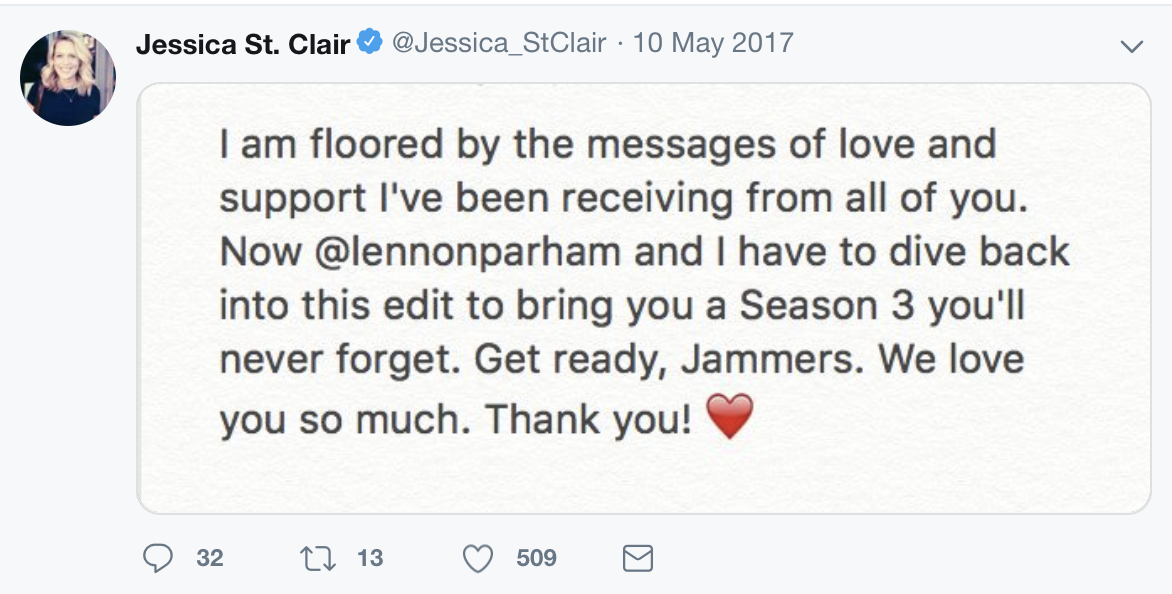 Jessica St. Clair Tweet, 10 May 2017
Their committed physical and emotional labor came back to them tenfold through that of the fans themselves. Alongside the passionate fans tweeting and gif-creating, twin sisters Nicole and Danielle Giaimo launched a social media-responsive Playing House merch site.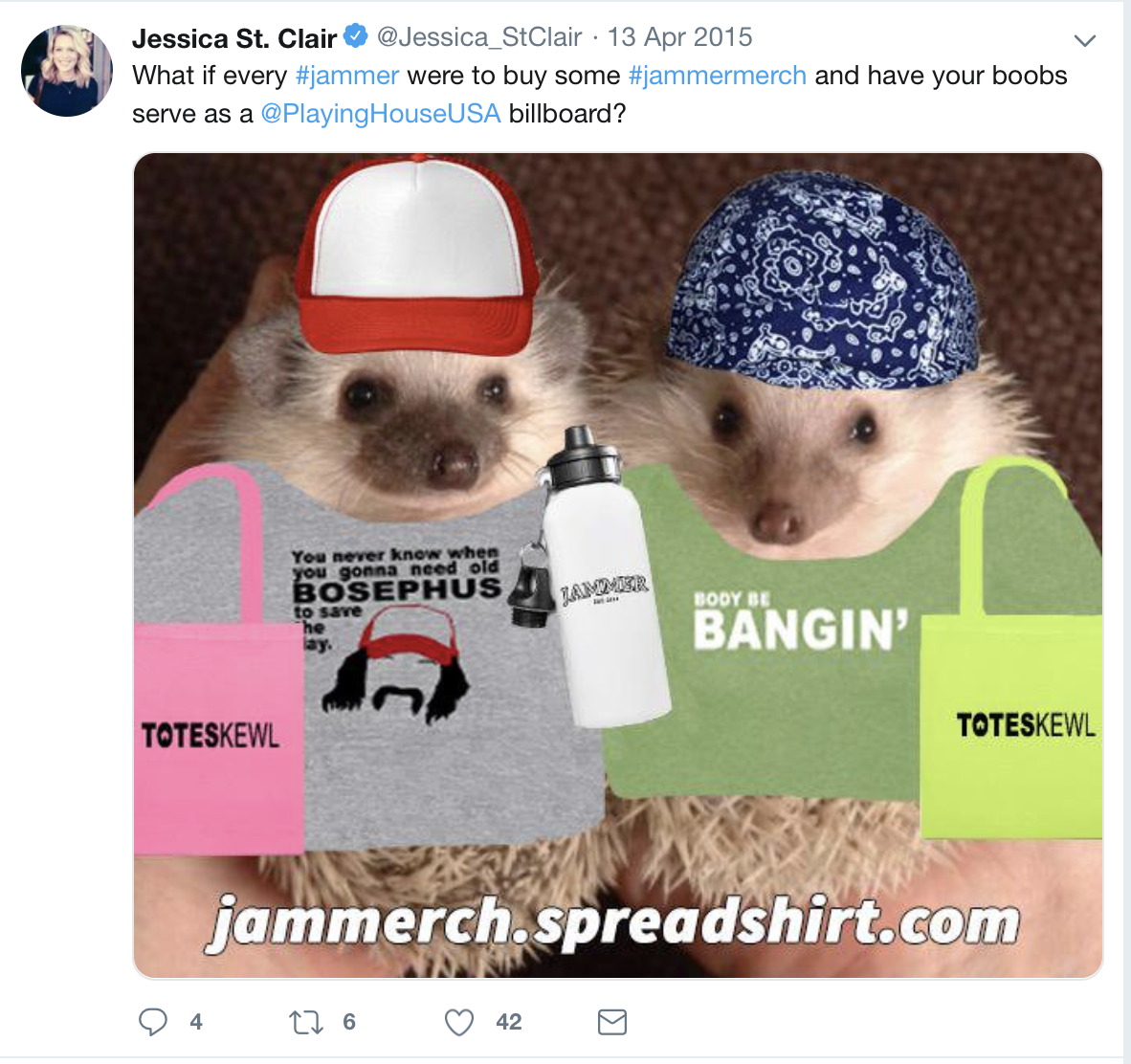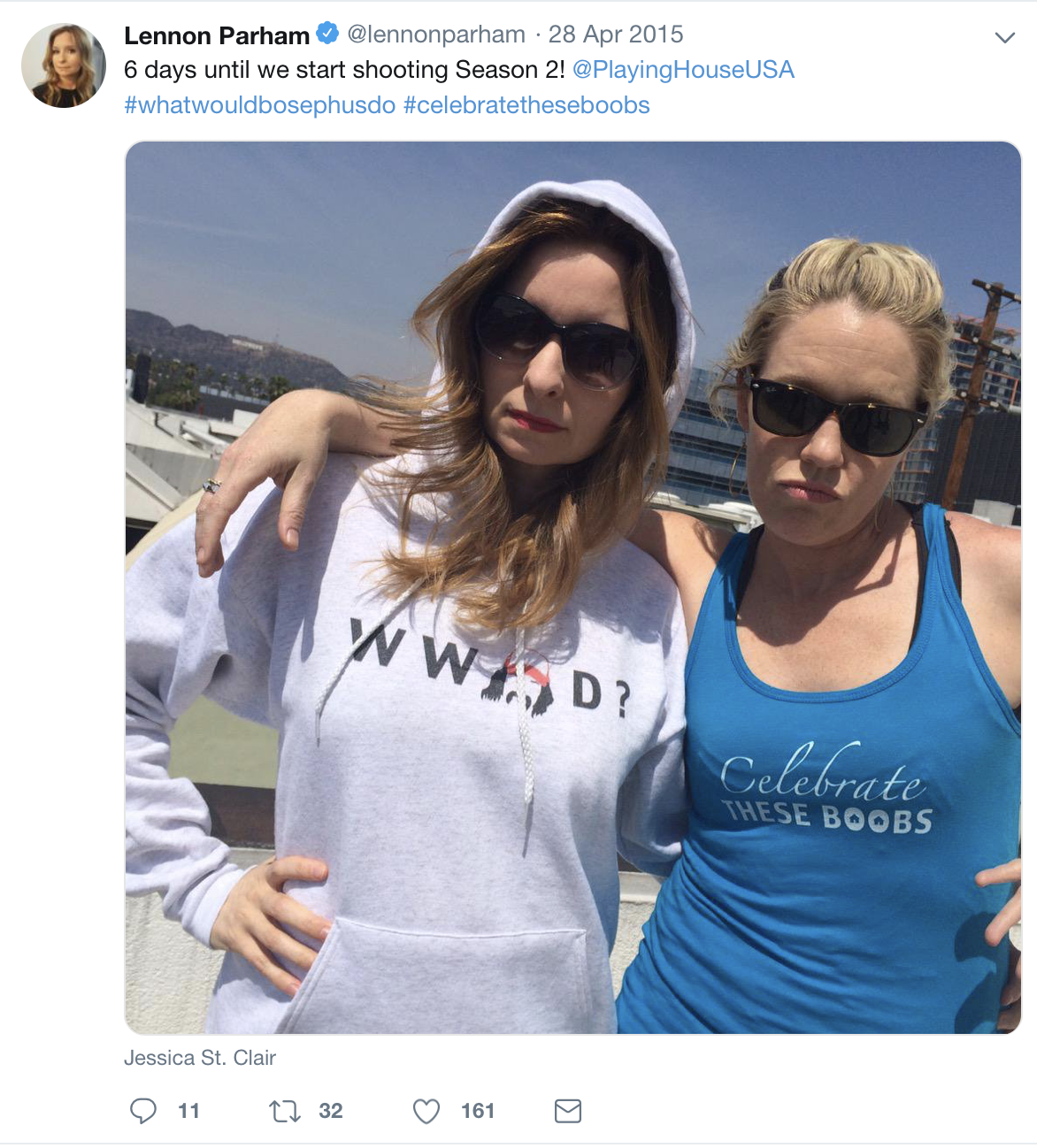 Jessica St. Clair Tweet (13 April 2015) and Lennon Parham Tweet (28 April 2015)
When USA failed to satisfy #Jammers' tie-in needs, the sisters stepped in creating JAMmerch ("Made by Jammers, for Jammers") with dozens of Playing House-based designs for shirts, cups, bags, and hats (while also integrating content from other Parham/St. Clair productions). As time went on, almost like a commercial quasi-feminist collective, the duo created items based on recommendations from fellow #Jammers and the stars themselves; on-the-fly tweet-based requests from the stars and others were on the site within days if not hours. #Jammer love was intense. [7]
I know, fan activity and celebrity-driven social media engagement aren't boundary-breaking in a 21st century/Web 2.0 TV era, but the multi-tiered online/onscreen/behind-the-scenes, upfront, unapologetic emotional work of these women converted me into a #Jammer. Alongside the darkness of Girls and biting critique of Broad City and Inside Amy Schumer, they blended the joy of Kate & Allie and Laverne & Shirley with a renewed personal and emotional flair wrapped in 21st century possibilities. #Jammer4life, #bodybebangin, #bodyroll; #hellyeslife; #celebratemescones.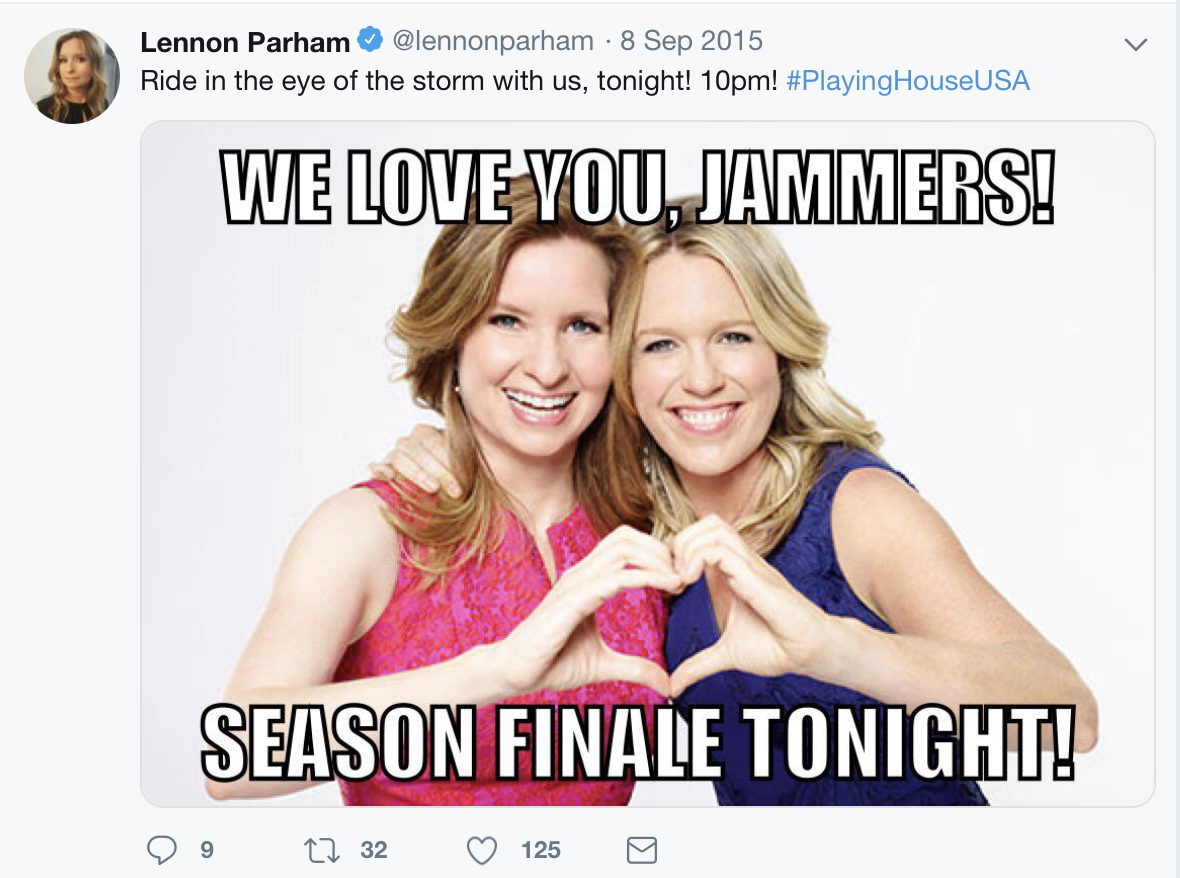 Lennon Parham Tweet, 8 September 2015
Image Credits:
1. USA banner for Playing House
2. Jessica St. Clair Tweet, 29 July 2015
3. Season 2 Playing House Toyota Ad
4. "Playing House: Special Message: Second Season to Come!" YouTube Video
5. Jessica St. Clair Tweet, 10 May 2017
6. Jessica St. Clair Tweet, 13 April 2015
7. Lennon Parham Tweet, 28 April 2015
8. Lennon Parham Tweet, 8 September 2015
Please feel free to comment.