Synergy of Attractions: Disney's Not-So-Secret Weapon to Take on Netflix
Casey Walker / University of Texas at Austin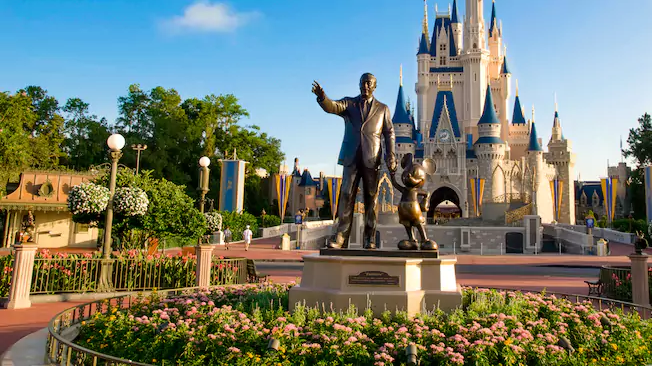 Magic Kingdom at Disney World in Orlando, Florida
As The Walt Disney Company prepares to launch its new video streaming service in the fall of 2019, a looming conflict between Disney and Netflix is on the horizon. As the collision course between these two giants approaches, a study released this last April states that despite the more than six billion dollars Netflix spent on original programming in 2017, 80% of its viewership is generated from content they license from other providers, which up to this point has included not only Disney content, but content from Disney's possibly soon-to-be acquired 20th Century Fox. [1] However, despite the loss of these studios' content, Netflix will still have an enormous head start with respect to its subscriber base, as its subscriber count recently passed 125 million worldwide. [2] In order to compete for viewership with Netflix, Disney is going to have to pull out all the stops, including heavily utilizing its own not-so-secret marketing weapon, its theme parks. Disney has long used its theme parks Disneyland, Disney World, and others around the world to market its content through rides, attractions, and merchandising. But in anticipation of its streaming service launch, Disney is preparing an all-out blitz of new attraction construction and new content that work together to create synergy between their theme parks and their entertainment division in an effort to both promote more recent franchises like Star Wars and Toy Story, but also bolster the value of older back catalog properties like The Little Mermaid and Snow White and the Seven Dwarfs.
To create this synergy, Disney is following a strategic plan on three fronts. First, it's replacing theme park attractions either not directly affiliated with a Disney entertainment property or affiliated with a less successful Disney property with a mix of its new and most successful films and films from their back catalog of entertainment for which the studio wants to re-enforce the brand value. Second, Disney is planning a slate of new films based on some of its most popular theme park attractions, a tactic it's used before, both with great success and also huge financial disappointment. And finally, rather than continuing to license properties from other studios on which to base new theme park rides, Disney is outright buying or bidding for studios with whom it currently holds such licensing agreements, such as Lucasfilm and 20th Century Fox. Disney is hoping these three strategies will create a robust marketing synergy between its theme parks and its emerging streaming service, thus giving the company the boost it will need to catch Netflix.
Synergy, the ubiquitous marketing-speak term that is defined as the combined agency of two groups working to create a cooperative effort greater than the two groups' singular efforts, is not a new approach for Disney. Walt Disney was a believer in the strategy before synergy was even a term. This illustration from 1957 shows how the company envisioned it could utilize all of its available assets to create a multi-faceted marketing design: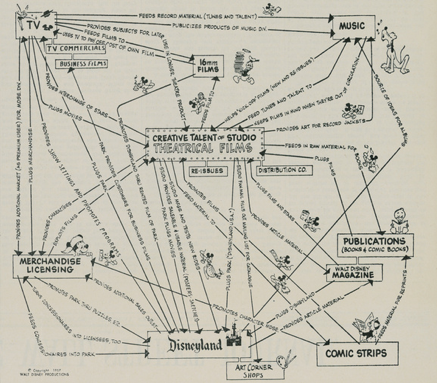 Walt Disney's 1957 "Synergy Map"
Former Disney CEO Michael Eisner (1984-2005) was also a huge proponent of the strategy, saying in 1995, "One plus one will add up to four." Eisner even created a position for the company in charge of handling this master plan with the job title of Director of Corporate Synergy. [3] Eisner's successor (and current Disney CEO), Bob Iger, would take the synergy ball and run and with it. In 2015, the Disney holdings comparable to those in the 1957 illustration would look like this: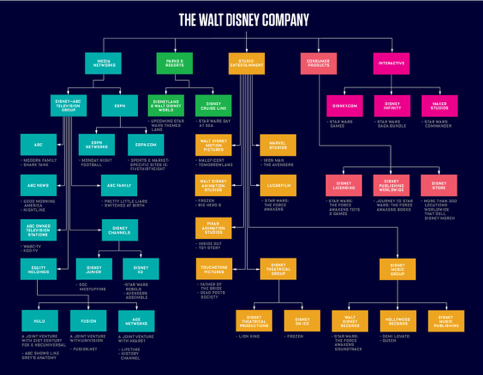 The Walt Disney Company's "Synergy Map" from 2015
Disney is hoping that all of these holdings can contribute to the synergistic whole, but it's betting big on the efforts of its theme parks. First, the company created an aggressive plan to replace theme park attractions either not directly affiliated with a Disney entertainment property or affiliated with a less successful Disney property with a mix of attractions pushing new or popular films, franchises, and television shows. At its Hollywood Studios in Orlando Florida, gone are the Honey I Shrunk the Kids: Movie Set Adventure, The Great Movie Ride, and the Studio Backlot Tour. In their place, Toy Story Land and Star Wars: Galaxy's Edge will be opening in the respective summers of 2018 and 2019. And at Epcot's Norway pavilion, the Maelstrom Viking cruise has become the Frozen Ever After ride, while the Gran Fiesta Tour boat ride in the Mexico pavilion looks poised to be converted into a ride based on the successful 2017 Pixar film, Coco. The park has already completely redesigned the entrance to the ride with Coco exhibits, art, and merchandise.
And while it's not uncommon for competing theme parks like Universal Studios to bring in new attractions based on more recent and popular intellectual property, Disney is also launching attractions based on properties from their back catalog, going as far back as eighty years! In their recent renovations to Fantasyland at Magical Kingdom in Florida, they constructed a recreation of the Beast's castle from Beauty and the Beast (1991) (complete with a nearby Belle's Village), Under the Sea: Journey of the Little Mermaid, and the Seven Dwarf's Mine Train, based on Disney's first feature length film, released in 1937. Not only is this amount of park-wide expansion and refurbishment unprecedented for a park that has for so long rooted itself in the tradition of its classic rides and attractions, but Disney's careful selection of which of its intellectual properties to feature in this expansion shows a concerted effort to boost the value of not only its current studio output, but also its library of films going back decades.
This doesn't mean Disney is sweeping away all of their classic rides, however. In fact, Disney hopes to keep rides like It's a Small World, Jungle Cruise, and Space Mountain for years to come. But how can Disney create synergy for theme park rides that aren't a part of their catalog of entertainment content? By following their second strategy, to create films based on popular original theme park attractions. Disney tried this strategy before with mixed success. Its Pirates of the Caribbean franchise, based on the popular theme park ride, was hugely successful worldwide, grossing billions. However, the successive financial disappointments of Mission to Mars (2000), The Country Bears (2002), and Haunted Mansion (2003) temporarily blunted this strategy. But with the impending release of its streaming service, Disney is ramping up production on a filmed adaptation of Jungle Cruise, set to film this summer with Dwayne "The Rock" Johnson. The studio has also hired screenwriters to write an adaptation of It's a Small World and is working on a Haunted Mansion reboot with Guillermo Del Toro, for which he has been writing a script. [4] A Space Mountain movie is surely to follow if these film adaptations find success.
Three of Disney World's most popular attractions, were not originally Disney properties at all. Star Tours-The Adventure Continues, Indiana Jones Stunt Spectacular, and Pandora-The World of Avatar were based on Lucasfilm and 20th Century Fox properties. Licensing intellectual properties from competing studios for attractions based on their films is a common practice in the theme park business. Universal Studios licenses Harry Potter from Warner Bros., Men in Black from Sony, and Transformers from Paramount for popular rides at their theme parks. But Disney wasn't content to just license the property. In 2012, the studio announced it was purchasing Lucasfilm and, in 2017, the beginning of a possible blockbuster acquisition of 20th Century Fox was made public. While it would be silly to assume these purchases only occurred for synergistic alignment with Disney's holdings, it would be equally silly to assume it wasn't a consideration. These acquisitions allowed Disney to cement all of its theme park intellectual property rights under the studio's roof, and the potential purchase of 20th Century Fox allows for future theme park expansion based on Fox's intellectual property without the added expense of licensing fees. We could soon be seeing attractions based on Titanic, Deadpool, X-Men, Independence Day, Night at the Museum, and the Ice Age franchise. The possibilities are endless. However, Disney has competition for Fox, as Comcast is aggressively battling Disney in the bidding process. Fox shareholders are set to choose between the two companies' offers at a July 10 meeting. [5] It should be noted that Comcast, Disney's fellow suitor for Fox, owns Universal Studios. Apparently, Disney isn't the only company that sees the synergistic possibilities with respect to Fox's assets and its theme parks.
Disney takes synergy very seriously, and it's always at the forefront of their marketing strategy. To bridge the large subscriber gap between its upcoming streaming service and its primary competitor, Netflix, Disney will have to use assets like its theme parks to serve as important marketing tools. By creating new rides based on its popular properties, creating new films based on its popular rides, and buying up studios from which it licenses material for attractions, Disney is hoping visitors to its theme parks will be immersed in the studio's content marketing blitz and feel compelled to purchase a subscription to the new streaming platform, which will be the universal and unique source for these properties. Disney has also positioned itself as perhaps the one true competition to Netflix's dominance, not only with its content monopoly on Disney and possibly Fox properties, but also its specific and numerous marketing tools designed to create synergy. The Verge's Bryan Bishop commented on the impending battle between Disney and Netflix late last year and asserted, "Disney's streaming service has won, and it hasn't even launched yet." [6] Disney is wishing upon a star that he's right.
Image Credits:
1. Magic Kingdom at Disney World in Orlando, Florida
2. Walt Disney's 1957 "Synergy Map"
3. The Walt Disney Company's "Synergy Map" from 2015
Please feel free to comment.