Some Locations Matter: HGTV's Uneven Relationship With Spatial Capital
Myles McNutt / Old Dominion University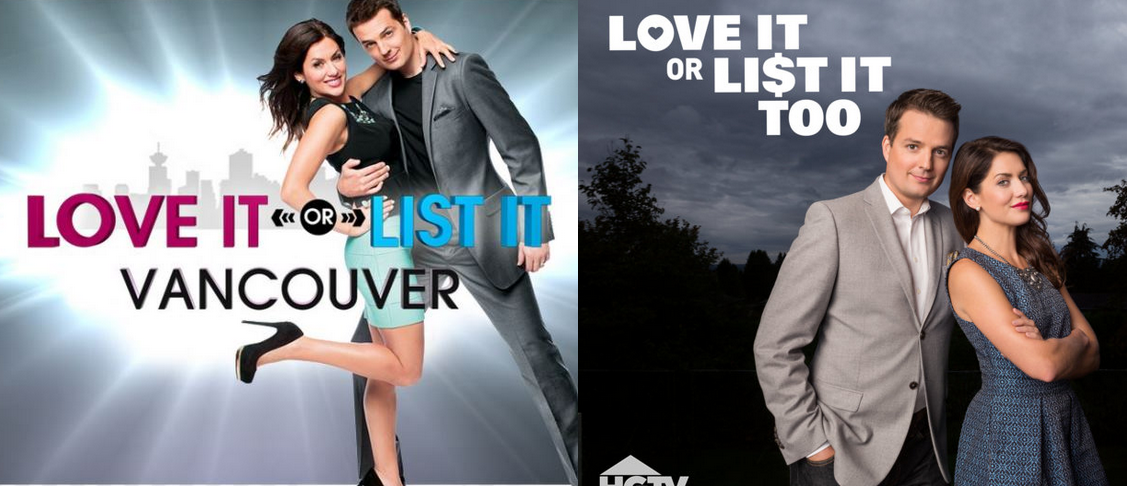 Love It Or List It Vancouver or, as it's known in the United States and around the world, Love It Or List It, Too
Location matters on HGTV. Given that the cable channel has become increasingly focused on the home in "home and garden television" through its expansive slate of real estate and renovation programming, programs like House Hunters and House Hunters International are built on distinct local cultures that shape episodic storytelling and offer viewers a glimpse at another city, country, or continent. However, HGTV's relationship with what I frame as "spatial capital"—the value space and place take on within a given text across its production, distribution, and reception—is inconsistent, and reveals a dichotomy between different forms of HGTV programming. While the House Hunters franchise uses location as a central form of episodic variation, other sections of HGTV's lineup negotiate spatial capital in two very different ways: as one group of programming erases evidence of spatial capital, an emerging set of programs are being framed as explicitly local, a choice that reveals HGTV's brand identity as a fundamentally dislocated one.
Two of HGTV's most popular franchises, Love It or List It and Property Brothers, are notable for their lack of engagement with location: both shows film episodes in multiple locations, but these locations are almost never mentioned explicitly in the episodes, a choice that creates a stark contrast from series like House Hunters where location is so central to the narrative. The same value that location adds to those shows—nuances of local markets, specific regional architecture details, etc.—would theoretically be valuable to these two series, but it is absent despite emerging in the Property Brothers spinoff Brothers Take New Orleans, where Drew and Jonathan Scott competed renovating homes in the Louisiana city.
Notably, however, these shows also share an origin: they are both Canadian co-productions with cable channel W Network, with many of their episodes being filmed and set in Canada (predominantly in Ontario). Although both also film episodes in the United States, the choice to elide location means that only savvy viewers who recognize Canadian brands—this is me—or catch the occasional accent would be able to identify the cross-border nature of the productions. This is achieved through vague references to "the city" or "downtown" where more specifics would be more logical, and in the case of one episode of Canadian co-production Income Property (now on sister channel DIY Network) ADR to replace Toronto with "this city" to keep from disrupting the illusion.
Although HGTV has never commented on this decision, in context it reads as an acknowledgment that the Canadianness of these series is negative spatial capital for the channel's American audience. This is most evident in the branding of spinoff series Love It Or List It, Too, which debuted on HGTV in 2013. In HGTV's announcement of the series' impending launch, the distinction between the show and its progenitor is nonexistent, with no difference in concept outside of featuring two different hosts. However, Love It Or List It, Too is actually produced and distributed in Canada as Love It Or List It Vancouver, with all of its houses in and around the British Columbia city. The result is two fundamentally different versions of the same show: while the Canadian version features specific shots of the city and local product placement, these elements are excised for the U.S. version, where the pacific northwest landscapes and the presence of Bachelorette Jillian Harris—who is originally from Canada—allow American audiences to assume the show is set in Seattle or Portland.
We can contrast the erasure of spatial capital in Love It Or List It, Too to the ongoing franchising of Flip or Flop, HGTV's house flipping franchise that also debuted in 2013. The original series focuses on houses in Southern California, with Tarek and Christina buying and renovating homes in a range of communities in and around Los Angeles. However, when the show began franchising in 2017, there was no anxiety at HGTV about acknowledging the role of spatial capital, with each spinoff named by its shift in location. While Love It Or List It Vancouver was apparently not acceptable to HGTV, the April 2017 debut of Flip or Flop Vegas, and the pending debut of spinoffs set in Atlanta, Nashville, Chicago, and Texas adopt identical franchising logics, suggesting that this approach is acceptable in instances where the cities carry positive spatial capital with their target audience. Location matters to HGTV, but the channel negotiates spatial capital carefully: while shows like Hawaii Life contain spatial capital that is valuable for their audience, Love It Or List It Vancouver failed to contain the value HGTV felt was best for its channel.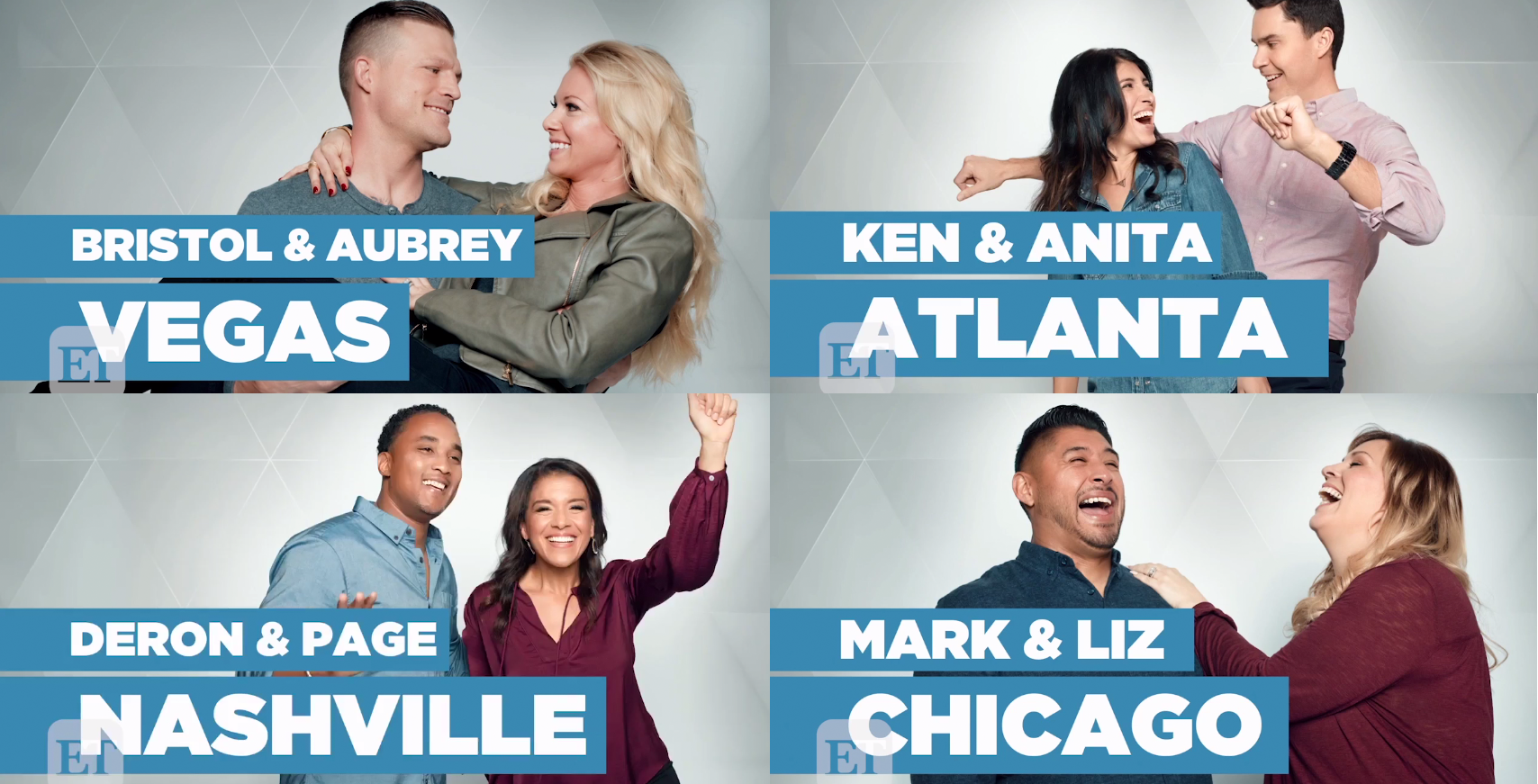 Promo for the upcoming localized spinoffs of Flip Or Flop—Flip Or Flop Vegas debuted in April 2017, with the rest to follow over the follow two years
Therefore, it is not that HGTV does not value location, but rather that it values particular types of locations, which does not include Canadian urban centers. Elsewhere, however, HGTV's relationship with spatial capital is intensifying with the success of Fixer Upper and the recent launch of Home Town, series that reorient the renovation process in strongly local terms. Fixer Upper features Chip and Joanna Gaines, a husband and wife team who work with home buyers in and around Waco, Texas to discover homes in need of improvement and turn it into their dream home. Home Town, similarly, features Ben and Erin Napier, who work with buyers to find homes in need of some "love" in the small town of Laurel, Mississippi and designing a renovation to give them everything they're looking for.
Waco and Laurel are not large metropolitan centers: the former is a small city most well known for being the home of Baylor University, while Laurel is a town of only twenty thousand people. However, Fixer Upper developed a programming model in which the local dimension of the show became linked with the ability for audiences to connect with the stars: each episode begins with Chip and Joanna with their four children, either on the family farm or out and about in Waco, and episodes feature huge numbers of establishing shots of the city alongside narratives like Baylor employees looking to live close to the university. They have renovated houses for their close friends, rely on local business owners like furniture maker Clint Harper for multiple projects, and in a series-long project purchased and renovated an abandoned warehouse into "Magnolia Market at the Silos," now a major tourist destination for the city. While Fixer Upper is not framed as a show about Waco, it has fundamentally functioned as one as it is renovated one house at a time, with an emerging AirBNB market for homes featured on the series.
Home Town, however, takes this one step further: in marketing for the new series, the series is explicitly pitched through the lens of restoring the American small town. In a 2016 blog post reflecting on producing the show's pilot, the Napiers write that "it's a renovation show on paper, but it's a show about finding your place in a small town at its heart." When the homebuyers choose a house, the Napiers' excitement is less about the new owners and more about the fact that this particular home—given a "name" based on its previous owners—is going to finally get the love it deserves. Like Fixer Upper, the show's homebuyers disappear almost entirely once the house is chosen, leaving it to document the Napiers' personal quest to restore their town, which lines up with the fact they were "discovered" based on their work on restoration projects organized by local government.
Beyond creating a new, emerging HGTV tourism market for Waco, these shows demonstrate HGTV's capacity to develop localized forms of spatial capital, creating direct links between stars and locations in order to deepen the audience's relationship with these series. The result, however, is an HGTV lineup with a schizophrenic relationship with spatial capital: while location might matter implicitly in any real estate-based programming, on HGTV the intensely local airs alongside the placeless unknown, a channel of dislocation in it current iteration.
Image Credits:
1.Love It Or List It Vancouver and Love It Or List It, Too Promo Image (author's screen grab)
2. Flip Or Flop Promo Image (author's screen grab)
Please feel free to comment.