The Mary Tyler Moore Show: We Need Vulnerability and Spunk
Jennifer Fogel / SUNY-Oswego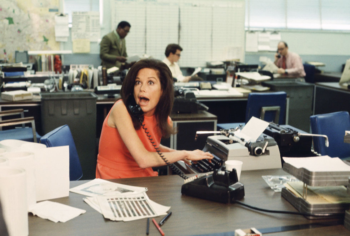 Mary Richards: The Embodiment of Vulnerability and Spunk
As a Gen-Xer, my first introduction to Mary Tyler Moore was through a screening of the pilot episode of The Mary Tyler Moore Show in a History of Broadcasting course. The pilot was humorous, perhaps even more so with my cynicism already fully circumspect in how trivial the plight of Mary Richards getting her first "real" job was, and the fishy nature of how Lou Grant called her earnest battle for a "civil" [and now legally appropriate] interview was a sign of "spunk." Inequity between the sexes wasn't really on my radar having grown up with the action heroines of the 1990s. These warrior women were already light years ahead of Mary Richards' crises of confidence in the workplace. They were too busy saving the world on a weekly basis to stop and reminisce about the Second Wave's role in battling towards the still tenuous gender equality.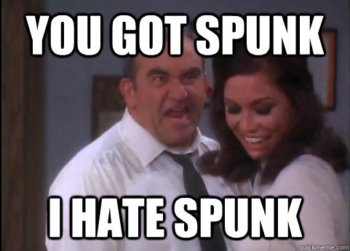 Mary's "civil" interview with Lou Grant
But having grown into a television scholar and professor, with a – dare I call it – specialty in the representation of gender, I see The Mary Tyler Moore Show as something more than a spectacle of women's liberation on the small screen. Showing the pilot episode to my millennial underclassmen today garners the same huffy laughs as I remember from my days in undergrad. And while my students laugh uproariously at a drunken Lou Grant traipsing around Mary's apartment, I certainly feel that, they too, are missing the point. Mary Richard's feminism comes not from her then-brazen choice to forego marriage after waiting patiently for her doctor boyfriend to "man up," or her inescapable optimism in dealing with blatant sexism at work. No, Mary Richards' truest feminist quality was never shying away from her vulnerability.
Similar to many of the television scholars that frequent Flow, I assign Bonnie Dow's "Hegemony, Feminist Criticism and The Mary Tyler Moore Show," in which Dow points to a number of areas of the series that are in direct conflict with the feminist praise that have been levied at the show, which aired during the height of female liberation. [1] While I don't disagree with Dow's observations – the hegemonic patriarchal devices utilized in the series do disguise and interfere with its true feminist agenda – in comparison to many of the televisual feminists that currently grace the small screen, Mary Richards embraces something that we don't often see today: the awareness that female empowerment and strength doesn't mean you have to see "choice" as right or wrong. Mary Richards waffled… a lot. At times submissive and nurturing, and still others a neutral voice between Phyllis the traditionalist and Rhoda the staunch liberal, Mary didn't see the harm in acknowledging a way through instead of a way around.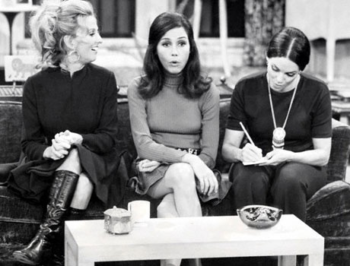 Mary mediating between Phyllis and Rhoda
As many feminists argue against the traditionalist's view of what Elspeth Probyn terms "choiceoisie," whereby women are forced to choose either marriage and family or the workforce and likely regret either decision, Mary was never one filled with regret or guilt. [2] For my upperclassmen who first engage with Mary Tyler Moore via a PBS documentary titled America in Primetime: The Independent Woman, [3] they see Moore describe the importance of the series – in addition to her earlier turn as Laura Petrie on The Dick Van Dyke Show – to women's liberation. Moore, along with a host of other recent female television celebrities, recalls how her "choices" made women understand that they, themselves, could be something more than a housewife. Of course, The Mary Tyler Moore Show was constantly under pressure from the network to be progressive without being too liberal, but the humor and word play allowed it to put forth a valiant effort in creating a critique of gender roles in society. Even Moore herself noted in Independent Woman that the series was not about "Women's lib," but representing a woman trying to pursue a more fully realized and independent life on television.
Mary Tyler Moore on Katie
After watching the documentary, I typically ask my millennial students to pick their favorite independent woman on television today. The usual responses range from the women of Game of Thrones, The Walking Dead, or in the Shonda Rhimes oeuvre, each of whom possesses an intrinsic strength, take-no-prisoners attitude, and are fearless unlike the men that surrounded them. But very few of my students name heroines from today's sitcoms. Every once in a while, Leslie Knope from Parks & Recreation, Kimmy Schmidt from The Unbreakable Kimmy Schmidt, and Selina Meyer of Veep will be named. What surprises me about their explanations for these sitcom women as "the most independent woman on television" is that the responses highlight how each of these women radiate confidence in everything they do, even in the most vulnerable of positions. Unlike their dramatic sisters in arms, these funny ladies – as Mary Richards did before them – don't pretend that they are invulnerable or detached. Instead they revel and thrive by pushing through their insecurities instead of hiding them. In these sitcoms, we don't get a random episode of emotional strife or skepticism in pushing through the work-life balance – like we do with Olivia Benson on Law & Order: SVU or Meredith Grey on Grey's Anatomy. The humor and appreciation, here, is perpetuated by the continued effort Leslie, Kimmy, and their comedic colleagues make in navigating a revolving door of issues with complete self-assurance that they will reach the other side.
As society continues to debate women's "preference" in the work-life balance or superimpose traditional gender role sentiments on acts of liberation from the Mommy Wars, now is the time to remember Mary Tyler Moore and her refreshing periods of self-doubt both personally and immortalized in the women she played. In the strange days ahead under the current administration, where women's hard-fought and well-earned liberties remain in question, I prefer to hold fast to the women on television who don't need to kick-ass and take names (or carry Katana blades). Give me the wobblers, the indecisive, the manic optimists, and poorly prepared but ever hopeful women who refuse to mask their uncertainty to make themselves feel stronger. I still firmly believe that the excellence of The Mary Tyler Moore Show rests not in Mary Richards' exasperated sighs and inexhaustible word play with the sexist men that orbited her workplace, but in the way she "made it after all" with a sheer determination that didn't require her to become something and someone she was not. If there is a lesson to be learned from the iconic character, I hope that my millennial students understand that strength comes from facing our insecurities – in whatever form they may be – and always finding the humor in preserving all the qualities within us that give us "spunk."
Image Credits:
1. Mary Richards: The Embodiment of Vulnerability and Spunk
2. Mary's "civil" interview with Lou Grant
3. Mary mediating between Phyllis and Rhoda
4. Mary Tyler Moore on Katie
Please feel free to comment.
Dow, B. (1990). Hegemony, feminist criticism and The Mary Tyler Moore Show. Critical Studies in Mass Communication, 7, 261-274. [↩]
Probyn, E. (1997). New Traditionalism and Post-Feminism: TV does the home. In C. Brunsdon, J. D'Acci, & L. Spigel (Eds.) (pp. 126-137). Oxford: Clarendon Press. [↩]
Kramer, L. (Director). (30 Sept. 2011). The Independent Woman. In T. Yellen and L. Kramer (Executive Producers), America in Primetime. NY: The Documentary Group. [↩]