Biden Memes and "Pussy Grabs Back": Gendered Anger After the Election
Hollis Griffin / Denison University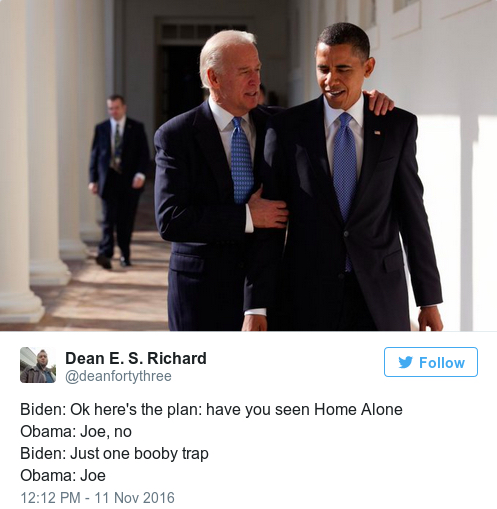 An example of Biden memes where Vice President Joe Biden plots the planting of booby traps for President-elect Donald Trump.
Like a lot of self-avowed lefties, I have been collecting Biden memes to cheer myself up after Donald Trump won the 2016 presidential election. These memes feature snippets of dialogue over pictures of Vice President Biden meeting with President Obama. In some, Biden plots to keep President-elect Trump out of the White House: hiding keys to the locks, laying booby traps. President Obama then talks Biden down as you would a friend who is getting ready to drunkenly punch someone in a bar, telling him "Stop it, Joe," or "Joe, seriously." In others, Biden hatches schemes to embarrass or frustrate the incoming President: changing the White House's wifi password, calling attention to Trump's (allegedly) tiny hands. President Obama then chides Biden like a weary parent, saying "We can't do that Joe," or "Joe, go sit down." Although I find masculine bluster off-putting, I can't help but feel affection for Vice President Biden. He's the uncle who called you "the little shithead" when you were growing up but still snuck you beer on Thanksgiving. While I am wary of feeling too warmly about politicians, Vice President Biden is rough around the edges and appealing for that. After an election in which "shooting from the hip" meant little more than spouting misogyny, racism, and xenophobia, the Biden memes point to an adjacent form of masculine truth-telling, one rooted in an ethos of respect and integrity more than one that trades in divisiveness and shit-talking.
Memes provide good fodder for thinking about masculinity because their repetition works like gender does more generally. Gender becomes legible through its recurrence; it creates legible patterns through evermore citations that can also deviate and take new forms. [1] The permutations of text and image found in memes operate by way of that tension between variety and sameness seen in gender: new text is laid over familiar images or similar ideas are communicated through different pictures. Part of what makes the ideas about masculinity seen in the Biden memes so refreshing is the trouble they create with neat gender categories. With its white working-class evangelical base, the Republican Party is often characterized by a no-nonsense masculinity, as though its members and leaders are the true defenders of "freedom" and "liberty." In contrast, Democrats are often painted as being more conventionally feminine; they are constructed as being accepting, sensitive, empathic. As a politician identified with the Left, Biden provides Democrats with a masculine archetype not often attributed to them. The caricature in these memes is assertive and confident—a tough guy who will bloody his nose in the interest of inclusiveness and care for the other. The Biden memes communicate the sentiments I hear again and again from lefties about the 2016 election—anger, indignation—and demonstrate just how facile gendered explanations for political identification can be.
U.S. culture often demonstrates deep contempt for traditionally feminine values. Respect for others and sensitivity to issues of difference were frequent rallying cries among Democratic politicians in the recent elections. These appeals to voters promise to transform the persistent, masculine values at the center of U.S. politics. In the value system most prevalent in those politics, striving for coalition is weak, seeking collaboration is lame, and aiming for cooperation is condemnable. In sum, Democratic candidates made appeals to voters that were rooted in vows to transform the masculine fabric of national identity. Unfortunately, the conventionally feminine values of care and reciprocity are not as laudable as the traditionally masculine associations made with freedom and individual responsibility. Needless to say, U.S. culture values the latter far more than the former. As such, Donald Trump's particular breed of masculinity dovetails with longstanding ideas about what constitutes Americannness. That fact made his worldview seductive because it vowed to protect a set of beliefs that many people see as both deeply American and under attack. It also provided his appeals to voters with a distinctly macho tone that he was able to ride to a victory in the Electoral College.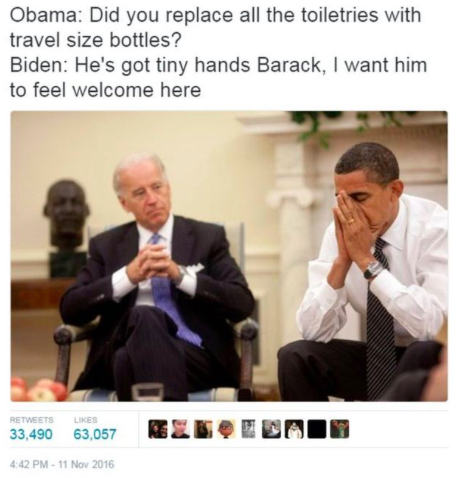 Another example of Biden memes where Vice President Joe Biden remarks about another popular meme, the size of Donald Trump's hands.
True, Biden memes issue a rejoinder to the venom of the 2016 election season by offering a different idea of masculinity than the one offered by Donald Trump, but they recapitulate gendered dynamics of power more than they rewrite them. The Biden memes are funny because they are a sword fight between old white guys about what the U.S. should be and who should get to decide. In that way, the Biden memes participate in an ongoing call and response from right to left and back again. This back and forth rarely alters the shape of the political conversation in which it participates nor the gendered symbolic that helps keep it in motion. In their play with ideas about masculinity, memes display an ambivalence that both critiques and reveres. [2] As seen in the Biden memes, the Vice-President is part alpha-male badass, part ill-behaved manbaby. As cultural forms, memes convey information humorously and in a timely manner; they multiply and travel because they are current and funny. The Biden memes are evidence of how gender mutates and how political energies circulate and, because of that, they are evidence of how difficult it can be to both reimagine political energies and rewrite gendered scripts. It is no accident that the memes featuring Biden are funny because they depict him wanting to start a fight. If the memes were to feature Biden wanting to discuss coalition-building or attempting to create a dialogue about care for the other, the caricature would not be terribly masculine or all that funny—or rather, not masculine or funny in a way that would resonate well in the contemporary moment.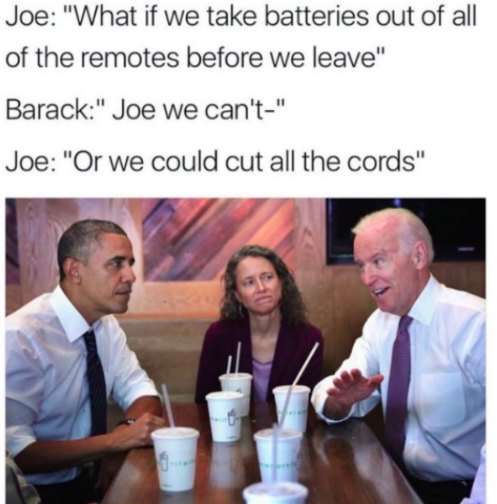 Another example of Biden memes. Anger about the political climate is presented in humorous forms through Biden memes.
Yet, I am too depressed in the wake of the 2016 election to dismiss the Biden memes entirely. I have been trying to think of them as objects that might reveal useful ideas for leftist politics in the Trump era. In these memes, Biden's anger is funny, yes, but it is also motivating. I think Biden memes are so popular because they involve both anger and humor. Affects become "sticky" on the internet because they travel quickly and are contagious; as forces, they gather more weight the faster they travel. [3] Like all affects, anger and humor morph and change shape over time. So anger can become funny, at which point it bursts and then dissipates. [4] When it does that, anger does not exist long beyond the moment in which it is felt. In fact, in precipitating laughter, anger cum humor encloses political energy in a feedback loop that feeds itself more than anything else. [5] In contrast, anger that remains anger nags as it moves; it needles, annoys, and persists. As a result, this sort of anger retains a potency that hums on, like a sound with a shrillness that does not crest or ebb. And when anger morphs into fear, it grows in scope and magnitude, like a sound whose intensity is increasing so much that you cannot help but try to stop it. [6] Anger as anger and anger cum fear are phenomena that move bodies and rewrite energies over time. They are powerful forces in politics precisely because they are experienced durably and intensely.
Because anger is more motivating than humor, I keep thinking: why cede anger to masculinity? Rage about the way the world is not the sole domain of Donald Trump, nor is it the exclusive territory of the angry white men who (in part) elected him. Truly, women, racial and ethnic minorities, and LGBT people have plenty to rage about—and did so well before Donald Trump won the election. For the left, an important task is how to use anger in ways that generate new modes of organizing and activism. At this point in time, these activities must be reimagined to meet the demands of a decidedly different, newly challenging political environment. For that reason, the Biden memes are most useful when they can be seen as angry more than goofy, and not solely evidence of masculine bluster. After all, Biden himself has displayed more than a few feminist tendencies. That and, if gender is a "copy without original," there is nothing all that masculine about anger or any feeling or activity associated with it in the first place. [7]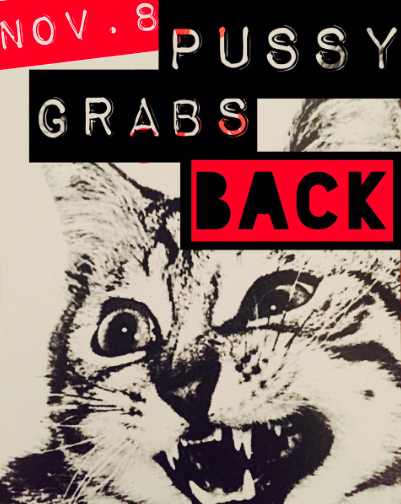 The "Pussy Grabs Back" meme served as a feminist rallying cry before the November 8th election and references President-elect Trump's history of attacking women.
While the gendering of anger is a cultural construction, it is also concrete. Like all affects, anger is corporeal and that is what makes it motivating. It is a bodily phenomenon that jolts frames and rearranges limbs. In the case of anger, people experience it as a quickened pace of the heart or a pain in the pit of the stomach. One of the angriest memes I have seen is related to the unique risks weathered by women at the hands of the particular breed of masculinity cultivated by Donald Trump. The meme features the phrase "Pussy Grabs Back" over the image of a snarling cat pouncing on its prey. As a feminist call to arms, the meme expresses anger about the President-elect's cavalierness regarding his history of attacking women in order to rally voters ahead of the November 8th election. Although my experience of it can only be empathic, the meme showed up in my Instagram and Twitter feeds repeatedly in the days leading up to the election. The meme communicates a distinct rage embodied by women and, because it is so angry and explicitly sexed, I think it is a crucial reminder of what is at stake after the recent election. If the list of Trump's appointees to various posts in his administration is any indication, there's no time to giggle and titter about Joe Biden exiting the White House. I am hopeful that the "Pussy Grabs Back" meme lingers beyond the Biden memes because it pries anger loose from its conventionally gendered trappings and places it squarely in the grip of people who must remain motivated no matter how depressing things seem right now. Joe Biden is leaving office and his memes will likely fall out of circulation shortly thereafter. I suspect that the "Pussy Grabs Back" meme will stick around because it contains an energy that harasses and persists—and because it offers a crucial reminder: pussy must grab back until 2020, at the very least.
Image Credits:
1. Biden meme
2. Second Biden meme
3. Third Biden meme
4. Pussy Grabs Back
Please feel free to comment.