Not Your Grandmother's "Super": Julia, Olivia and Waning Black Exceptionalism
Bambi Haggins / Arizona State University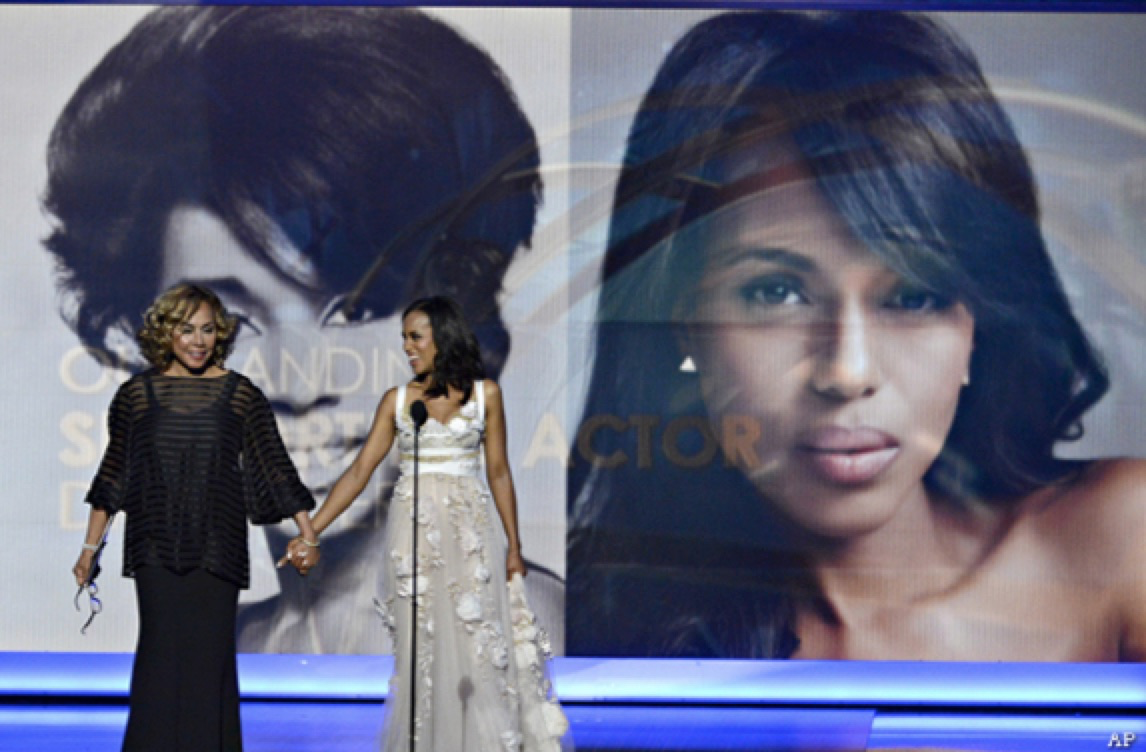 Two Generations of "Supers"
When Diahann Carroll and Kerry Washington appeared together onstage at the 65th annual Emmys, the nature of the pairing seemed historic: Carroll was the first African-American woman nominated for an Emmy for her role as the original Super Negro in the situation comedy, Julia (NBC 1968-1971), and Washington's performance as "Olivia Pope" in Scandal (ABC 2012-present), arguably, the Super African American 2.0, had earned her the first nomination for Best Actress in a Dramatic Series. In terms of optics, the appearance of these two Black actors being showcased for their exemplary roles would seem to signify how far we have come in terms of Black female representation but, of course, it's not that clear cut.
Putting aside the ways in which these characters play into stereotypes associated with Black femininity, I intended for this brief discussion of Julia and Olivia, the female Super Negro and Super African American 2.0, respectively, to question how and whether Black exemplarism informs the televisual construction of Black women. After all, both roles have exemplar status in terms of their character construction, their style, and their ability to assimilate (and excel) in the societal mainstream. Separated by decades, Julia and Scandal are very different in terms of genre and the popular mores they reflect. However, to some extent, both conform to idealized notions of race relations in their given era. Just as significantly, the construction of these Black female leads establishes them as "credits to their race" in response to era-appropriate notions of respectability politics. However, I wonder whether the new exemplars actually are "the best and the brightest constructed so as not to challenge or threaten the American mainstream." [1]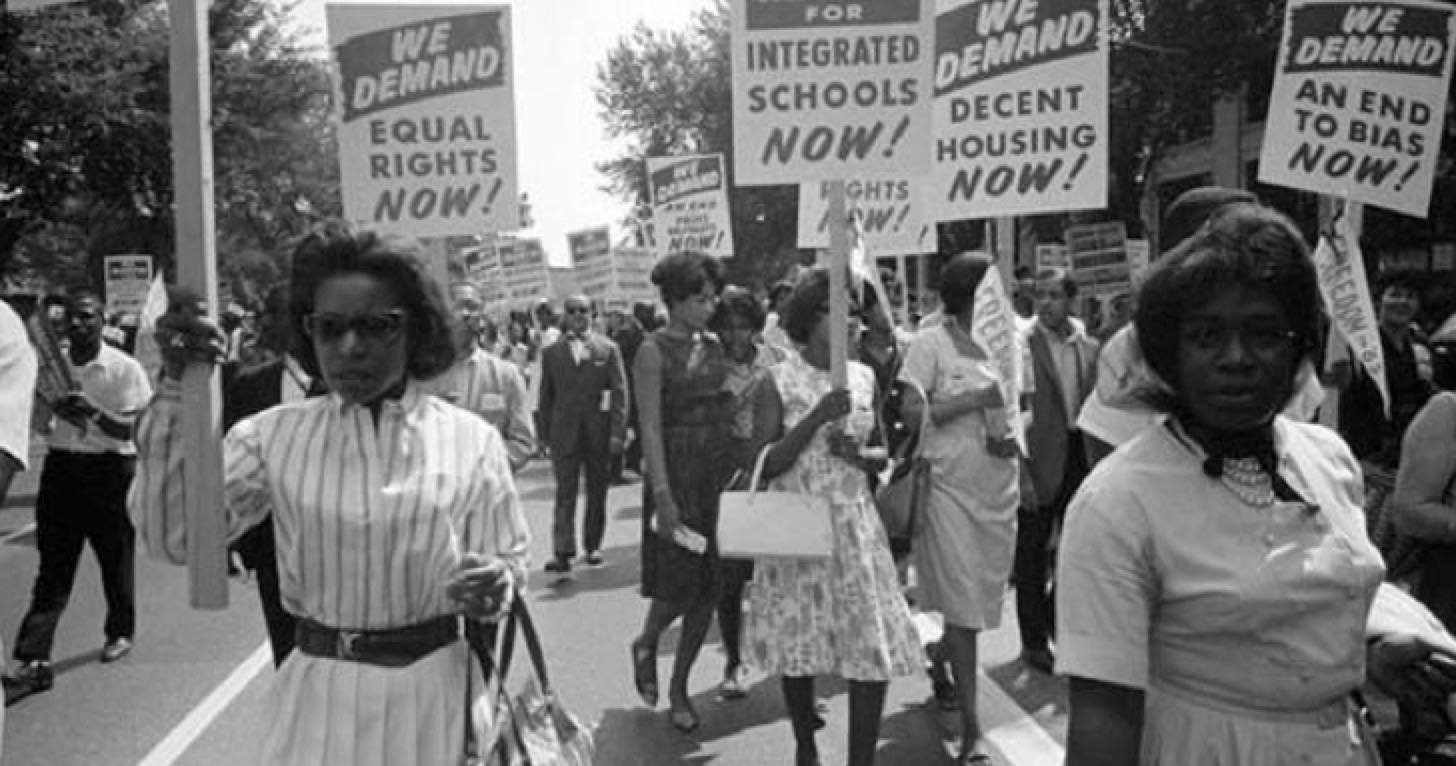 The Politics of Respectability
As the distant ideological cousin to the "City Upon the Hill" ethos of American exceptionalism, this notion of Black exemplarism is tied to a pragmatic imperative which, for many American Blacks, is driven by the old familial tenet, "You have to be twice as good to get half as far." On some level, exemplarism has traditionally informed the aspirational desires of Blacks in America—from DuBois' Talented 10th to the neat, almost formal appearance of civil rights protestors, from the de facto prohibition against President Obama looking too "angry black man" to the continued investment in the need for "positive" representations of Blackness. Efforts to control the image are ongoing —from the NAACP boycott of Blatz Beer that forced Amos 'n' Andy off the air in the 1950s to the late 1990s threatened "brownout" against network television regarding the dearth of quality representations of people of color. Nevertheless, because the medium of television has the greatest ability to impact "the hearts and minds" of mainstream America, the struggle over televisual representations of Blackness, in general, and Black femininity, specifically, continues. While Julia Baker and Olivia Pope each signify that a certain amount of overcoming has taken place, they are reflections and refractions of the Black American condition through the lens of industrial conventional wisdom.
As the designer clad, Mrs. Miniver of color (when not in her beautifully tailored nurse whites), Carroll's Julia was the kind of ideal Negro that (at least theoretically) much of middle America wouldn't mind moving in next door. In 1968, former Beulah writer, Hal Kanter, created Julia in response to Ralph Bunche's call for more "positive" representations of Negroes on television. By the time the series premiered, MLK and RFK had been assassinated and the visions for social justice and peace associated with the sixties were fading. Into this milieu, this series about a widowed mother and her son living happily in a fundamentally white Los Angeles, may have marked a historic moment, but it seemed to speak to a different and more optimistic time in the decade. Indeed, there was blowback from Black and white audiences: the former because Julia was fundamentally cut off from a larger Black community and the latter, particularly in Southern markets, because of the naturalized depiction of integration.
In 2012, Shonda Rhimes, the Black show runner extraordinaire, had already gained acclaim for the success of Grey's Anatomy and its use of colorblind casting when she created Scandal. [2] Inspired by the crisis management expert, Judy Smith, who worked with the George H.W. Bush administration, Rhimes gave us Olivia Pope, whose "…life is full of contradictions and innumerable complexities, the likes of which we haven't seen in black women's lives as represented in mainstream culture." Yet, as Mia Mask asserts, "Even in communities of color, folks are not certain whether Rhimes' Scandal is a progressive step in an anti-essentialist direction or a regressive move backward toward a reconstituted Jezebel-in-bed-with-Massa stereotype."[3]
Indeed, 2012 was a year of contradictions. The first Black President had been re-elected. Anti-Black racism was being exhibited with greater impunity (including overtly racist anti-Obama propaganda [4]). The killing of an unarmed Black teen in a hoodie by a neighborhood watch volunteer acted as the catalyst for a hashtag, a moment and a movement: #BlackLivesMatter (BLM).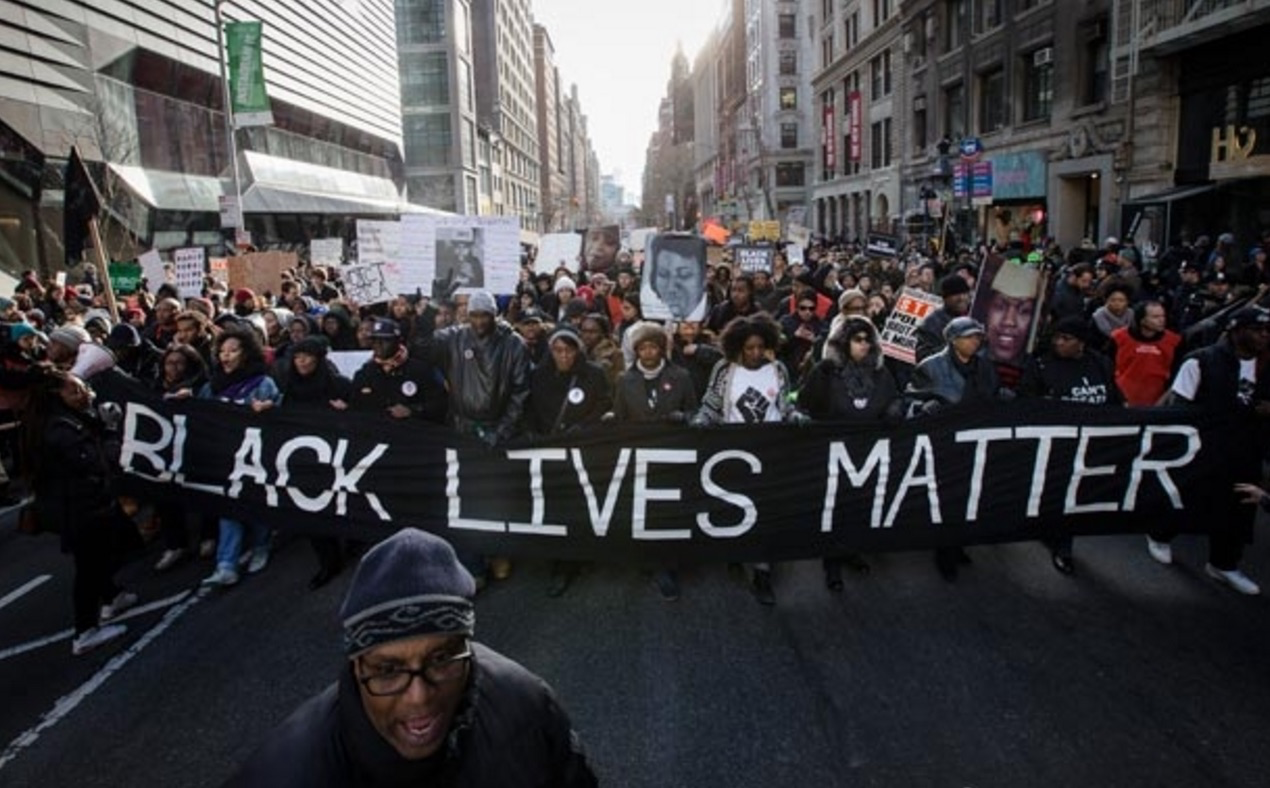 Black Lives Matter Protest
As Alicia Garza, one of the movement's co-founders, explained the movement was "a call to action for Black people after 17-year-old Trayvon Martin was posthumously placed on trial for his own murder and the killer, George Zimmerman, was not held accountable for the crime he committed. It was a response to the anti-Black racism that permeates our society." [5] BLM, started by three Black queer women, challenges tenets of Black exemplarism in terms of its leadership and by rejecting assimilationist impulses to succeed and survive: this is not your grandfather's civil rights movement.
Thus, the construction of the Super African-American 2.0 is complicated in terms of socio-historical context and industrial imperatives. As I mulled over how one might characterize this new iteration, it occurred to me that the Super's mixture of exemplary qualities had to be cut by moral ambiguity. After all, in the new millennial quality television, some moral ambiguity is required: the anti-hero is the new hero. You don't get to Olivia by simply creating a character with greater agency than Julia, and less perfection personified than the Super African American 1.0, Clair Huxtable. Arguably, this conflicted, new exemplar is not your 20th century Super Negro. Olivia Pope, the best political "fixer" in Washington D.C., "wears the white hat" as she "handles" crises (usually for elite clientele) while also wielding power and claiming privilege. On a personal level, Olivia functions best amidst emotional turbulence and perpetual dysfunction.[6]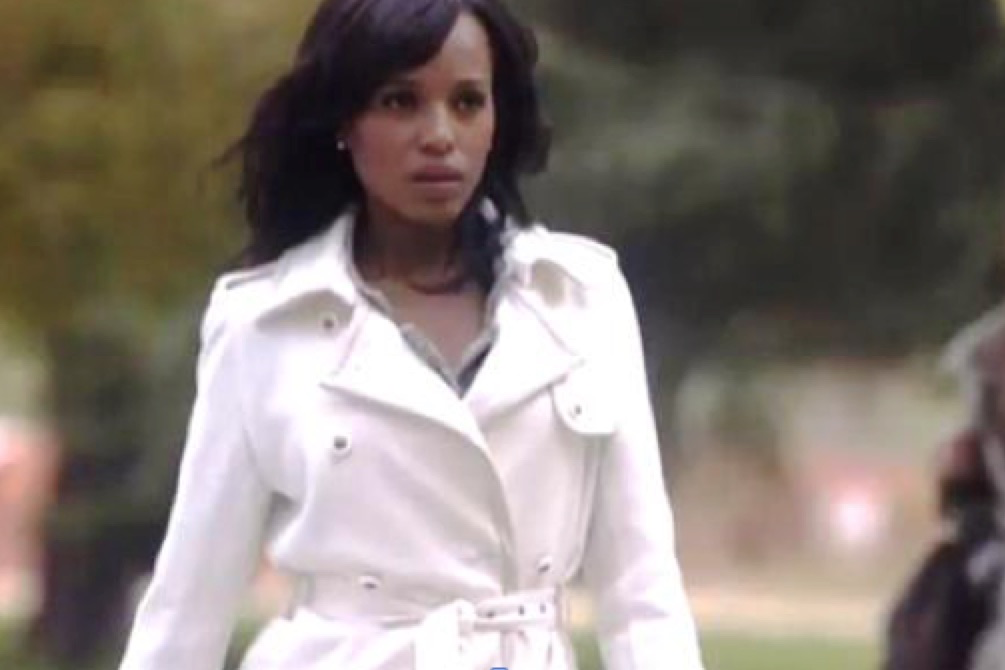 Olivia Pope
Is Olivia Super African American 2.0? Maybe. However, as the idealized and messy, the best and beautifully broken, and the privileged champion of the elite and the underdog, she is also, to use the vernacular, kind of "shady"—and there is something genuinely compelling about that. I will expand upon this in my next essay, "Olivia, Annalise and Cookie: Three Shades of Shady."
Image Credits:
1. Two Generations of "Supers"
2. The Politics of Respectability
3. Black Lives Matter Protest
4. Olivia Pope (author's screen grab)
Please feel free to comment.