Content That Travels: International Content and Original Programming on U.S. Streaming Sites
Karen Petruska / University of California, Santa Barbara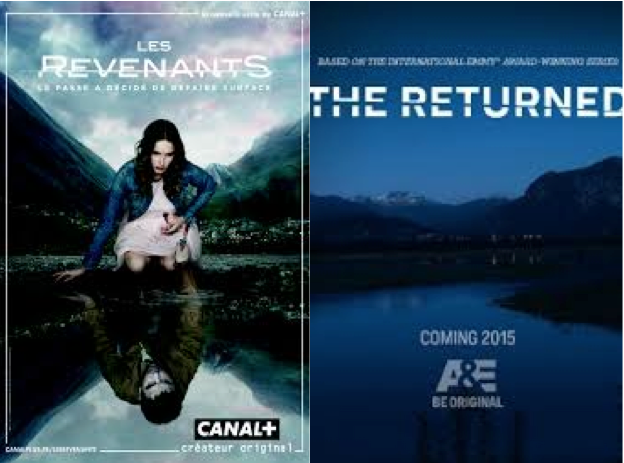 The French series Les Revenants and its American adaptation.
"There's a more level playing field in content creation and greater professionalism in the execution of small-screen content everywhere around the globe." —
The Hollywood Reporter
For a recent review of The Returned, an American adaptation of the French series, Les Revenants, Hollywood Reporter critic Tim Goodman issued a harsh critique of the A&E adaptation: "This ill-advised remake of the original French series is an embarrassment. Go watch the original." With the French version of The Returned having completed a run on the Sundance Channel and now streaming with subtitles on Netflix, it has never been easier for U.S. audiences to legally access international programs in their original formats through legal means. As a result, when adaptations prove to be inferior copies of the non-U.S. version—see also Gracepoint for another recent example—a network's failure to air an international series in its original form can seem short sighted. Why remake a series that has already proven itself, as evident in praise from the U.S. press?
The U.S. television industry has always borrowed from and adapted popular international programming, from program remakes like the 1970s All in the Family to a wide range of reality format series throughout the past fifteen years. Direct importation of these series for linear TV has been less common, however. A format or adaptation provides a number of benefits for the producer and distributor. Adapting a series allows a network to make the program its own, to cast actors familiar to local audiences, and to otherwise frame the story through local contexts. Moreover, by creating an original series, producers and distributors of the new version may be able to complete the hat trick of then licensing their remake abroad, perhaps even in markets that have already been exposed to the foreign original. From Downton Abbey on PBS to Top of the Lake on Sundance Channel, programs that enjoyed American financing as part of an international co-production arrangement are gaining an unprecedented access to American audiences.
Notwithstanding this trend towards adaptation, web-based streaming sites have opened a new marketplace for original international content. For sites like Netflix and Hulu, international content provides a ready supply of programming at good rates. These programs also generate unique promotional opportunities for streaming distributors trying to attract viewers and to build a nationally or globally-recognized brand. My current project takes a closer look at the distribution of international content within the U.S., focusing upon shows that are promoted as "original" series despite having premiered abroad. Among the shows that fall into this category, for example, are Netflix's Lilyhammer (2012-) and The Fall (2013-) and Hulu's Misfits (2009-) and Prisoners of War (2009-).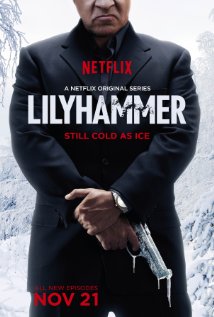 Lilyhammer
A
number
of
scholars
have called for more work about global distribution patterns and the reception of international content within the U.S., and this post engages that area of study by exploring the implications of an increasing emphasis upon the branding of international content as original series for U.S. streaming sites. My attention to "original" series belies that distributors have always branded series produced by others as their own. For instance,
The Big Bang Theory
is a CBS show even though it is produced by Warner Bros. But in most instances, the program in question has enjoyed its world premiere on the network that claims it—the distributor has given the producers a means to reach an audience, and in exchange, they claim a sort of ownership stake in that series. But when Hulu promotes an international series as an original, that program has generally enjoyed a successful run in at least one other nation prior to its premiere online in the U.S. online. "Original," therefore, seems a misnomer.
Hulu has been particularly aggressive in licensing foreign programs, as syndicated, exclusive, and original series. Syndicated content may be found across a variety of platforms, from broadcast repeats to cable on demand, in addition to the streaming access provided by Hulu. Exclusive programs, on the other hand, appear only on Hulu, making this content key to Hulu's subscriber appeal. With original series, Hulu makes an extra claim—an original series is not only exclusively aired by Hulu, it also carries the imprimatur of the site. When a network promotes a program as an "original series," it implies not only some sort of fiduciary investment but also a role in making the series come to life. For a show like Top of the Lake, Sundance invested as one many producers before distributing the show through its cable channel in the U.S. For a show like Misfits, Hulu operated only as a distributor.
A streaming video distributor based in the U.S. and owned by several media conglomerates, Hulu has always been sort of the also-ran of the major streaming sites, despite its pedigree. For a site that does not operate outside the U.S., international content has played an important role for Hulu in building its program library and subscriber base. Streaming content, as Hulu's former content chief Andy Forsell has explained, can break down barriers to foreign content circulation within the U.S.—from the pressure of ratings to time zone challenges. Perhaps even more significantly, one other key barrier broken by streaming is the frictionless experience of viewing on demand. For an audience unfamiliar with international programming fare, streaming provides a relatively smooth mechanism to try a show and see if you like it. Not only is there no "per view" fee to account for when viewing content on Hulu, but it is also incredibly easy to select additional content to view as a binge or instead. Hulu has also tended to be accessed on smaller mobile screens, research paper, particularly for the free users lacking access to the over-the-top interface, and subtitles may be easier to consume on these smaller screens. For a variety of reasons, then, streaming sites like Hulu may provide a uniquely well suited environment for the sampling and consumption of international programming among U.S. audiences.

Prisoners of War
One of Hulu's first "original" series was
Prisoners of War
, which served as the inspiration for Showtime's
Homeland
. Hulu did not produce
Prisoners of War
, and it does not enjoy licensing rights to the series, which are held by production company, Keshet. Nevertheless, it markets
Prisoners of War
as an original program. While
Homeland
focuses on the suspense of Carrie's investigations,
Prisoners of War
concentrates upon the soldiers and their families struggles with reintegration. Just as
Homeland
became a bit of a sensation here in the U.S.,
Prisoners of War
, or
Hatufim
, was hugely popular in its native Israel.
Prisoners of War
aired in Israel in 2009, earning mega ratings and Israel's top award for television. A second season aired three years later. Hulu picked up the first season in 2012, airing it weekly. Season two streamed on Hulu on demand in its entirety in 2013, and though a third season has been promised by Raff, it has yet to air in Israel or elsewhere.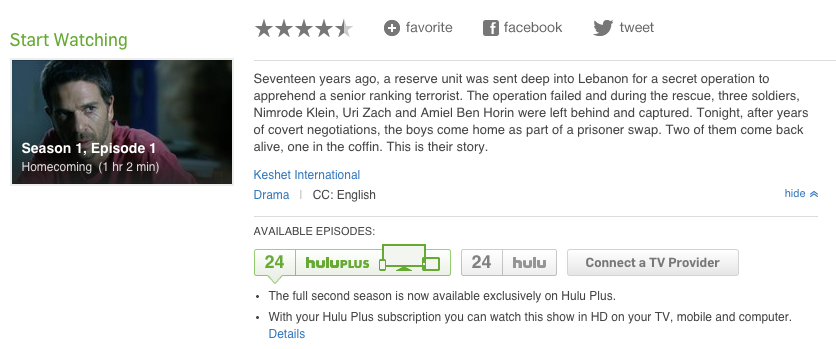 Hulu's menu for Prisoners of War.
When selecting
Prisoners of War
within the Hulu program menu, a prospective viewer does not see any indicator that this is a foreign series (
see image above
). In fact, the program description does not mention Israel at all. Instead, the blurb strives for a more universal appeal, referring to the soldiers returning "home" rather than to a specific location. The program does stream with subtitles, but a viewer will have to begin the screening to discover that indicator of foreignness. Through Hulu's interface,
Prisoners of War
becomes a timeless story about the struggles of soldiers returning home. Missing from the plot summary and metadata are specific details at service
https://grademiners.com/coursework-help
of Israel's political life, its battles within the middle east, and the complex religious themes of the series. On Hulu, this is a program with no past, appearing in the U.S. seemingly fresh and new, even though this means the critical acclaim it earned abroad plays no role encouraging sampling of the series. Instead, its status as a Hulu original, offering something distinctive and exclusive for viewers, stands as a key allure of the program.
Interestingly, the program's creator, Gideon Raff, believes the show is best understood through its Israeli context. As Raff has noted, Prisoners of War speaks to Israeli viewers in a different way than Homeland addresses American ones—asking Israelis to work through ugly parts of day-to-day life after heroes come home. Raff wanted to start a national conversation within Israel, amplified in season two when a third prisoner of war turns up alive but is revealed to have converted to Islam. These sorts of local appeals, Raff worried, may be lost due to the success of Prisoners of War abroad: "It's dangerous, just in the sense that I think part of the success of the Israeli formats is because they're very local and true to Israel. Prisoners of War, even though it found a big audience, is really a very local show about a very local experience. The danger is that Israeli creators of Grademiners.com will now try to fit what the American audience would love." Prisoners of War is a featured program on Hulu, but even its creator is unsure if this global exposure ultimately benefits the series or the audience it purports to address.
Americans are enjoying increased access to international programs in their original format and languages, but these shows nevertheless undergo a process of translation that distances the Americans from the series original meanings and contexts. Digital distribution technologies may have made it easier for international content to reach American audiences in its original form, but this does not necessarily mean that these original series are un-adapted, rendered less foreign, or absent a process of translation. The programs may travel but they are doing so without a passport.
Image Credits:
1. The French series Les Revenants and its American adaptation.
2. Lilyhammer
3. Prisoners of War
4. Hulu's menu for Prisoners of War.
Please feel free to comment.