The Gains of an Open Call for Questions in the 2014 Flow Conference
Charlotte Howell / University of Texas, Austin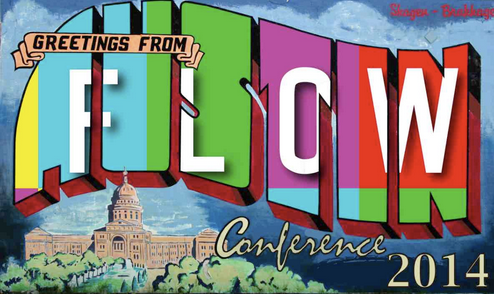 "Television is about everything."
"Television is about everything." When Howard Rosenberg said this in the first ever Core Conversation at Flow 2014, little did he know that he was echoing the central idea of Flow, both the journal and the conference. Each Flow conference traces the centrifugal reach of television and television studies: reaching forward and backward from the present, beyond the television text, medium, industry, and technology to further understand the mediated world we inhabit. Just as television is ever expanding outward, so too is the Flow conference, this year more than ever before.
Among the changes to the conference this year, two major alterations stand out: the addition of Core Conversations, plenaries meant to serve as both shared texts for the conference-goers and engagements with the wider Austin and University of Texas community; and opening the call for questions to the wider media studies community to garner new questions and perspectives for the Flow roundtables. Other columns in this special issue will cover the Core Conversations which, like any grand experiment, could use some tweaking to improve future iterations. In this column, I mostly focus on an overview of the conference roundtables, the central, lively discussions that break down the standard conference format and encourage open, non-hierarchical conversations among media scholars. The roundtables continue to be spaces for interrogating the key concerns of media studies, television studies particularly. Each Flow conference, the organizers try to craft a program that allows for both breadth and depth of topics in the hopes that Flow can be a space for building the community and shared language of television and media studies. This goal is why we chose to open the call for questions for Flow 2014. Although certain concerns persist from Flow conference to Flow conference—streaming, franchises/ing, notions of quality and canon, and issues of representation continue to be unresolved conversations in media studies—this year featured many new kinds of questions to wrestle with at Flow.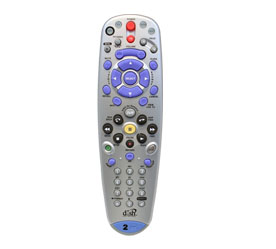 In the "By Design" roundtable, one of the responses to this year's open call for questions, convener Caetlin Benson-Allott discussed the implications of the remote control among other media interfaces.
Among theses new topics were discussions of material histories of the interface's design and the place of theory in media studies. Both roundtables brought theory into explicit focus to a degree new to Flow. Convened by Caetlin Benson-Allott, the "By Design: Material Histories of Media Interfaces and Cultures" roundtable brought issues of technological design, theories of technological containment and regulation, and media epistemology to Flow in one roundtable. The responses engaged across disciplines and theoretical borders, adding a layer of new understanding and new questioning of how we interact with media and technology. Although theoretical frameworks and key figures like Gramsci are in no way new or under-utilized at Flow conferences of the past, theory has a history of being overshadowed by questions of audience, text, and industry. "By Design" and "Theory: How Can Media Studies Make 'The T Word' More User-Friendly?" brought theory to the forefront of their discussions with new perspectives and concerns.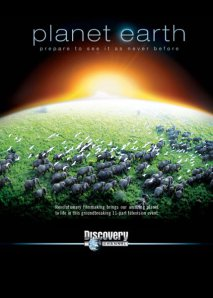 In his approach to "the T word," Drew Ayers uses post/nonhumanism to look at texts like Planet Earth, a concept also examined by Shane Denson on the roundtable
The "Theory: How Can Media Studies Make 'The T Word' More User-Friendly?" roundtable, proposed by Hollis Griffin, indicates toward the false dichotomy and institutional discourse that positions theory as oppositional to media studies. The roundtable itself spent much of its time discussing how to combat this idea of theory for our students, our departments, and our institutions, while asserting that "the T word" is integral to how media scholars do what we do. The respondents discussed both practical and pedagogical approaches to teaching and doing theory as scholars, including finding the balance between discomfiting our students and gaining victories as they progress in their study and use of theory. Eventually, the conversation dovetailed with another recurring concern that got a newly-focused place in the program: meta-discussions about the state of the field.

In the "Getting Back to the 'So What?'" roundtable, Michael Kackman, Mary Celeste Kearney, Julia Himberg, Melissa Click, and Christopher Cwynar explored important questions about the relevance of TV and Media Studies today.
In Michael Kackman's "Getting Back to 'So What?'" question, he posited, "As the objects and cultures we study have diversified, so too has our field — but at the cost of some of the political and cultural resonance of our arguments." In the neoliberal university environment, how do we negotiate television studies' political roots within systems that are resistant? The respondents of this roundtable offered practical means and polemical calls for action to wed our scholarship with social change. A focused space in which to turn our collective critical eye toward our own field can be difficult but is imperative, which is why in the past it often occurred in other roundtables that tangentially related. This roundtable, like the theory roundtables, provided space, time, and people to attempt a collaborative critique and way forward. This roundtable, in many ways, is a paragon of the Flow conference: its roundtable participants included senior and junior faculty and a graduate student; its question is one that we often talk about between panels at other conferences; the topic was relevant to both the field and our place in it; the roundtable featured a deep connection to the past while looking to the future; discussion was lively and engaging with the audience; collaborative, pedagogical, and practical responses were offered; and the community of television and media scholars was strengthened.
New perspectives, new questions, and new voices are what will keep Flow progressing in the future. Opening the call for questions from the start of planning is the best way to do that. This year, that was one of our greatest (and easiest) triumphs while planning the conferences; the level and types of questions we received once we opened up the call were wonderful and eye-opening. The community of scholars who attend Flow and are invested in the conference continues to grow and produce some of the best questions and discussions about television and media in the academy. That community continues to be strengthened as we all work together every two years to grapple with the questions that need discussing, seeing old friends, meeting new colleagues, and becoming reinvigorated for our work. Television is about everything, indeed, especially as you clink you Shiners at Flow conferences and proclaim "Texas Forever."
Image Credits:
1. Greetings from Austin
2. Remote control
3. Planet Earth
4. So What?
Please feel free to comment.