The New Face of Brown: Capital and Consumption in a Multicultural Era
Madhavi Mallapragada / University of Texas at Austin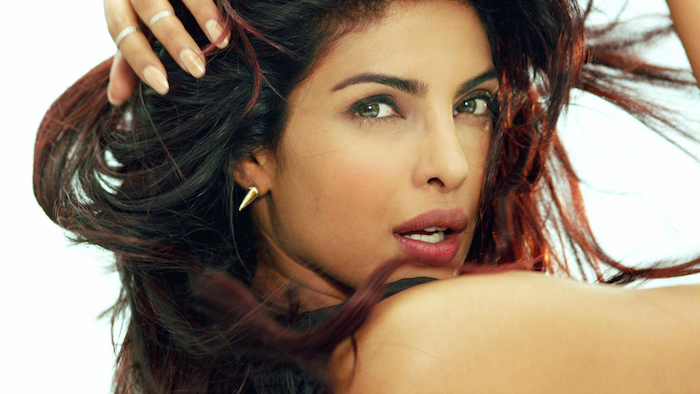 Priyanka Chopra
In October 2013, it was announced that the new face of the clothing brand Guess would be Indian actress-singer Priyanka Chopra. It was widely reported in the press and by Chopra herself that this collaboration would mark the first time in the company's 32 year-old history when a brown model would represent the iconic brand. It is not entirely clear if Brazilian model Adriana Lima's association with the brand in 2000 is in the same league of brand representation as Chopra's current role or not; that said, more relevant here is the circulation of the narrative that Guess after working with the likes of Claudia Schiffer, Anna Nicole Smith and Kate Upton, has realized that they need to have a brown model if they want to continue to make an impact (or as some would argue, rise above the slump in their fortunes) in the consumer marketplace. This post considers the implications of such a move by Guess for emergent patterns of multiculturalism in consumer culture and specifically the linking of brown bodies to new imaginations of contemporary US mainstream and popular culture. Why would the Priyanka Chopra-Guess alliance be appealing to both parties at this moment?
Priyanka Chopra won the Miss World title in 2000; shortly thereafter she made her debut in Indian cinema. First a Tamil film in 2002 followed by a Bollywood production, Andaz in 2003. In the past ten years she has been a part of the some of the highest grossing films in Indian cinema including the science-fiction superhero series, Krrish (2006) and Krrish 3 (2013), and the action thriller Don (2006) and Don 2 (2011). Her roles in critically acclaimed films including Fashion (2008), 7 Khoon Maaf (2011), and most recently, Barfi! (2012) where she played a struggling model, a serial killer and an autistic woman respectively have made the industry notice and applaud the range and depth to her acting abilities. The recipient of numerous critics and popular choice awards in Indian and global Indian film events, Chopra is one of Bollywood's current superstars with a global fan base. She is often rated very high in lists that have to do with fashion, style, endorsements and celebrity power and influence. Chopra is very active in social media networks and uses her website iampriyankachopra.com as an portal to promote her work and engage her fans. In 2012, Chopra ventured into a new arena of global popular culture—music videos—and released her debut single "In my City," where she collaborated with will.i.am. With an American production team (RedOne and Brian Kennedy) and record labels (Interscope and 2101, both owned by Universal) backing the enterprise, "In my City" debuted on NFL's Thursday Night Football on 13 September 2012. At Chopra's insistence that her Indian fans hear the music before American audiences, the single was released 12 hours before in Mumbai via live streaming through Bollywood Hungama, a leading entertainment site and YouTube.
[youtube]http://www.youtube.com/watch?v=Zjgq6-5uDtY[/youtube]
"In My City"
In 2013, Chopra released her second single, "Exotic" featuring Pitbull through her official channel "Priyankachopravevo" on the video hosting service Vevo.
[youtube]http://www.youtube.com/watch?v=sPhhZg9v9NU[/youtube]
"Exotic"
Both the singles have been extremely popular in India, debuting at No 1 on iTunes India. It also appears that "Exotic" which debuted at #16 on Billboard's dance/electronic music charts and #11 on dance digital charts made a stronger impact in terms of commercial sales in the US and elsewhere than "In my City." Beyond sales figures though is a strategic marketing campaign that is ensuring that Priyanka Chopra's association with American celebrities continues. In early 2014, Chopra announced plans to feature Milo Ventimiglia, who stars in the NBC show Heroes, in her forthcoming UK single, "I can't make you love me."
It is at this juncture, when Chopra is highly visible in the global culture marketplace through her films, music videos and celebrity endorsements that Guess decided to rope in Chopra as the new face of their brand. Ahead of the official launch in December 2013, Chopra's images, shot in the brand's signature black and white mode by musician and photographer Bryan Adams were widely circulated in the press.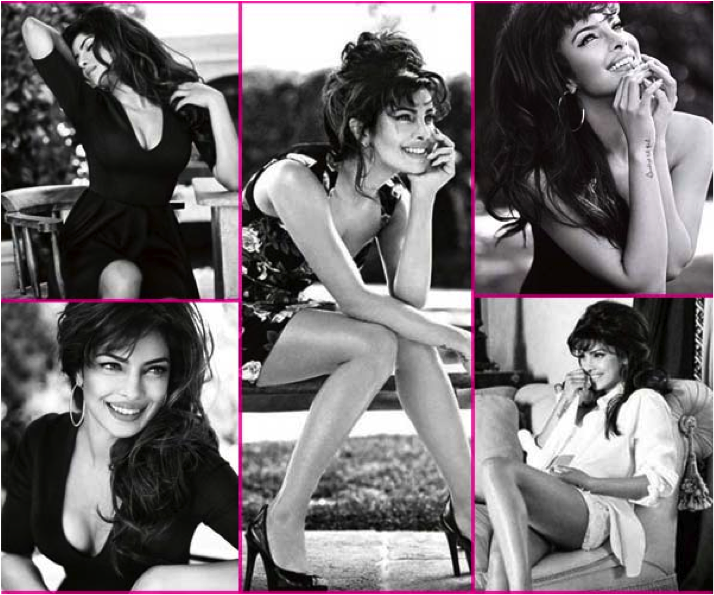 Chopra's Guess Images
Guess also released short videos for its Guess Holiday 2013 campaign.
[youtube]http://www.youtube.com/watch?v=rFoMoCfkos0[/youtube]
"Guess Holiday 2013"
As Chopra jets across the world inaugurating Guess showrooms in various countries, she is offering a new image for the brand. As the transnational press and social media coverage of this association unfolds we are beginning to see how there are multiple ways of framing this association. For example, while Chopra is seen as the first "Indian" Guess girl by some, for others, she is the first South Asian Guess model. She is also viewed as the first 'desi' (Indian/South Asian) girl to represent an iconic American brand; those invested in making that association do not fail to notice that 2013 also marked a first for another iconic American brand—the Miss America pageant when Nina Davuluri, become the first Indian American (or desi) to represent that space.1 Chopra herself toes the line between feeling honored that Guess chose her and revealing a self-assurance that she is attractive to Guess because she represents a global citizen with a cosmopolitan lifestyle. Chopra for example has turned the criticism about her "American accent" in her singing by tracing it to the fact that she spent her teenage years in the US (Massachusetts and Iowa). Guess for its part has kept the focus on her beauty and global popularity as a style icon, while occasionally referencing their desire to appear current to the realities of the multicultural marketplace. And the realities it appears are increasingly coded brown. Is that truly the case? And how can one think critically about the market's attempts to capitalize on ethnic and racial difference while also recognizing that in the Guess example, Priyanka Chopra's role is engendering new meanings around her identity but also the racial/ethnic group she represents—meanings that can be both problematic and empowering.
Image Credits:
1. Priyanka Chopra
2. Chopra's Guess Images
Please feel free to comment.
"Priyanka Chopra is the first Indian Guess Girl"NDTV Movies, Bollywood, Oct 29, 2013 http://movies.ndtv.com/bollywood/priyanka-chopra-is-the-first-indian-guess-girl-438643;
"Priyanka Chopra stuns as the World's First South Asian Guess Girl," The Aeorgram.com, Oct 29, 2013 http://theaerogram.com/gallery-priyanka-chopra-stuns-worlds-first-south-asian-guess-girl/;
"Priyanka Chopra, a Bollywood Star from India, becomes Top Model for Guess," New York Times, January 4, 2014 http://www.nytimes.com/2014/02/09/fashion/Priyanka-Chopra-Bollywood-India-Guess.html?_r=0. [↩]