No Woman, No Racism Cry: Media Spins on "the Incident"
Ralina L. Joseph / University of Washington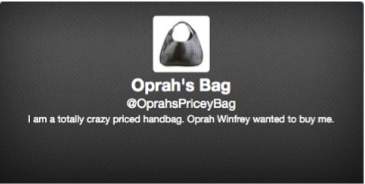 How the story circulates
After appearing on the ET website the story lay dormant in the news cycle for four days, an eternity in the warp-speed of infotainment news, until The London Evening Standard covered the story in an article entitled, "'That bag is too expensive for you': Oprah Winfrey says 'racist' assistant refused to serve her in Zurich."1 Notably, Winfrey never utters "racist" in her ET interview or her short-winded response, the two tweets she releases soon after the first story breaks and her few answers to reporters' questions at The Butler premiere. By putting racist in quotes the journalist infers Winfrey used the word and thus directs media spin towards a particular message: a Black American woman's hypersensitivity about race. In our re-tweeting world today, hot-button stories such as these seldom remain within a single screen and the speaker pointing out the existence of discrimination, even in as innocuous and coded a manner as Winfrey did, rarely have the first word. The 21st century filter comes through the new version of so many Americans' front-page news, 140 character spins and Facebook-posted headlines. Newspapers, television news, websites, and blogs circulated their versions of the story so that Winfrey's actual remarks take a backseat to the considerable spin. How did the mainstream media warp Winfrey's story from her nuanced, intersectional analysis to the dismissal of a Black woman's illegitimate "racism cry"?2 In order to scrutinize each layer of the media screen I examined newspaper articles and blog posts where the incident circulated most prominently at the height of the incident.3 I honed in on the newspaper headings to suss out the three dominant tropes, two of which I will examine in this column.
1. Winfrey reluctantly admits fault.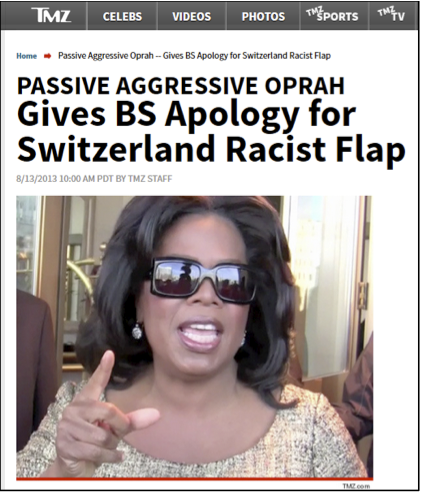 TMZ's take on the apology
Media outlets spin the story into Winfrey's reluctant admission of her fault. She is "sorry,"4 "apologizes"5 and has "regrets."6 In these stories, Winfrey performs contrition, grudgingly exhibits remorse; the media titan is put in her place. But about what, precisely, is she sorry? While some headlines stop with "Oprah says sorry,"7 others insert various objects of her regret, many of which change with the stories, and only a handful of which use Winfrey's actual words. Some articles report she regrets the "incident."8 Other headlines claim Winfrey feels sorry about the "media storm,"9 the "Switzerland racism broohaha,"10 and that the "handbag clash was 'blown up.'"11 Some state that Winfrey regrets "Swiss frenzy"12 and "Switzerland's flap."13 Winfrey was sorry for not just the incident/frenzy/hooha, but "the storm stirred by racism story."14 Here Winfrey regrets "racism flap"15 and "racism uproar."16 Winfrey is at fault for having "cried racism"; she has erroneously read an event through the prism of race when race was simply not a factor. In headlines in which Winfrey is posited as remorseful, she doesn't regret racism, she regrets "racism."17 The reporters' insertion of scare quotes plays further on the "crying racism" trope, and erases any racialized read of the incident. Similarly, one paper reports, "Oprah 'racism' just lost in translation,"18 attributing language differences as culprit for an innocent misunderstanding. Other stories produce a similar effect by using racism as a descriptor for a made-up or exaggerated incident, as in, "She's sorry for racism flap."19 Winfrey should feel remorse that her Black American hypersensitivity, the audacity of reading race into a raceless situation, victimized the innocent, colorblind Swiss.
2. Winfrey and the whole incident are mocked.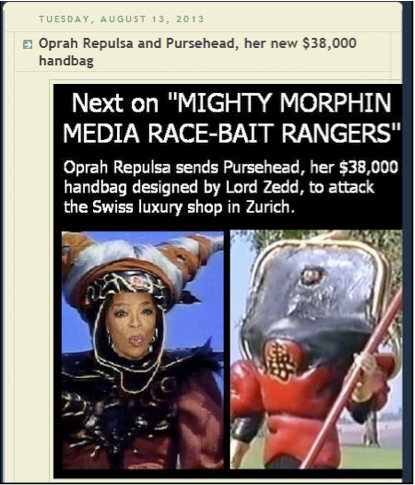 Winfrey is ridiculed
While a good number of the "Oprah admits fault" headlines overlay their articles with mocking, another set of articles unsparingly deride "the incident" and Winfrey herself. These articles foreground what they posit as the ridiculousness of the situation: one of the world's wealthiest women being treated as any (Black American woman) tourist and not as a (raceless/genderless, read: white male) billionaire. Issues of race and gender are cast aside as irrelevant in lieu of the sentiment of one headline, "Oprah's just a picky shopper."20 By foregrounding Winfrey's conspicuous consumption, the logic proceeds that as the luxury handbag is frivolous, so is the idea of the incident being racialized.21 It is framed as a "Storm in a handbag" and "A bagful of racism"22 as "Oprah loses out in handbags at dawn."23 Some papers label the incident a petty fight: Winfrey is responsible for a "'racism' row,"24 a "posh shop race row"25 or a "bag shop race row."26 One paper puns, "Shop says nope-rah to Oprah 'Racist' purse di$$,"27 and another headline proclaims, "Cheesed-off Oprah bags the 'racist' Swiss."28 Another headline uses quotes around "racist" once again, reporting, "Oprah gets Swiss apologies after 'racist' encounter."29 With "racist" in quotes, the papers efficiently scorn Winfrey's so-called racial sensitivity. Some of the papers also mock the Swiss apology, framing Winfrey as the villain who strong-arms the Swiss into apologizing for her own racial sensitivities. One writes, "Swiss apologize for encounter Oprah calls racist"30 [my emphasis]. Summing up the sentiment of many papers, one headline states, "Apology to Oprah over bags of money."31 By shifting focus to Winfrey's extraordinary wealth, race and gender are dismissed as irrelevant.
This is the second part of a three-part series on Oprah Winfrey's so-called handbag scandal of 2013. You can read the first part here. In the third column I will examine the third dominant trope of the media coverage: Winfrey as Angry Black Woman.
Image Credits:
1. How the story circulates
2. TMZ's take on the apology
3. Winfrey is ridiculed

Please feel free to comment.