The Persistence of Television
Amanda D. Lotz / University of Michigan

Television Revolution
Pronouncements of the death of television echoed incessantly from 2000 through 2010. A drumbeat announcing the End of TV or the Death of Television seemed to issue forth from every quarter: required reading for the technorati and early adopters predicted television screens would be replaced by computers; industry pundits proposed that an army of YouTube amateurs would destroy the conventional television studios, and business consultants offered depressed evaluations of established television industries that made it difficult for them to attract the investments needed to innovate and funds went instead to unproven dotcoms.
But a quiet transition establishing the persistence of television took place during 2010 in the U.S. market. No one thing happened to rescue television from its supposed status at death's door. As is often the case, a confluence of unintentional, non-coordinated developments jarred conventional industry practices enough to provide meaningful disruption, shifting television from a path toward perceived obsolesce to a reinvigorated status as the defining audio-visual medium of the culture and to even greater integration in daily life.
Sizeable advancements in what I described as a nascent post-network era in 2007 issued forth throughout 2010.1 In January, Apple announced the iPad, which it released three months later. Though the technology alone is of limited use without applications, the tablet developed into a technology more preferred for portable viewing than the existing laptop and computer screens, even if—to date—it is predominately used for viewing within the home. Concurrently, smartphone capability and penetration further expanded the screens upon which people could view video content, much of which originated as content created for television.
Though only early adopters may have owned such devices in 2010, innovators from within and outside the confines of what had been the television industry introduced applications for viewing and broadband delivered program services that expanded the experience of watching television. HBO GO launched in February 2010 and was widely hailed by users and the industry as a model for broadband distribution. Users appreciated its easy navigation and depth of content while the industry appreciated the minimal disruption to existing economic models through its use of an authentication system that only allowed linear HBO subscribers access (and friends and family who knew the password). A few months later, sports giant ESPN rebranded its ESPN 360 service as ESPN3 and, by October, established an agreement with Time Warner Cable that allowed subscribers full access to ESPN on computers, then mobile phones in April 2011.
The fall of 2010 also marks the beginning of what I categorize as the "Netflix Surge;" a period during which Netflix presented a disruptive—though short-lived—model of the possibilities for broadband distributed, non-linear television. In fall 2010, Netflix began offering a streaming-only service and, by many measures, provided top-tier content: it featured the content of subscription network Starz and other licenses achieved at low rates before license holders realized the potential of the service. It should have been clear to anyone with much background in television economics and distribution that between the cost of renegotiating its content licenses with the expanded subscriber base and the unlikely ability of circa 2010 internet infrastructure to accommodate growth of Netflix beyond a niche that the Netflix Surge would flame out quickly, but frenetic blog-era trade press accounts lacking such context inspired and fueled anxiety about cord cutting until the company made its own missteps. Regardless of its future, Netflix encouraged a re-imagination of television and suggested a competitive threat that pushed the industry beyond stasis.
Though less commonly acknowledged, established television distributors also began pushing the bounds of television in late 2010 as Comcast offered its Xfinity TV app for the iPad, followed by Time Warner's TV Anywhere application in early 2011. The TV Everywhere initiative, announced in June 2009, hurried to catch up with the any screen, back-catalog, on-demand experience made available by Netflix.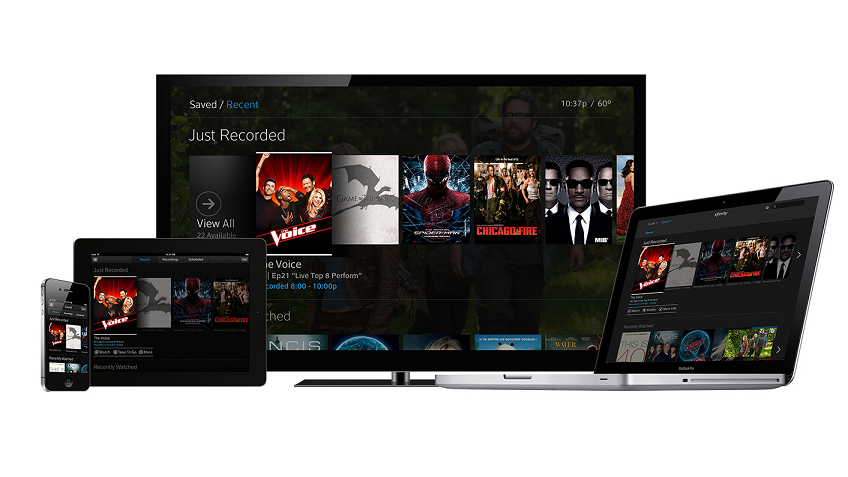 Comcast X2
In a few months then, new devices for viewing and new and old distributors that made television content easy to access resuscitated television. Of course there have not been a bevy of headlines announcing the rescue of this once supposedly imperiled medium. The death knell now rings in the U.S.—perhaps equally prematurely—for cable subscription, and jargon of OTT—going Over the Top and of "Zero TV" homes has replaced the earlier accounts. I don't mean to be dismissive of the change yet to come in equating these panics—indeed, truly disruptive disaggregation has only just begun—but in the last decade "television" survived a test in which it developed content many hail as the best in its history and new technologies and delivery systems have not replaced television, but expanded its reach.
In the first decade of the 21st century, television escaped categorization as "old media" and is now perceived as a crucial part of the digital, social, mobile media future. Some devil might advocate that it is more precisely video that is shared across a range of screens and contexts; that it is an unreasonable stretch to assert that tablet and smartphone technologies, industrial formations that include broadband distributors such as YouTube, Netflix, and Hulu, and the ability to view anytime, anywhere still make this content characteristic of television (to apply and paraphrase my favored definition of television offered by Lynn Spigel).2
Touché. Call it digital television, call it post-network television, but we are still calling House of Cards, the new season of Arrested Development, and HBO GO television. When I completed the first edition of The Television Will Be Revolutionized in early 2007, a television future of "whatever show you want, whenever you want, on whatever screen you want" was more optimistic mantra than reality. A revised edition has now been necessitated by broadband delivered programming—whether the subscription services of Netflix, HBO GO, Amazon Prime, or Hulu Plus; the advertiser-supported YouTube, Hulu, and network and channel sites, or transaction models provided by iTunes and Amazon, as well as the TV Everywhere initiatives of "cable."
The future of television is not exclusively tied to its continued distribution by broadcast network or cable wire and channel. The passing of these technologies does not mark the death of television, but the passing of distribution systems that were the best technologies available in another era. Likewise, experiences of television, such as the linear schedule and economic models such as the mass market advertising pod, may not be long for this world. Indeed, video is the medium of storytelling and communication that is now distributed by wave, wire, and wifi, but for now at least, our cultural practice of experiencing daily, mostly domestic video communication as television overrides the technological nuance of delivery system, and people (excepting the rarified corners of "video studies") have not talked about watching "videos" since the 1980s.
The abating of the "end of television" discourse and the persistence of moving pictures and sounds we've long characterized as "television" to enjoy even expanded storytelling possibilities and integration into the lives of those who consume them now bring the contours of the post-network era into greater relief. Storytellers will persist; audiences will persist. Some entity will need to connect us—probably our broadband providers, but don't cry for "cable," for 80 percent of U.S. high-speed internet subscriptions they are one and the same. Will we continue to need layers of aggregators such as channels, networks, Netflix, Hulu and so on? Well, we'll see.
And in truth, the future of television isn't a matter of whether the term television persists. Call it television or call it video, there is no evidence of the waning of the medium of audio-visual storytelling and communication that we currently call television, and the present and future of understanding its adjustments and evolution are ripe for exploration through the lens of television studies. The future? There will be change in distributors and economic models, which will change what the industry creates, what we watch, and how we watch it. But this is not the end of television, just a new beginning.
Image Credits:
1. Television Revolution
2. Comcast X2
Please feel free to comment.
Amanda D. Lotz, The Television Will Be Revolutionized (New York: New York University Press, 2007). A revised, second edition is in production and due out in September 2014. [↩]
Lynn Spigel, "Introduction," Television after TV: Essays on a Medium in Transition, edited by Lynn Spigel and Jan Olsson, 1-34 (Durham: Duke University Press, 2004), 2. [↩]