"I Like My Jesus Dressed Like Superman": Niche Marketing and Man of Steel
Matthew Krebs / University of Texas at Austin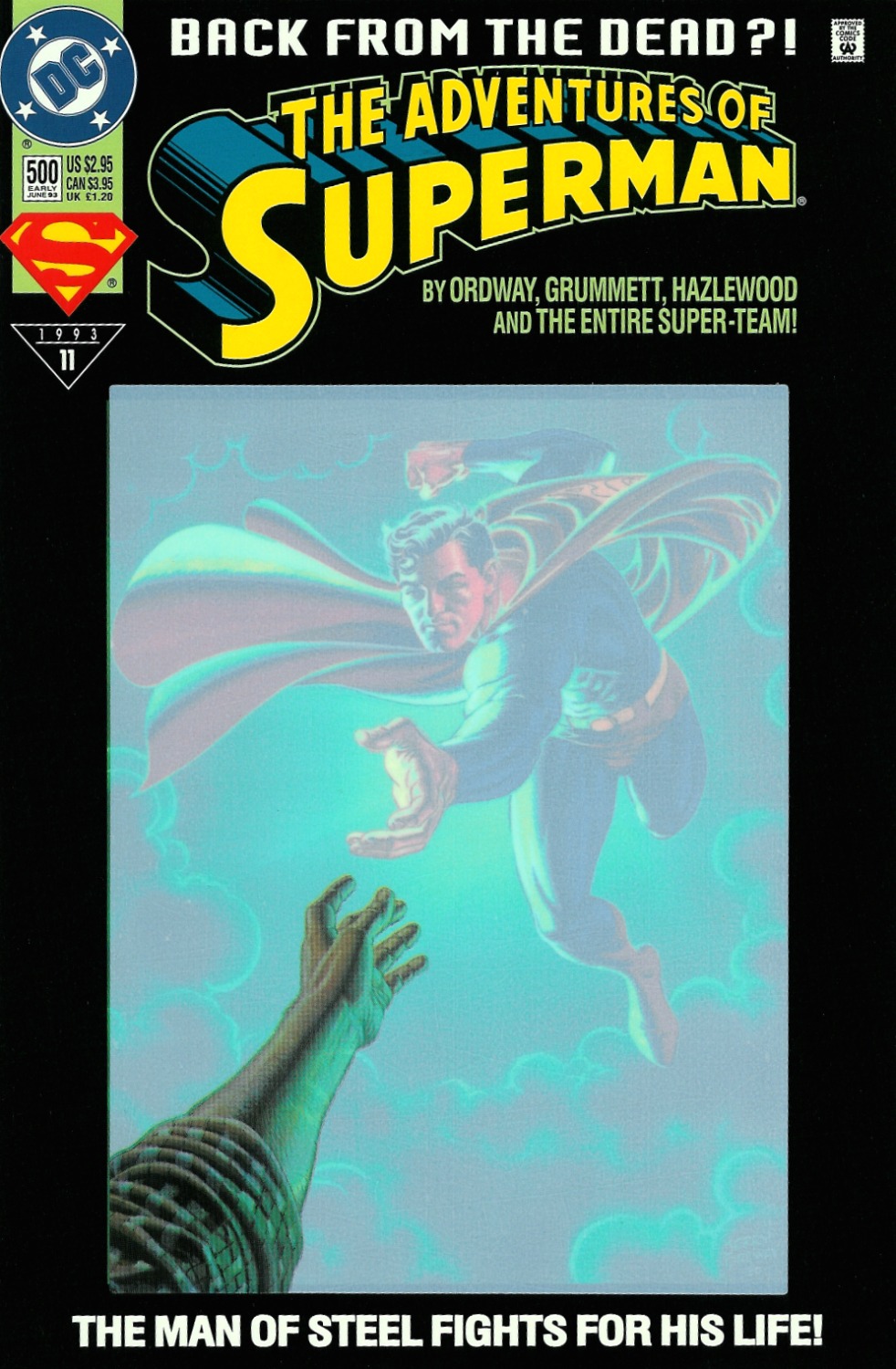 The Adventures of Superman #500 depicts a resurrection.
On June 10th of this year, the Warner Brothers' Superman franchise was once again rebooted with the release of Man of Steel. It has, since then, set a June box office record of $116.6 million and become the most successful comic book character reboot of all time in the U.S.1 While other recent superhero films like Warner Brothers' Dark Knight trilogy and Disney's The Avengers have managed to garner more critical acclaim, it is clear that Man of Steel is a box office smash that continues to draw audiences into theaters to watch a new take on the American cultural icon. What has a number of critics and journalists buzzing about the new Superman, however, is the way it has been niche marketed.
Warner Brothers has collaborated with a Christian marketing firm in an effort to get pastors into advanced screenings as well as launching a site through MinistryResources.org that provides prepared sermons and movie clips that implement Man of Steel into allegorical Christian teaching.2 The site contains video snippets, images, outlines for how the film can be integrated into sermons, as well as a conversation guide for how fathers can be superheroes for their children provided by the American Bible Society.3 "Round up the kids and take them to see Man of Steel (PG-13). Then use this Conversation Guide to take another look at the movie's major themes. In the conversation, you will discover new connections to your own life and God's Word."4 Warner Brothers has previously marketed to spiritual groups in other films including The Blind Side, The Notebook, The Book of Eli and the Harry Potter series.5
[youtube]http://www.youtube.com/watch?v=z6_yFhGfr8g[/youtube]
This Christian based niche marketing, however, is not limited to the WB brand. Disney and Walden Media reportedly spent $5 million (6% of the overall advertising budget) targeting Evangelical Christians for The Lion, the Witch, and the Wardrobe in 2005. Marketing was utilized in the form of posters, online resources, as well as pamphlets for church leaders and faith groups to promote what Media and Communication Professor James Russell refers to "as an explicitly evangelistic experience" and "Christian educational goals."6 Further, secular advertising is also implemented to achieve the greatest market response while spiritually driven advertising aims to assure the viewer that the film's themes are candidly rooted in Christian doctrine. What is intriguing about both Russell's analysis of Christian/corporate branding of The Lion, the Witch, and the Wardrobe and Man of Steel's promotional niche marketing are a number of themes that arise from both of their frameworks.
These frameworks seek to present an apocalyptic spectacle that encourages youth to align themselves with a combative Christian character. While perhaps in opposition to Gospel doctrine that builds on "turn the other cheek" behavior, it certainly does not shy away from the interconnections of nationalist and religious rhetoric (e.g.- "Fighting for God and country"). Man of Steel's Christian marketing stresses binaries of good/evil and right/wrong. The only option Superman has is physically combating the evil enemy (like Jesus?) through ultimate personal sacrifice. In addition, the human race does not control its destiny and must rely on supernatural guidance to fight for its survival. As the MinistryResources supplement explains, "He is undaunted in doing what is right. He alone can save the world. But the cost is total — taking on the full assault of an enemy who would stop at nothing to destroy every member of the human race. This enemy is someone Superman alone can stop, and only through extreme personal sacrifice. This is an age-old story, played out powerfully here, but echoing the best of the mission of Jesus in the New Testament."7 This guide goes on to encourage fathers to live their lives as Superman/Jesus by being an example of what is "good" and loving their children.
Pastor Quentin Scott of Shiloh Christian Community Church in Baltimore views the promoted allegorical messages as beneficial for both Hollywood and his ministry as documented in an interview with CNN. "They're using us but, in fact, we're using them. If you give me another opportunity to talk to someone about Jesus Christ and I can do it because of your movie, that's a win for me because it's about spreading the Gospel."8 Although it is worth mention that CNN is owned by Time Warner, this awareness of mutual exploitation raises interesting questions regarding how negotiation between social institutions operates through current media market practices and cultural iconography to achieve their respected goals. Russell evokes what Henry Jenkins refers to as an "alternative sphere of popular culture"9 utilized by Christians. This is set in place to reflect conservative ideology that interprets popular culture items as its own, in this case accepting a deeply rooted Christian allegory as the basis of Man of Steel.
[youtube]http://www.youtube.com/watch?v=DlfazmUz06c[/youtube]
At what cost, if any, does this pose for how media is marketed? How do we define exploitation if certain receiving parties welcome it in exchange for its own exploitative ventures ("we're using them")? How are perceptions of good/evil and right/wrong tied into how seemingly opposing ideologies are forged into nationalist and religious mythology? In what ways does "spreading the Gospel" require the use of these binaries with apocalyptic anxiety and a request to emulate a Jesus that is ready to take "full assault" on an enemy? Pastor Scott is fully aware that he and his congregation are being used to market a Warner Brothers product but feels he is using the same product to reach potential believers and relate to members of his church through items of popular culture.
I would argue that the most troubling facet of this marketing faith agreement is the necessary violence the audience is encouraged to support. Narratives of a savior can be allegorically connected to a number of superheroes via the theme of sacrifice but often entail an element of mass devastating violence that is overlooked for entertainment value or read as necessary casualties in the story.10 Further, integrating a pacifist religious figure with the mythology of a pugnacious comic book character is conflicting at best and manipulative at worst. However religious leaders may feel about using popular culture and mass media to build congregations and reaffirm faith, combative devotion to a strict binary of good and evil is extremely problematic if one strives to promote non-violence and tolerance through social institutions.
Image Credits:
1. The Adventures of Superman #500 depicts a resurrection.
Please feel free to comment.