The Pink Sneakers That Could? Rethinking Mediated Discourses of Wendy Davis' Filibuster Footwear
Jessalynn Keller / Middlesex University (London, UK)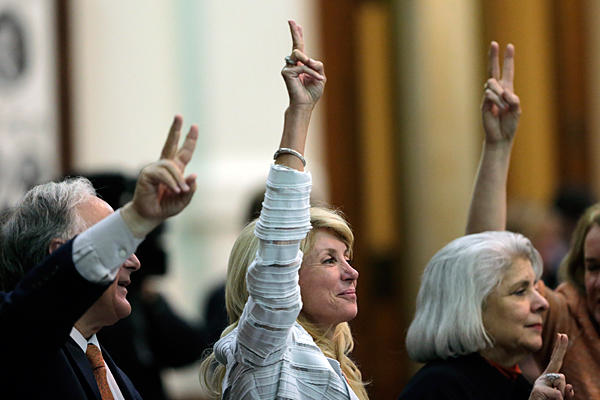 Wendy Davis Acknowledging Victory with her "V"
Having recently moved from Austin, Texas to London, I heard about Democratic Senator Wendy Davis' recent filibuster against a proposed draconian Texas state abortion law on my Facebook feed. Indeed, #StandwithWendy hashtags and videos of the Fort Worth senator giving the victory sign to a cheering crowd of constituent onlookers circulated throughout my digital friend network faster than Governor Rick Perry could call a second special session (which he eventually, sadly, did do).
Yet amidst the news stories about "unruly mobs" and tampered timestamps I noticed that Davis, and indeed the politics of abortion itself, were being gradually eclipsed by another viral star in the room, namely, Davis' pink sneakers. Like me, you most likely heard about Davis' hot pink Mizuno Women's Wave Rider 16 running shoes in early media reports of the filibuster. Major news outlets led their front-page stories with mention of the footwear, and images of Davis' sneaker-clad feet circulated throughout social media platforms. Media attention to Davis' kicks was quickly compounded by a surge in sales of the Wave Rider 16 model within 24 hours of the filibuster, and commenters flooded Amazon with satirical reviews of the shoes and testimonials, such as one claiming that the $115 shoes are "guaranteed to outrun patriarchy on race day." Before long it was Davis' shoes that became the focus of articles in publications ranging from the Guardian, to the Huffington Post, to the Toronto Star.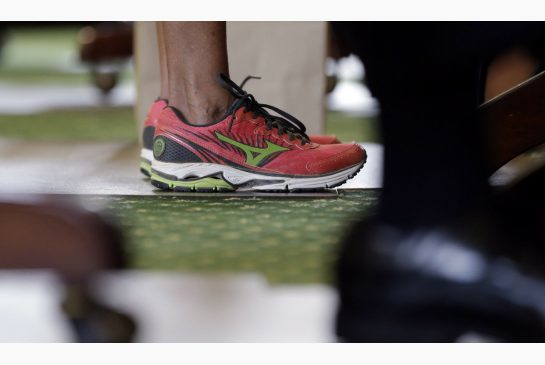 The Infamous Pink Sneakers
It makes sense that Davis came to work on Tuesday June 25th opting for cushioned soles rather than spindly heels, having assumed that the planned filibuster would likely have her on her feet for most of the day. Recent news stories have also described how Davis prepared for her marathon day on the floor by donning a back brace and a catheter. Perhaps not surprisingly there were no reported sale hikes of these latter mentioned aids, most likely due to their invisibility on the floor – and let's face it – a catheter is certainly less sexy than a pair of cute kicks that are edgy enough to attract attention, yet feminine enough to align with mediated discourses of postfeminist femininity that are so prominent within contemporary popular media culture.
It is this last point I want to consider here. In fact, I am suggesting that the incessant mediated discursive hype surrounding Davis' sneakers recuperates the senator and her actions into a postfeminist narrative where empowerment can be gained through consumption and patriarchy overcome through stylish and overtly feminine kicks. According to this narrative, Davis becomes representative of a brave individualized action, bolstered by proper consumer choices that suggest an appealing mix of postfeminist agency and femininity. Feminism as a political, messy collective movement is made less visible amidst a celebration of Davis' footwear, a symbol of pro-choice politics much less threatening than the coat hanger of the past.
Of course, this is not the fault of Davis herself. After all, the Senator likely chose the shoes for practical purposes rather than their statement-making potential. However, it is the statement, or put another way, the symbolism, of the shoes that have garnered the most attention in online conversations and has served as justification for the media hype around them. To wit: in a discussion of a Mother Jones article that criticized the coverage of Davis' footwear, one commenter argues for the shoes' importance by describing them as "a perfect symbol, an instantly recognizable visual representation of women's strength, endurance and determination… Prepare to see a LOT of pink tennies in coming days…" Comments on the feminist pop culture blog Jezebel also echoed this sentiment, with one poster writing, "Hopefully those pink/red shoes will become some sort of feminist marker… Like when I see you wearing them on the street we'll exchange a knowing look" and another claiming that, "I'm saving up to buy a pair. Not even kidding." Another commenter suggests, "That picture up there should be one of the iconic images of feminism this year. Something about her standing alone, everyone in suits, she's in her professional attire… and then those sneakers. It's loads of awesome."
I agree that the images of Davis standing on the senate floor are inspiring and that her shoes function (whether intentionally or not) to call attention to the hegemonic masculinity that dominates the political sphere. As someone who has considered pink a favorite color for most of my life (I even currently have a pink fridge… no joke) I have nothing against the color or its associations with femininity. But while this is not the first time where a consumer object has been used as a supposedly feminist symbol (the red lipstick worn by British and American suffragettes is only one example of this lengthy tradition), I am suggesting that we need to think more critically about what it means to propose pink sneakers as a feminist symbol within the context of our postfeminist media culture, where girls and women are hailed as idealized neoliberal consumer citizens and encouraged to participate in public life through the purchasing of consumer goods (Harris, 2004; McRobbie, 2009). Whereby George W. Bush and Rick Perry have both drawn attention for sporting cowboy boots with their suits, there have been no equivalent tweets or status updates suggesting that men rush out to a purchase their own Texas-inspired footwear, as the below tweet from a Brooklyn journalist does. While male politicians occasionally attract attention for their fashion choices, the positioning of Davis' sneakers as an object in which progressive women should want to consume remains an explicitly gendered phenomenon.

Twitter Telling Women Where They Can Get Wendy's Shoes
It is also worth returning to the issue of color here, specifically the mobilization of pink as a symbol of pro-choice politics. As Michelle Lazar (2009) argues, "pink has become popularized as a marker also of postfeminist femininity in popular culture… [marking] qualities as fun, independence and confidence, while at the same time reaffirming unambiguously women's gendered identity" (381-382). Angela McRobbie (2007) also contends that this affirmation of what she calls "public femininity" is a significant aspect of postfeminism, as feminine markers "undermine, or at least unsettle, the new power accruing to women" with regards to economic capacity, and in this case, perhaps political capacity as well (725). These critiques complicate a simple reading of Davis' pink sneakers as solely an object of resistance to masculine norms and suggest that the shoes' celebratory status within mainstream news culture is due both because they fail to disrupt gender norms in any meaningful way and because they distract attention from the blatant feminist politics that occurred in the Texas legislature that day.
Finally, the focus on Davis' trainers also functions to individualize her actions, and make invisible the labor of hundreds of other Texas women and men who were at the Capitol that day. For example, significantly less media attention was given to Leticia Van de Putte another Democratic Senator from San Antonio who rushed back to Austin from her father's funeral to vote on the bill and who inadvertently generated the "people's filibuster" that crucially stalled the impending vote for 15 minutes. And what about the hundreds of Texas citizens who came out to voice their opposition to the bill? This includes the two young women pictured below whose reclaiming of the aforementioned coat hanger as a symbol arguably reframes the conversation about abortion politics into something that is seemingly less jovial and definitely less marketable than pink running shoes. And while one of the commenters I quote above hints at the possibility for community around a gang of pink-sneaker clad women, this type of community would be significantly confined to those with the financial means to purchase a pair of the pricey shoes – a marker of class and cultural capital that we as feminists must problematize.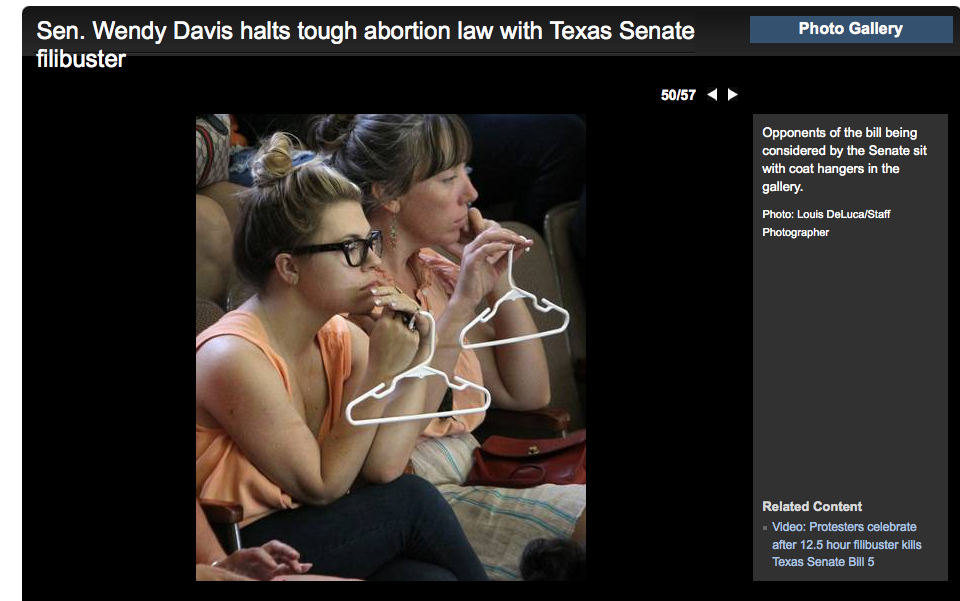 Coat Hangers as Symbols of the History of Women's Reproductive Rights
The Amazon reviews capitalize on the ways in which satire and humor have become an important aspect of feminist politics online, as writers such as Emily Nussbaum have pointed out. Like many people, I enjoy this type of witty cultural critique and believe that it has a significant place within popular culture. However, we must remember that Davis' pink kicks are only one aspect of a complex and ongoing issue that requires us to recognize that we certainly can't buy abortion rights on Amazon – despite what the reviews say.
Works Cited
Harris, Anita. (2004). Future Girl: Young Women in the Twenty-first Century. New York: Routledge.
Lazar, M. (2009). "Entitled to consume: Postfeminist femininity and a culture of post-critique." Discourse & Communication, 3(4), 371-400.
McRobbie, A. (2007). "Top Girls?" Cultural Studies, 21 (4-5), 718-737.
McRobbie, A. (2009). The Aftermath of Feminism: Gender, Culture and Social Change. Thousand Oaks, CA: Sage.
Image Credits:
1. Wendy Davis Acknowledging Victory with her "V"
2. The Infamous Pink Sneakers (Eric Gay, AP)
3. Twitter Telling Women Where They Can Get Wendy's Shoes – Author Screenshot
4. Coat Hangers as Symbols of the History of Women's Reproductive Rights – Author Screenshot
Please feel free to comment.