It Takes a LIFETIME: Television for Black Women
Gerald Butters/Aurora University
Image from Pastor Brown
The number of scripted fictional television series which feature African American women is miniscule. Unfortunately, the only television series which seem to star African American women are reality television shows. Basketball Wives, the Real Housewives franchise, La La's Full Court Life, The Bad Girls Club and Love and Hip Hop Atlanta portray African American women as full of drama, contentious, materialistic and fame seeking. Any outsider who considered this the "reality" of African American women's lives would have a highly negative image of black women.
Recently, it has come to my attention that cable broadcast network Lifetime has made a concerted effort to appeal to African American women. Four new Lifetime movies feature black female protagonists as the major leads. It would be racist for me to assume that African American women only watch other African American women on television. If this were true than black women would watch very little television since the number of network shows that feature African American women in the leads is so small. But Lifetime's attempt to diversity its programming is unique and needs to be explored.
Lifetime has taken the lead in fictional portrayals of African American women that doesn't tread the confrontational territory of reality television. A significant number of these films center on the black church and the role of African American women in this community.
Pastor Brown was written by Rhonda F. Baraka and directed by actor Rockmond Dunbar. Shot in Atlanta in 2009, the film didn't make it to the television screen until 2012 due to entanglements over legal issues. A convoluted tale of an exotic dancer who returns home pending her father's death, his dying wish is that she take over leadership of the Mount Olive Baptist Church, an Atlanta megachurch. Pastor Brown is a religious parable of a prodigal daughter who returns home to her son, sister, dying father and childhood congregation "to find her own shoes." Jessica, the exotic dancer, does not take over as pastor though as she determines that this was her father's way of helping her adopt a more stable life. In order to return the church to patriarchal control, she willingly submits and leaves the leadership of the church to the associate pastor, who believes that he is the rightful successor to Pastor Brown.
Far more nuanced is Twist of Faith starring R & B singer Toni Braxton. The church also plays a prominent role in this film; in fact, the establishing shot is that of a small Methodist church in central Alabama. This trope of the church, which appears in all four films under discussion, is perhaps over-determined, but it emphasizes the significance of the black church in the lives of many black women and the pre-eminence that they play within black congregations. Braxton is Nina, a single mother and teacher, who lives with her son and her uncle next door to an all-black church. Much of Nina's life centers around the church and her leadership role in the choir. She doesn't have a man in her life, despite the attempts by her brother to fix her up. Nina's story is interwoven with that of Jacob, an Orthodox Jew from New York City, whose entire family is tragically gunned down on a bus. Jacob, distraught, leaves the city without warning, wandering without a destination until he lands in Nina's home town. Jacob and Nina's lives cross paths, and an eventual romance ensues. Twist of Faith does not shy away from the realities of African American life, particularly in the South. Mo, Nina's uncle tells Jacob, "A black person who doesn't own a gun is kidding himself." Two rednecks vandalize the church and Nina attempts to stop them. They consider raping Nina, and hundreds of years of sexual exploitation of black women bubbles to the surface. Jacob eventually stops them and shoots one of the rednecks despite his aversion to guns since the massacre of his family. The interracial or interfaith aspects of Nina and Jacob's relationship are never explored since their mutual attraction is not recognized until the final ten minutes of the film. But Twist of Faith, while illustrating an idyllic black South, does not fail to comment on troubles regarding racism and renewal.
[youtube]http://www.youtube.com/watch?v=2w-YCdpwJ4s[/youtube]
Betty and Coretta has an even higher pedigree due to its all-star casting. Angela Bassett, one of the most respected African American actresses in the black community, plays Coretta Scott King and hip hop stalwart Mary J. Blige holds her own remarkably as Betty Shabazz, wife of Malcolm X. The film focuses on their lives as the wives of two of the most significant black leaders of the twentieth century, their widowhood, and the relationship the two women forge as a result of their shared grief and committed activism. One stroke of genius upon the part of the producers is having Ruby Dee narrate the film and interject her remembrances throughout. As a friend of both women, she was present at some of the most significant events of both their lives, and she shared the private pains of both of them. While the film suffers due to the "creation" of conversations that the women had over the course of their lives, the fact that Coretta Scott King and Betty Shabazz are front and center in this movie, rather than in the sidelines, is significant. Betty and Coretta also does not shy away from difficulties in the women's lives not related to their husband's assassinations including King's discovery of her husband's infidelity and Shabazz's relationship with her tragic daughter Qubilah.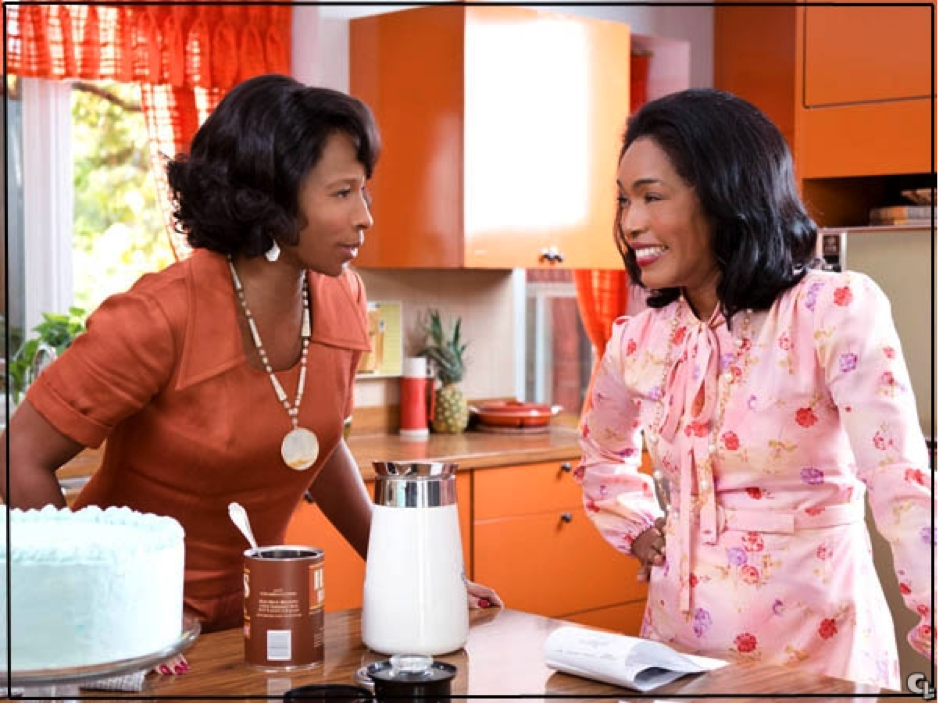 Image from Betty and Coretta
Lifetime also remade the 1980's hit Steel Magnolias with an all-star black cast including Queen Latifah, Alfre Woodard, Phylicia Rashad and Jill Scott. The comedic melodrama focuses on the lives of six black women in Louisiana and their relationships as they support each other through triumphs and tragedies. The film was the third highest Lifetime Original film in terms of audience, with over 6.5 million viewers turning in when the film premiered on October 7, 2012.1 Alfre Woodward was singled out for her performance and received numerous acting award nominations including those of the Screen Actors Guild and the NAACP Image Awards.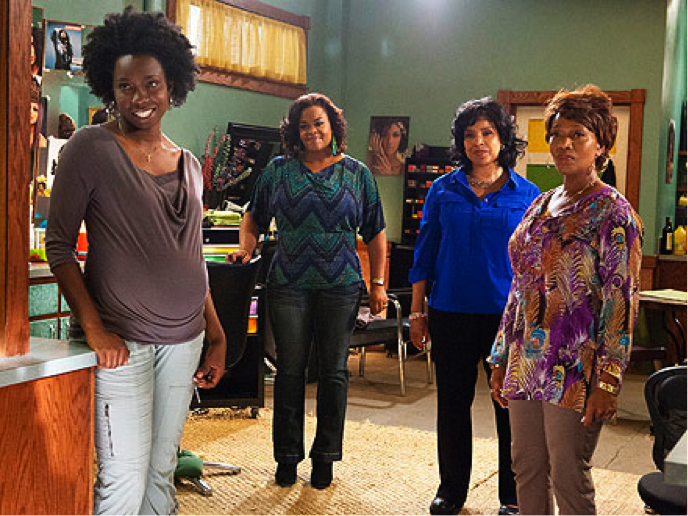 Image from Steel Magnolias
All four of these films are set in the South. While they do not depict the South as paradise, the South is "home." Jessica in Pastor Brown returns to Atlanta to leave her hedonistic New York lifestyle. Jacob and Nina find love in small town Alabama; Jacob leaves New York City after a quadruple murder annihilates his family. Much of Betty and Coretta takes place in the South and all of Steel Magnolias is set in a northwestern Louisiana parish. The South as a nucleus of African American female self-discovery and sisterhood is an interesting phenomenon that repackages the region in wildly disparate ways from post-Civil Rights dystopian dramas.
Lifetime's recent focus on developing films featuring African American women dovetails with the success of ABC's hit series Scandal. Created by Grey's Anatomy producer Shonda Rhimes, the series stars Kerry Washington as a political "fixer," and has been both a critical and ratings success. Scandal is significant in that it is produced by and stars African American women. As Olivia Pope, Washington is the first African-American female lead on a major network show in 38 years. During Scandal's season finale in May 2012 the series attracted 1.8 African American viewers, making it the top rated show for the black television audience.2 Associate Professor Kimberly N. Brown argues that " aside from the excellent writing, I watch Scandal because it is rare to see professional black women, particularly brown and dark women, featured on television, least of all in a drama. . . I am particularly drawn to Scandal because it moves the conversation about race and representation beyond the level of positive and negative portrayals of black women, to depicting Olivia Pope as a fully realized complex character. She doesn't fit neatly to any of the traditional stereotypes of black women."3
[youtube]http://www.youtube.com/watch?v=8tcB_JzDoJM[/youtube]
Lifetime has had a very successful year in the ratings in 2012. Their viewing audience is up 15% over 2011 in their key demographic, women 18-49 years of age.4 It would be fascinating to see whether any of this ratings growth can be attributed to their new attention on African American women. The depiction of the lives of black women on the television screen is grossly underrepresented. Kudos to Lifetime for waking up to this fact.
Special thanks to Rachel Balderston and Kimberly N. Brown
Image Credits:
1. Image from Pastor Brown
2. Image from Betty and Coretta
3. Image from Steel Magnolias

Please feel free to comment.