Mobile Mediality
Mimi Sheller / Professor of Sociology, Drexel University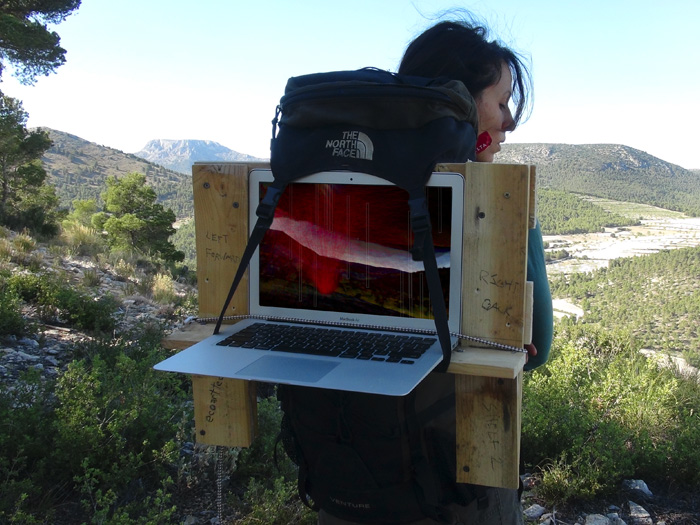 Leila Nadir of ecoarttech with generative art application that created environmental responses during the Joya: Arte y Ecología Residency
Many emerging forms of social interaction are accomplished in motion, leading to practices that I call "mobile mediality", understood as a new form of hybrid mediated spatiality. Through everyday practices of moving around, seeking information and communicating with others, we are creating new ways of interacting with people, with places, with services, and with screens while moving or pausing in movement. In this series I will consider some aspects of this emerging hybrid space of mobile mediality, starting with an introduction to mobile art in Part I, then turning to wider practices and implications of mobile mediality in Parts II and III, including mobile gaming, augmented reality, mobile news, locationally-aware social networks, motion sensors and augmented reality apps.
Mobile Art
The 50th anniversary issue of Artforum focuses on the art world's ambivalence about new media art and more broadly what art critic Claire Bishop calls "an eschewal of the digital and the virtual" (Bishop 2012: 436)1. In her piece, "Digital Divide", Bishop asks "Whatever happened to digital art?":
"While many artists use digital technology, how many really confront the question of what it means to think, see, and filter affect through the digital? How many thematize this, or reflect deeply on how we experience, and are altered by, the digitization of our existence? I find it strange that I can count on one hand the works of art that do seem to undertake this task (Bishop 2012: 436)."
While pointing towards a few video artists who show in major galleries, like Ryan Trecartin's visually demented hyper mash-up videos (see clip below), Bishop goes on to dismiss "an entire sphere of 'new media' art," which, she says, "is a specialized field of its own: It rarely overlaps with the mainstream art world." Although Trecartin's work addresses issues of hyper-mobility and new media cultures, it is not mobile in terms of the medium itself or the viewer experience.
ANY EVER (Trailer), Ryan Trecartin PS1 from Ryan Trecartin on Vimeo.
Trailer for "Any Ever" by Ryan Trecartin
Moble digital technology, however, is moving video artwork off the gallery wall. One way to think of "mobile art" would be as a kind of "app" that offers screen-based digital art that you can access on a personal mobile device, such as those described in Jonah Brucker-Cohen's series "Art in Your Pocket" for New York-based digital arts collective Rhizome. From software art and screen-based work to those "pioneering the next generation of portable media art" on smart phones, Brucker-Cohen reviews "artists who are interacting with the physical world by using the device's internal sensors, location capabilities, constant Internet connectivity, and built-in cameras". Yet all of the art he engages with remains curiously static, viewed by one person on a personal-sized screen and easily returned to one's pocket. None of the works he includes extend outward to a physical and mobile experience, to a sensory engagement with surroundings mediated through digital technology, nor to a social engagement with other people, collectives, or publics.
In my series of recent collaborations with Philadelphia-based artist Hana Iverson, including a double session on Mobile Art: The Aesthetics of Mobile Network Culture in Place Making at the 2012 College Arts Association conference, a co-curated exhibition called LA Re.Play, and a special issue of Leonardo Electronic Almanac (Sheller, Iverson & Aceti, forthcoming)2, we suggest that mobile media art is one of the key arenas in which emergent interactions with sensory dimensions of place, temporality and presence itself are being explored. Mobile art includes a diverse set of practices that are not simply about screening digital art on portable devices, but might involve sound walks, psychogeographic drifts, site-specific story-telling, public annotation, digital grafitti, collaborative cartography, or more complex "mixed-reality" interactions. It tends to engage the body, the physical location, the digital interface, and social relations both near and distant.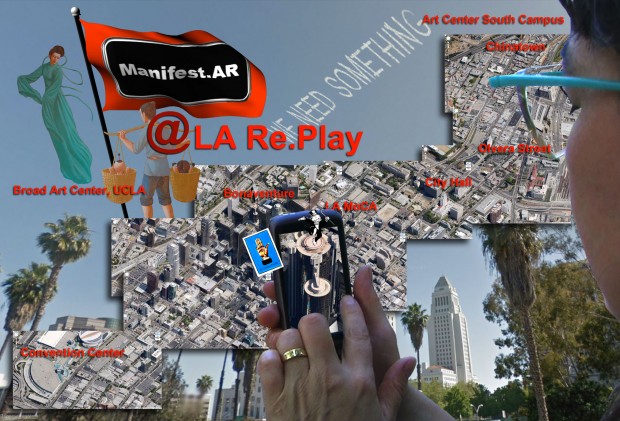 Augmented Reality walk by Manifest.AR for LA Re.Play, Los Angeles, 2012
While blurring the distinction between physical and digital, bodily and virtual, artwork and everyday space, creator and audience, mobile art often raises crucial personal and political questions about surveillance, inclusion, and (dis)connection; and crucial theoretical questions about the relation between physical space, networked space, and the growing experience of hybrid space. As media theorist Adriana De Souza e Silva argues3, "Hybrid space abrogates the distinction between the physical and the digital through the mix of social practices that occur simultaneously in digital and in physical spaces" (de Souza e Silva 2006, 265). The mobile media artists who interest us are exploring how to create or move within these hybrid spaces of amplified reality via new modes of open (yet critically attuned) engagement with embodied experience, with urban and natural landscapes, and with digitally-mediated public space.
For example, artists Leila Nadir and Cary Peppermint of ecoarttech (see Fig. 1 above) present "Indeterminate Hikes+" as "a mobile media app that transforms everyday landscapes into sites of bio-cultural diversity and wild happenings. Generally devices of rapid communication and consumerism, smartphones are re-appropriated by IH+ as tools of environmental imagination and meditative wonder, renewing awareness of intertwining biological, cultural, and media ecologies and slowing us down at the same time." (see Video Clip 2)
"Indeterminate Hikes+" by ecoarttech
Digital art is in many cases becoming more mobile, taking advantage of the physical and informational affordances of the mobile phone interface, but it is important to understand mobile art as more than simply miniature and portable personal screens. Mobile art has in fact expanded the spatial and social field in which art takes place by experimenting with the full range of affordances of the mobile interface. Another good example is the recent work of artists LoVid, whose iParade#2 "uses GPS data and includes video, sound, and texts that are accessible only in specific geographic locations" and which blurs the boudary between the physically present and the digitally mediated by creating a hybrid space of mixed reality. (see Video Clip 3)
"iParade#2" by Lovid
Likewise, artist Jenny Marketou uses "the city as a space, and the electronic communication networks as platforms and creative tools for intervention and connection between exhibition space, public space and social interaction." Marketou states that "My approach to using digital media is usually a commentary on the media itself, the context in which this media can be found, and the way in which it affects community structures, patterns of communication and the politics of space. Projects aim to generate discourse, and often function as live public experiments." (Interview, forthcoming in Sheller, Iverson and Aceti; See Fig. 3).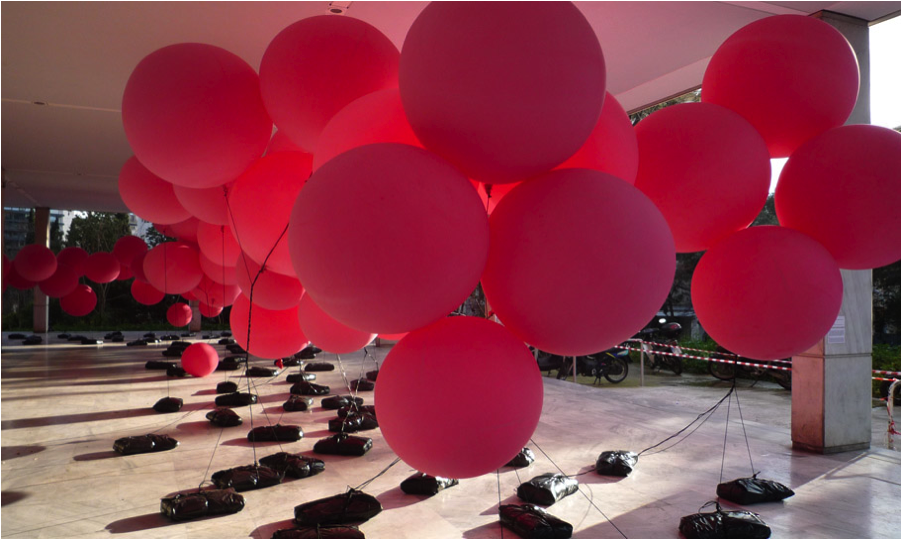 RED EYED SKY WALKERS, 2010, by Jenny Marketou, outdoor installation view, 99 red helium weather balloons, 5ft diameter, wi-fi video cameras, National Museum of Contemporary Art, Athens, Greece
These kinds of mobile artworks that extend outside of the device in your pocket and into surrounding public space potentially enable people to engage with mediated spatiality and augmented landscapes in unexpected ways by generating new forms of public experience, open-ended interaction, and potentially critical praxis. This phenomenon extends beyond relational aesthetics and beyond mobile gaming, by re-spatializing and re-mediating our experience of embodied mobility and communication. What is notable is that in incorporating cell phones, digital media, and mobile screens, mobile art does not exist simply as software on a smartphone tucked in your pocket. It is instead deeply networked with other bodies, spaces, practices, scales and relations, including the corporeal, the sensory, and the navigational, as well as the economic and the political. In the next post I will extend this discussion into the field of mobile gaming and mobile locative social networking, and their effects on contemporary mobile mediality.
Image Credits
1. Leila Nadir of ecoarttech on a hike using a generative art application that created algorithmic responses to the local environment, during the Joya: Arte y Ecología Residency
2. Augmented Reality walk by Manifest.AR for LA Re.Play, Los Angeles, 2012 (credit: John Craig Freeman, Manifest.AR)
3. RED EYED SKY WALKERS, 2010, by Jenny Marketou, outdoor installation view, 99 red helium weather balloons, 5ft diameter, wi-fi video cameras, National Museum of Contemporary Art, Athens, Greece. [image provided by the artist]
Please feel free to comment.
Bishop, Claire, (2012) 'Digital Divide', Artforum, Vol. 51, No. 1 (September 2012), pp. 435-41. [↩]
Sheller, Mimi, Iverson, Hana and Aceti, Lanfranco (eds) (forthcoming) "LA Re.Play", Special Issue of Leonard Electronic Almanac Online. [↩]
De Souza e Silva, Adriana (2006), 'From cyber to hybrid: Mobile technologies as interfaces of hybrid spaces', Space and Culture 3, 261–278. [↩]