Alton Brown: Good Eats, mad science and masculinities in the kitchen
Irina Mihalache / American University of Paris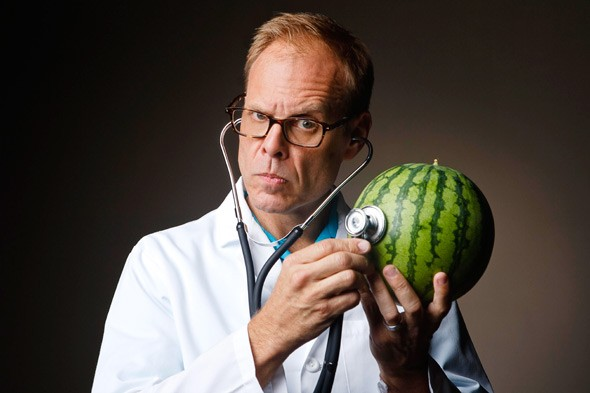 Waffle superhero
If there is one chef on American television who has mastered the art of playing in the kitchen, his name is definitely Alton Brown. Surrounded by bulletin boards with nuggets of information about anything from coffee beans to coconut cake, dressed in Hawaiian shirts, medieval armors or scrubs and armed with oversized spoons, decorated drills and purple rubber gloves, Alton Brown is defined by his ability to switch his personalities as required by "good eats." This tradition of Brown's shows has gained him a place in my series of articles about men who play well in the kitchen. In Brown's case, play represents a means to an end: to educate Americans about "good eats," which is not an allusion to eating healthy but to cooking by the rules. And Brown's rules revolve around the deconstruction of any meal into a series of scientific experiments, executed with playfulness and humor. In this process, I argue, Brown has forged a recognizable and comfortable genre of masculinity which builds on already popular representations of men in North American culture. What unites all these very diverse characters—spies, doctors or superheroes—is their ability to play with scientific facts in the pursuit of technique in the kitchen.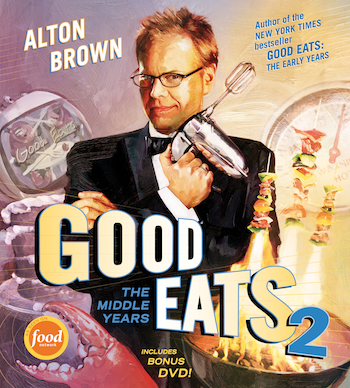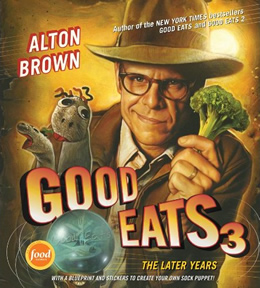 Good Eats: Science and masculinity à la table!
In Good Eats1, Brown invites his viewers to deconstruct ingredients into their smallest particles and to think of food in a global sense—as culture, history and, most importantly, science. He explained that "everything in food is science, the only subjective part is when you eat it. Culinary tradition is not always based on fact … sometimes it's based on history, on habits."2 His desire to understand the science behind food and to teach others to cook scientifically earned him the title of culinary hacker, geek-cook or a cross between Julia Child and MacGyver. As Brown often confessed in his shows, each dish, as simple as waffles and as complex as pad thai, has the potential of becoming "Good Eats," but it is the process of cooking which is essential to this transformation. And this process is based on education and entertainment, or better said on exploring the boundaries between work and play. In a recent interview on NPR's All Things Considered, Brown talked about his vision for Good Eats, "We've got a big sign over the door which states that laughing brains are more absorbent. You cannot teach without entertaining…we always thought that if we can entertain and tell good stories, be very visually arresting, then people will soak up the information and so we loaded up."3
Brown's food pedagogy is based on the assumption that if one understands the scientific, "behind-the-scenes" workings of an ingredient, s/he will be freed of all fears associated with cooking. Therefore, if the act of cooking is framed as a scientific pursuit, it becomes liberated from its history of domesticity and craftiness and becomes the domain of masculine assertiveness and logics. Meanwhile, the seriousness of each scientific investigation is balanced by the visual style of the show and Brown's performativity. In a nutshell, each episode shows how playfulness—translated as entertainment, experimentation and eccentricity—in the kitchen is a main ingredient of any dish. Therefore, to make science and education fun, Brown re-invents himself as a mélange of different masculinities recognizable to mainstream North American audiences. Brown's masculinity rests upon the shoulders of other very familiar and rather typical images of men in North American popular culture: the mad scientist, the nutty professor, the eccentric geek, the British spy and even the superhero.
By poaching (with humor) on these popular cultural tropes, Brown forges a type of masculinity which is highly recognizable and likable. The men in Brown's kitchen, while inspired from all walks of fictional life, are geeks at their core. Good Eats, I argue, is a prime example of how discourses about play feed into a depiction of nonchalant, confident and geeky masculinity. Therefore, I believe that Brown's own brand of masculinity borrows heavily and unapologetically on other types of geeky masculinity which are already popular in North American culture. In this article, I will refer to the mad scientist and the geeky superhero as two such facets of Brown's complex masculinity.
[youtube]http://www.youtube.com/watch?v=BaiQFToLk5w[/youtube]
Science gone . . . mad: "Deep Space Slime (Gelatin)"4
Probably the most common of Alton Brown's on screen personalities is that of the scientist, often the eccentric and mad kind. As Good Eats is a show about scientific experimentation, the scientific discourse is visible in Brown's fashion, accessories, gadgets, vocabulary and settings. In "Deep Space Slime (Gelatin)", an episode dedicated to making artisanal gelatin, Brown starts by introducing a short history of gelatin making, emphasizing with humor the cumbersome process used centuries ago to prepare the ingredient. Dressed in a white coat—a signifier of his assumed scientific personality—on top of a Hawaiian shirt—a symbol of irony and eccentricity—Brown addresses his audience in front of a camera hidden in his refrigerator, a common technique in the show. Before demonstrating the making of gelatin, the host provides his audience with a brief explanation of gelatin, in scientific terms. He states, "You see, gelatin contains specific amounts of eighteen different amino acids joined together in sequences to form polypeptide chains scientifically known as the primary structure."5 His information is exemplified visually by props and the hands of a mysterious assistant situated behind Brown who acts out the information verbally communicated by the expert. Such moments are, according to the overall philosophy of the show, equal part entertainment and education. Assuming the persona of a knowledgeable and well informed scientist, Brown becomes credible even to the most skeptical members of the audience. However, it is the "mad" aspect which solidifies his masculinity as a playful performance. His approachable masculinity is a result of softening up the scientific discourse with just a dash of humor and entertainment.
[youtube]http://www.youtube.com/watch?v=sKV9qKwPW3k[/youtube]
Even waffles have their hero: "The Waffle Truth"6
All characters performed by Brown incorporate the quest for science with education through entertainment. One such example is Waffleman, a superhero whose mission is to "save common, everyday, decent folk from the soul stifling power of mediocre waffles."7 In "The Waffle Truth" episode, the superhero, one of the icons of North American culture, is in charge of preserving the integrity of yet another culinary American icon, which is the waffle. Waffleman, dressed as a faux superhero, with a W-shaped waffle as his belt buckle, black rubber kitchen gloves and a backpack full of mediocre pancakes, is another character which doubles up as an informed scientist. When his patriotic rant about his mission as a waffle crusader ends, Waffleman eloquently explains how the "counterfeit waffle wannabes" are flooding the market and mis-informing the American folks about the art of making real waffles.8 Therefore, the mission in this episode is to educate viewers about the true and authentic waffles. Throughout the rest of the show, Brown travels from an old Dutch monastery to Paris and back to America, just like a true and very fast superhero, and tells a historically and scientifically accurate story about waffle making. Brown as Waffleman reflects the flexibility of the superhero myth in North American culture and corresponds with the pedagogy of the show to employ playful masculinity to educate about cooking.
In conclusion, Alton Brown, either as a mad scientist or the Waffleman is another celebrity chef who proves that the kitchen has been transformed into a safe space for men and the performance of masculinity. Good Eats responds to the increasing popularity of cooking among diverse communities and audiences, resulting in attempts to un-domesticate the kitchen in order to make the space appealing even for men. Alton Brown suggests one such way, which combines scientific experimentation, intelligent humor and playfulness.
Image Credits:
1. Alton Brown via Slashfood
2. Alton Brown via Screenhead
3. Alton Brown via Abrams Books
Please feel free to comment.