Prostitution or Oprah: The Impact of Dichotomous Images of Black WomenMary Vanderlinden/Averett University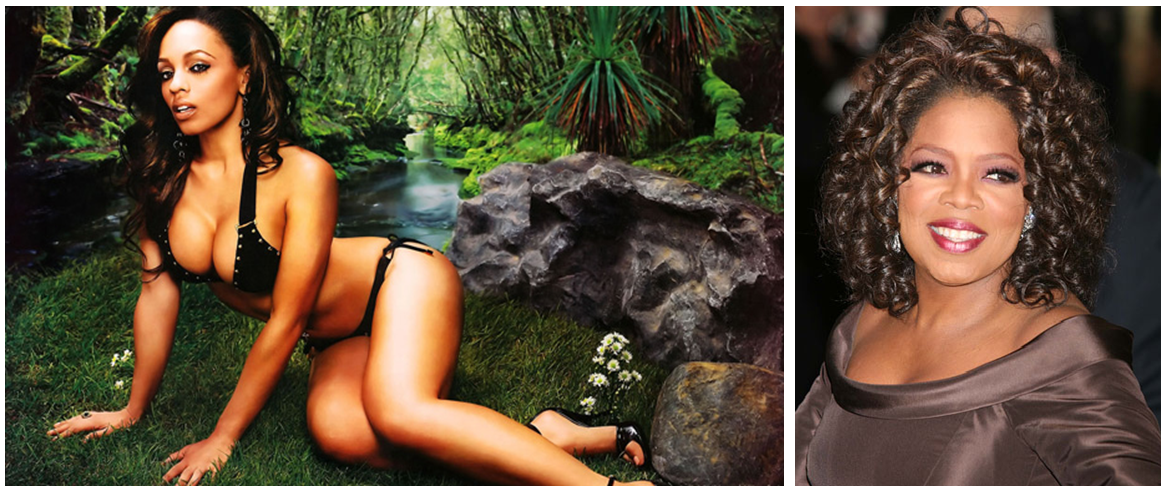 Images 1 & 2: Participants Identified Limited Portrayals of Black Women on Television
How are Black women characterized on television and what do these depictions mean to you? This was the primary research question posed to a group of 15 African American college women who participated in a qualitative study on the portrayals of Black females on television and the influence such representations have on their personal development.1 This article is comprised of participants' reflections that highlight my findings on how this intense imagery affects the lives of these women and impacts their decision to attend college.2
Participants described vivid portrayals polarized as exceedingly negative or positive. Georgette3 summarized the groups' collective assessment:
… there's only two types, the video vixen kind of girl or the professionals like Oprah. Honestly, those are the only two types I can think of, yeah, prostitution or Oprah.
This response served as a precursor for many of the reactions that followed. Interestingly 14 of the 15 participants described negative images first, using the following descriptive words: poor, jobless, loud, angry, addict. Donesha discussed the Black female character (Video 1) in True Blood named Tara:
… there's one show that I watch, it's True Blood, a vampire show. There's a Black character and she's very loud, very angry, very mean, you know she doesn't have any money, she's very poor, her mother is an alcoholic. And I mean she displays a lot of things African American women have, or at least are given in the television shows or the movies … they usually portray them in a lower class.
Donesha summed up the feelings of many participants by stating that Black women are " … stuck in that type of role."
[youtube]http://www.youtube.com/watch?v=ZMOypXPrl_Y[/youtube]
Video 1: The Type of Role Black Women Seem Stuck Playing
Conversely, participants also recognized positive portrayals of African American females on television. Overwhelmingly, participants said the affirmative images are determined, smart, strong and successful. The iteration of these qualities was repeated by several participants. For example, Alaina's description of Dr. Bailey, a character appearing on Grey's Anatomy (Video 3), echoed these traits:
She is very strong minded, she is very smart. She is top notch; she is head of the surgery department. She was the only Black person in the entire program when she interned, and she is just brilliant, well educated, excellent surgeon, and she overcame those circumstances while being a parent. Now that she's in control, she is the boss of the other interns and other doctors. She is kind of a mother influence towards them because she makes sure they are strictly business … she doesn't expect anything but greatness.
So, what do such images mean to 15 African American college females? For many of these women the positive vicarious characters gave them a sense of realization, of hope, and intensified their aspirations to achieve. Importantly, these portrayals had a degree of influence on some participant's decision to attend college.
For Tonya watching reruns of the 1980s sitcom A Different World (Video 2) was the impetus she needed.
I used to watch A Different World. I thought I wanted to go to college and I want to be just like Whitley, Dwayne, and Denise. I wanted to be like that, that influenced me to go to college.
[youtube]http://www.youtube.com/watch?v=_zq3UYQJzPY[/youtube]
Video 2: A Different World Spurred College Ambitions
Tonya further recalled how A Different World made her believe that college was not an option but something that students did after high school. Other participants discussed accomplishing their own aspirations based on the careers of their favorite characters or personalities. Isis shared her dream of becoming a lawyer and how watching the attorneys in Law and Order influenced her decision:
… like when I watch Law and Order and I listen to the attorneys talk … I know that I'm not going to talk like that right out of high school. So, I guess the attorneys language, I guess that's how I can phrase it, really told me that like, yeah, in order to become something you've got to go to school, you have to have the education. I know they had to go to school in order to be where they are. They didn't just up and say well I'm going to court and I'm going to defend somebody today.
Dr. Bailey, the principal character on Grey's Anatomy, was inspirational for Alaina who wants to achieve a doctoral degree:
I'm going to graduate, I'm going to go for a Ph.D. because I have it in me. Even if I don't see it now, but in a few years, I'll have this, and I'm approaching that I can be a success.
[youtube]http://www.youtube.com/watch?v=d7cNlSmmTxI[/youtube]
Video 3: Dr. Bailey: A Strong, Smart Portrayal
Phillipa continued this line of thought, referring to her interpretation of events in Oprah's tumultuous childhood:
Oprah's case … she taught people that no matter where you come from that doesn't matter. If you put in the hard work then you can go anywhere. That takes away your excuses because you know a lot of people, like in my family, they try to use their background to like say… I didn't have this … I didn't have money to go to college. Oprah kind a takes away that excuse.
But, it's not exclusively the positive images that drive these participants to achieve. Donesha responded that the constant negative images of Black women appearing on television can have an inspirational effect and gave her the impetus to achieve instead of succumbing to prevalent stereotypes.
I mean, as far as like some of television shows where there are African American women who are put on a lower scale, I mean that influences you know. That makes me say I want to do better, I want to go to school, I want to get an education, and I want to surpass those limits … because of these television shows. You know, like I said, I mean, my family doesn't have a lot of money, and my family doesn't have a lot of education … (the portrayals) makes you, not angry, but it makes you want to show people not everyone is like this. Not everyone that is female and Black portrays these aspects. That's a strong key in me wanting to get an education.
Literature reviews on the persuasiveness of television reveals that often researchers focus on the negative influences of television on individuals. If, however, this ubiquitous medium has the power to encourage unconstructive and even harmful behavior, then it also has the capacity to promote a person's constructive actions. Albeit my findings are greatly truncated for this article, what this qualitative research shows is that positive television portrayals can be potentially motivational, prompting some to achieve and possibly offering individuals a sense of self affirmation.
It is important to remember that in qualitative research we cannot use information gleaned to make full generalizations of an entire population: this information only serves as a snapshot in the lives of these 15 study participants. Qualitative information, however, can be the foundation for quantitative questions and lead to future formative research on this or any topic.
Image Credits:
1.RollingOut.com
2.Oprah.com
Please feel free to comment.
This article highlights a portion of Vanderlinden's dissertation titled "Associating with Occupational Depictions: How African American College Women are Influenced by the Portrayals of Women in Professional Careers on Television." [↩]
Participants in this study were African American, female, enrolled as a degree seeking student, and at least 18 years old. [↩]
Pseudonyms were used to protect the confidentiality of participants. [↩]