The Hunger Games and Obama's "Post-racial" America
Camille Debose / DePaul University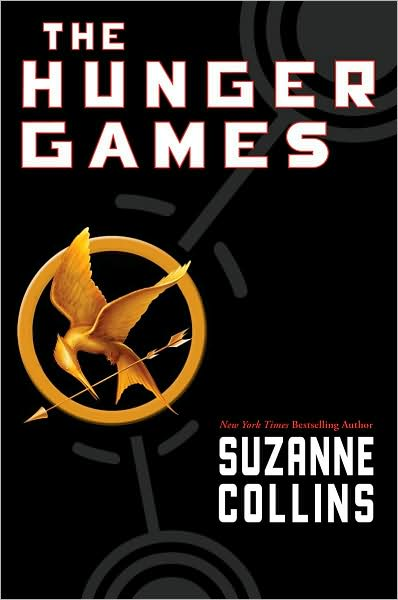 The Hunger Games
Last summer I became aware of the growing buzz surrounding The Hunger Games. It seemed to be on everyone's recommendation list. My son, thirteen at the time, was being encouraged to read it by his peers. I was being told to read it by various adults in my community. Not being one to raise my nose at young adult novels I loaded the audio versions of the books onto my iPod and spent several days taking long walks with the baby while listening to the exploits of Katniss Everdeen. I was hooked, drawn in not by the burgeoning love triangle between Katniss, Peeta, and Gale, instead I was hooked on parsing the socio-political commentary embedded within the story of a girl who's really good with a bow and arrow.
Huffing and puffing along the lakefront path I decided a Marxist read was too easy. This class based struggle between the hungry proletariat and the strangely glittering bourgeoisie of the Capitol (a place not unlike L. Frank Baum's Emerald City) is glaringly apparent. The "evil-ness" with which the bourgeoisie is imbued is clearly defined. The reader (or in my case, listener) is unsettled by the Capitol's vile taste in entertainment; children fighting to the death. Collins' bourgeoisie is also morally and perhaps spiritually bereft indulging in gluttonous adornment and body modification for fashion fun while having no deeper consideration for the citizens in the districts beyond who will win the death match. Accompanying this discussion of class hegemony is a strong anti-war sentiment. To be clear, a Marxist read of this text is not without value. On the contrary, there are lots of little tidbits and nuggets for analysis but on my walks with the little one I decided to go further because there is something truly radical about the series that I wish to discuss. A radical Snark that begs hunting.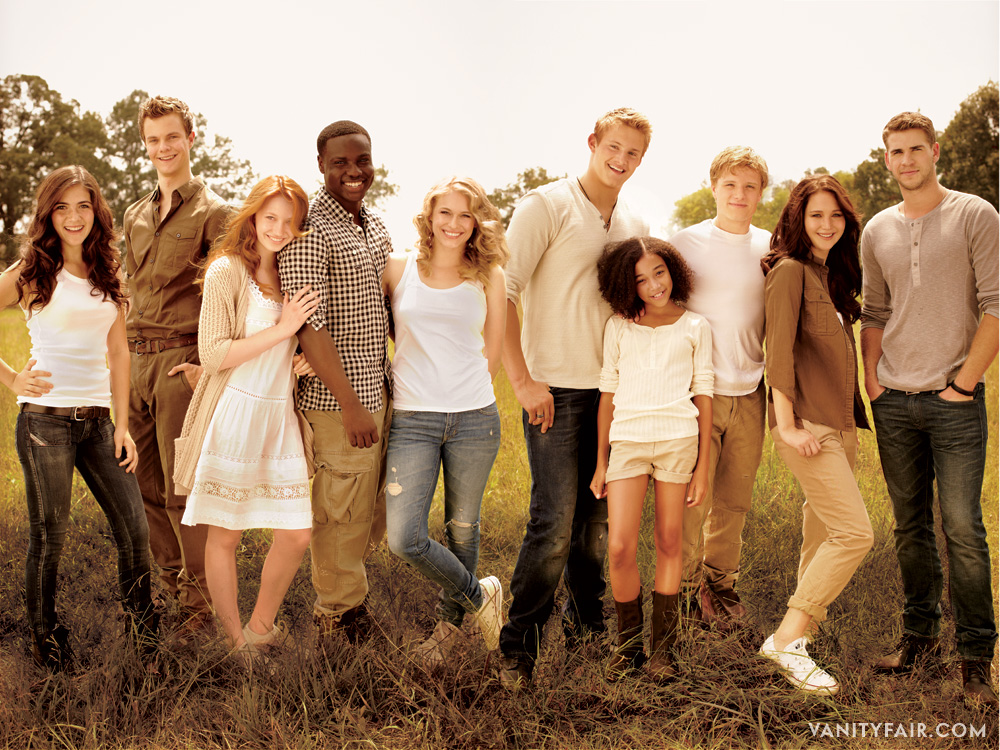 The Cast of The Hunger Games
Katniss is female. She is a female protagonist in a post-apocalyptic, dystopian, adventure series which contains lots of weapons, fighting, and bloodshed and (spoiler alert) she is winning. She makes it clear that she never wants to fall in love and she never wants to get married and she never wants to have babies. There. Done. These assertions open the door to conflict perspective discussions of the institution of marriage, the institution of motherhood, masculine hegemony, heteronormativity, and the overall expectations linked to womanhood. Like the discussion of Class above I decided to bracket Gender. A young woman eschewing the virtues of marriage and motherhood is not radical. It is worthy of note if you are attempting to impress upon contemporary teens they are not required to marry and pop out babies. It is also useful when creating conflict in the story by setting up an inevitable reversal. Furthermore, Katniss' stiff arm of traditionalist sex roles is not radical because it is possible and plausible in the post-apocalyptic Districts as well as our own contemporary context. So, I pushed Gender aside for another time and continued down the path toward the toddler event horizon. The point before which I must turn back toward home or risk the exhaustion of our supply of Goldfish and lemonade leading to my precious offspring going supernova.
With two constructs down my thoughts turned to Race and in the distance I thought I saw the shimmering back of the beast. I'm embellishing of course. There are no beasts along the lakefront path unless you count ducks and geese. Nevertheless, if radical is the Snark then Race in The Hunger Games fits the bill. This is not pop culture's "radical." To borrow from Stephen King, pop culture has forgotten the face of its father when it uses the word. This is the real radical, meaning, for the espoused (post-racial) reality to exist the complete destruction and dismantling of the current structures of power must occur because power doesn't live on the skin. It lives in the bones. In the post-apocalyptic world of The Hunger Games, Race is not tied to power. There are active structures of domination at work in Panem1 but Race does not play a role. Each of the twelve districts is inhabited by a different "ethnic" (loosely based upon phenotype) group. All twelve districts serve the capital. All twelve districts are subject to the reaping. No group is safe from the Capital's caprice.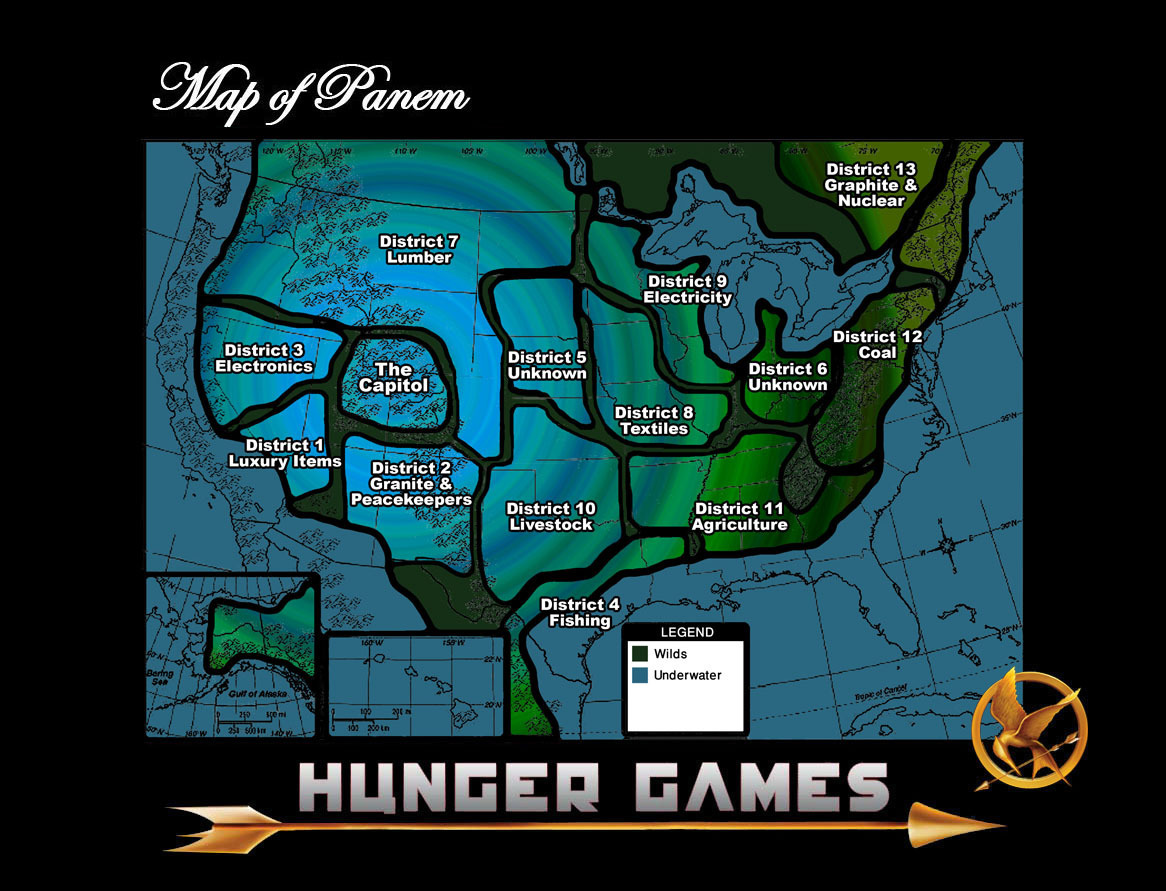 A Reader-Made Map of Panem
Once the games begin these groups are thrown together in a fight to the death for the pleasure of the Capital and its citizens. Our olive-skinned heroin (more on this later) forms a kinship with a little girl from District 11 named Rue. In Rue, Katniss sees a mirror of the beauty and innocence of her little sister Prim and is compelled to protect the child. Katniss is so enamored of the girl you can almost hear the faint plucking of harp strings whenever Katniss considers Rue. The author's description of Rue is clear. Dark, brown skin. Dark eyes. I read this as "little, black, girl." Apparently many readers of the series missed, by willful blindness or sheer stupidity, the clear descriptions of Rue and the people of District 11. Here the real and the imagined anxiously collide and one Snark meets another. After viewing the film version several of our fellow Americans took to Twitter and the Blogosphere to declare that the "surprise" casting of Rue as a black girl made her death so much less sad. Again, my only response to this is willful blindness or stupidity, but the snarky comments are worth assessing. Denby puts it plainly. "At the end of the first decade of the twenty-first century, snark sounds like the seethe and snarl of an unhappy and ferociously divided country. A country releasing its resentment in rancid jokes."2 At a time when many have declared the U.S. post- race presenting as evidence the election of Barack Obama, The Hunger Games throws in sharp relief just how absurd such claims of post-raciality are.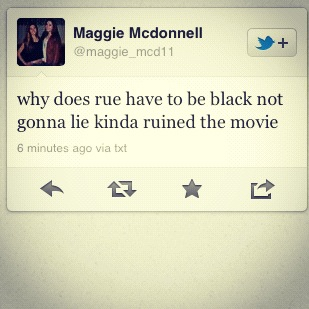 One of Many Tweets
For Williams "…it is not merely the silence about racism that presents problems but its aesthetic visual power as well. Thus I believe that racial representations in popular culture present a most urgent concern in a society as relentlessly bombarded with visual images as ours."3 There was a noticeable lack of snark and complaint regarding the casting of Katniss as white when in fact she is described, as I mentioned above, as olive-skinned. I don't know if the actress who portrays Katniss considers herself white but she 'looks' white and in a visual medium, which cinema is, what one looks like is quite important. We can assume the peeling away of Katniss' "color" was not accidental and go further to suggest it as a form of symbolic violence. Seeing Katniss as white onscreen was not disturbing even though she is described with olive-skin by the author. Seeing Rue with brown skin was disturbing even though she is described with brown skin by the author. So. Is America post-racial, or not?
In the world of The Hunger Games I glimpse my Snark. Within the story world the radical destruction of North America and the reconstruction of Panem post-raciality is. Hegemony rises from Class, not Race. In Obama's America the Snark eludes me. Tim Wise suggests "Obama's election, far from serving as evidence that racism had been defeated, might signal a mere shape-shifting of racism, from Racism 1.0 to Racism 2.0, an insidious upgrade that allows millions of whites to cling to racist stereotypes about people of color generally, while nonetheless carving out exceptions for those who, like Obama, make us comfortable by seeming so "different" from what we view as a much less desirable norm."4 Wise goes on to assert our confusion about being post-racial, if not precipitated by, is exacerbated by President Obama's current and past political rhetoric. When we call for a radical shift in our collective ideologies do we know what it is we are asking for? A post-racial reality in America, even one led by a black man, would take something akin to an extinction level event, decimating current socio-political structures. I don't know about you but I have witnessed no such event. Let us then cease with these faulty claims of post-raciality. In The Hunger Games, Panem is radical. We are not. Post raciality, for us, is a Boojum, you see.
Image Credits:
1. The Hunger Games
2. The Cast of The Hunger Games
3. A Reader-Made Map of Panem
4. One of Many Tweets
Please feel free to comment.